12 days Dive Cruise Pindito liveaboard Raja Ampat -
Raja Ampat: diving on board the Pindito
Explore the most colorful reefs of the world together with the Pindito!

West Papua, known locally as Irian Jaya, is a unique dive region. Probably the best known archipelago is "Raja Ampat" which roughly means "united kingdom". The area has over 1,500 islands. The four main islands are Misool, Salawati, Batanta and Waigeo.

The word "fantastic" summarizes the region "Raja Ampat" well. Photo-and videographers find the best opportunities to create macro shots at its finest. But also wide-angle shots of the beautiful reef life are recommended. There are countless dive sites, all with different characters. The attentive viewer can find all sorts of "macro-animals" in crevices and on terraces of steep walls. "Raja Ampat" is also a Mecca for lovers of pygmy seahorses. These cute dwarf seahorses are found here in every shape and color, red, yellow, orange, purple or white.

Other places offer an overflowing abundance of fish along exposed underground rock saddles. An experienced eye will catch sight of the well camouflaged frog fishes, scorpion fishes and ghostpipe fishes. Napoleon fish, mobulas, white tip reef sharks and schools of other pelagic fish can be seen in the blue when you can drag your attention away from the walls. Manta rays, barracuda, rare wobbegong and epaulette sharks (walking shark) guarantee plenty of variety. A highlight of any tour is the famous Zodiac trip around the islands (subject to wind and waves being low to allow it).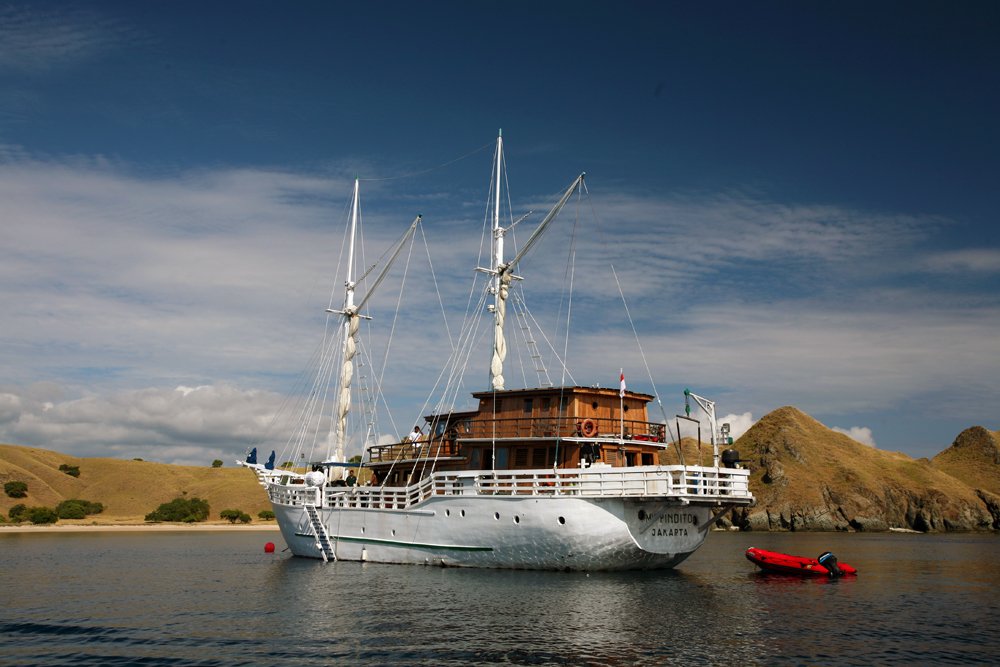 Down payment 25%

Cancellation costs:
Up to 120 days before departure: € 250 per person
120 to 90 days before departure: 25%
90 to 60 days before departure: 50%
Within 60 days before departure: 100%
Prijsoverzicht
Price overview
12 days Dive Cruise Pindito liveaboard Raja Ampat
double or twin room, both diver
double room, 1 diver 1 non diver
Inclusief
•Transfers from/to airport Sorong to/from the MV Pindito •Accommodation in a double or twin bed cabin with en-suite shower bath, toilet and AC •Full board including all drinks on board (excluding wine) •3 dives per diving day and one down or night-dive (no diving on departure/arrival day) •NITROX fillings for whole cruise •multilingual guides on board •all offered land excursions
Exclusief
•Nationalpark fee for Raja Ampat: € 95.00 / US$ 120.00, payable on board •Airport taxes for domestic flights and departure fees, payable on the airport •Tips for the crew (we recommend per guest/day € 15.00 / US$ 20.00) •Insurance for cancellation fee •Dive insurance (from 2013 onwards mandatory for all cruises) •Souvenirs onboard •Dive courses (i.e. Nitrox course € 150.00 / US$ 180.00) Flights Jakarta-Sorong (from ca € 150 one way)
Special Reducations/Surcharges: •Surcharge for single cabin: 50% •Non-diver reduction: 10% •Child-reduction (6-16 years): for normal cruises 50% reduction, for family diving cruises 80% redcution as long as the child shares the cabin with the parents.
Route
Route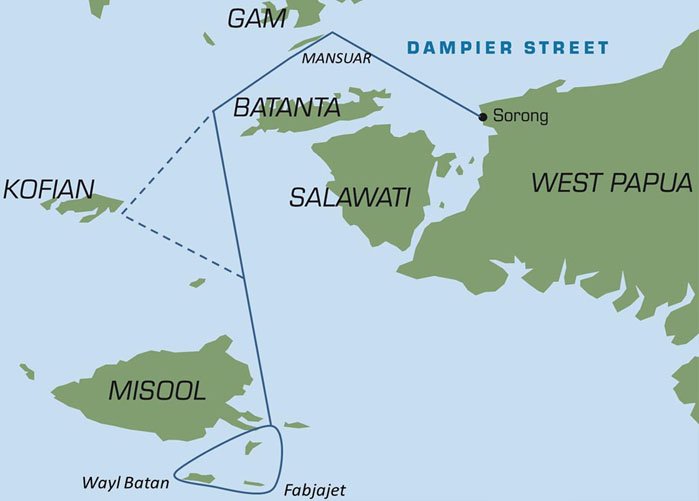 Programme
Raja Ampat (south)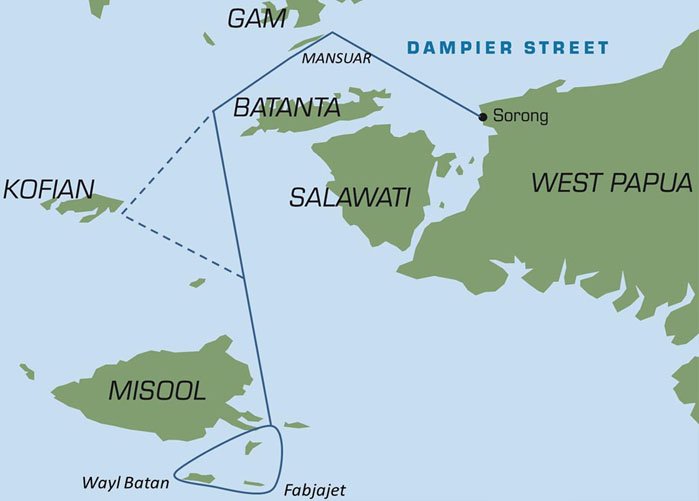 Pindito puts great importance to plan the best possible tour for their guest. When planning the route, many factors play an important role. The most important factor is the weather. Since there can be storms in the tropics at any time, Pindito might change routes and itineraries at short notice.

There are basically two ways to navigate the Raja Ampat area. One leads from Sorong, the capital of West Papua, to the south. We'll do most dives around the island maze of Misool. On the return journey you'll visit Dampier Strait and maybe Sele Pele or Kofian before you go back to Sorong.
Raja Ampat (north)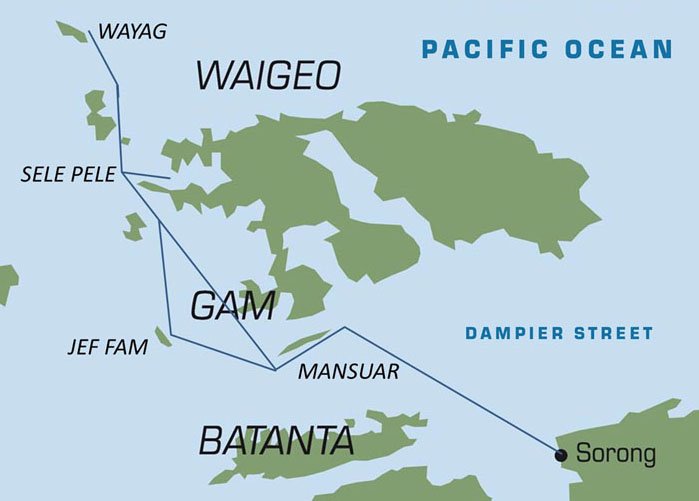 The second tour leads north from Sorong. On this trip we'll visit Wayag Island, which lies west of Waigeo. The dive areas are Dampier Strait, Jef Fam, Sele Pele and Wayag. The tour ends in Sorong.
Misool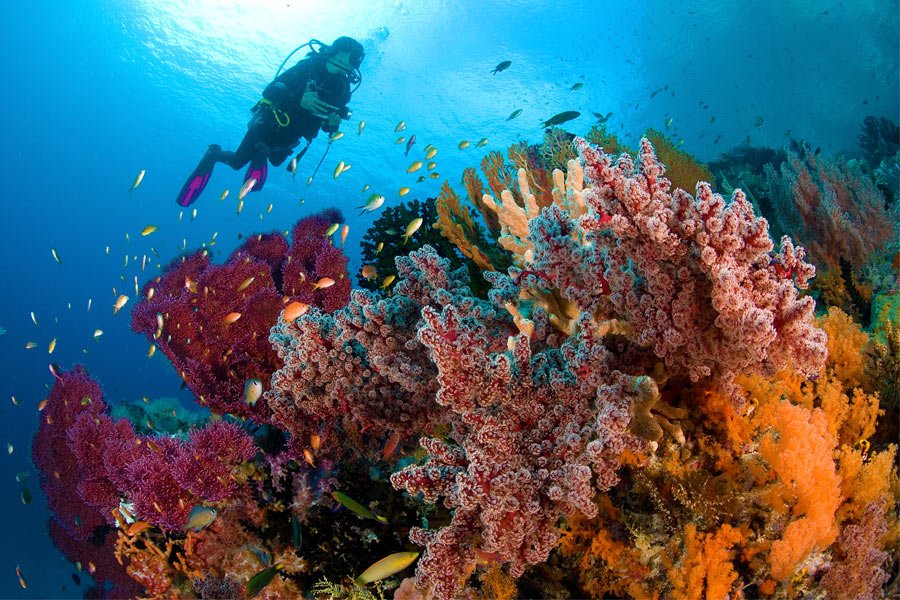 Diving in the endless maze of the islands of Misool is a very special treat for any diving career. It is paradise for macro enthusiasts, but encounters with larger fish such as manta rays are often possible. Misool is one of the most biodiverse regions in the world with fish, corals, sponges, soft corals, shrimps, crabs and countless nudibranchs and other invertebrates. Huge shoals of sardines are a definite highlight. Soft corals and sea fans (diameter of 3-4 meters) in all sizes and colors dominate the underwater landscape.

One of Pindito's special places is called "Vrenelies Gärtli" (in English it means Vreni's Garden). It is a legendary dive site that has it all, because of it's very diverse landscape. Overhangs, huge caverns with swimthroughs, lush steep walls with all kinds of corals are found here.

There is also plenty to do on land. With a unique speedboat ride you will explore the beautiful scenery. Crystal clear, turquoise water awaits you as well as a variety of exotic tropical plants such as orchids and even carnivorous plants.
Waigeo
A special feature of this tour is the crossing of the equator. This area has a fascinating landscape. Many of the famous Raja Ampat landscape photographs were shot here. On the north is the island Wayag with the famous "Mount Pindito", from where you get a fantastic view of the many islands. Pindito on anchor in the middle of the Bay, completes the beautiful landscape. "Sele Pele" offers the opportunity to look at a pearl farm up close. Depending on the production stage you will be invited to witness the fertilization or harvest! A unique opportunity you cannot afford to miss.

"Jef Fam" is the name of a group of karst islands with great diving, lots of fish and colorful corals. Night dives at the "Red Wall" are always a special experience. In the sand under the pearl diving pier a lot of special and peculiar creatures, especially wobbegongs and epaulette sharks (walking sharks) can be found. Countless nudibranchs, pipefish, seahorses, frogfish, scorpion fish cannot escape the well trained eye. A great highlight is the manta cleaning station near Mansuar.
Dampier Strait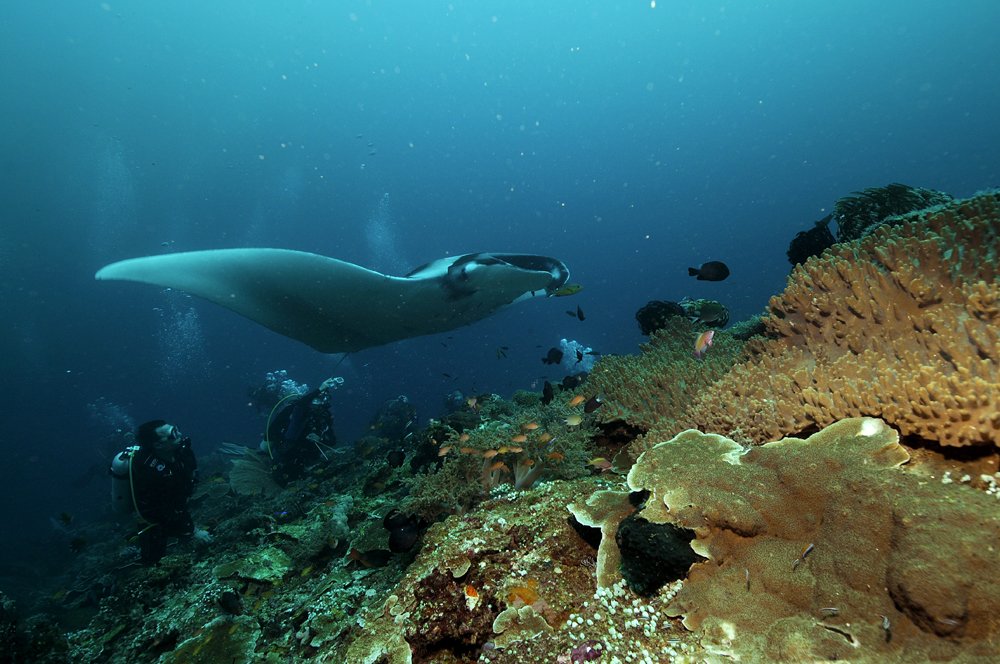 Dampier strait separates the "Vogelkop" (Birdshead) Peninsula from Waigeo and Mansuar. The name comes from the Dutch colonial times. It refers to the shape of the peninsula on the map, but it is also a paradise for many rare bird species.
Here the Pacific Ocean meets the Halmahera Sea, with an explosion of marine life as consequence. With regular strong currents, big fish feel especially comfortable. Manta rays, reef sharks, different schools of mackerel, tuna and barracuda are seen again and again. Even dolphins and whales (Bryde's whales, pilot whales) keep spending time in Dampier strait Since May 2011, we offer a special Whale-Macro tour that combines the macro-diving with whale and dolphin watching. This tour is accompanied by a marine expert in whale and dolphin behavior.
Your stay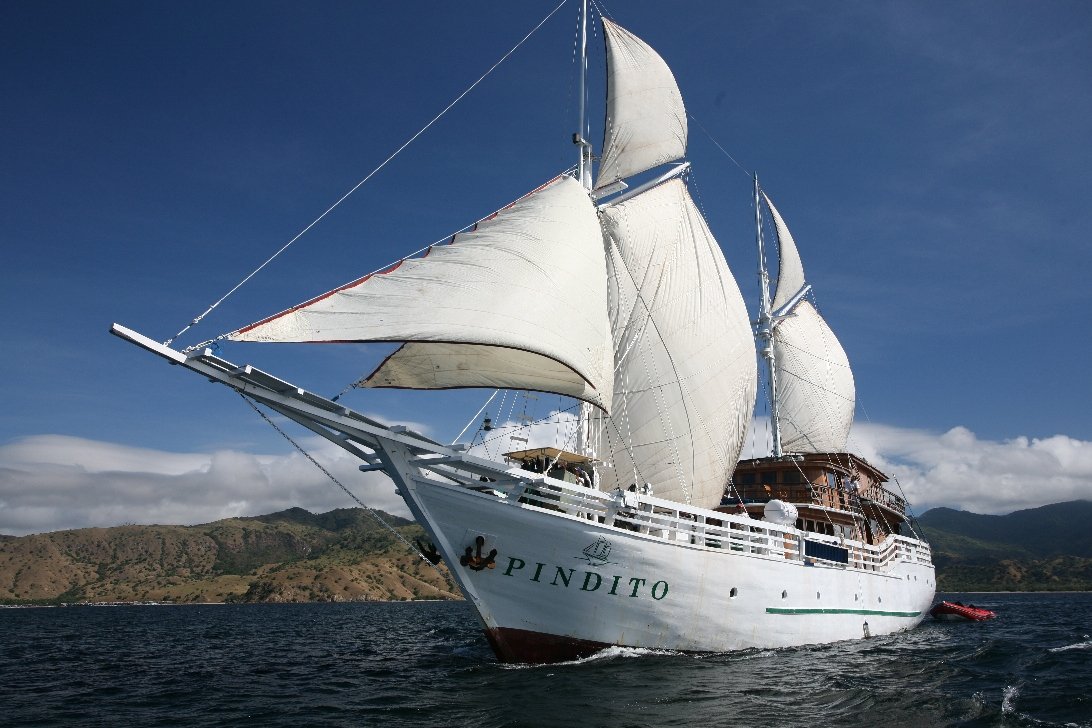 Papua
Papua, former Irian Jaya and Dutch Nieuw Guinea, has been discovered by only few tourists. Culture and nature are still unspoiled here. In Central P...
Divie spots North Raja Ampat
These days you can dive and snorkel at will in the most beautiful area of Indonesia. Between November and March a diving- or a snorkelling trip at M...