Raja Ampat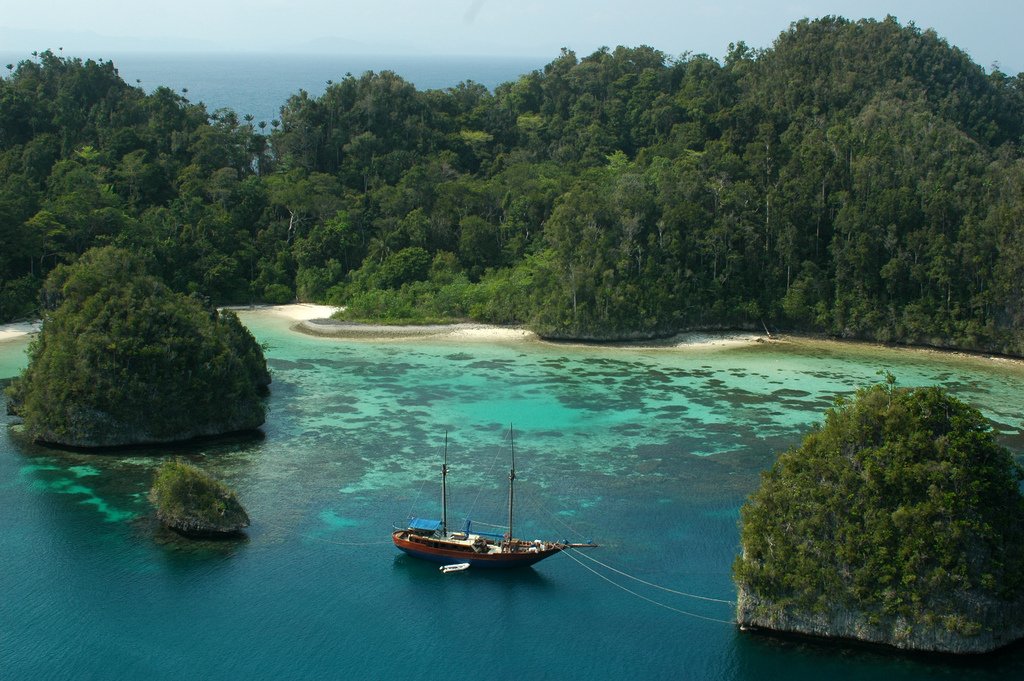 Raja Ampat is a group of islands in West Papua (former Irian Jaya) and counts 610, mostly desert islands. The four biggest islands are Waigeo in the north, Salawati (southwest of Sorong, the second largest city in West-Papua), Batanta (north of Salawati) and Misool in the southwest. The name Raja Ampat is is based on these 4 islands and means literally 'the 4 kings'.
Raja Ampat is still a quite unknown area in Indonesia, but among divers on the contrary, it's a famous destination. This because it offers an incredible lot of different fish species and fantastic coral reefs, varying from hard to soft coral. The islands themselves are very impressive too. The Raja Ampat islands have silent lagoons with crystal white sand and water that varies in colours from bright green to bright blue.
From mid-Juli till mid-September it's rainy season in Raja Ampat, the sea may, locally, be less pleasant to travel long distances by boat. This doesn't have to be a problem for divers, since dozens of dive spots are within 15 minutes by boat.
The islands of Raja Ampat are therefore mostly known among divers. Some beautiful dive sites are:
Teluk Kabui
Between Waigeo and the smaller island Pulau Gam are many little jungle islands of limestone. The Nudibranch Rock is certainly one of the highlights of this site, because on this rock lives an extremely important population of brightcoloured … slugs.
Pulau Wai
The coralreefs around this small island on the north coast of Batanta houses rare fish species, like the recently discovered Raja epaulette shark, wobbegong shark, crocodile fish and big mantas. There's also an old American fighter aircraft wreck dating from the Second World War.
Manta Point
This location between the Gam and Mansuar islands is a real rays' paradise. In this area swim more than 15 different ray species of which some with a wingspan of 5 metres! Exceptional is that this location is a kind of washing station for the rays. The rays lie down on the coral and are then 'cleaned' by small lipfish. Best period: mid-October untill mid-April. From May to September there is little chance to spot mantas here.
Video Raja Ampat snorkel cruise
Accommodaties
Accommodations
Hébergements
Raja Ampat