Nusa Penida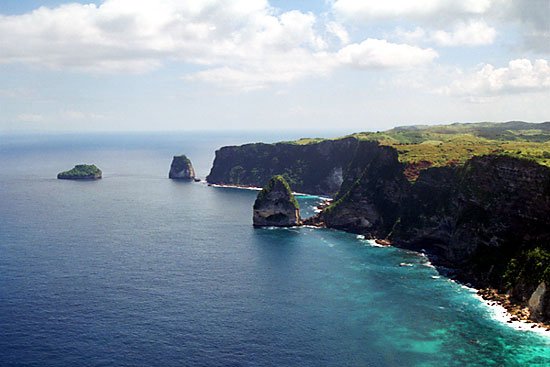 Nusa Penida is the largest island of the three Balinese Nusas: Lembongan, Ceningan and Penida. It is much quieter than on the other 2 islands, and there are far fewer accommodations. Infrastructure is very bad, after a day of moped driving you are completely shaken up.
Nusa Penida can only be reached by boat, both from Bali and from Nusa Lembongan. I cannot tell anything about Penida from my own experience. Colleague Jan writes: It has a beautiful nature and impressive cliffs.
Not all beaches are sandy, and the roads to them are often poor. KelingKing Beach is a rock in the shape of a Dinosaur head. One of the most famous sandy beaches is Crystal Bay, which is located in the west of the island. You can also snorkel here. At Broken Beach you will find a beautiful beach and the sea is a beautiful bright color blue. The rocks form a natural bridge
Manta Point - Nusa Penida
Accommodaties
Accommodations
Hébergements
Nusa Penida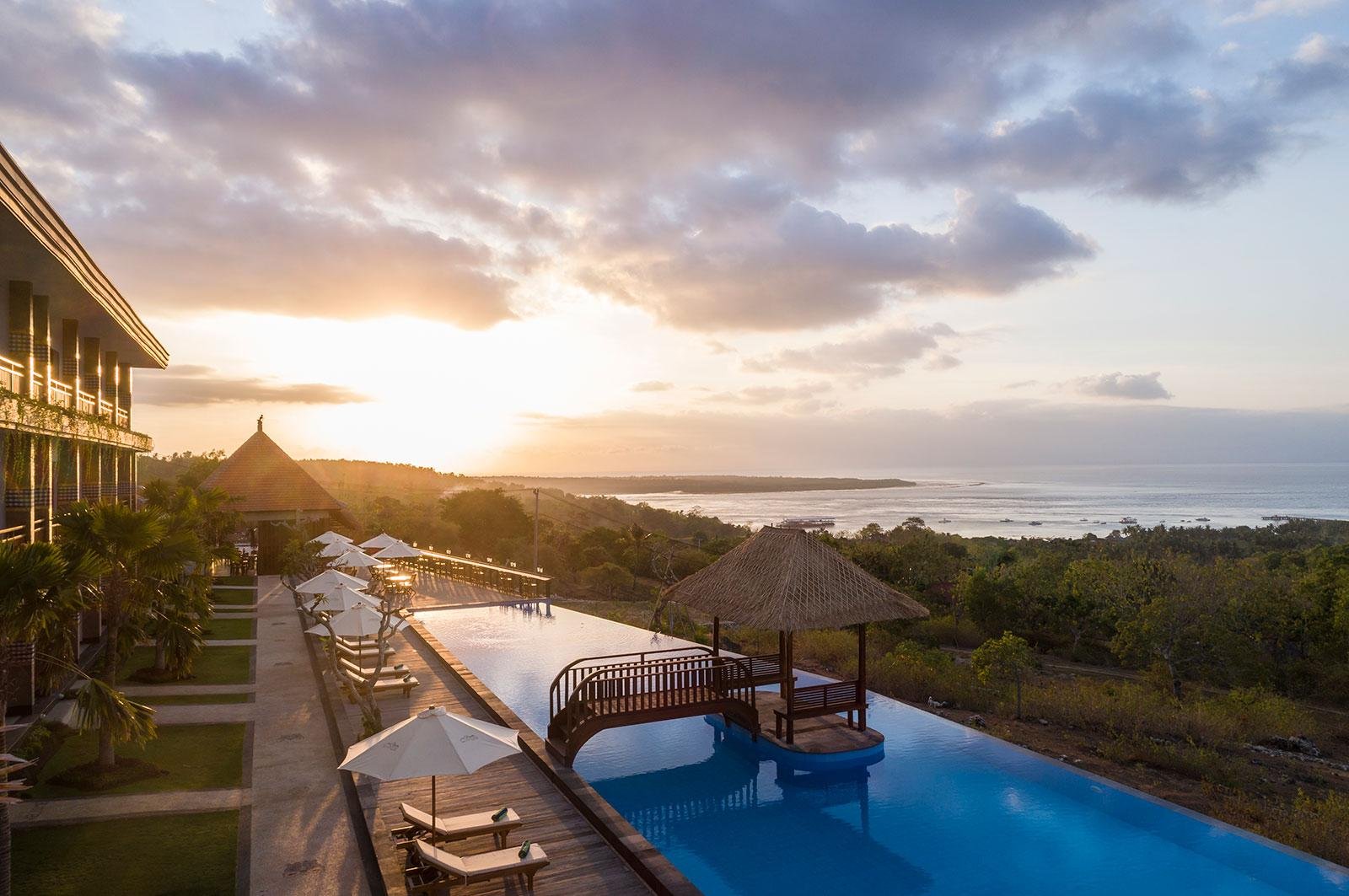 Het comfortabele Semabu hills ligt, zoals de naam doet vermoeden, op een heuvel op het eiland Nusa Penida.
De suites zijn alle luxe ingericht en hebben aparte woon- en slaapkamer, badkamer, terras of balkon en beschikken over airco, kluisje, TV, minibar en badjas en slippers.
Het hotel heeft een gro... meer infomore infoinformations supplémentaires
Excursies
Excursions

Onderstaande excursies kunnen in deze plaats gemaakt worden.
The excursions below are available within this place.
Nusa Penida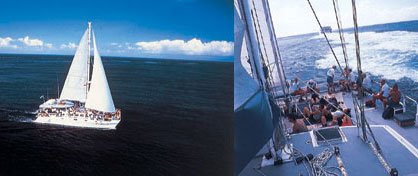 Met de catamaran Aristocat gaat nu niet naar Nusa Lembongan, maar vaart u naar afgelegen Crystal Bay op Nusa Penida. In deze tropisch prive baai gaat u terug naar de idylische natuur. U ontsnapt aan de drukte en kan de hele dag relaxen en snorkelen (maskers en zwemvliezen inclusief). Uiteraard staat... meer infomore infoinformations supplémentaires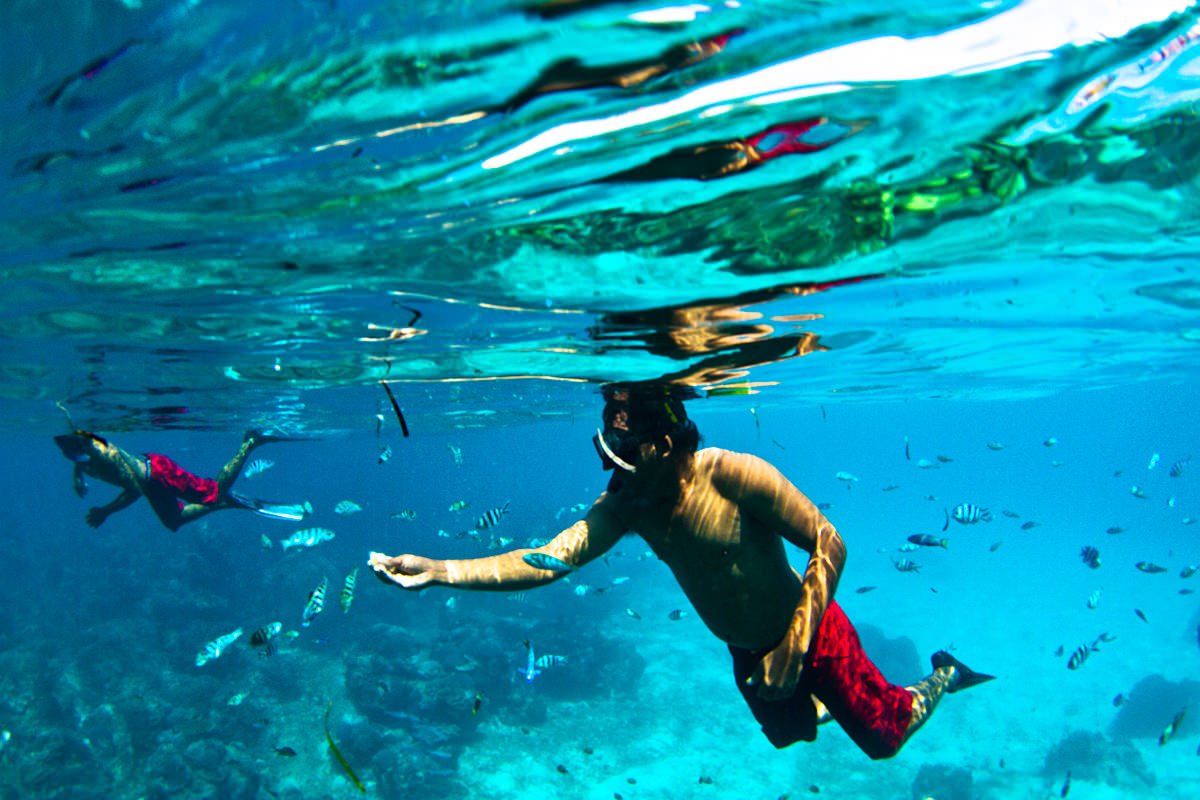 Na het ontbijt wordt u opgehaald en naar de aanlegplaats in Sanur gebracht. U vaart met de publieke snelle boot om 07:30 naar Nusa Penida, waar u door een lokale medewerker wordt opgewacht. Met een speedboat vaart u dan naar 4 verschillende snorkel locaties: Manta point, Crystal bay, Gamat bay, Wall... meer infomore infoinformations supplémentaires