Tulamben and Amed dive sites
Tulamben and Amed dive sites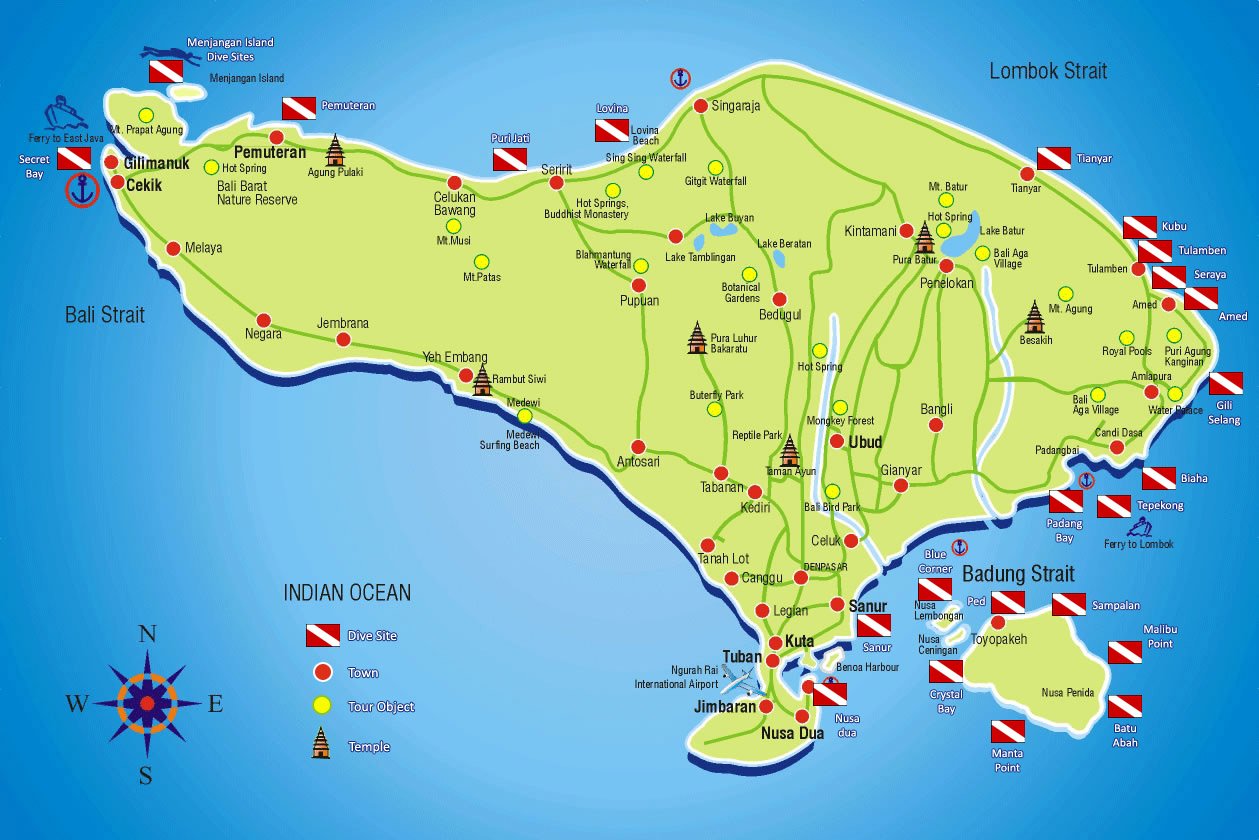 You can take beautiful beach and book dives from both Tulamben and Amed. World famous among divers is of course the USS Liberty shipwreck off the coast of Tulamben.
USS Liberty scheepswrak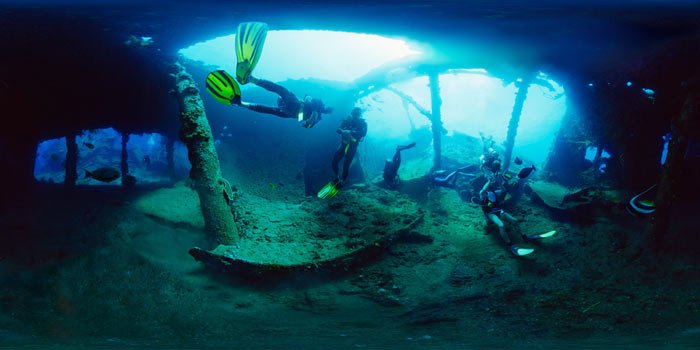 Depth: 5-30m
The famous Liberty is a shipwreck for any diver level from an Open water or a Discover scuba diver to an advanced diver who has hundreds of dives logged. Snappers, Groupers, Barracuda, and occasional visits from Black tip reef sharks are some of the bigger things at the wreck, if you are interested in macro the wreck has Ghost Pipefish, Nudibranchs, Leaf fish and tones of other little critters. With great coral colour and normally good visibility and light the Liberty makes for an excellent photography dive. We normally dive the Liberty first thing in the morning before the crowds arrive from Sanur and Kuta.
Source: Two Fish divers
Coral Garden
Depth: 5-20m
The Coral Garden at Tulamben is a site that is bursting with life, yet another site that is great for photography. Scorpionfish, Ribbon Eels, colonies of anemones with their resident clown fish along with giant Bumphead Parrotfish and passing Blacktip Reef Sharks are a few of the things that you can see here. An artificial reef has also been created here which comprises of a mix of various Balinese statues all of which attract a lot of life to the reef and makes for a great photo opportunity with your buddy.
Source: Two Fish divers
Tulamben Drop-off
Depth: 10-30+m
The Drop off can be quite an exciting dive with Black-tip Reef Sharks, Groupers, Stingrays and other marine life. It makes for a great wall dive as well a bit of a drift depending on the currents. There is also a chance of seeing Mantas but these are just visitors who pass by now and then.
Source: Two Fish divers
Batu Niti
Depth: 10-30+m
A steep lava wall covered in corals leads down to a black sand slope at this site between Tulamben and Amed. Black coral and Barrel Sponges abound, with frogfish, nudibranchs, and other critters hiding amongst the reef. Keep an eye out in the blue though as large pelagics occasionally pass the point.
Source: Two Fish divers
Seraya
Depth: 5-25m
Definitely one for the macro enthusiast or photographers this black sand slope has scatter patches of reef and sponge hiding superb macro life. Nudibranchs, multiple species of ghost pipefish, pygmy cuttlefish, frogfish, boxer crabs, seahorses… the list goes on and on. Black sand diving at it's best.
Source: Two Fish divers
Amed Wall
Depth: 10-30+m
Also a boat dive. Amed Wall can be a good drift when the current picks up. Here there is a flat sloping reef that turns into a mini drop off where you have the chance of seeing Black Tip Reef Sharks, Big Groupers and the occasional Manta or Tuna.
Source: Two Fish divers
Pyramids
Depth: 5-20m
Dived from a Jukung (local outrigger boat), Pyramids gets its name from the artificially created reefs that the local dive community has built in that are in the shapes of pyramids. The structures attract all sorts of life like Snappers, Puffers, Ghost Pipefish, Nudibranchs and so on. Besides the artificial reef the is also the natural reef where you can spot Stingrays, Garden Eels, Harlequin Sweet lips, Ribbon Eels and much more. This site is great for a drift and if the current is not to strong then it makes for great photography as well.
Source: Two Fish divers
Amed Bay (Two Fish divers housereaf)
Depth: 5-25m
Very good muck dive with black sand, occasional rocks and mooring lines that offer some amazing macro life. We are still exploring and have already found many seahorses, frogfish, ghost pipefish, mantis shrimp, nudibranchs, pipefish, a variety of shrimp and other crustaceans, saddleback anemonefish, long horned cowfish and much more. A lot of this life is very well camouflaged but our experienced guides know how to find it – good news is none of it moves too fast so it's amazing for photography.
Source: Two Fish divers
Gili Selang
Depth : 5-30+m
A short boat ride south of Amed lies the small island of Gili Selang. Dives in this area can be tricky due to current and are only diveable at
the right tide, as such they are suitable for experienced divers only. However they are the best place in the area to see large pelagics – big barracuda schools, reef sharks and tuna are common, with occasional dolphins, mola-mola and even hammerhead sharks if you are lucky, along with luscious hard and soft coral gardens.
Source: Two Fish divers