Komodo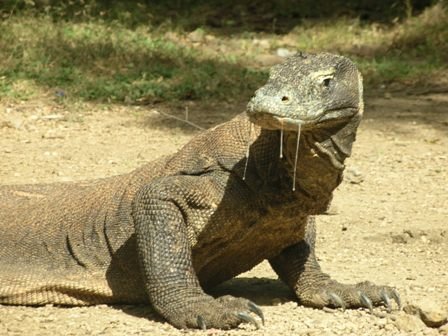 The marine park has several hundred islands, of which Komodo, Rinca and Padar are the best known. You can go trekking on Komodo and Rinca in search of prehistoric Komodo dragons. The ascent of the island of Padar provides a beautiful panorama. To visit the Komodo park it is best to rent a boat for 2 days, with an overnight stay on the boat.
Diving and snorkelling enthusiasts can indulge themselves in the Komodo park. Divers in particular have a variety of dive spots, ranging from quiet for beginners to the "Shotgun" for experienced divers. Manta rays come almost all year round to the dive site Makassar reef, also known as Manta Point.
Divers can choose two options for Komodo: day trip from Labuan Bajo, where you have to take into account boat trips of at least an hour to and from the dive sites, or a multi-day liveaboard.
Video Komodo