Diving at the Gilis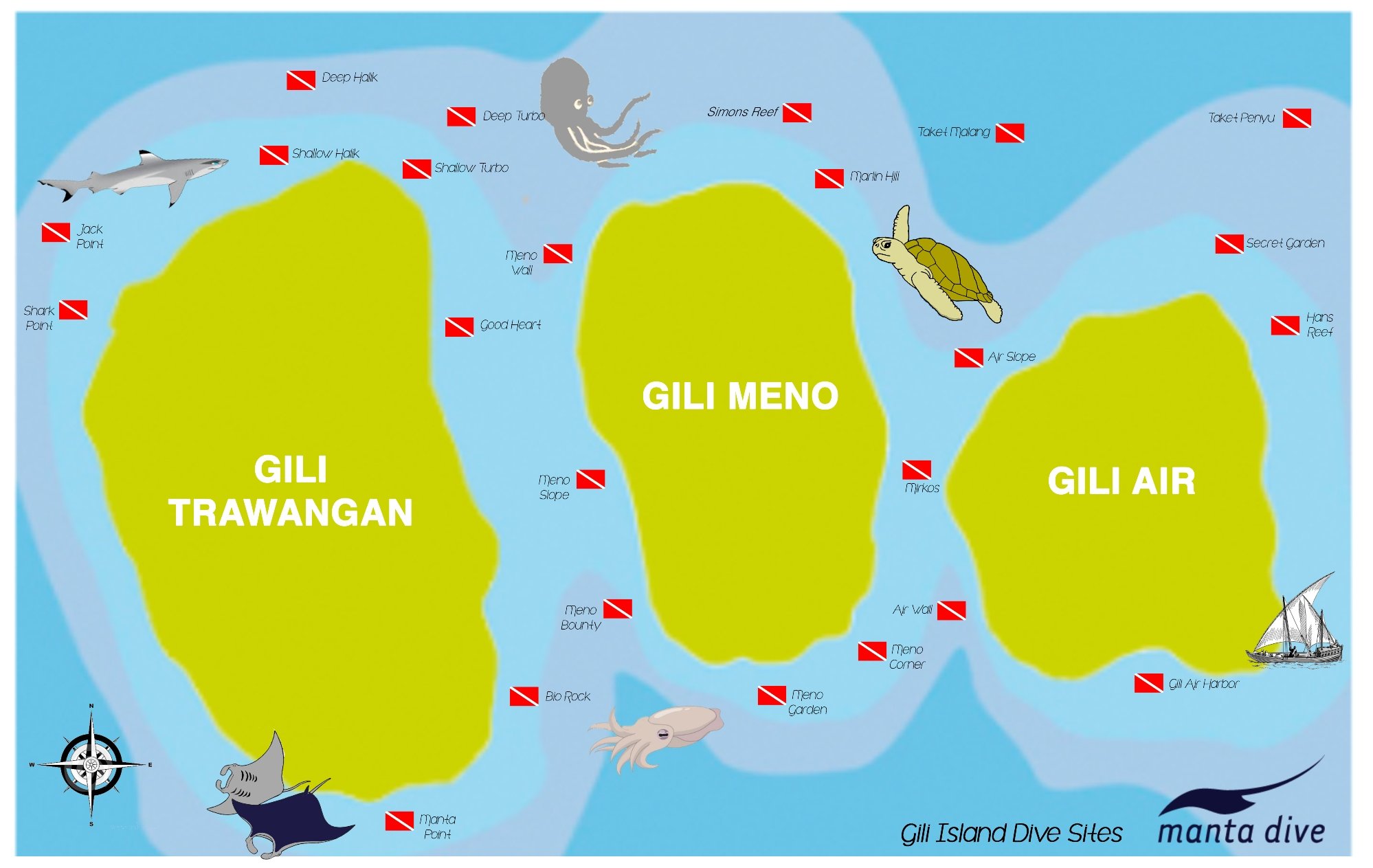 Diving at the Gilis is very worthwhile for both beginners and experienced divers. With 20 dive spots there's plenty of choice.
Halik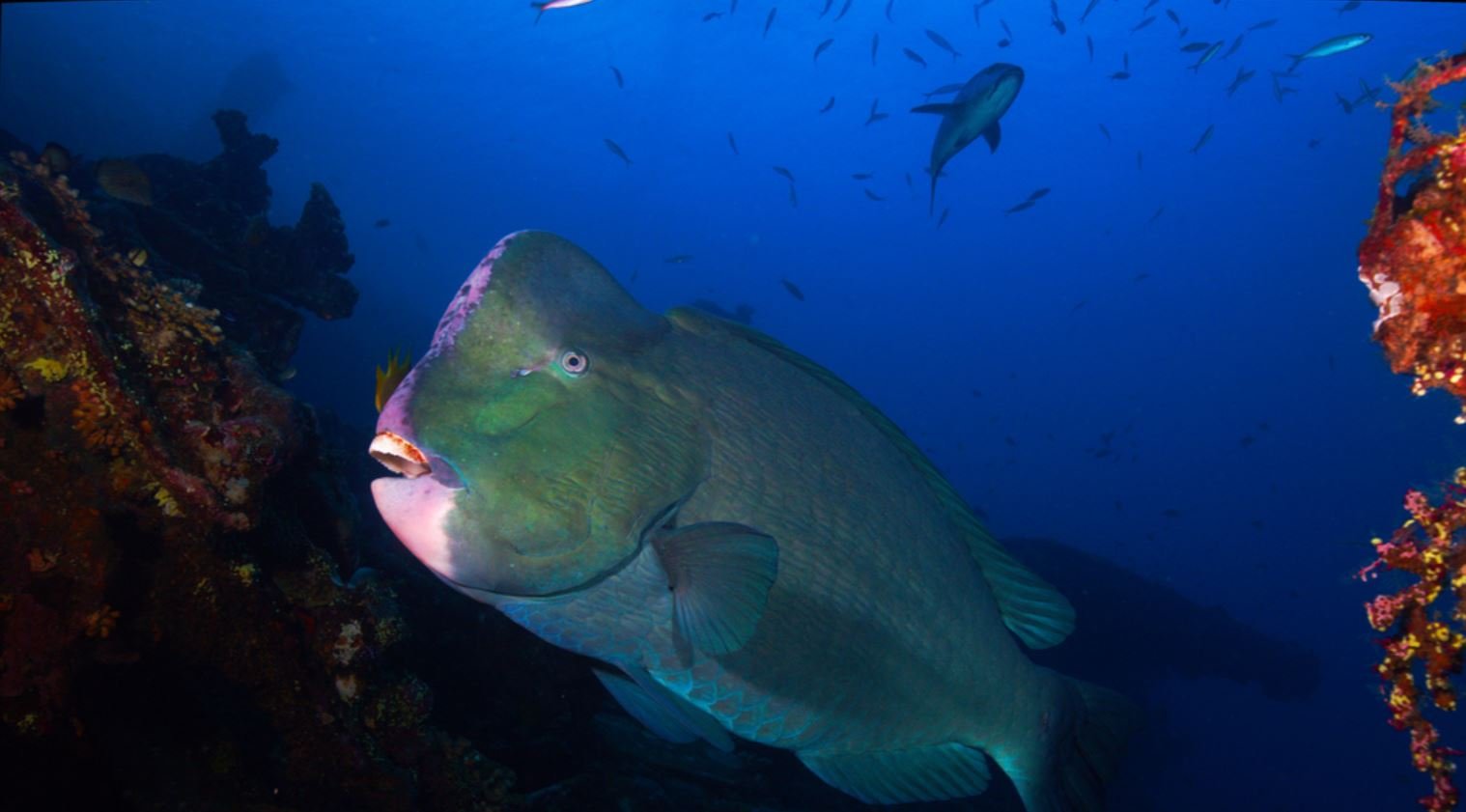 Halik is situated on the North east of Trawangan; a steep slope starting at 5m and ending up in a series of canyons in the deeper parts. This site is perfect for multilevel or drift dives. Beautiful formations of hard coral are found in the shallows, along with Lionfish, Fusiliers, Banner fish, Moray Eels, Coral Grouper and Bumphead Parrotfish (around the full moon). Green sea turtles and Hawksbill turtles are literally everywhere! Deep Halik, the deeper part of Halik reef is for the more experienced divers, here you will be able to find beautiful soft corals, many types of Grouper, Batfish, Trumpet fish, Octopus, White tip / Black tip reef sharks, Eagle Rays and some times Mantas can also be spotted.
Hans reef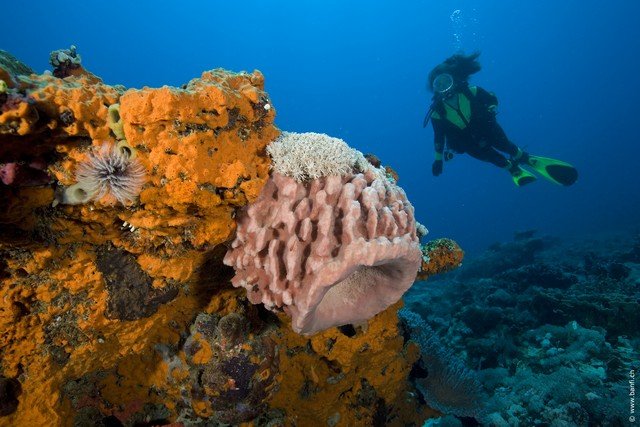 Hans Reef is located on the North of Gili Air, it's a gentle sloping reef with a white sandy bottom, various sized coral bommies and rocky outcrops are dispersed over the site. The maximum depth is 24m with an average depth of 14m; this dive site is suitable for all certification levels. Hans Reef is a must for macro photographers or those of you who wish to see some of the smaller and stranger marine life. Hans Reef boasts a wide selection of juvenile fish such as Batfish, Angelfish, Boxfish, Frog fish, Leaf Scorpion fish and if you look carefully, it is common to also spot Sea Horses, Black spotted morays, pipe fish, Mantis Shrimps and a variety of Nudibranchs.
Andy's Reef / Shark Point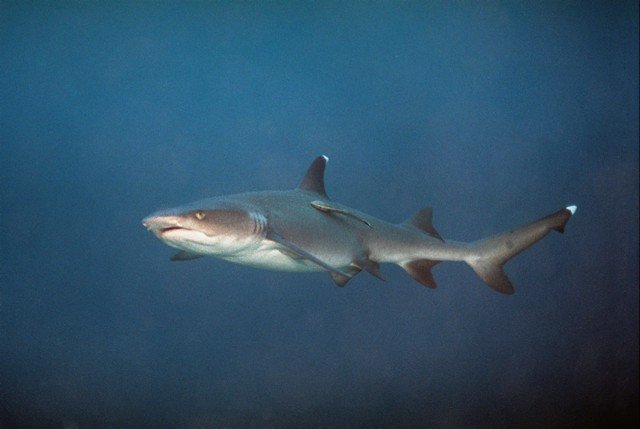 This is always a very popular dive site which will offer you a large diversity and abundance in marine on a single dive. Andy's Reef is a vast open dive site situated on the west side of the islands and available to all levels of diver certification. The site starts on a sloping reef, with a series of 3 ridges and valleys (25m, 20m, 18m) running parallel to the shore, leading into the deeper water, Shark Point (28m). An area which truly deserves its name, this is an excellent site for viewing the larger marine life. Turtles are almost guaranteed to be found in the shallower parts among the soft corals. White Tip and Black Tip Reef Sharks, Jacks, Barracuda, Tuna, Trevally, Angelfish, Snapper, Groupers, Batfish, Parrotfish, Triggerfish, Puffers, Surgeonfish, Blue Spotted Stingrays, Moray eels and more are all commonly seen.
Takat Tunang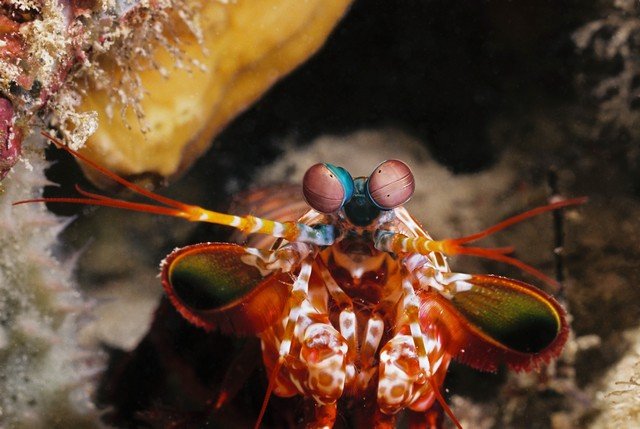 This reef located to the North-west of main land Lombok has been discovered only recently and is well worth a visit. Takat Tunang is a deep reef suited for the more experienced diver, with a maximum depth of 45m and an average depth of 35m. The dive site is a wall drop off (150m) with a large variety of pristine corals throughout the site, different species of shark are commonly spotted here along with huge schools of pelagic fish, Tuna, Trevally, Barracuda, Jack and large Snapper. Divers will finish their dive on coral plateau at 20m. We recommend you make this dive on Enriched air (Nitrox) as to enjoy the full experience of Takat Tunang wall; however it may be done on air as well.
Meno wall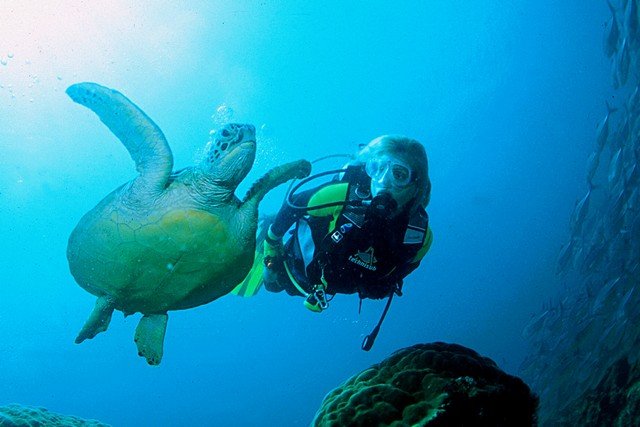 Situated on the North West of Gili Meno the shallow part of the site starts at 5m and drops off to a sandy bottom at 24m. You will find soft corals growing all along the reef and this site offer good opportunities to spot turtles, Lionfish, Soldier fish, Clownfish Groupers, Sweet Lips and Snappers all in large quantities and varieties. Meno wall is a favourite for night dives and it is common to spot many kinds of crustaceans, crabs, lobster and a variety of reef shrimps along with sleeping turtles, Bump Heads and other large parrotfish, juvenile cuttlefish, scorpion fish, lion fish, Moray eels and Spanish dancers.
Good heart reef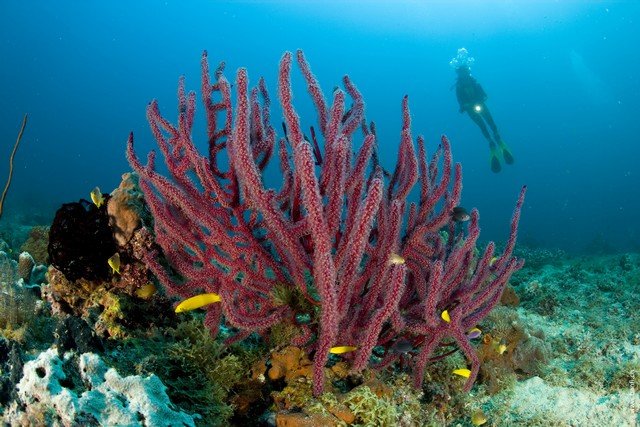 Located on the East side of Gili Trawangan, this site can be dived by shore or by boat. The maximum depth is 20m with and average depth of 15m which make this site ideal for divers of all expertise levels. This drift dive is made over a gentle sandy slope with an assortment of bommies and low-growing coral gardens. Good Heart reef offers you the opportunity to see bommies and coral overhangs filled with Soldierfish and Copper Sweepers. You will also see numbers of Green sea turtles and Hawksbill turtles eating hydroids. You may spot White tip reef sharks, Giant Trevallies and schooling Barracuda along the deepest parts of the dive site. The shallow area of this reef is popular with snorkelers.
Sunset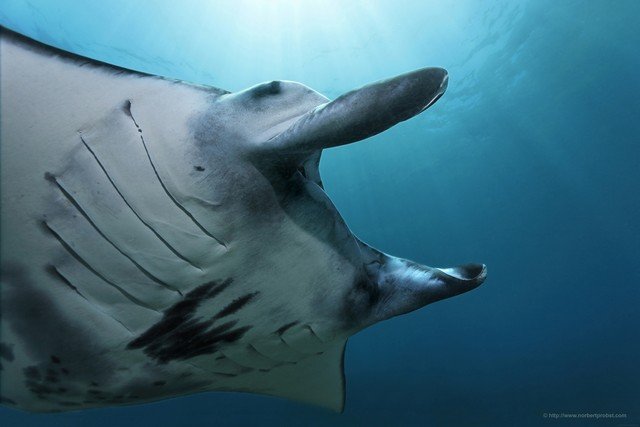 Situated on the south tip of Trawangan, this site is a gentle slope starting at about 5 m and ending at about 22m, rarely any current; it is definitely a favourite for beginners. A large portion of the reef is marked by giant steps of table coral which shelters the fishes. Some isolated bommies of hard corals and some soft corals. You can spot Sweet Lips, Groupers and Snappers, Angelfish and varieties of Parrotfish. The site ends in a sandy bottom where it's the norm to find White Tip and Black Tip reef Sharks, Stingrays, Turtles and during the rainy season, when the water is rich in plankton, you could have the chance to see passing Manta's.
Simons reef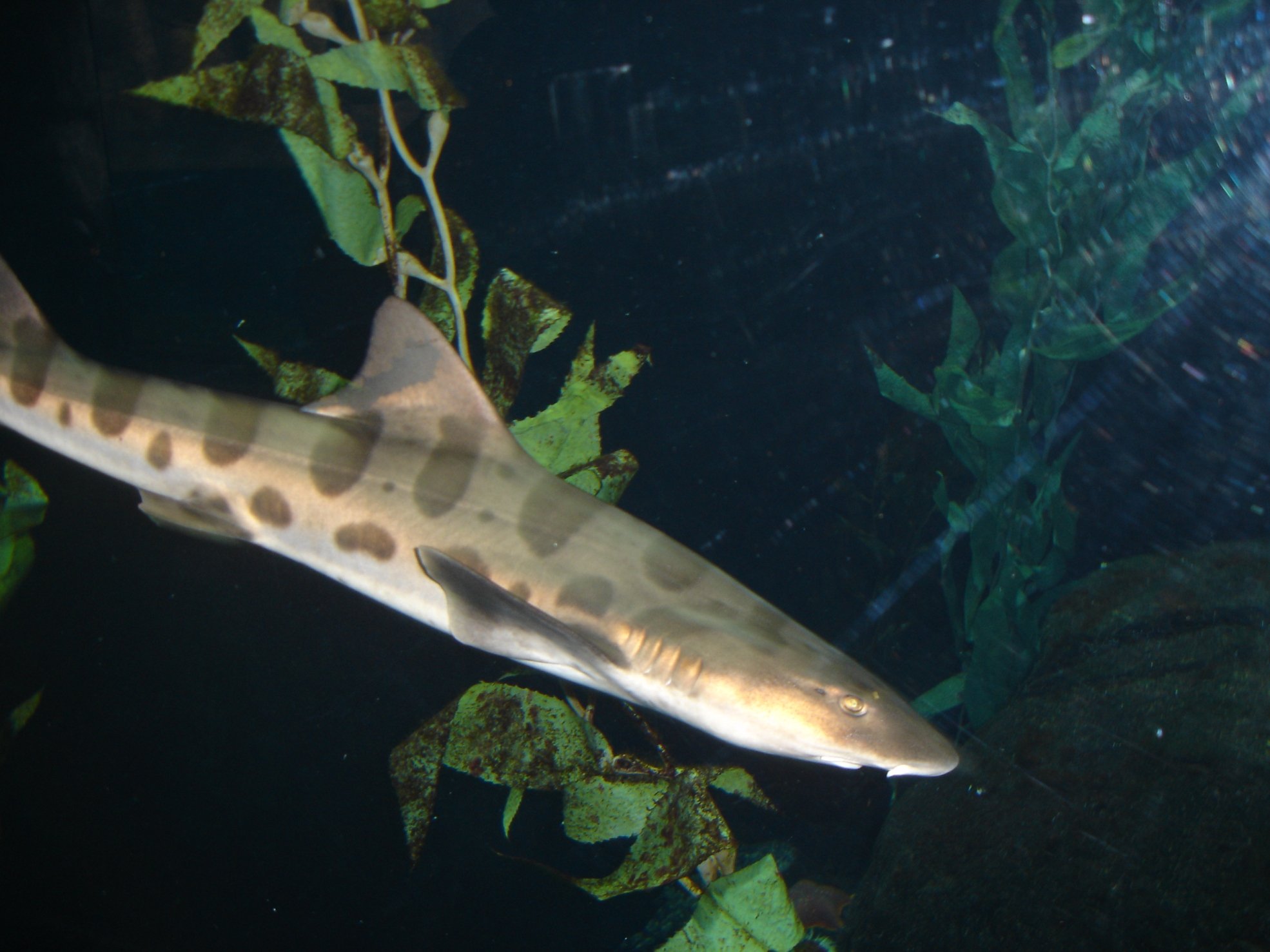 Located to the North of the 3 Gili islands, this site is independent from the reefs closer to the Gili's. Simons Reef is an excellent coral viewing site for experienced divers, the reef is made up of canyons and massive coral mounds roughly in a figure of eight shape rising from a sandy bottom at a depth of 35m. The average depth for this dive site is around 25m and it is the perfect dive site for divers wishing to do Nitrox dives. The canyons are all well formed and abundant in superb coral varieties, such as Acropora, Star and Brain corals, Gorgonian Fans, Plate coral, to name a few. The heads themselves are quite sculpted, with recesses and overhangs. The channels in between funnel the currents, concentrating large numbers of bigger reef and schooling fish species, such as Snappers, Trevally, Jack, Yellowtail kingfish and Tuna. It is also common to spot Parrotfish, Angelfish, Triggerfish, Sweetlips, Cuttlefish Octopus, White tip and Black tip Reef Sharks. Make sure to watch out for the impressively large Great and Barred Barracuda or a couple of Leopard Sharks.
Deep Turbo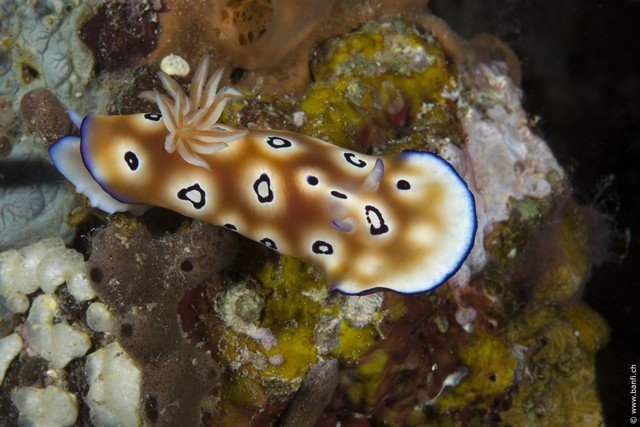 Another interesting and popular dive site available to the experienced diver, Deep Turbo has a white sandy bottom between large sea mounds and coral canyons. The Maximum depth is 32m with an average depth of 25m. The sea mounds and canyon walls differ in size and offer you an interesting collection of overhangs and outcrops, all covered in a variety of hard and soft corals. Huge sea fans and other interesting coral formations will fascinate you from start to finish. Barracuda, Tuna, Triggerfish, Snapper, and Stingrays can all be expected to show up during the dive and you will be entertained by the hundreds of Garden Eels on the sandy bottom. Like at Simons Reef, you can sometimes spot a couple of Leopard Sharks along with White tip and Black tip Reef Sharks. Deep Turbo is always a favourite as exploring the reef and its marine life makes for a truly fascinating dive.
Meno Slope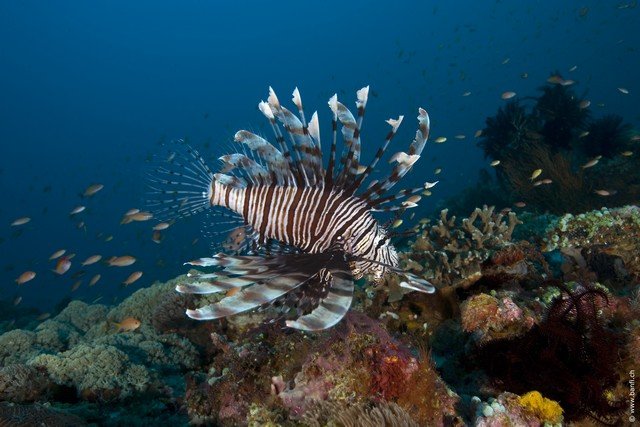 A drift dive along Meno slope is usually quite a joy ride. You will drop into the channel between Gili Trawangan and Gili Meno and descend to the bottom of the sloping reef at 22m. The average depth for the rest of the dive will be 16m, so this site is perfect for all certification levels. Towards the end of this dive site you will find yourself exploring the Bounty pontoon wreck. The sunken pontoon is a large intact structure at 12m full of interesting marine life and teaming with schools of reef fish. On and around the pontoon you will find a variety of scorpion fish and lion fish, along with various nudibranchs and the odd turtle. Along the sloped reef you find an array of hard and soft corals with healthy amount of fish life to keep you entertained. It is common to spot Eagle rays, Turtles, Snapper, Triggerfish, Moray eels, Banded sea snakes, White tip reef sharks and Giant Trevallies.