Zuid Lombok, Sekotong en Belongas Bay duikstekken
Duikstekken zuid Lombok: Sekotong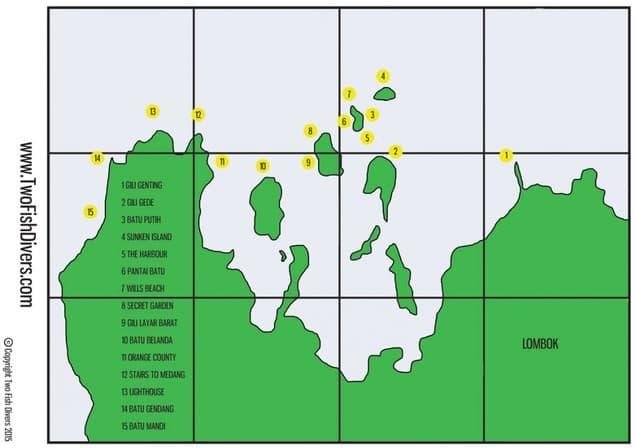 Most of the dive sites are pristine coral reefs with colorful soft corals and crinoids, vast staghorn coral fields and huge table corals in the shallow parts, giant elephant ears in the deeper parts, giant sponge barrels along the slopes. These reefs harbor bright colorful tropical reef fish such as angel and emperor fish, damsel and butterfly fish and many more. The corals hide a variety of shrimps, crabs and of course nudi branchs. Our guide will help you hunt down also the pigmy seahorse, ghost pipe fish and frogfish. Also the green sea turtle, a variety of moray eels, blue spotted stingray, cuttlefish, squid, octopus, lion and scorpionfish, flathead crocodile fish are part of the scenery. Occasionally you will encounter a white tip shark.
The sea is fairly shallow, visibility never crystal clear but this doesn't affect the caliber of the dive sites.We offer diving all year around with sea temperatures of 26-30C and visibility 10-20 meters. Only the months January and February might have a low visibility and doesn't go higher than 10 meter due to the heavy rains.
STAIRS TO MEDANG
Terracing down from 14m to about 35m you will experience a fascinating underwater landscape. Here you can experience the Indo-Pacific at its best. We've seen mantas, different species of sharks and plenty of lively reef fish in all colours and sizes. On top of the plateau it's not uncommon to run into lobsters and turtles.
BATU PUTIH
The east side of Gili Renggit, "Batu Putih", is an excellent site to explore for macro life. Surrounded by shrimps, ghost pipefish and glass fish, you dive along a slope lined with soft coral and feather stars. Diving "The Harbour" you can also find Blue spotted rays, cuttlefish, moray eels and a lot more!
PANTAI BATU
The west side of Gili Renggit is also quite spectacular! Pantai Batu shows an abundance of hard coral and a fascinating stag horn coral garden in the shallows at the end of the dive.
WAVE CORNER
Wave Corner offers rare species for the macro fan! The corals are populated with nudibrancs, ghost pipefish and colourful shrimps. Come and see if you can find the camouflaged frogfish, leaf fish, and other amazing critters!
LIGHTHOUSE
After reaching around 16 meters on the slowly descending plateau we find landslide similar terrain. As we dive along this breakage, we are accompanied by emperor fish, big groupers and surgeon fish. The dive leads into a deeply gorging valley lined by heavy, massive coral formations. Once in the valley we find white tip reef sharks, schooling mackerel, schooling sweet lips, and an abundance of lively fish.
Duikstekken zuid Lombok: Belongas Bay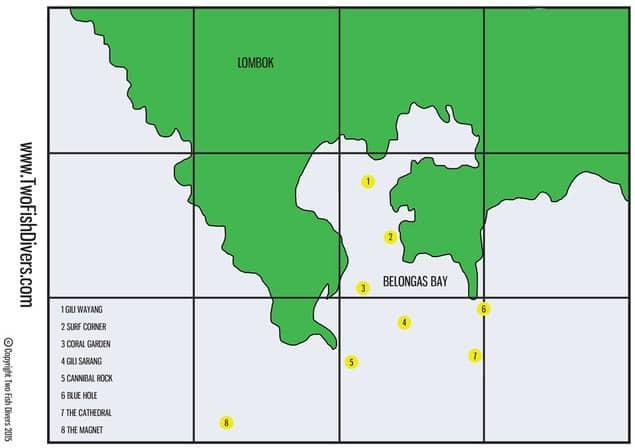 From March till the beginning of June the conditions are fairly mild and the water temperature around 27*C/28*C and the visibility 15m-20m+. In June/July the rougher conditions set in, with mid July till mid September posing the most challenging conditions. During this time of the year the average temperature is around 25*C/26*C, but can also drop down to around 22*C for shorter periods of time, the visibility usually at around 8m-15m+. Starting in the second half of September the conditions normally get less challenging again, but the general conditions such as temperature and visibility remain around the same as during the preceding time.
Most of the dive sites are pinnacles sticking out of the surface of the ocean and covered with bright soft corals. The dive sites harbor not only pelagic such as hammerhead sharks, mobula- eagle- and sting rays, white tip reef sharks, barracudas, batfish and sea snakes but also macro life. Nudi branchs, pigmy seahorse and the orang hutan and porcelain crab are only a few of the many different species.
GILI SARANG
The Belongas dive site Gili Sarang features incredible small creatures such as Harlequin Shrimp, Pygmy Seahorses, a multitude of Nudibranch as well as big fish action. Giant trevalies, mackerels, sweet lips, surgeon fish, and August/September is the best season for schooling mobula- and eagle rays. BIG FUN!!!
THE MAGNET (BATU KAPAL)
The name given to the furthest and most prominent dive site at Belongas (Blongas) Bay, a pinnacle in the open sea with challenging conditions and big fish action! The pinnacle can be reached by boat in half an hour. Located in the open sea, rising up to the surface from 80m, a big surge can be felt down to 15+ meters on challenging days. Divers need to enter the water negatively buoyant and descend quickly to 5-15 meters to encounter tuna, barracuda, while descending deeper to see white- and black tip reef sharks while being on the lookout to spot the hammerheads.
THE CATHEDRAL (GILI ANAK EWOK)
Another signature Belongas dive site, 'The Cathedral'. It features a large pinnacle with 2 main peaks, and is notable for the schools of eagle rays as well as tuna, mackerel and "Great Barracuda". Abundant with sea snakes gliding around, thus it is not surprising when a diver spots as many as a dozen during a dive. This pinnacle comes up from around 50m and sometimes offers less challenging conditions than "The Magnet".