Korowai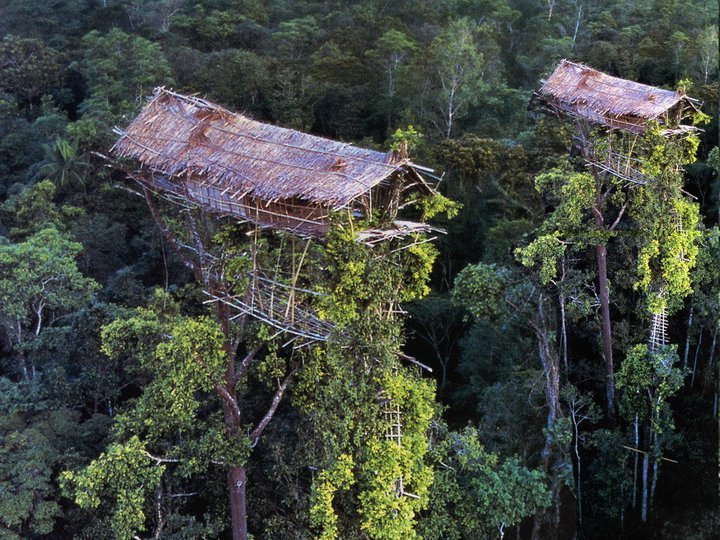 The area of ​​the Korowai tribes is an area of ​​over 500 square kilometers northwest of Upper Digul. It is a difficult to reach swampy rainforest. Trips to the Korowai are by boat, usually across the Brazza River from Dekai, or from Kepi.
The approximately 3,000 Korowai live in small settlements in tree houses. Since the end of the last century, villages have also been built along the rivers, reducing the number of settlements. The Korowai live from nature. The sago palm is the most important supplier. In addition, there is a bow and arrow hunt for wild boars and fishing in the small streams.
The tree houses are located at a height of 15 to 50 meters and protect the inhabitants from vermin, game and hostile attacks. The ladder is a dried and notched tree trunk and vibrates with every step that is taken, thus alerting residents when someone is climbing up.
If you want to visit the Korowai you have to take into account very primitive overnight stays (at the Korowai in a tent or in a tree house). In addition to a reasonable condition, you must also have a great deal of adaptability. After the long boat trip on the Brazza river, a trek of 3 to 5 hours follows through the swampy jungle to the Korowai settlement. In addition to a guide, a cook and porters go along on a Korowai expedition. A Korowai expedition can be combined with a visit to the Baliem Valley or the Asmat region.

The Korowai tour module is our most adventurous round trip. In a mixture of short flights, boat trips and sometimes tough walks you cross the jungle to the Korowai tribes that live high above the ground in tree houses.

You sleep in small tents and sometimes in local primitive accommodations. B ... meer infomore infoinformations supplémentaires

The Korowai tour module is our most adventurous round trip. In a mixture of short flights, boat trips and sometimes tough walks you cross the jungle to the Korowai tribes that live high above the ground in tree houses.

You sleep in small tents and sometimes in local primitive accommodations. B ... meer infomore infoinformations supplémentaires