Manokwari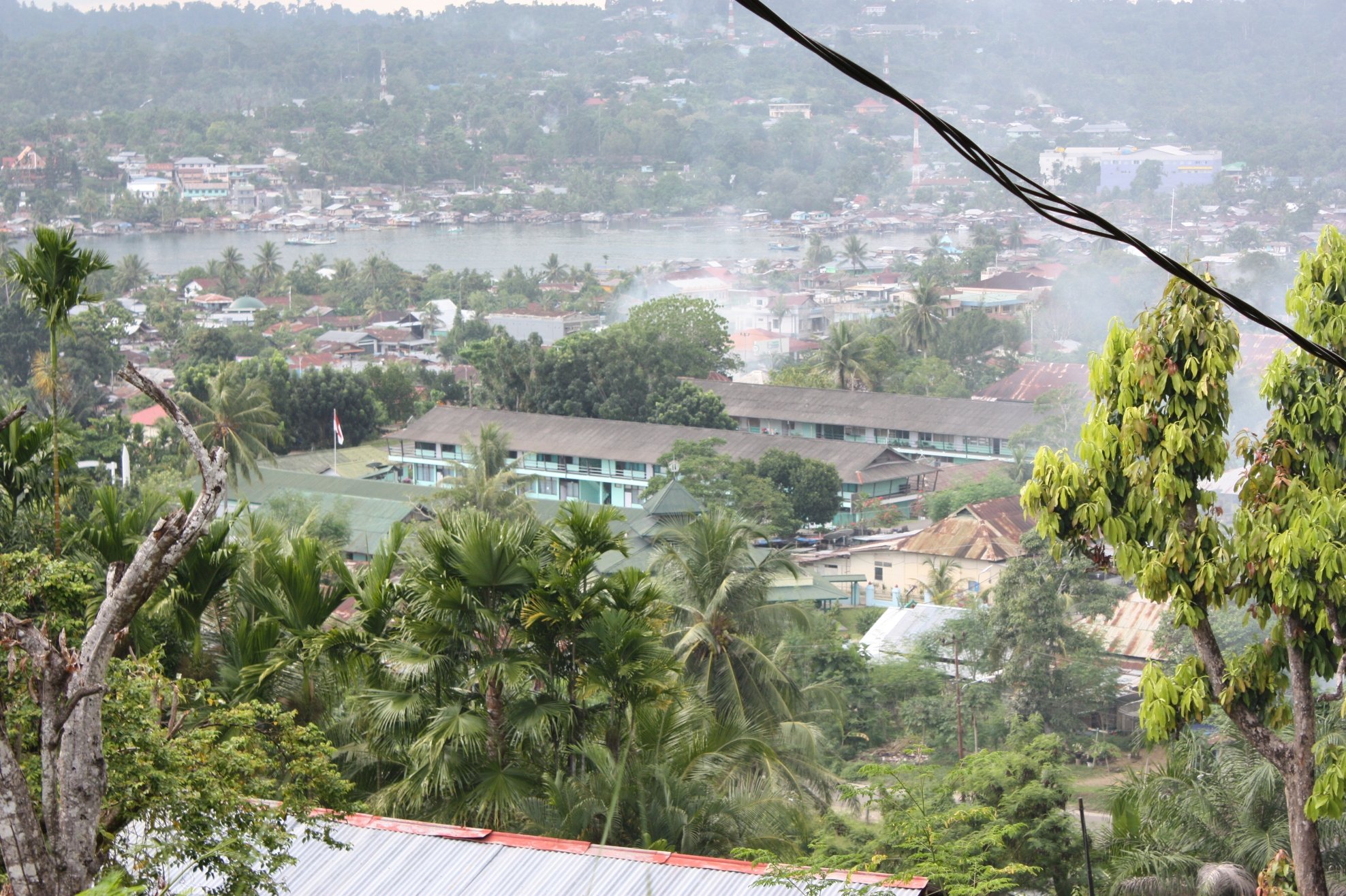 Although smaller than Sorong, Manokwari is the capital of the West Papua province. The town with 130,000 inhabitants is located in the northeast of the so-called Vogelkop. Gunung Meja (the table mountain) is located almost against the town and is a protected nature reserve with a lot of jungle.
Manokwari is better known as a base to the Arfak mountains.
Rendani Airport has daily flights with Sorong, Jayapura, Makassar and Jakarta. Several times a week there are also flights to Nabire, Kaimana and Fak-Fak.
Sights to see
Pasar Puti Beach: you can ask every taxi driver to take you to this beautiful beach. It is just outside the centre of the city. Beautifully white with many trees that offer enough shadow. Little crabs run around joyfully. Don't forget to bring your mask and snorkel. There is a beautiful piece of coral directly in front of beach. You can see wonderful fish here. At weekends it may be very busy on the beach because of the local people coming to Pasar Puti Beach. The rest of the week it is pleasantly quiet!
Japanese Monument: at a short distance into the mountains through the jungle you'll arrive at the Japanese Monument. Some taxi drivers don't want to go there because some parts of the road are in very bad condition. Once at the Monument you'll be able to enjoy the beautiful view over Manokwari.
Markets: Two markets are worth visiting. The first is the fish market at the fishing port. The fishermen leave early in the morning to catch the fish that's sold on the market later. The best time to go to the market is at the end of the morning.
The second market where you can look around and enjoy the real Indonesia is the common market. Hundreds of stalls stand here together. Most of them covered. It's hot here and after the rain also very damp. You can find anything here, vegetables, fruit, clothes, toys, souvenirs, etc... Don't forget to bring your camera!
Snorkelling: On many places along the coast it is nice snorkelling. Also a good idea might be to rent a boat from a fisherman and tell him that you want to go to Lemon Beach. This is a small island in front of the coast of Manokwari and snorkelling is wonderful there. Negociate the price in advance to prevent problems.
Gunung Meja: The Table Mountain is called Gunung Meja in Indonesian and is situated near the centre. The mountain is perfect for walking through the jungle. It'll be a serious trip so bring enough water. On the way you can enjoy the wonderful flora and fauna. You'll see many birds and reptiles during your trip, so don't forget to bring your camera as well!