Triton Bay dive spots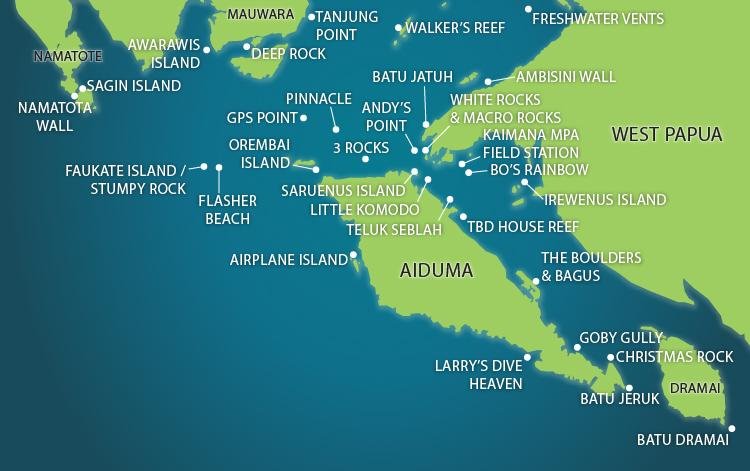 Triton Bay has over 30 dive sites already identified here and many more yet to explore. Dive sites range from pinnacles to shallow soft coral gardens, huge boulders draped in colorful corals, massive black coral bushes, drift and wall dives, as well as the opportunity for critter hunting.
Triton Bay is becoming best known for its beautiful soft coral gardens and it has had guests suggest that this should be called the "soft coral capital of the world" with all due respect to Fiji. And of course, the whalesharks attract many divers!
Most of the dive sites are in and around the Iris Strait (the body of water between Aiduma Island and the mainland) just south east of Triton Bay. For the majority of the dives it is not necessary to venture deeper than 20m as the shallower parts boast the best coral and fish action. Unfortunately the price to pay for the speculator soft corals gardens and masses of schooling fish of every shape, color and size, is reduced visibility which varies considerably, but averages around 10 ~ 15 meters. Please note visibility can be as low as 5m or over 25m as it is dependending on weather and currents/upwelling.
Water temperatures vary between 28-30 degrees Celsius during the diving season and drop down to around 24 degrees during the eastern monsoon (June ~ Sept).
Andy's Point
This dive site is always full of surprises! Every time you dive here you will see something new, yellowfin barracudas, a squadron of humphead parrotfish, large schools of hunted anchovies, devil rays that skim by, wobbegong sharks and also solar powered slugs and dwarf seahorses. Visibility is not always clear at this dive site, but you will be richly rewarded. The currents can be quite strong, so stay close to your dive guide.
Batu Jatuh
Another dive site that often surprises us, this one has both soft and hard coral gardens which every photographer dreams of! It also hosts a large school of bat fish as well as hunting jacks, midnight snapper, bumphead parrot fish and napoleon wrasse. We have had surprise visits from Devil rays, Eagle rays as well as the odd Manta ray here so remember to look into the blue while you are diving!
Bo's Rainbow
Another dive site very close to our resort is Bo's Rainbow , which has huge soft coral covered boulders with schools of fish. A relatively shallow dive, bottoming out into a gentle sandy slope at 16 meters it is perfect for both wide angle (especially when the sun is shining) or macro. There is also a shallow swim through cutting through the middle of the island. If there is strong current, divers can stay within the protected side of the island. With no current you can easily swim around the entire island.
Flasher Beach ~ Secret Beach
Flasher Beach is located on a little island that sits by itself in the middle of the ocean outside of Triton Bay and north-west of Aiduma. It was named because of the beautiful Flasher Wrasse that are seen here. Flasher wrasse are the most colourful of all reef fish and are so named because of the mating displays by males during the late afternoon. This dive site is about 30 minutes rider from our resort, so we are happy to say we have found another beach where we have also found the flasher wrasse and it is just around the corner from us. We also have pygmy seahorse among other macro subjects on this dive site!
Saruenus Island
Locally nicknamed "Pintu Arus"/"Palau Arus" (current island), this small island is just a 5 minutes boat ride from our resort and offers 4 completely different diving experiences that will blow your mind! The most talked about dive is Little Komodo where the huge boulders nearly break the surface with soft corals and schools of anthias, damsel fish, fusilier. Deeper down schools of sweetlips and snapper hang out in the black coral bushes, hunting jacks as well as wobbegong can also be found here. If you are in the mood for some macro photography this site also offers a chance to check out the baribanti pygmy seahorse as well as nudis and shrimp. If the currents are playing nicely you can gently drift along a beautiful soft coral covered wall and end your dive in Aquarium.
Aquarium is best dives when the waters are nice, calm and glassy on top to make the most of your reflection shots. It's a small dive site but boasts beautiful soft coral bommies and loads of schooling fish.
If you are looking for a little more action, then (conditions permitting) you can enjoy a drift dive along the western side of Saruenus island! But beware, currents can get crazy with eddies and timing on this dive site is everything! The soft coral gardens cover the wedding cake tiered reef like a carpet and is totally mind blowing! You can often be joined on the dive by giant grouper checking you out as well as schools of fusilier and anthias playing in the current! Note to yourself: if the fish can't swim against the current you definitely can't! But it's fun to watch. Reef hooks might be a good option on this dive.
White Rock
Can be dived day or night and should be named Candy Crab City!!! Covered with soft coral bushes it is a gentle sloping reef bottoming out at around 14 meters. This is mainly a macro site but we have also spotted wobbegong sharks, frogfish, and the very very elusive and shy epaulet/walking shark on this dive site.
Saron City or Triton Bay Divers House Reef
We are really excited to discover some great macro life on both of our house reef sites. Flasher Wrasse, Saron/Marble Shrimp, Harlequin shrimp as well as the LSD/Picturesque dragonet and mandarin fish! We have also spotted bob tail squid and starry octopus on our night dives!!