Bunaken dive spots
The National park Bunaken has incredibly many interesting diving and snorkelling locations. Most dive spots are easily accessible for less experienced divers. There may be strong currents in some places and times.
Best diving period: from March / April to November.
Muka Gereja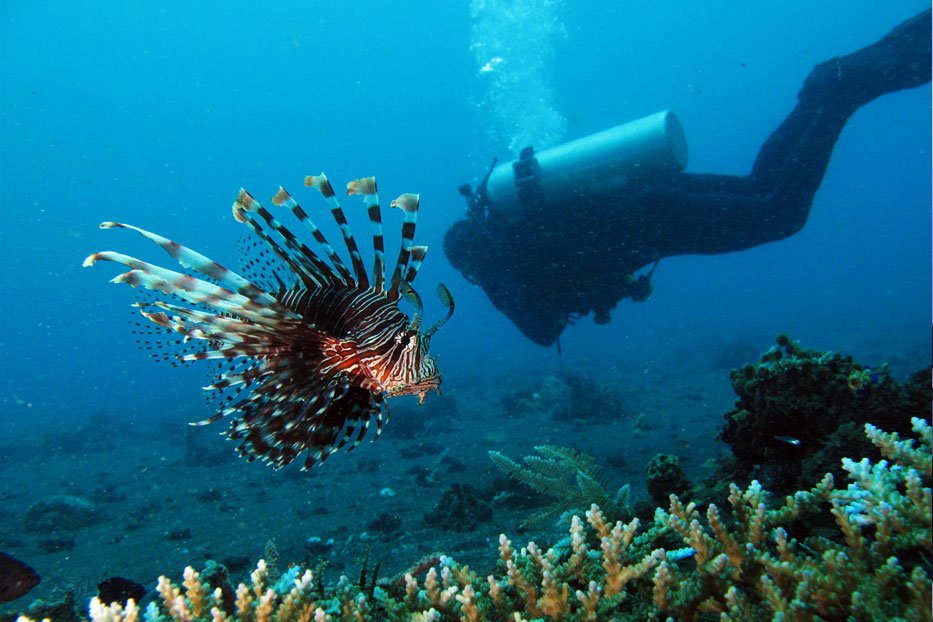 Muka Gereja means "in Front of the Church". You'll find a beautiful steep winding wall with with a lot of caves, cracks and overhanging formations covered with lots of corals, among which impressive barrel sponges, some with a diameter of almost 1m. There's also a lot of fish life with e.g. butterfly fish, angelfish, parrot fish, catfish, sea snakes, white tip sharks, turtles and also scorpion fish, different species of crabs and nudybranches. With, when you surface, a beautiful view on the 812m-high sleeping volcano of Manado Tua for an 'encore'.
Diving level: advanced
Depth: 15-25m
Visibility: 10-30m
Current: most of the time mild – moderate
Mike's Point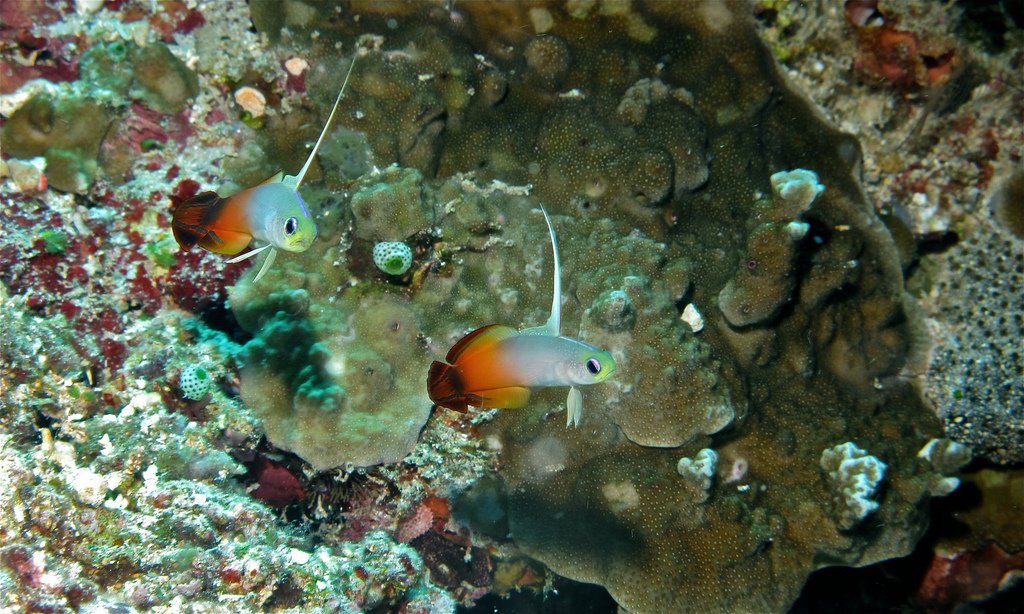 Mike's point is situated northwest of Bunaken island, the site is named Mike Severns, a famous underwater photographer. It's a wall covered with a great diversity of colourful corals and houses a lot of different tropical reef fish. Along with other fish species you are certain to meet bumphead parrotfish, Napoleon wrasse, mackerel and tuna. Bigger fish are commonly spotted here, because the current is often quite strong, depending on the tides. It's also an excellent spot for deeper dives, as the bottom of the reef is covered with different species of sponges.
Diving level: advanced
Depth: 15-40m
Visibility: 10-30m
Current: most of the time mild – moderate but can be strong too (depending on the tide)
Raymond's Point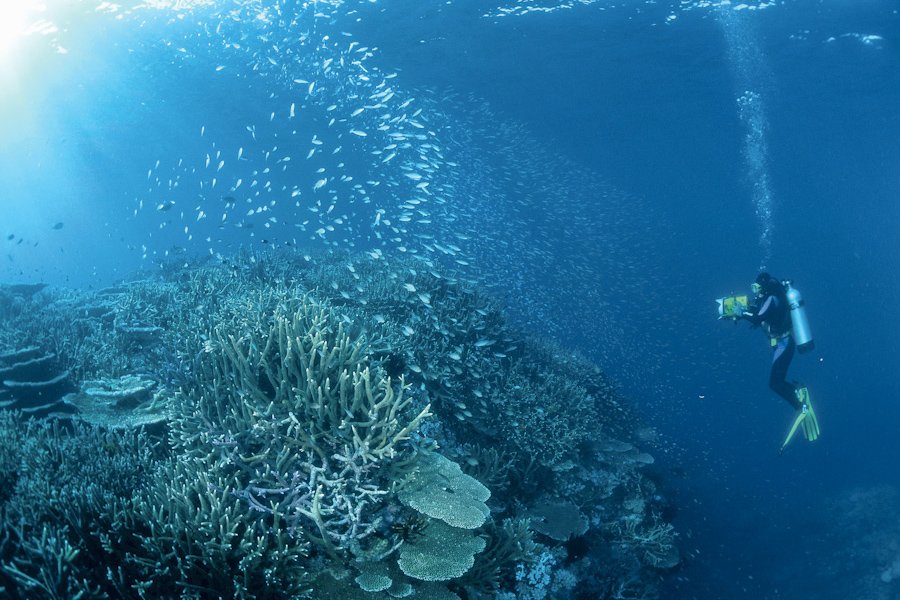 Raymond's point is south of Mike's Point. A beautiful wall covered with sponges and lots of very nice hard and soft corals, among them current-loving wire (or whip) corals. There's plenty of big and small fish. There's also a large cave that's worth a visit and at a certain point a 'sandy path' where you can see blue spotted stingrays having a rest. Beautiful dive site where you can shoot some very nice pictures. But be careful of the current…
Diving level: advanced
Depth: 5-35m
Visibility: 10-30m
Current: moderate – strong
Lekuan
Lekuan is a very extensive top class dive site and therefore divided into Lekan I, II and III. In terms of current is Lekuan I the toughest, with often a strong current. Lekuan II has moderate to strong current en Lekuan III is the calmest area with mild to moderate current.
Lekuan I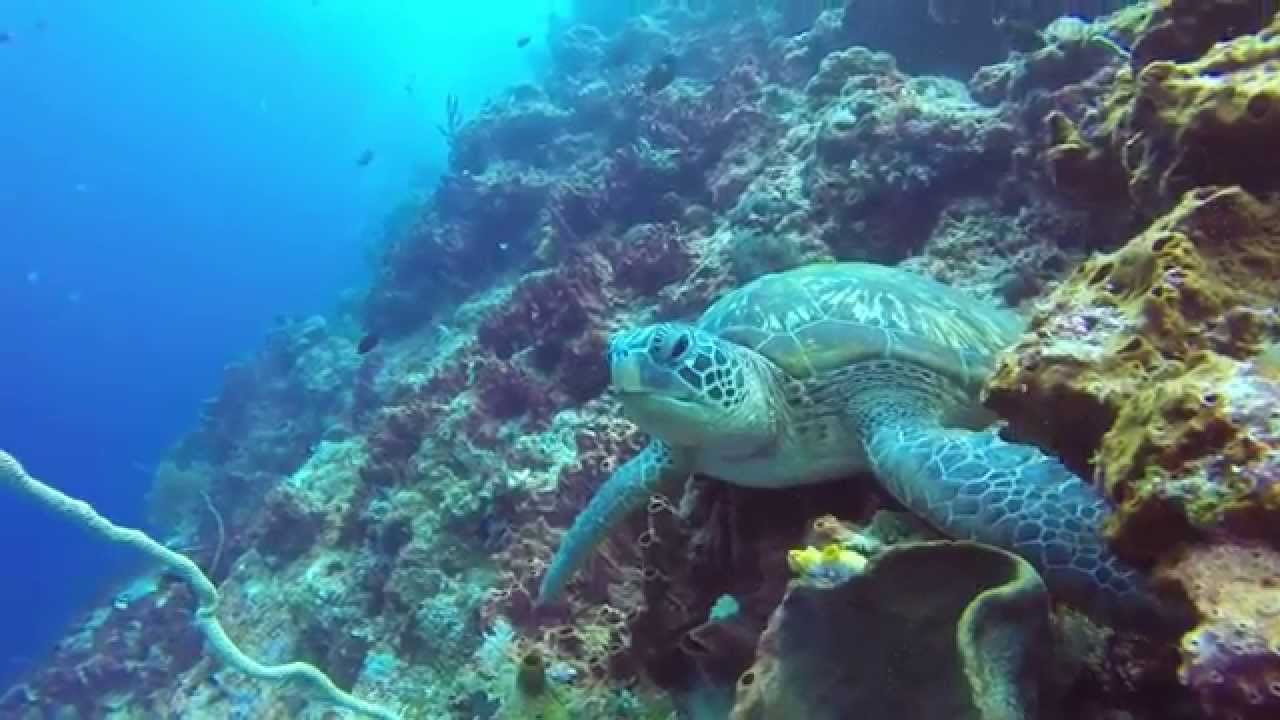 Lekuan I is a very popular dive spot with a drop off and steep wall dropping to a great depth with caverns, vertical canyons, small caves, soft corals, giant barrel sponges, sea fans or whips, black (little thorn) corals…
Along with schools of butterfly fish, bannerfish, fusiliers and red-toothed triggerfish you can see here big fish like giant- and bluefin trevallies, tuna and sharks and sometimes eagle rays and blackfin barracudas.
Diving level: advanced with 20 logged dives
Depth: 20-40m
Visibility: 10-40m
Current: moderate – strong !
Lekuan II
Lekuan II is a big drop off with a marvellous vertical wall going down to more than 60 meters deep with many canyons and cracks, a lot of different sorts of soft and hard colourful coral, big sponges, black corals, nudybranches, cleaner shrimps, sea flatworms, lobsters, crabs etcetera. You can make beautiful macro pictures here. Many colourful reef fish. Very big schools of butterfly fish, red-toothed triggerfish and black snappers.
You can also find white tip sharks, turtles, angel fish, scorpion fish, moray eels and most of the time napoleon wrasse. Somewhat deeper you might see black tip sharks and, with a bit of luck, eagle rays.
Diving level: advanced
Depth: 20-40m and more
Visibility: 10-40m
Current: moderate – strong
Lekuan III

A wonderful dive spot, starting with a sandy slope with coral pinnacles and continuous into a beautiful wall that drops to over 200m deep. Sea fans and big sponges beautify the wall and everywhere lots of colourful fish. Schools of fusiliers, sweetlips, mackerels, batfish, often also barracudas, jacks en blacktipsharks. For macro photographers there's also smaller stuff, such as leaf scorpionfish, nudibranches, flat worms and much more… Sometimes you even see crocodile fish and eagle rays.
It's also a nice spot for night dives. Most of the time a gentle current.
Diving level: beginner and advanced
Depth: 20-40m
Visibility: 10-35m
Current: mild to moderate
Molas Shipwreck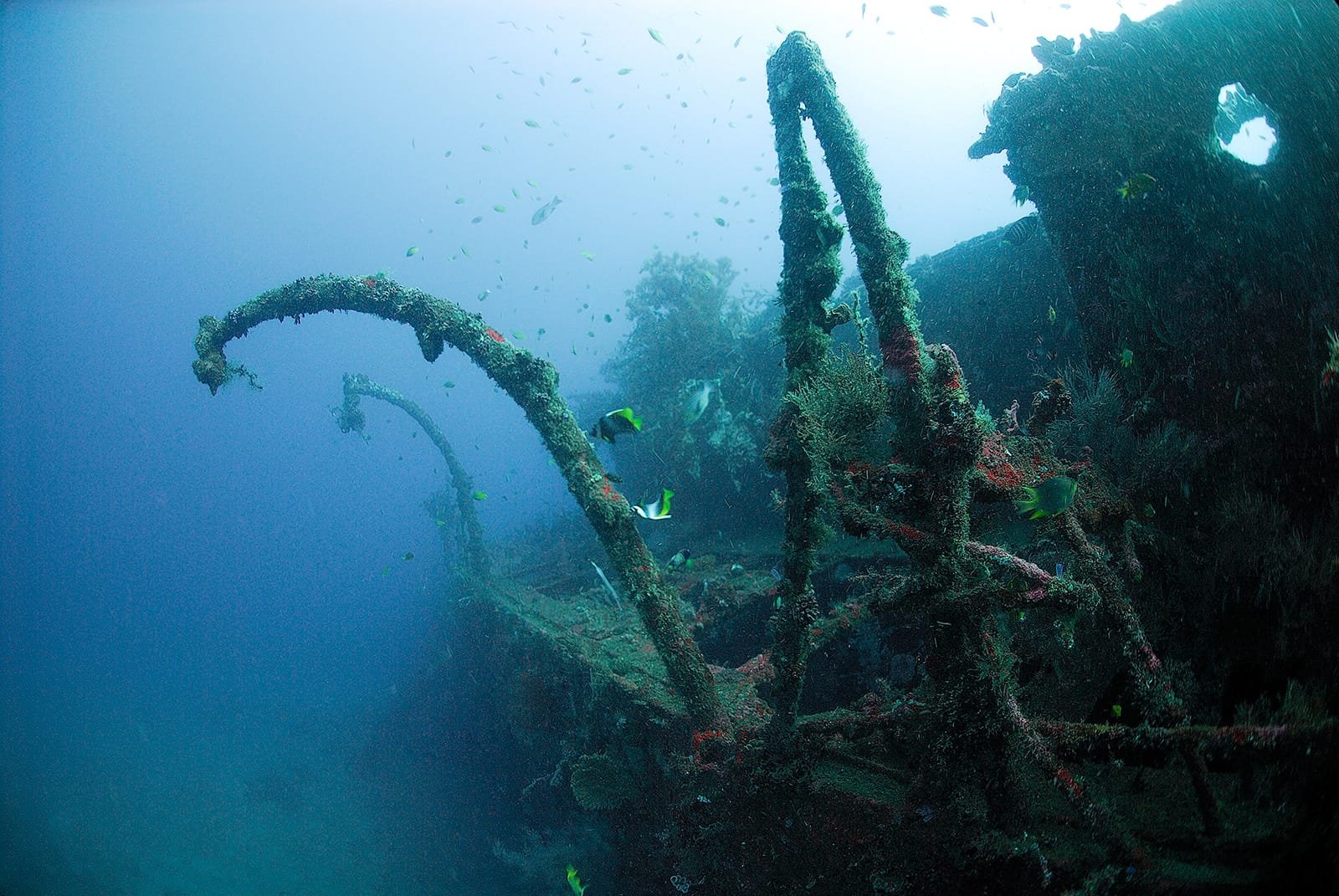 The twin propelled Molas shipwreck was probably a German or Dutch merchant ship that sank during the Second World War. The metal wreck is 60m long and still in quite good conditions.
The ship wreck lies on a muddy sandy slope. When the tide is high, the bottom of the hull lays between 30 and 40m deep with the propellers at the deepest part. The bow of the ship, upwards, starts at 22m. Visibility is most of the time not really that good, from 5 to 15m, generally about 10m. The site is very close to the coast and a small river discharges into the sea not very far from the wreck. This means a lot of sediment 'hanging' in the water when it rains. A dive light would be handy. Beautiful corals, but covered with mud.
Big groupers, puffers, sweetlips, ribbon eels, batfish, many nudybranches, leaf scorpionfish and other little things can be seen in the shallower reefs next to the wreck.
Level: advanced
Depth: 15-30m
Visibility: 5-15m.
Current: mild