Togian islands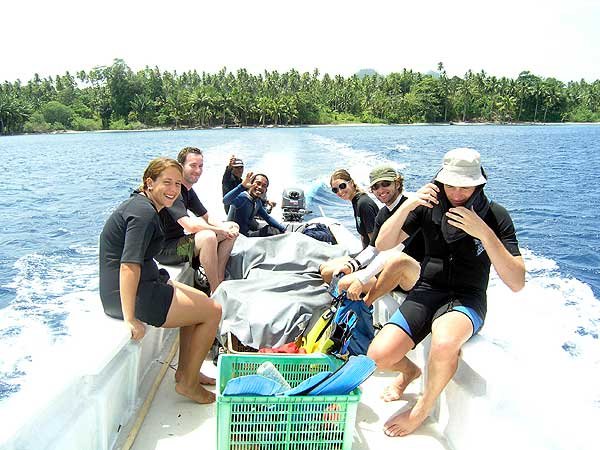 The Togian Islands are between central and north Sulawesi and famous for the wonderful underwater world. It's composed of several islands, with small boats you can go from one island to another.
From Ampana there's a daily ferry to the Togian islands. From Gorontola (North) there's a big ferry twice a week and several times a week a wooden boat which one we won't advise you.
Dive spots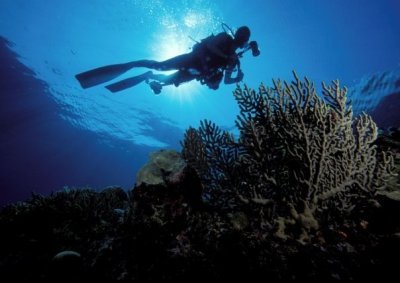 Dive locations:
Enjoy diving around Kadidiri with comfortable water temperature and pristine water. Most dive sites are in easy reach. Una Una, the active vulcano, is a destination for a full day-trip
B-24 bomber plane wreck
It takes about one hour to reach the site. The plane is in good condition, the wings with one propeller and the tail still intact and the two barrels of the turret gun on top are still in place. The wreck is covered with soft coral and hosts many shrimps, nudibranchs, lots of lion fish and also a huge school of jackfish.
The Gap
A Coral Slope with a good variety of coral and many schools of fish. This is often a drift dive. You may see eagle rays, tunas and barracudas.
The Crack
Offers a good place to watch sharks in the deep. Swim across Mini Canyon - a dive site on its own - to a large rock, which splits in the middle. The dive continues through the rock and ends in 51 m. This is no dive for beginners.
Dominique Rock
The dive leads between rocks in front of Taipi wall to the huge Dominique Rock. Under an overhang in about 40 m you usually meet a school of big jacks. The top of the rock is covered with whip coral and gorgonian fans. Also a rather deep dive for experienced divers.
Labyrinth
A labyrinth of rocks on a sandy bottom provides beautiful underwater scenery. The dive ends on a coral garden. This is an easy dive
Batu Gila
A deep, current swept ridge where sightings of sharks, rays, tuna & barracuda are common. The scalloped Hammerhead sometimes pays a visit here too.
Una Una
One of the best sites on Togian island and home for huge schools of fish and many turtles and even manta rays.
Pasir Tengah
One of the Togians atolls, plunging from the surface to around 400m. The coral covered walls here are spectacular and there is normally plenty of action away from the reef as well.
Kadidiri House Reef
This reef is nice for night dives where you can find ghost pipe fishes and other small critters.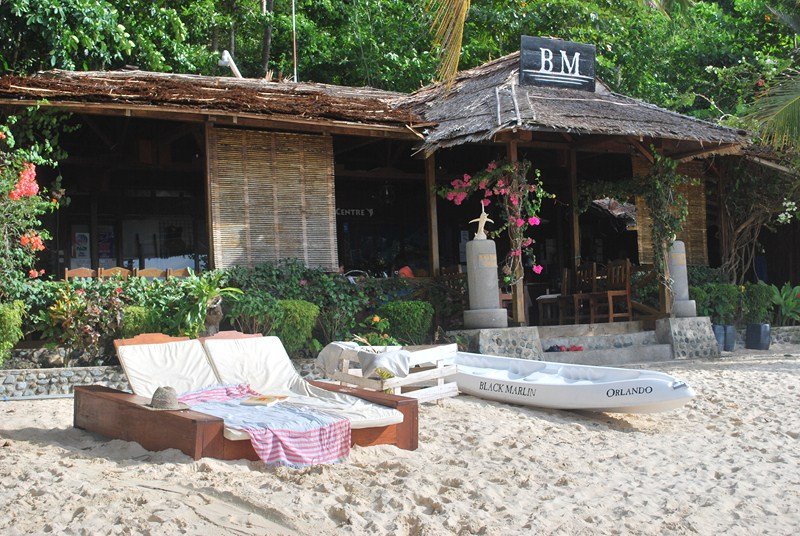 The Black Marlin Dive resort is located on the island of Kadidiri in the Togian area.

Black Marlin is an excellent diving resort with certified diving school, but also for non-divers this is a wonderful resort to enjoy a nice juice on the beach or to snorkel in front of your bungalow.

The 15 s ... meer infomore infoinformations supplémentaires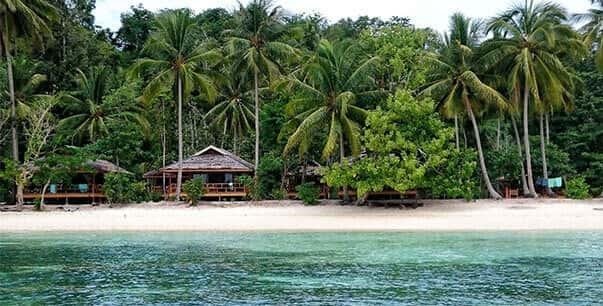 Dit kleine resort is in 2016 geopend door de eigenaren Rok en Valentina.
Het resort ligt aan een prachtig privé strand waarbij enkele meters in de zee de koraaltuin begint.
Ver weg van de drukte en bij de mooiste snorkel en duikspots!
Bij het resort is een duikcentrum met gecertificeerde duikmast ... meer infomore infoinformations supplémentaires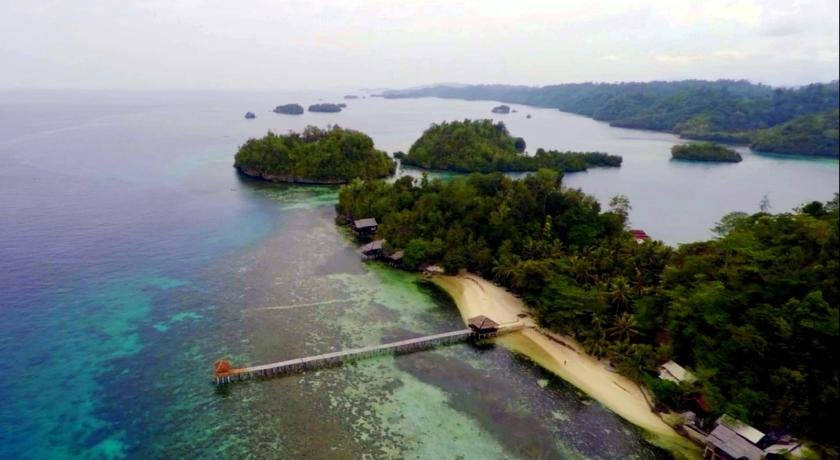 The name says it all, paradise on Kadidiri island, beautifully situated, right on the beach where you can snorkel just outside your door.

Beautiful spacious cottages with veranda. Own certified dive center, but, according to what people tell, not for beginners. (insufficient guidance).

The mos ... meer infomore infoinformations supplémentaires