Samosir

Lake Toba is the largest lake in Indonesia with a length of about 100 km and a width of 30 km. It originated from a volcanic eruption, roughly 75,000 years ago. The Toba Batakkers live around the lake, a people of predominantly Christian faith, mixed with a kind of animistic ancestor worship.
Samosir is the famous peninsula in the lake. An island tour of Samosir lets you see and experience the culture of the Batakkers. A boat trip on Lake Toba, along the island, is also a lot of fun and shows almost the same sights.
It is special to take a day trip to Tatea Bulan. High in the mountains there is a pilgrimage site of the Batak kings and the ancestors are honored. A very devout visit, with beautiful panoramas. Along the way you will also visit the sacred sources of AEK Sipitu Dai. During our visit, the washing place was quickly emptied in order to show something of the sacred.
What you should not miss is a dinner with a vocal group. The Batakkers are known for their polyphonic singing, accompanied by guitar and simple local musical instruments.
The culinary specialties of the Batakkers are not always in the taste of western visitors: dog is not exactly what we are waiting for and the Ikan Mas (kind of goldfish) takes you more time to get rid of bones than it is tasty. Fortunately, Saksang remains, a Batak dish that should not be missing during a wedding. There are two variants, of which we ignore the dog and go for the Saksang Babi of pork.
Of course you are going to eat at my kake-pinjum, my borrowed brother Rony. Together with Rosinthan he runs the Marysca Restaurant. All our Sumatra travelers get a free dinner here with a warm Batak welcome. Rony, his friends and family like to take you musically through the Batak culture with the vocal goup.
Our favorite hotels are Tabo cottages (Junior suite or Villa) and Samosir Villa resort (VIP room. At weekends the resort is overcrowded by local tourists).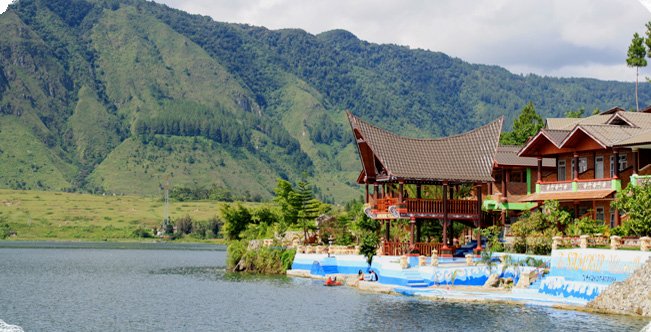 Samosir Villa resort is quite recent (2012) and beautifully situated in the village TukTuk on the island Samosir.

Of course it's very nice to go for a swim in lake Tobe, but there's also a great swimming pool.

All rooms have a small balcony with view on Lake Toba, TV and a safety box. VIP roo ... meer infomore infoinformations supplémentaires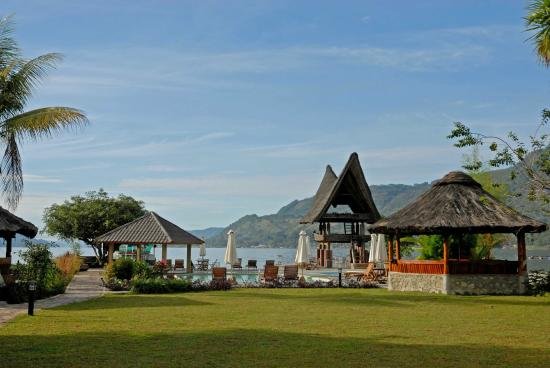 The cozy and small-scale Tabo cottages is located directly on the Toba lake. The hotel has around 40 rooms, ranging from Superior (Basic, private bathroom with hot water), Deluxe (spacious with private veranda and fan), Batak cottages (separate cottages with the same Deluxe amenities) and Junior sui ... meer infomore infoinformations supplémentaires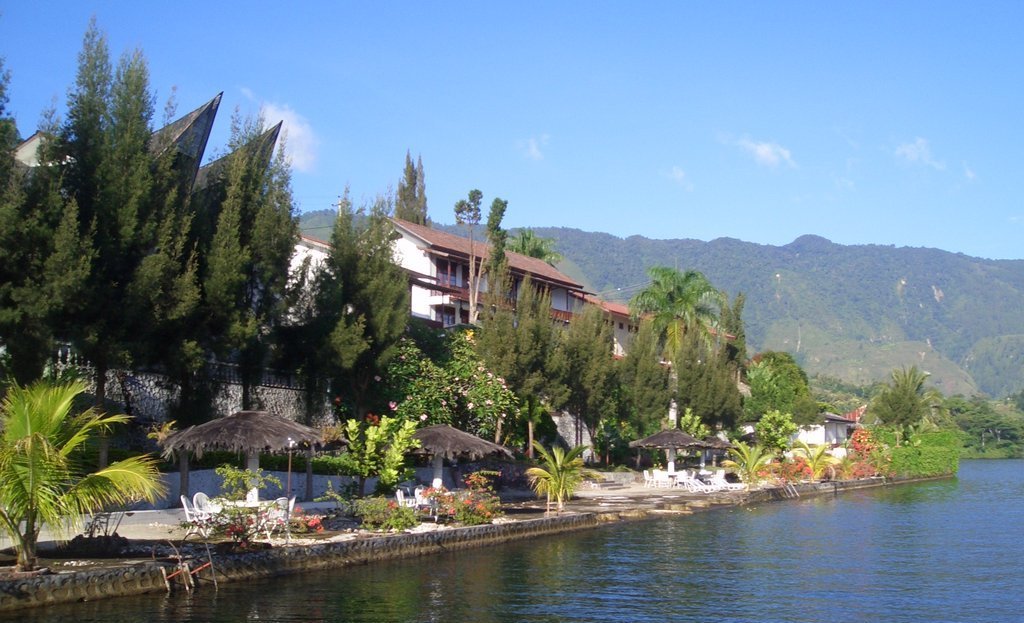 Nice hotel on Samosir island with rooms housed in Batak style cottages.
The hotel is located directly in the town of Tuk-Tuk on Lake Toba and all rooms have a beautiful view of this lake.
All simple rooms have a bathroom, TV and private balcony.

Number of Rooms: 134

Facilities:
Swimming poo ... meer infomore infoinformations supplémentaires