Tangakahan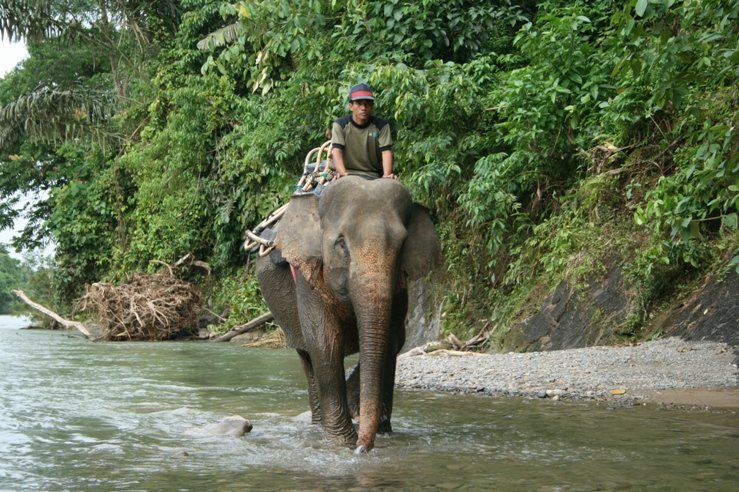 From Medan to Tangkahan it is about a 2 hour drive and 2 hours bump through endless and desolate palm oil plantations. When you arrive at the river you can see that the rainforest hood has also stopped here. The forest of the Leuser National Park starts at Tangkahan. You cross the river via a suspension bridge or with the bamboo ferry. And then you are really in the jungle.
The elephant shelter is located near the hotels, upstream on the Kualsa Buluh River. The elephants are mainly used to patrol the jungle. In the morning and late afternoon they are washed in the river and tourists are welcome to help. From the center you can tube downstream to the hotels with large tires.
Must do's in Tangkahan:
At least a jungle trek. Under the guidance of a local ranger you take a brisk walk through the jungle and see, hear, smell and experience the jungle.
A walk by or along the river to the waterfall is also recommended. At the waterfall you see a lot of butterflies and you can of course also take a refreshing bath.
Tangkahan has some very basic accommodations, of which Mega Inn is our favorite. Do not expect hot running water, air conditioning or any luxury. Do expect to wake up to jungle sounds, helpful staff and reasonable and inexpensive food.
Excursies
Excursions

Onderstaande excursies kunnen in deze plaats gemaakt worden.
The excursions below are available within this place.
Tangakahan