Diving Raja Ampat - Wisesa liveaboard
During this Raja Ampat Dive cruise, Wisesa will bring you in the most intense dive zone in Indonesia and in the World ! 1500 Species of Fish, 700 Species of Molluscs, 500 Species of Corals (75% of all existing species in the world).
Some scientist like Dr. Gerald Allen, counted over 280 fish species on a single dive!
Raja Ampat is also breathtaking natural Landscapes, and local population with still strong traditional culture !
Between 2 Dives, visit the remote islands, the beautiful and desert white sand beach with crystal clear water, meet with locals villages, trek in the rain forest to meet the Paradise birds ans so many others wild species. Enjoy BBQ fish on one of the empty small islands beach.

We will explore the Dampier straight, and also Pianemo, Arborek, Aljui & Fam islands, until the Gem Wayag for central North, we can also go deep south & explore the amazing Misool, our crew will choose the route at the last moment regarding weather and visibility conditions to ensure that you get an unforgettable experience on board WISESA.

In between 2 dives you can enjoy the wild beauty of the islands we visit, amazing white sand beaches with pristine waters, trek to the mount Pendito to enjoy the most breathtaking view of Raja Ampat in Wayag, visit the village and meet with locals, enjoy there smiles, Trek in the rainforest to try to see the wild Paradise birds, etc…

Check the departure dates for the length of the cruise! If there are no registrations yet, it is not yet known whether it is a diving or snorkeling cruise.

Departure dates
23-11-2020 (diving or snorkeling) 9 nights
20-03-2021 (diving or snorkeling) 11 nights
03-04-2021 (diving or snorkeling) 7 nights
13-04-2021 (diving or snorkeling) 11 nights
28-12-2021 (diving or snorkeling) 11 nights
11-01-2022 (diving or snorkeling) 7 nights
21-01-2022 (diving or snorkeling) 7 nights

Including:
•Breakfast, lunch and dinner
•Fresh fruit, snacks, soft drinks, coffee, tea
•2 or 3 dives or snorkeling sessions / day, according to program
•transfers from Sorong airport to the port and vice versa
•snorkeling equipment
•field trips

Exclusive:
•Diving equipment
•Entrance & harbor fee Raja Ampat (approx € 140)
•(alcoholic beverages
•Tips and expenses of a personal nature
•Flee
•Travel and cancellation insurance
•Booking costs and contribution Calamity Fund € 30 per booking
•SGR contribution € 5 per person
•CO2 compensation € 22 per person

Extra information liveaboard:

Down payment after reservation is 30%
Cancellation costs up to 180 days before arrival: 10%
180-91 days before departure: 50%
within 91 days before arrival: 100%
Dag 1 Aankomst Sorong, aan boord van de Wisesa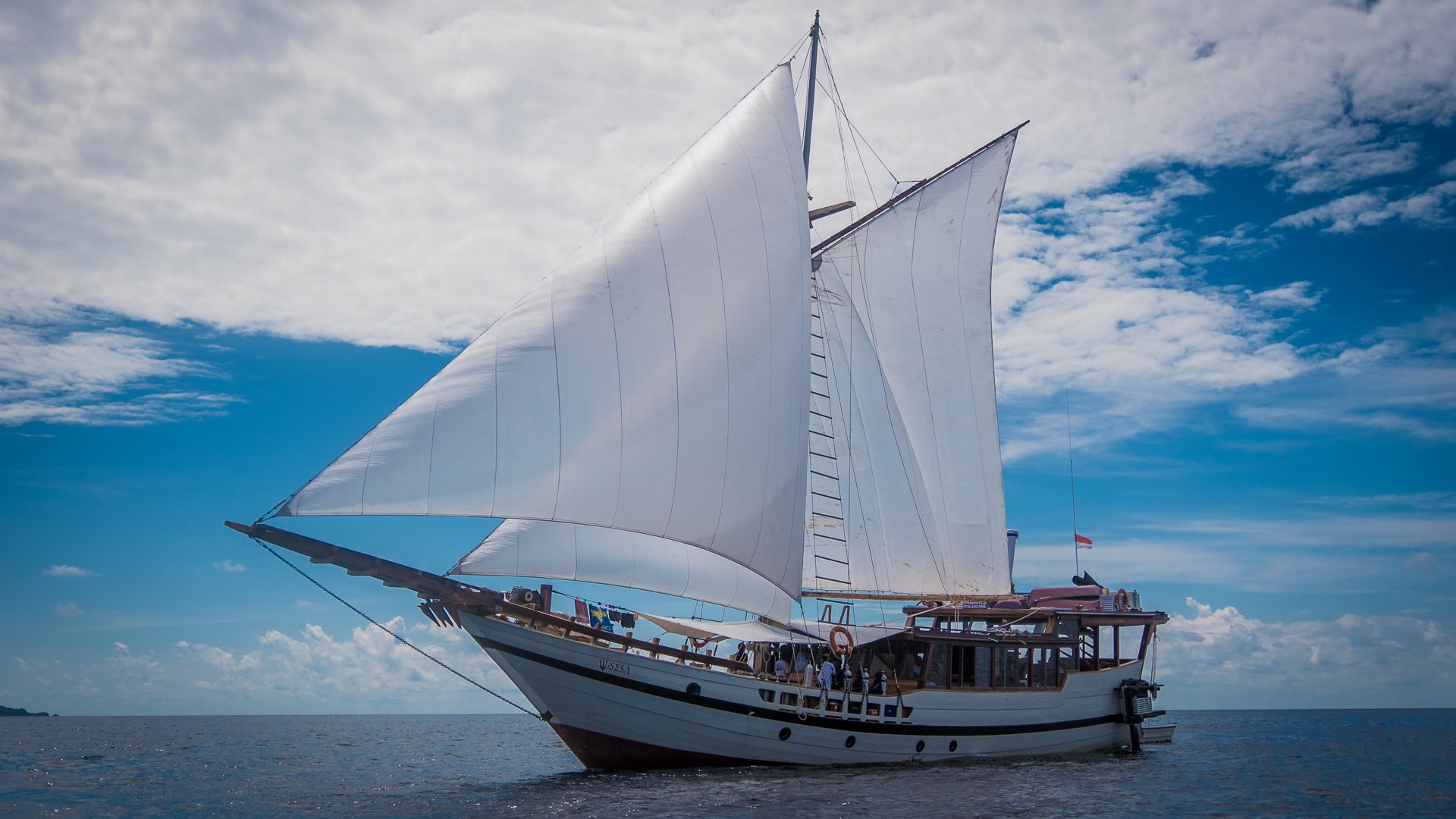 Our crew will pick up you at Sorong airport or at your hotel, and transfer you on board WISESA. After a welcome drink & during the safety briefing, the crew will lift the anchor, heading to East of Misool island in the South part of Raja Ampat. It's a 12h navigation. This will allow you to set your dive gears and camera, and socialize with the friendly crew.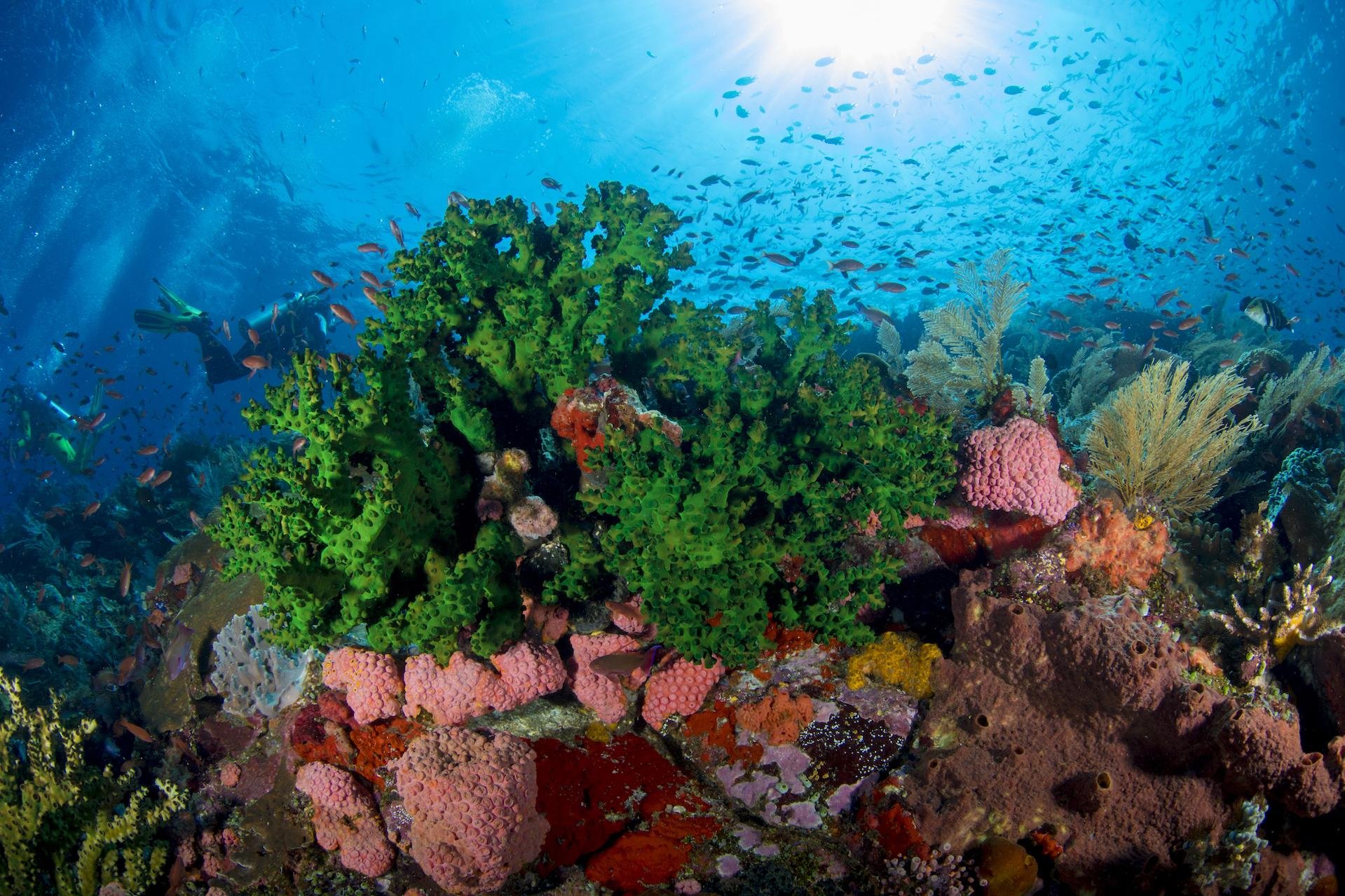 Day 2 - 5 Misool, South Raja Ampat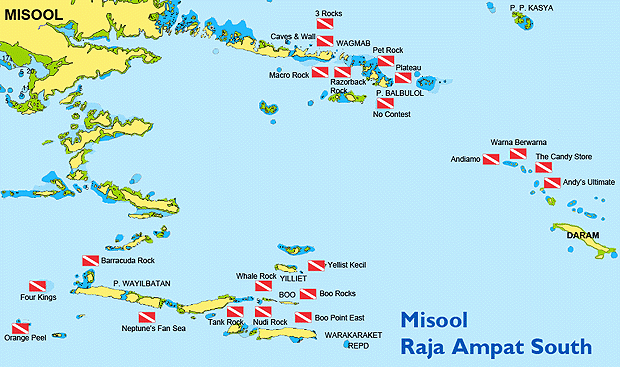 The upcoming 4 days, Wisesa will cruise the beautiful Misool Archipelago. You will make 3 day dives, and posiible 1 or 2 night dives at the best spots, such as Boo Area, Yuliet Area, Fiabecet, Wayilbatan, Daram, Pele and Sagof/Wagmab/Farondi Area. After the 3rd dive on day 5, Wisesa will depart North and set sail for an overnight cruise to Penemu Island; a navigation of approximately 12 hours.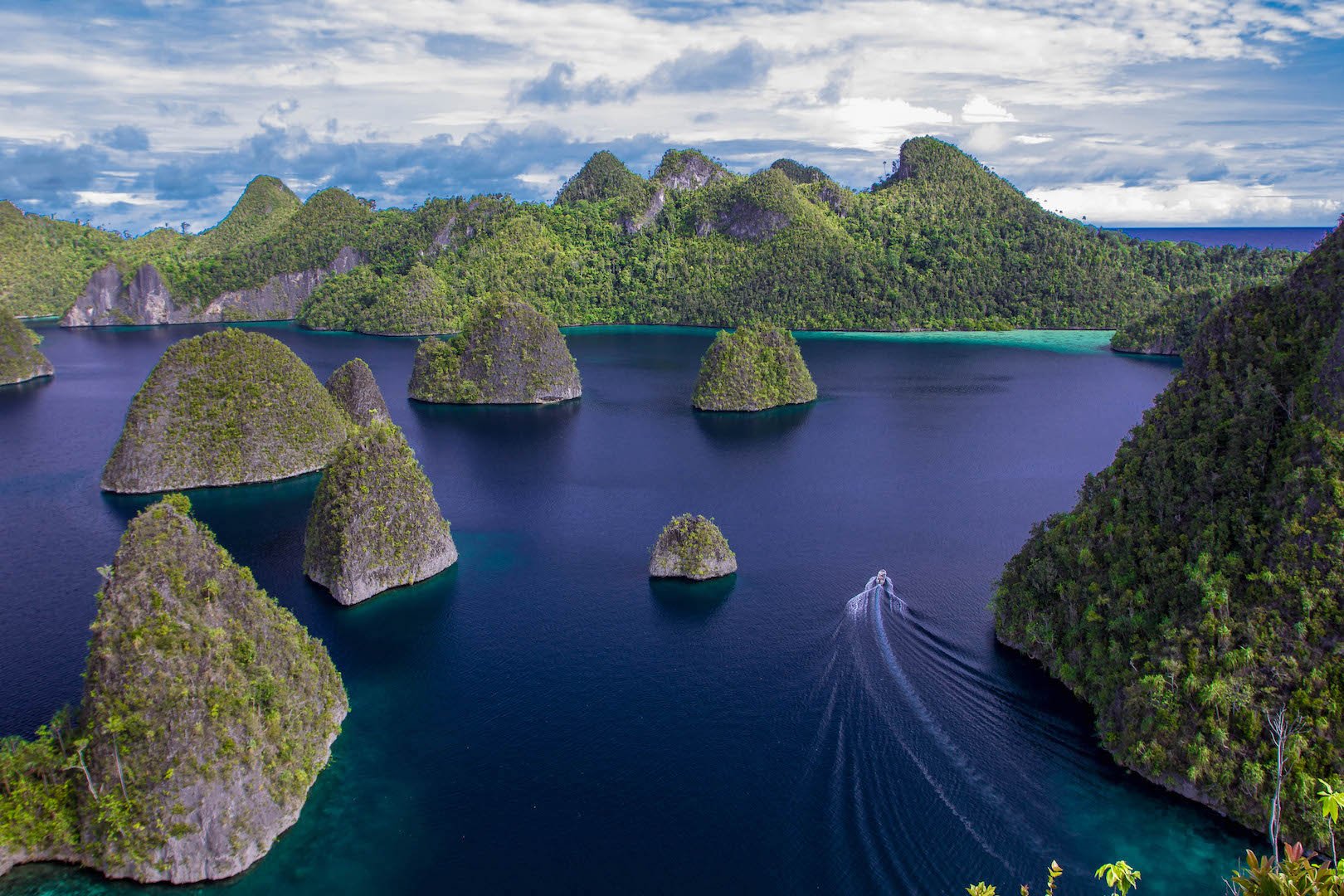 Day 6 - 7 Dampier strait – South Gam & Mansuar 5 to 6 Dives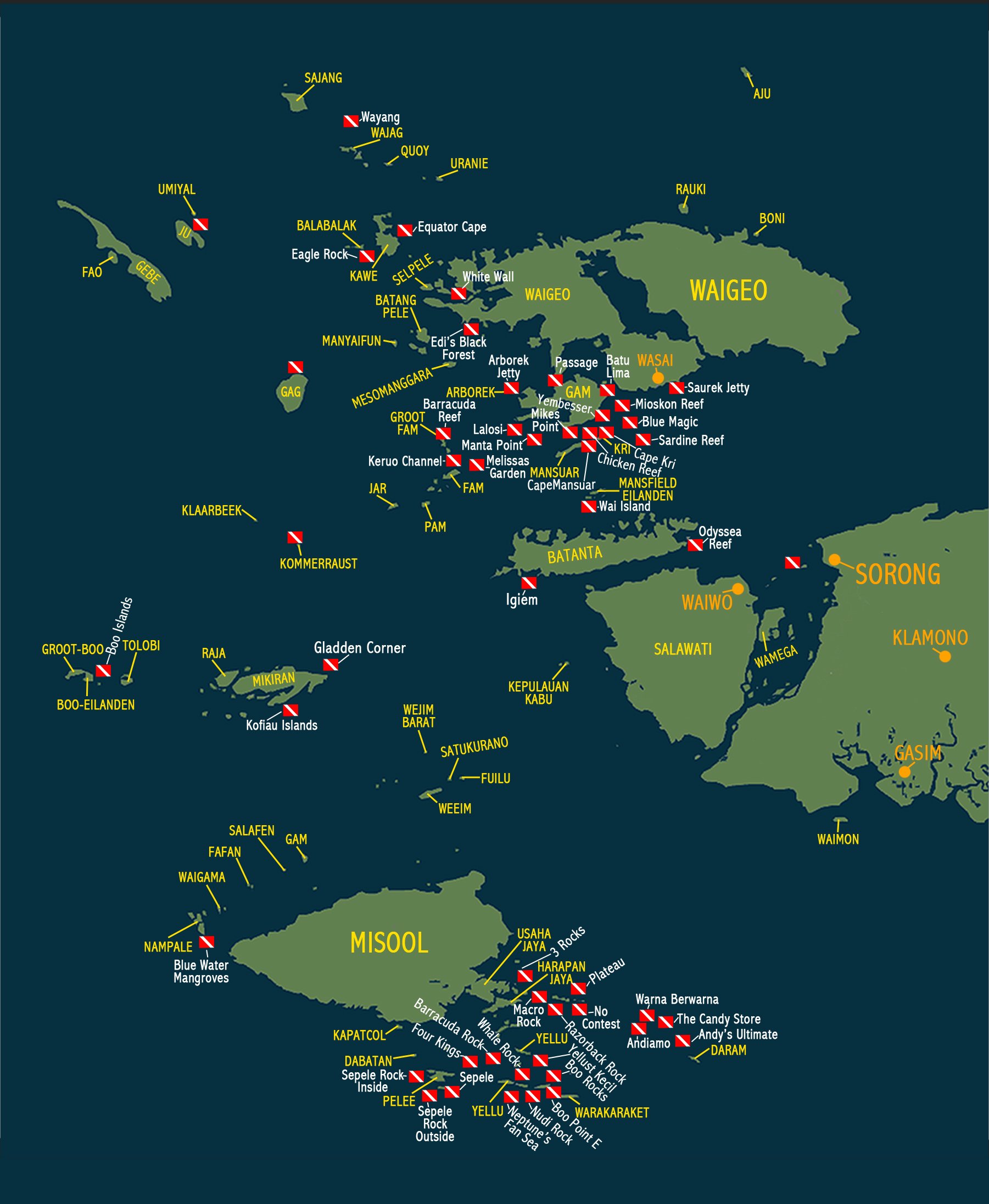 The strait that flows between Waigeo and Batanta is rapidly becoming known as having some of the most spectacular diving in Raja Ampat as a result of the nutrient-rich ocean currents passing through. Everything that makes for a wonderful dive can be found here. But even beyond the usual delights and the satisfaction of spotting prized macro subjects such as the newly discovered Pontohi pygmy seahorse on the coral heads, there are surprises to be found in every dive. Ironically, sardines are about the only reef fish not found at the site of Sardine Reef, but you won't even notice as you see swarms of fusiliers, surgeonfish, trevallies, rainbow runners, sweetlips and bannerfish practically blocking out the sky swarming over a reef decorated with sea fans, soft corals and huge orange elephant ear sponges encrusted with pastel colonies of tunicates. One of the more unique thrills of this site is being able to hear "fish thunder" - the loud booming sound made when a large number of fish move rapidly through open water. Chicken Reef, Kerupiar Island and Friwin Bonda are all dive sites in Dampier Strait full of these wonders. The fish life in this area is as plentiful as can be expected at sites with a great deal of healthy hard and soft coral. Wobbegong sharks can also be found at any of these dive sites, especially at Mioskon. Cape Kri holds the impressive record of 374 fish species identified during one 90-minute dive. At Otdima Reef there is a school of friendly sweetlips who group around one deep coral head. Blue Magic is a submerged seamount where there is a chance to encounter Giant manta rays. A muck night dive awaits you at Yenbuba Jetty where we can find bobtail squid, octopus, stargazers, ghost pipefish, toadfish and lots of nudis. On the last full day of the cruise there will be one or two dives depending on the weather conditions and also on the flight times out of Sorong the next day. After the dives we will travel back to Sorong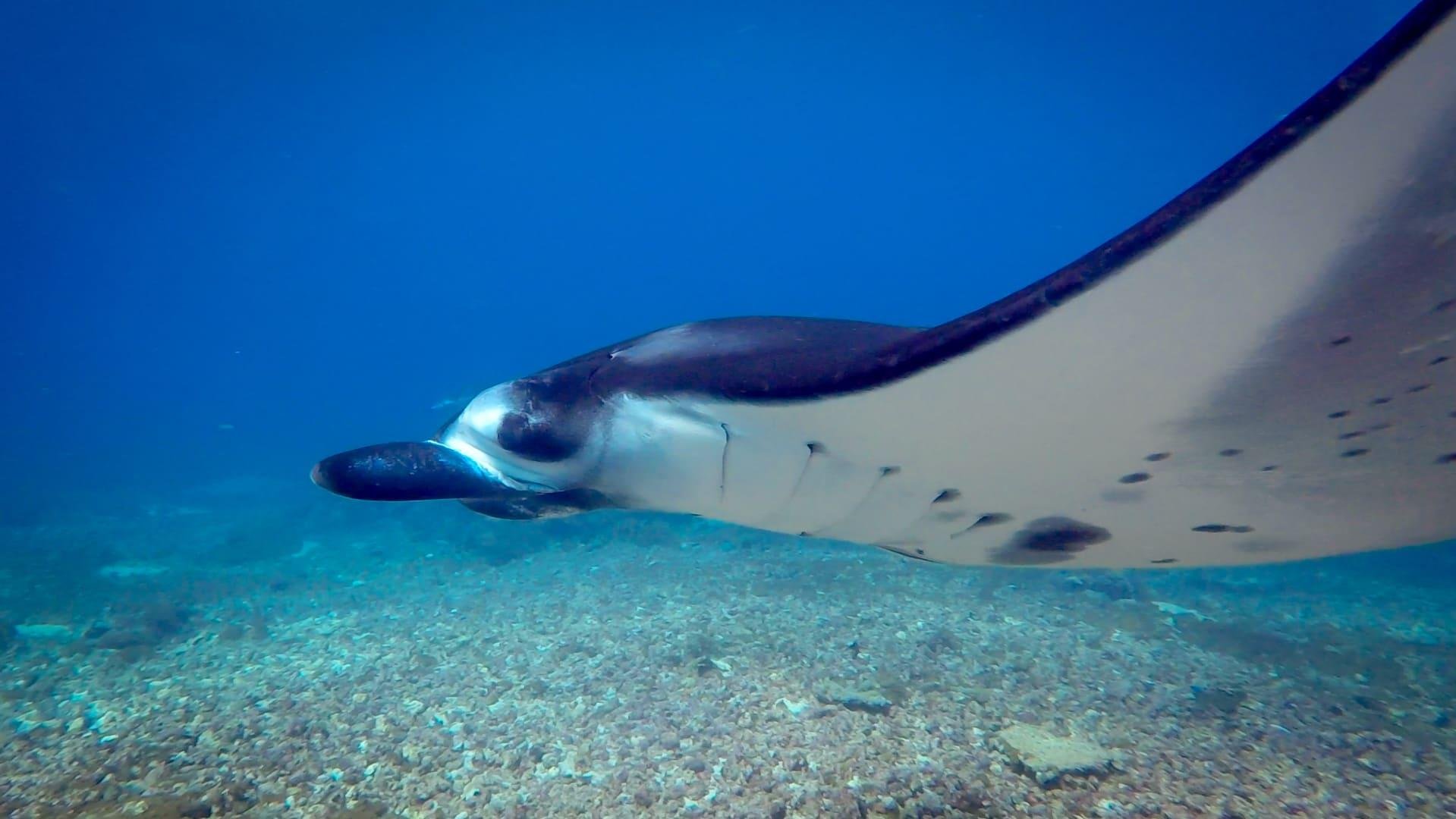 Dag 8 Sorong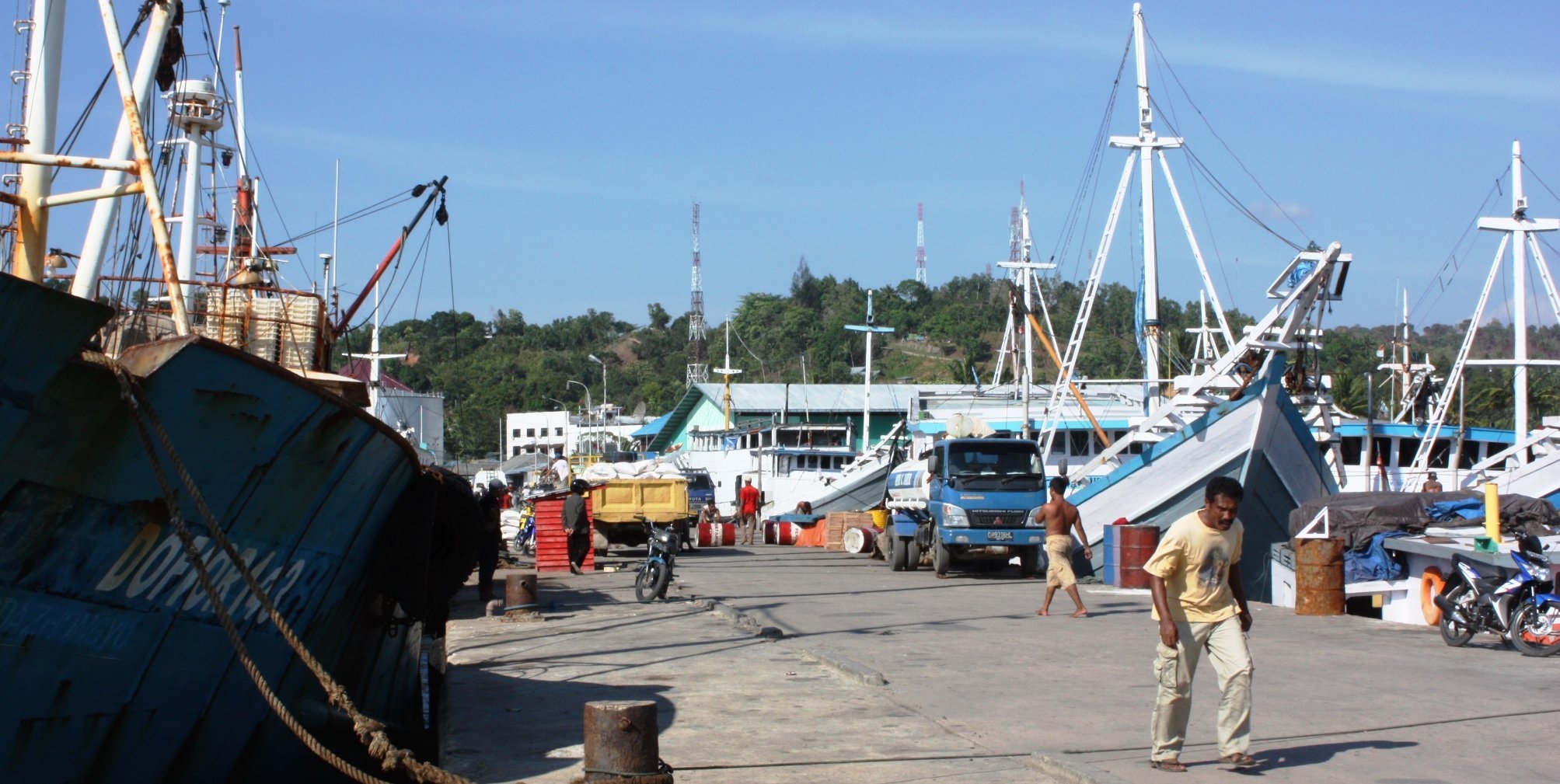 After breakfast and the last exchange of photos and memories, it will be time to say bye bye to the crew & Wisesa, after what we will bring you back to your hotel or to the Airport.
Wisesa liveaboard
De Wisesa is een houten liveaboard met plaats voor max. 8 gasten, verdeeld over 4 hutten: LOMBOK is equipped with 1 double Bed 140 x 200, Air conditioning, an office corner, and a bathroom (shared with cabin 2) BALI is equipped with 1 double Bed 140 x 200, Air conditioning, and a bathroom (shared with cabin 1) FLORES or HoneyMoon Cabin, is equipped with 1 double Bed 140 x 200, Air conditioning, and a private bathroom. PAPUA is a very large and nice Family or Friends Suite, with 1 Queen size Bed 160×200, & 2 bunk beds 90X200. Office & Sofa Corner, Air conditioning and a large private Bathroom. Zoals de meeste liveaboards is de Wisesa van juni tot medio september te vinden in de wateren bij Komodo. Daarna zet ze koers naar de Oost, een maand in de zuid Molukken en vervolgens tot medio mei in Raja Ampat. meer info more info Informations supplémentaires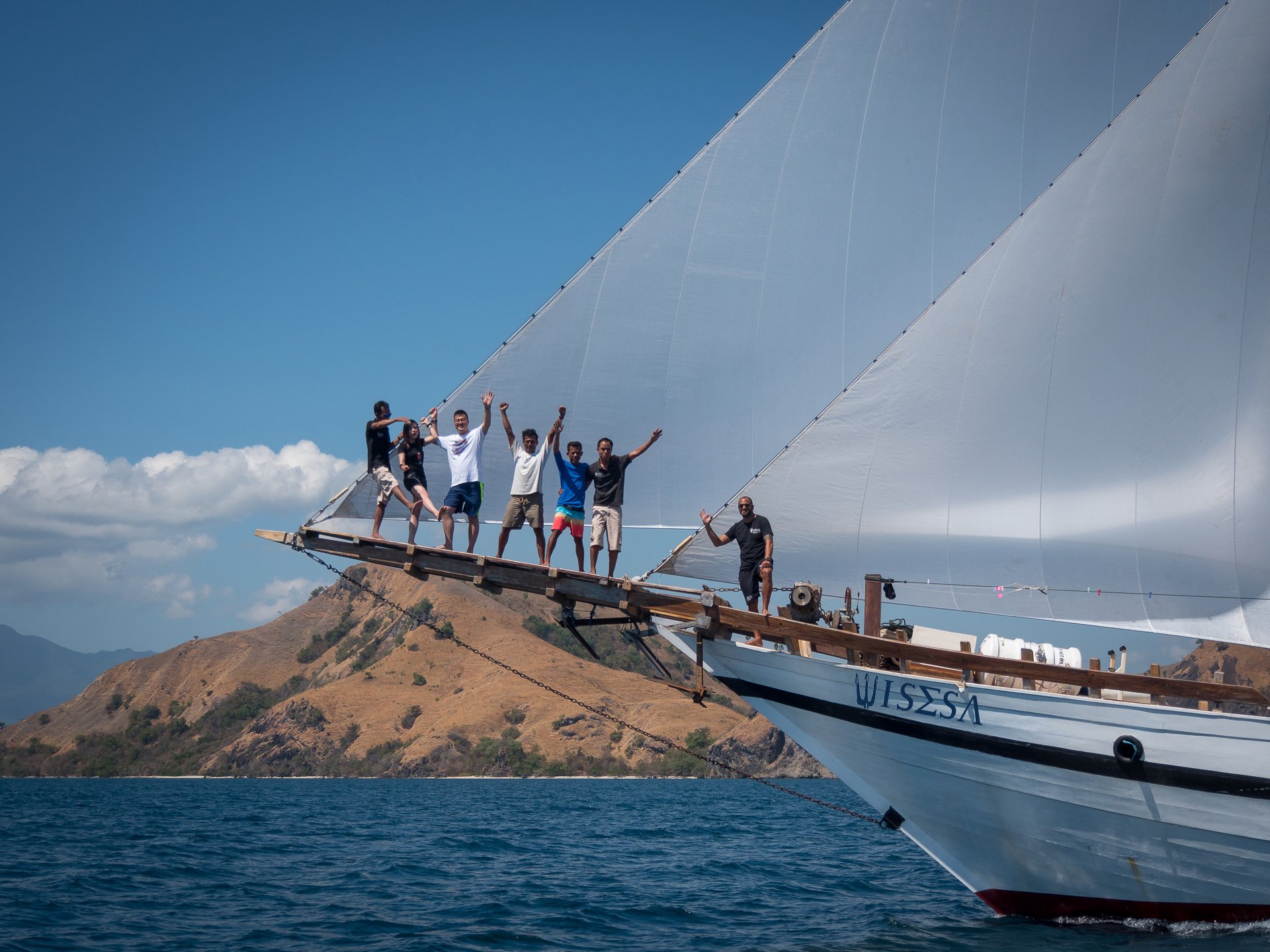 Raja Ampat

Raja Ampat
Raja Ampat is an archipelago in West Papua (former Irian Jaya) and consists of 610, mostly uninhabited islands. The four largest islands are Waigeo in the north, Salawati (southwest of Sorong), Batanta (north of Salawati) and Misool in the southwest. The name Raja Ampat is also based on these four islands and literally translated means "the four kings".

Raja Ampat is a relatively unknown area in Indonesia, but this destination is well known among divers. This is due to the wide range of various fish species and fantastic coral reefs, varying from hard to soft coral. But the islands themselves are also impressive. The Raja Ampat Islands have quiet lagoons with crystal white sand and water that varies from bright green to bright blue.

Diving is especially popular in the Dampier Strait. Here you will find numerous dive spots with an incredible amount of coral and fish. Cape Kri, Blue Magic and Manta Point are real eye-catchers.
Misool is also loved for its wide variety of fish and coral.

Raja Ampat is open all year round, but from mid-July to mid-September you are more likely to experience rain and high waves. Misool is closed between mid-June and mid-September.
Raja Ampat has dozens of dive resorts and homestays. The homestays often use local diving schools, such as the Arborek dive shop. The more luxurious diving resorts offer not only more comfort, but also more safety. Sorido Bay resort, Raja Ampat Biodiversity and Papua Explorers are our favorites in the Dampier Strait, Papua Paradise Eco resort off Batanta Island. The Scuba Republic is an excellent middle class resort.

A fast public ferry runs twice a day between Sorong and Waisai on Waigeo Island. Waigeo also has an airport with a daily flight to Sorong.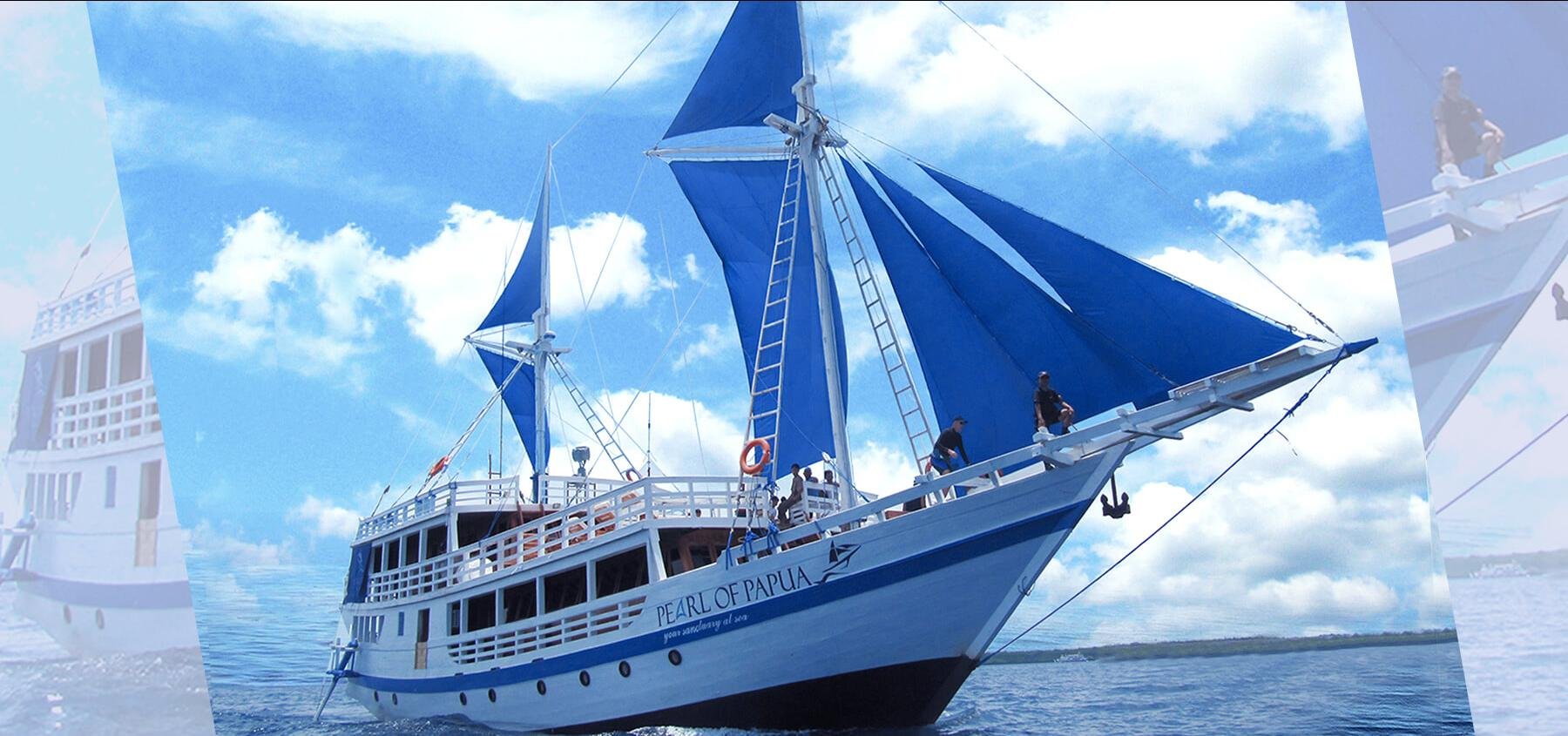 Liveaboards
Liveaboards usually offer weeklong dive cruises in northern Raja Ampat (Dampier Strait and the northern Wajag karst islands. Longer, often 10-day trips also cover the southern part around Misool. Most liveaboards operate Raja Ampat cruises between September and March April, then dock and sail in the waters around Komodo for the summer season.


Video Raja Ampat snorkel cruise
Dive spots north Raja Ampat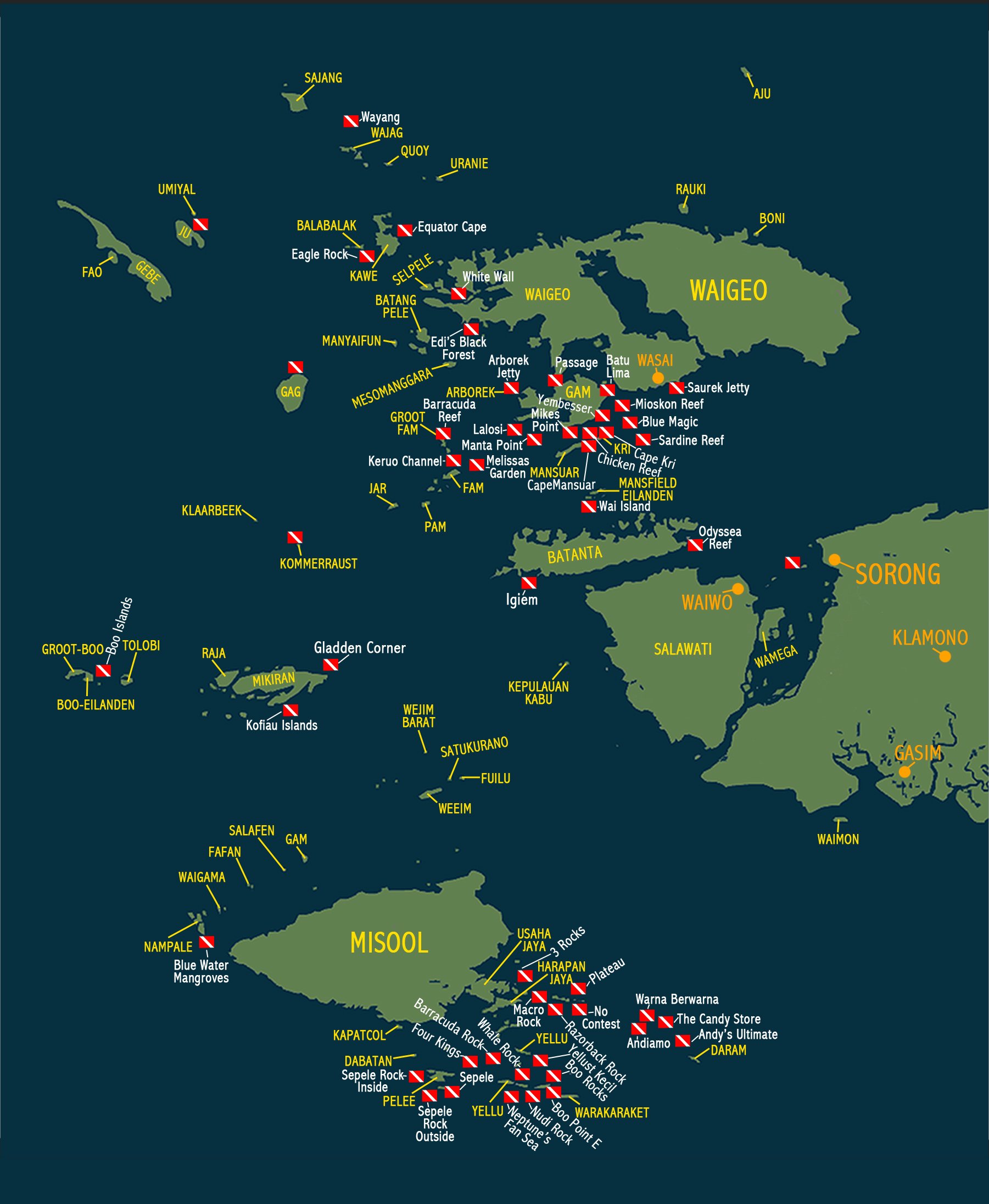 Divie spots North Raja Ampat
These days you can dive and snorkel at will in the most beautiful area of Indonesia.
Between November and March a diving- or a snorkelling trip at Manta Sandy is a must! But don't forget to admire the seahorses, wobbegong sharks, barracudas and other wonderful fish above the marvellous healthy coral as well.
Besides diving and snorkelling you can book excursions to the birds of paradise or a traditional village on the spot. Or just chill out on the beach…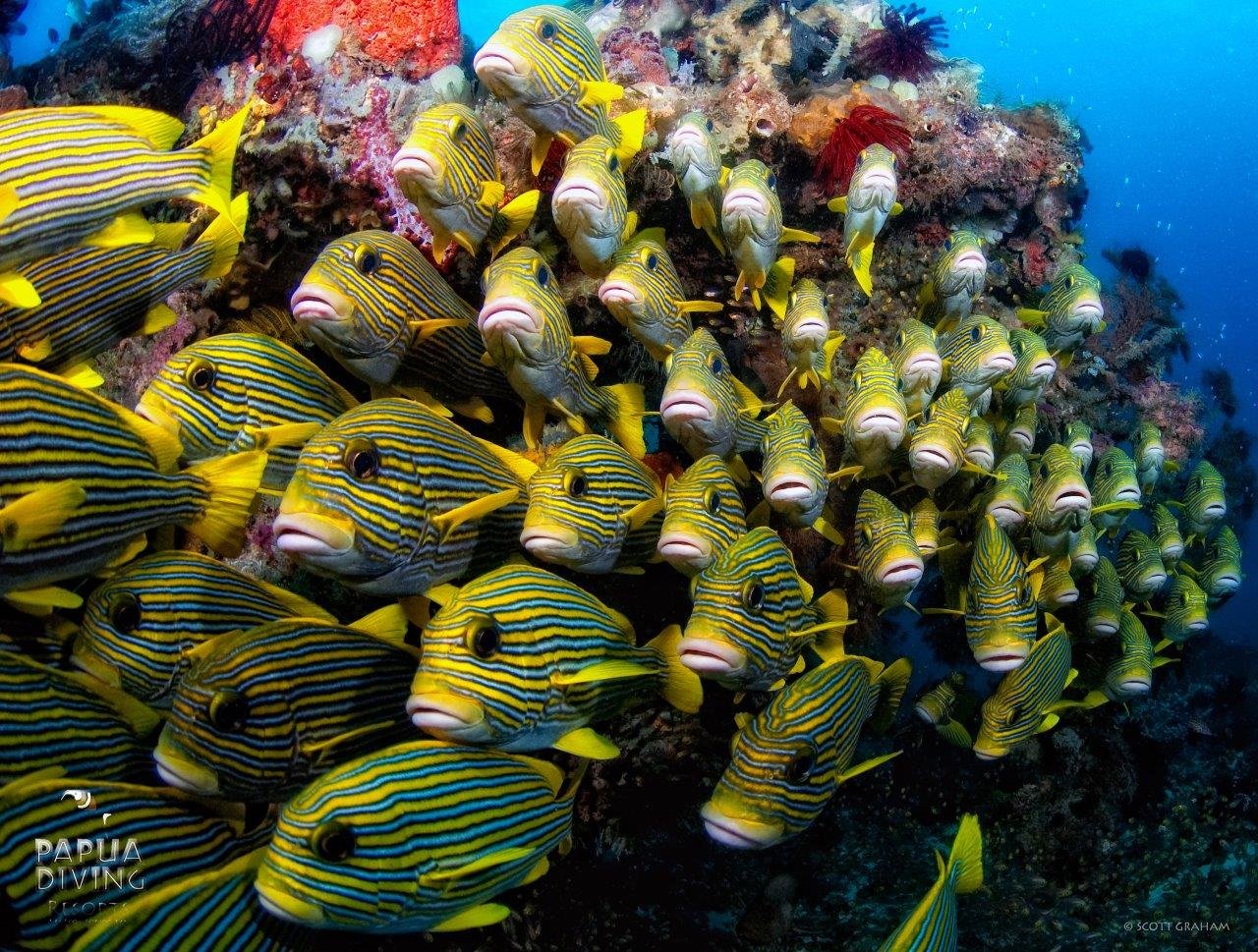 Cape Kri
One of the favorite dives, Cape Kri is Sordio Bay's house reef and less than 3 minute by boat from Kri Eco Resort. This is the dive site that put Raja Ampat on the map when Dr Gerry Allen smashed his record for total number of fish species on a single tank dive: 374 different species!

The world-record holding Cape Kri, with a record count of 374 different species in one dive counted by Dr. G. Allen, is just a 1 minute boat ride from our jetty. At the Northeast point of Kri island the currents sweep into a channel between Kri and the small island of Koh. At this point beneath waters churning in the current, huge schools of Big-eye trevallies, Barracudas and Snappers can be seen hanging over the drop-off. At the base of the reef at 38 meters an ancient snagged anchor rests next to a bommie with a dense school of Banded sweetlips. A large shallow coral garden crowns the reef top with blacktip reef sharks patrolling amongst the overlapping maze of hard corals with feeding hawksbill turtles. Car-sized Queensland groupers down to the diminutive ever-present pygmy seahorse can be seen on this phenomenal and always-surprising dive site! Dawn and dusk are feeding time so divers can experience this site at its awe-inspiring best.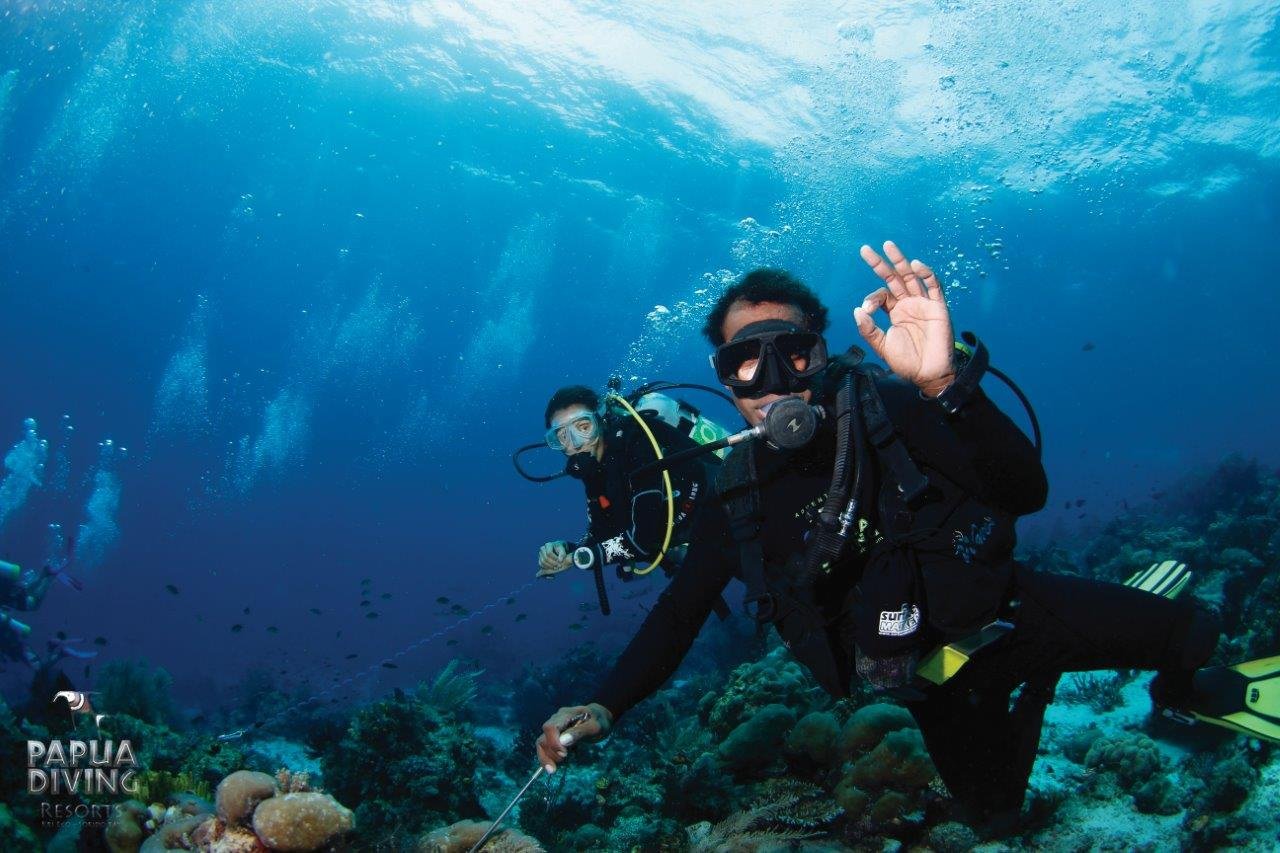 Blue magic
Only 15 minutes from Kri Island, this small pinnacle has almost everything



From Wobbegong sharks to tiny 2cm Denise Pygmy seahorses. The reef top is covered in hard coral with some big coral heads and some tabling Acropora corals well over 3 metres across. There is a resident school of Big eye Trevallies and many large Barracuda. Green Turtles can be found here as well as Black Tips, White Tips and the occasional Grey Reef Sharks. If you are very lucky even a Giant Manta Ray. The magnificent dive ends with a blue water safety stop drifting over and away from the reef.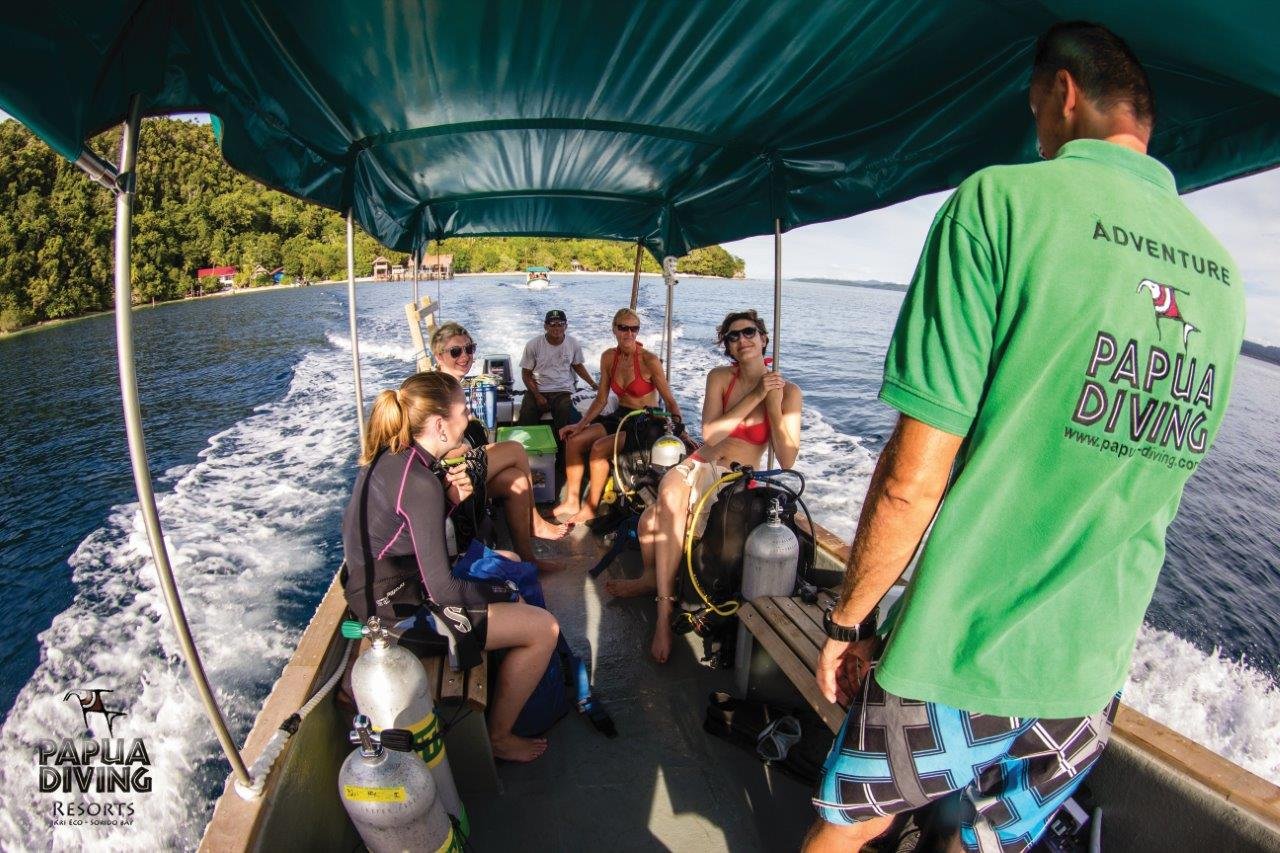 Sardines
Only 10 mins from Kri Island, this submerged reef with a reef top at 5 metres, contains a very high biomass, one of the highest in Raja Ampat.



Sardines reef is quite simply one of the best reef dives in the world, where divers witness the phenomenal diversity of Raja Ampat at full force. Where the current strikes this offshore reef and splits, a dazzling array of fish congregate, audibly swarming fusiliers spin above, pursued by huge giant trevallies, packs of Bluefin jacks and huge Spanish mackerels. Batfish gather in the hundreds, while multitudes of schooling bannerfish feed in the current. Grey reef sharks, blacktips and whitetips can also be seen along with the wobbegong waiting in ambush on the sea floor. Coral bommies dot the slope covered with many colourful species of dendronephya soft corals and up to three separate species of Pygmy seahorses can be found amongst them. On the current-swept reef top a resident school of thirty massive bumphead parrotfish crunch on the coral, keeping the divers company on a safety stop who hang from their reef-hooks like kites in the wind. Upon surfacing, many divers comment that this is the best dive they have ever done!! Photographers love this dive site and have to return to change from wide angle to macro!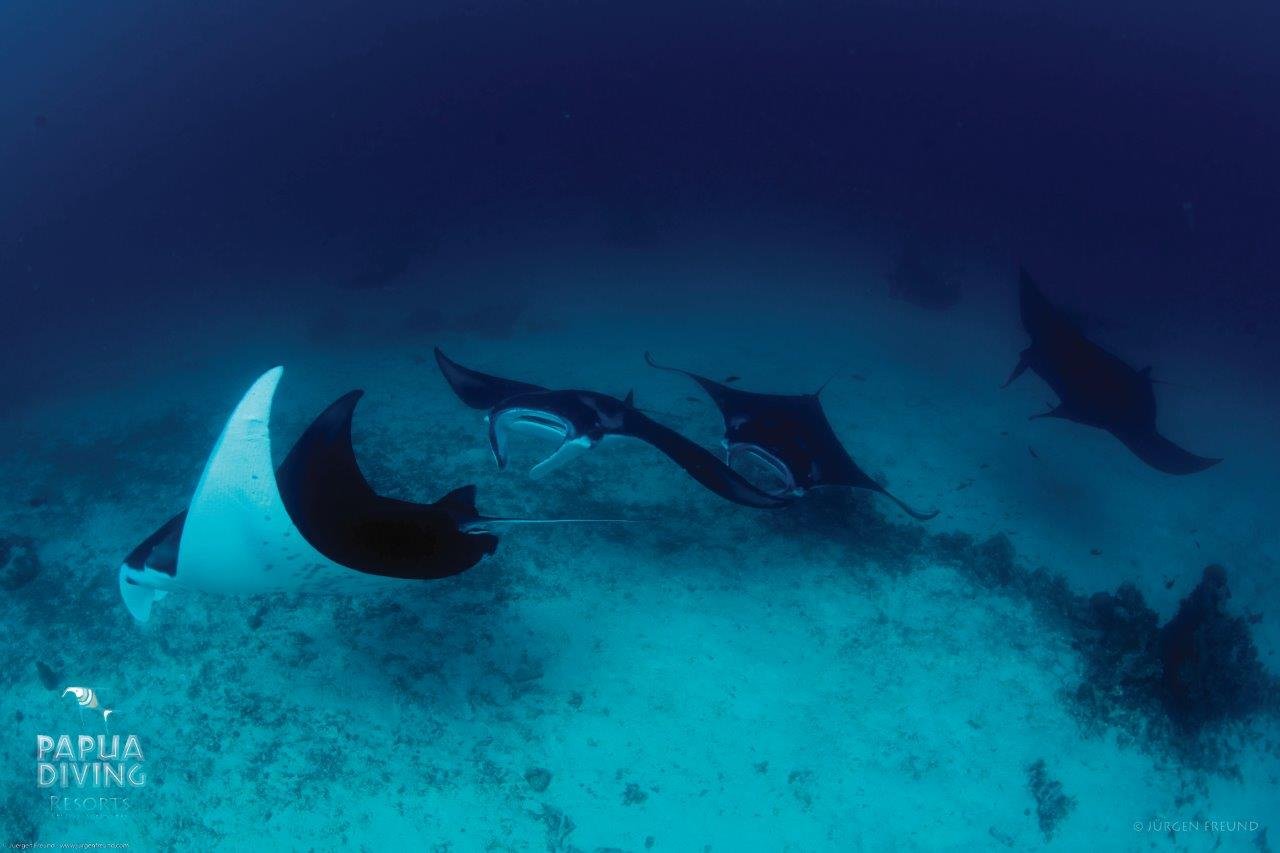 Manta Sandy
Only 25 mins from Kri Island, this sandy slope is famous for its Manta Rays. It is a cleaning station where they come in to get cleaned.

If the many reefs are not enough this area also boasts some of the best manta diving in the world! There are two main manta sites just half an hour away. One, Manta Sandy, is a cleaning station where up to 10 mantas can be seen vying for a position above the two rocks where wrasses clean these giants. We get enormous 4 meter wide black mantas, looking like a negative photographic image, their gills are highlighted in white, along with the other more common white-bellied variety. Another site nearby, Manta Slope, mantas circle above in the sun while divers hook onto the reef while the current arcs overhead and down the steep slope below. Divers can be caught unaware while giant demonic-looking black mantas cruise by behind them. This trip is out of our 10km range, but is offered once a week without any fuel surcharges!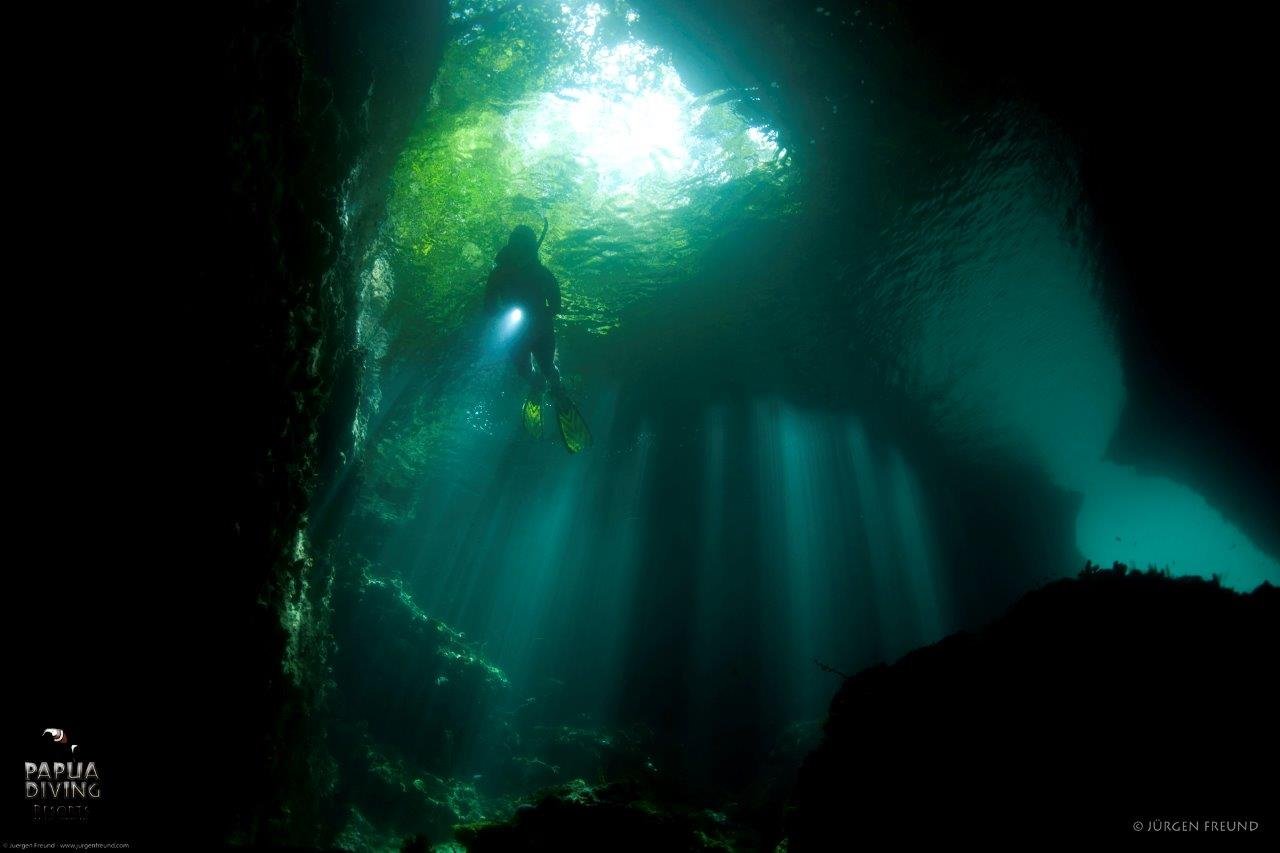 The Passage
As seen in many articles, including recently by David Doubilet in the Sept 2007 National Geographic, the passage is a completely unique dive site. The narrow canyon 40 minutes away between Gam and Waigeo can be described as river flowing between the two Islands, but also a marine environment, a haven of peculiar and unique microhabitats.

This is a place where experienced divers and photographers enjoy the utterly different experience of diving in this truly one-of-a-kind location. Above water the sheer limestone cliffs make this a place where the sightseeing above water is also excessively beautiful. Guests combine this trip visiting the labyrinthine Hidden Bay, a maze of towering islets, and Kabui Bay where literally hundreds of mushroom islands create staggering scenery. This trip is out of our 10km range, but is offered once a week without any fuel surcharges!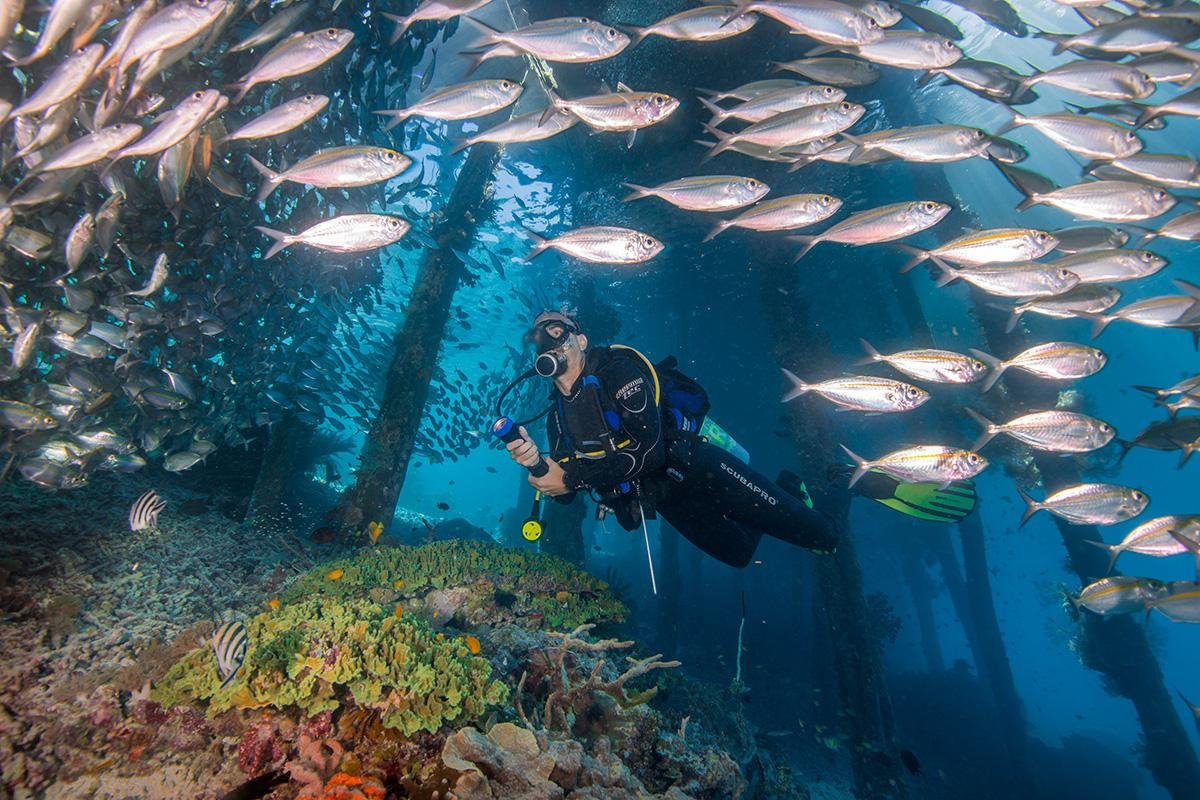 Arborek Jetty
Directly below the jetty of the mini-island of Arborek you will find large schools of Sweetlips, Barracudas and hunting Mackerel. The soft coral also hides Pipefish, Snappers, Batfish, Bumphead cattlefish and if you are at the right time and place you can also spot the Wobbegong.
Misool Duikstekken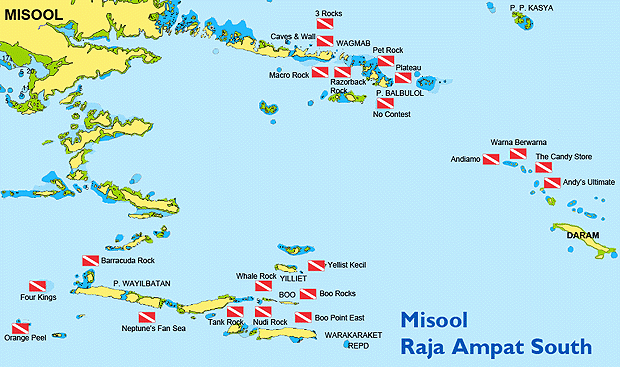 Misool duikstekken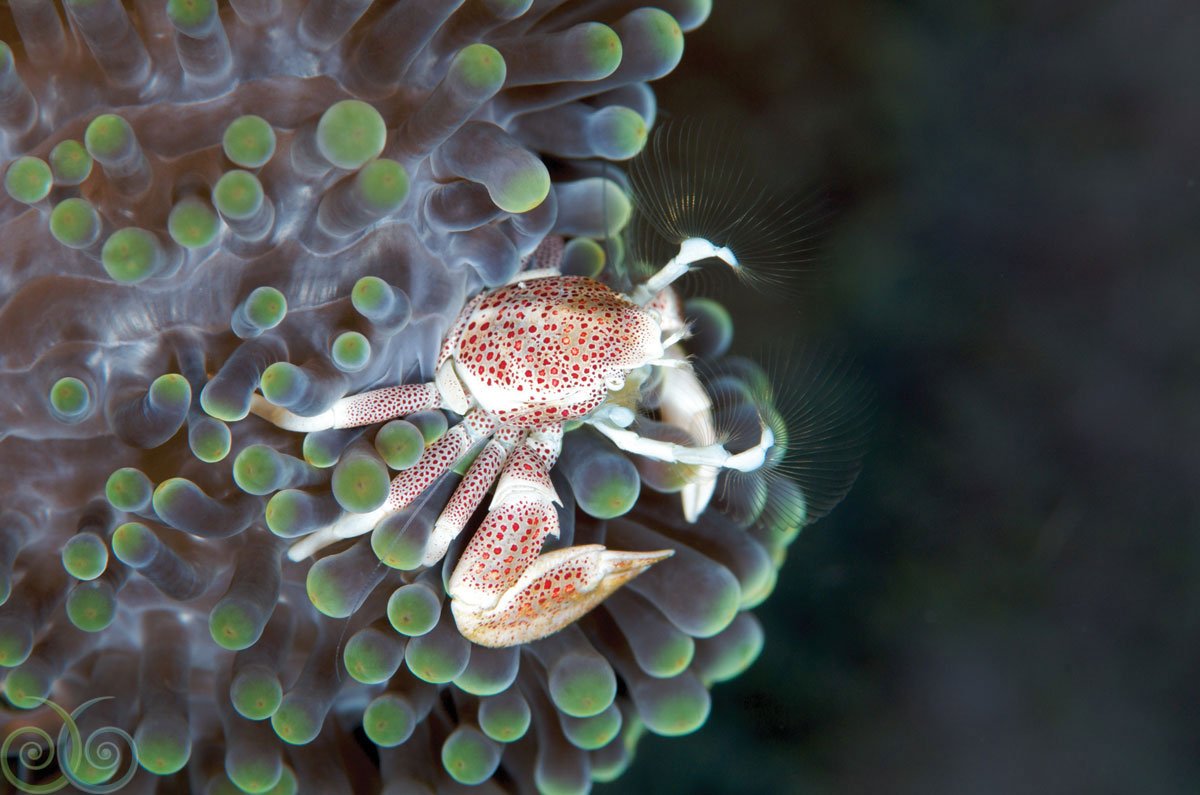 Misool eco resort house reef
Our House Reef is a shore dive, easily accessed at any time from either the end of the jetty, the Dive Centre, or the steps leading down from your Water Cottage accommodation. On a rising tide, jump off the end of the jetty and enjoy an easy drift North through the channel, which is exposed to variable current. Schooling horse-eyed jacks congregate under the pier, joined by massive schools of fusiliers and shoals of passing anchovies. Several very large groupers make their home in the depths under the jetty, and they often appear to inspect visitors to their reef. We regularly see large black tip reef sharks patrolling the deeper areas, as well as the occasional grey reef shark.

Our House Reef is a shore dive, easily accessed at any time from either the end of the jetty, the Dive Centre, or the steps leading down from your Water Cottage accommodation. On a rising tide, jump off the end of the jetty and enjoy an easy drift North through the channel, which is exposed to variable current. Schooling horse-eyed jacks congregate under the pier, joined by massive schools of fusiliers and shoals of passing anchovies. Several very large groupers make their home in the depths under the jetty, and they often appear to inspect visitors to their reef. We regularly see large black tip reef sharks patrolling the deeper areas, as well as the occasional grey reef shark.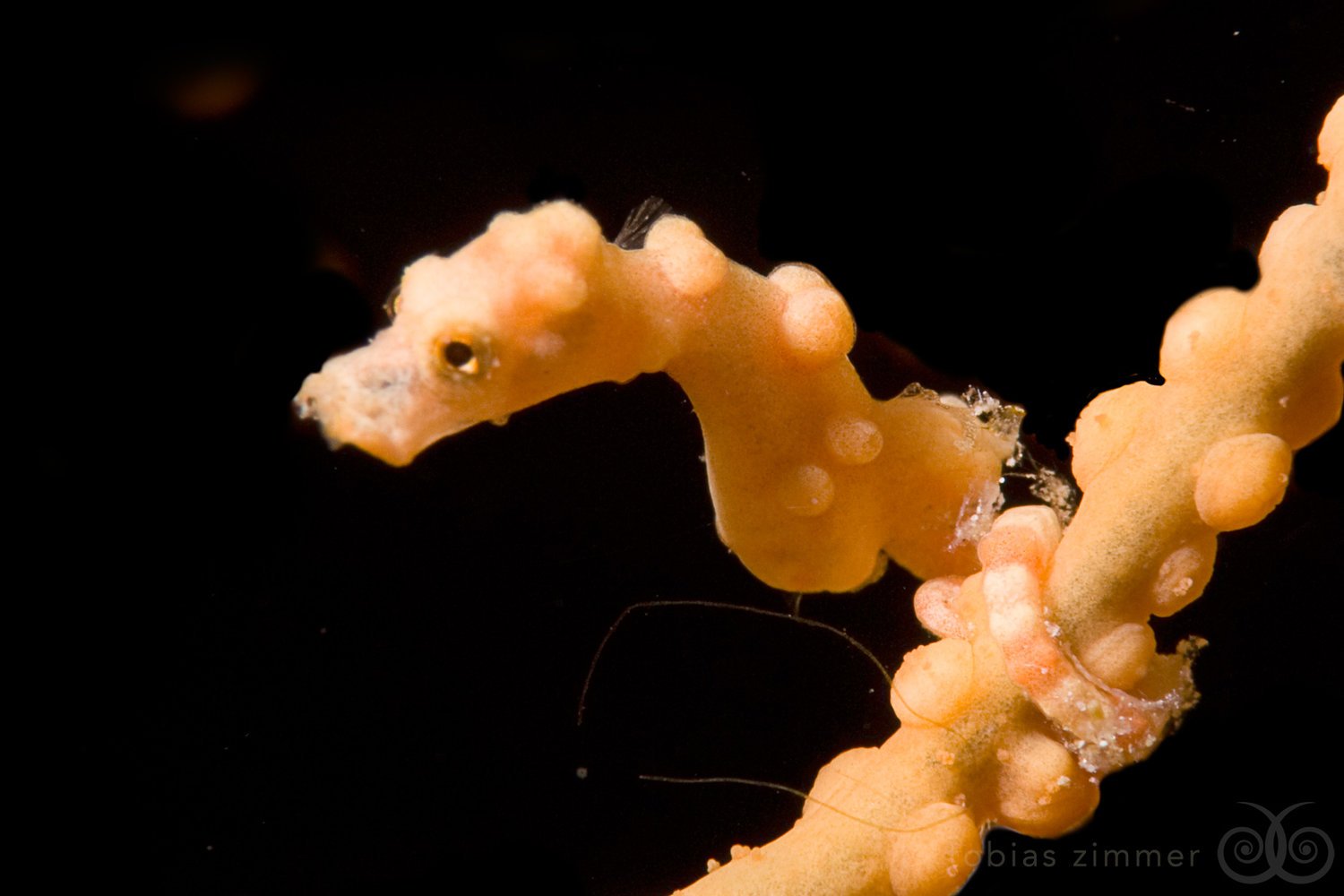 Nudi Rock
a small island in the Fiabacet chain, which looks an awful lot like a nudibranch from a distance. Just a quick 5-minute speed boat ride from the jetty, this site is a must for critter enthusiasts and macro photographers. True to its name, you'll find a wide range of flamboyant nudibranchs lurking among the abundant soft corals. The sea fans are well populated with pygmy seahorses and cowries. Be sure to inspect the abundant crinoids for their colour-coordinated arrowhead shrimp and cling fish. When currents allow, this site is also popular for its pinnacles crowded with larger pelagics like Barracuda, Big Eyed Travelly, and the odd mature Grey Reef Shark. The sloping shallows of Nudi Rock are stunning for wide angle shots with exquisite colours and hard coral gardens.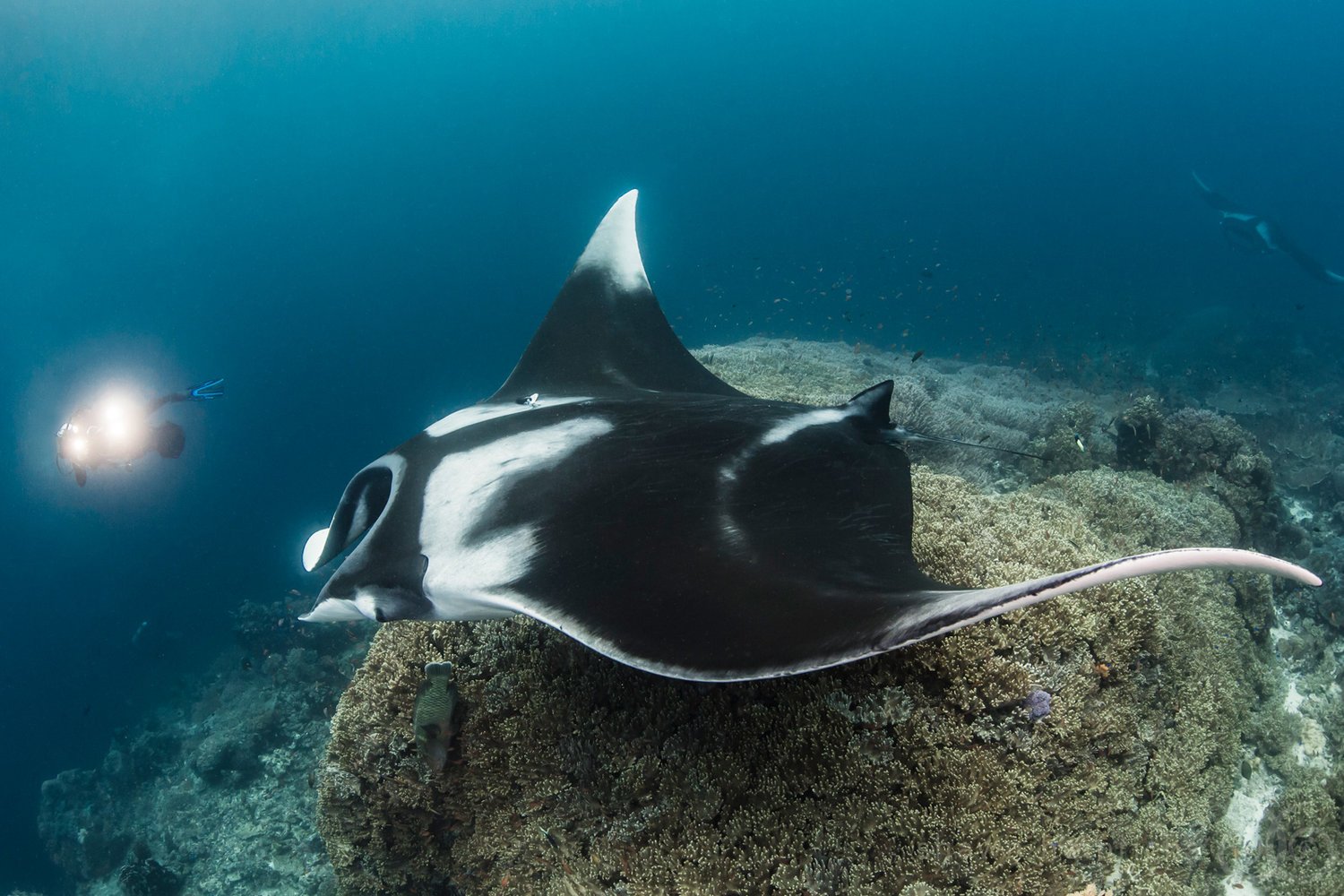 Magic Mountain
This sea mount is located about 20 minutes from the resort, and is a busy Manta ray cleaning station. The submerged pinnacle reaches up to about 7 meters, and you have a very good chance of seeing not one by TWO species of manta rays here - both the giant Oceanic birostris as well as the smaller reef manta, alfredi. Magic Mountain is also a nursery for White Tip Reef Sharks and a love nest for Napoleon Wrasse. Because this site is completely exposed to oceanic currents, you can expect to see large schools of pelagics in the blue.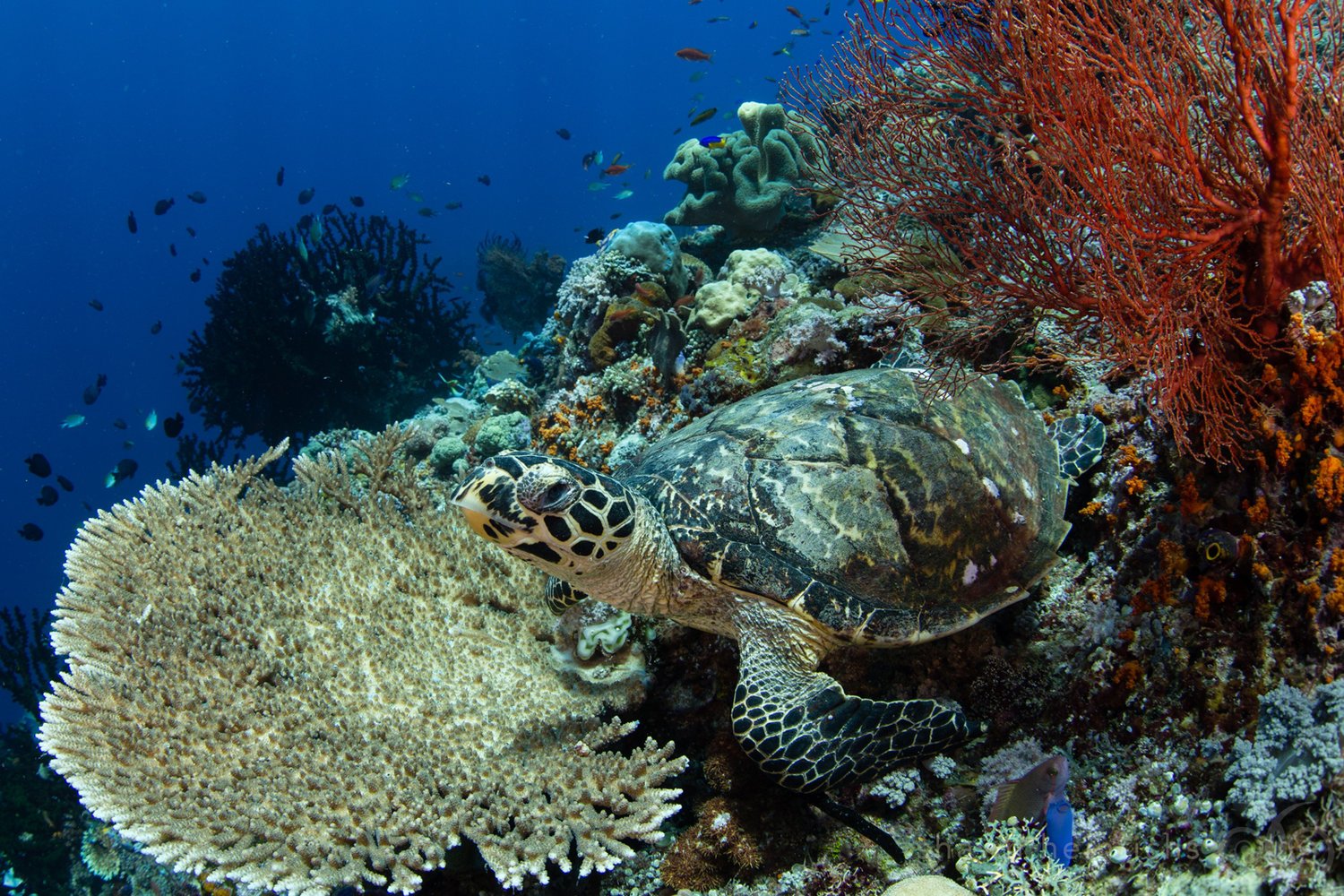 Yillet
The huge island of Yillet stretches east to west about 15 minutes north of our resort island. This island used to be home to an itinerant shark finning camp, and we are pleased by the stunning resurgence of life on its surrounding reefs, including sharks. One of Yillet's tiny satellite islands is particularly rich and topographically weird. The tiny island has been undercut by untold millenia of wave action, forming an umbrella over a sloping underwater plateau with numerous spooky overhangs and cavelets. Diving with a torch is highly recommended for this site - you'll want to illuminate the dark corners of this site to see all the critters, as well as the wild colours. Barramundi cod and Hawksbill Turtles frequent this site. We also suggest you keep a sharp eye on the blue, as huge schools of barracuda hover in formation.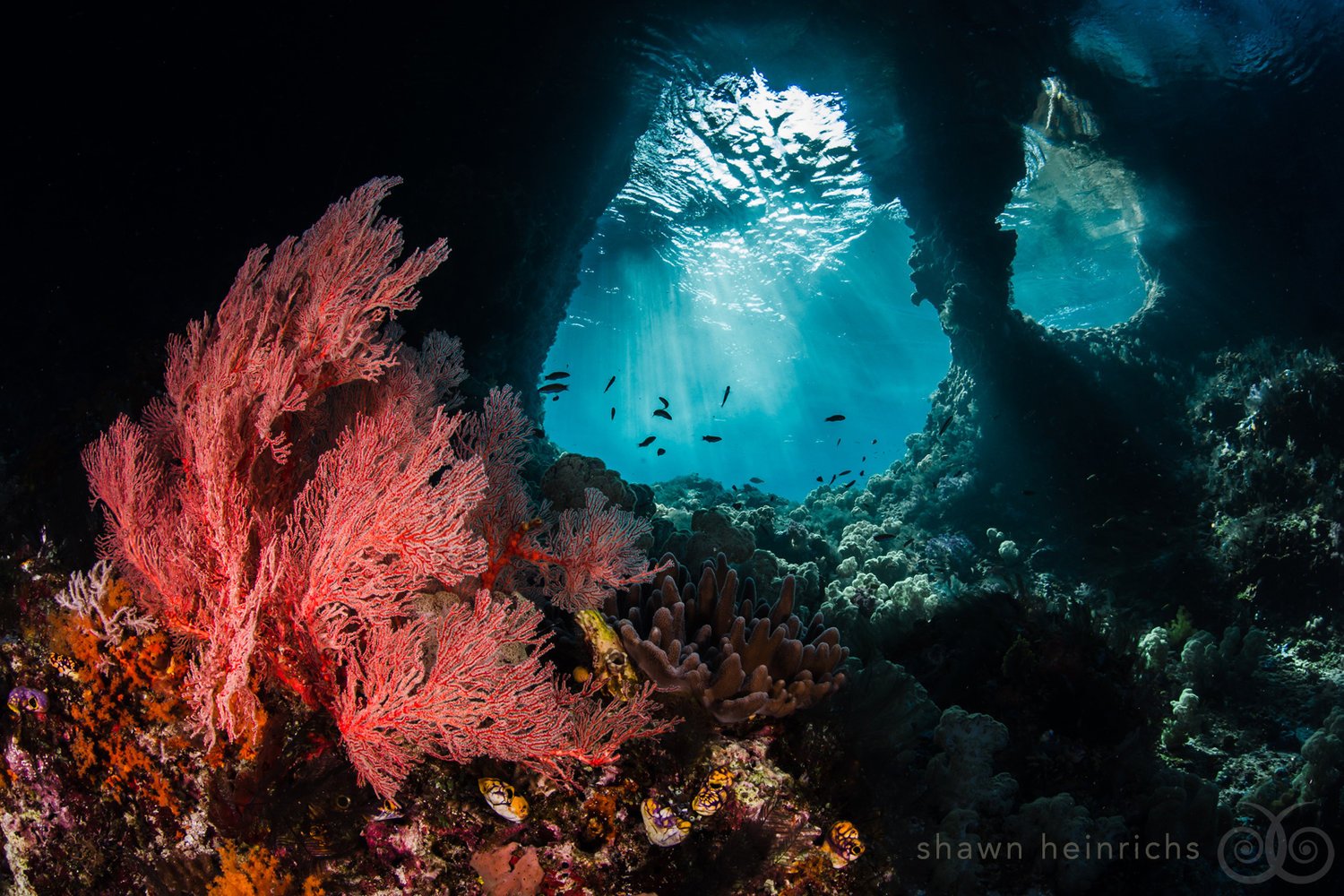 Boo Windows
One of our most famous dive sites, named for its unique topography. The site is a small island about 15 minutes from the resort, with 2 swim-through 'windows' carved into it. The South West face of this site is quite steep and exposed to current, so you are likely to see patrolling sharks as well as the elusive Wobbegong Shark - be sure to look under the massive table corals! When the currents are right, we'll move off towards a large pinnacle in the blue. The pinnacle is often surrounded by pulsating schools of fusiliers and gangs of plate-sized Batfish. Heading back towards the Windows, notice how the sunlight filters through - it's like nothing else on earth! We'll follow the plateau of hard plate corals and look for Sweetlips hiding underneath. Be sure to investigate the huge Barrel Sponges - their crevices often conceal Hairy Squat Lobsters.