Rondreis 14 dagen Bali cultuur
This Bali tour takes you to the rice fields in the quiet east, the main Hindu temple Puri Besakih, the volcanic lake at the gunung Batur volcano, the artists' village of Ubud and ends with a beach holiday in the fishing village of Sanur. You will make a very relaxed mountain bike tour where you will get acquainted with daily life in Bali, visit various workshops where silver jewelry and wood carvings are made and witness the Kecak monkey dance at the Uluwatu temple. The beginning and end of the trip is in sunny Sanur, the relatively quiet seaside resort in the southeast of Bali.
This roundtrip is just an example of what your trip may look like. We are happy to tailor the trip to your wishes.
Target prices
€ 935 based on 2 persons in low season
€ 885 based on 4 persons in low season
Excluding intercontinental flights
Included:
•Intercontinental flights
•Accommodation based on bed and breakfast
•Specified excursions on day 4 and 7, including English-speaking guide and entrance fees and donations
•Dinner at local family (excl. transfers) on day 9
•Transfers from/to hotel-airport on day of arrival and departure
•Private car or mini-bus, for transfers and during travel days
•English speaking guide during excursions

Not included:
•Lunches and dinners
•Mountainbike excursion on day 5 (ca € 68 p.p.)
•Kecak and fish-dinner on day 12 (ca € 62 p.p.)
•Tips and personal expenses
•Travel and cancellation insurance (mandatory)
•Booking fee and contribution Calamiteitenfonds €30 per booking
•SGR contribution € 5 per person
•CO2 compensation € 22 per person
Day 1 flight Amsterdam-Denpasar

Garuda Indonesia flies non-stop from Amsterdam to Jakarta with her new Boeing 777-300 ER. Experience the hospitality of the Indonesian culture on board of Garuda Indonesia, the national flight company of Indonesia. This direct flight takes you in 13 and a half hour from Amsterdam to Jakarta. Departure Amsterdam around midday, arrival Jakarta early in the morning the following day. Your connecting flight leaves about 2 hours later and is a ca 2 and a half hour-flight. Max. weight: 30 kg.
Day 2 Arrival on Bali and transfer to hotel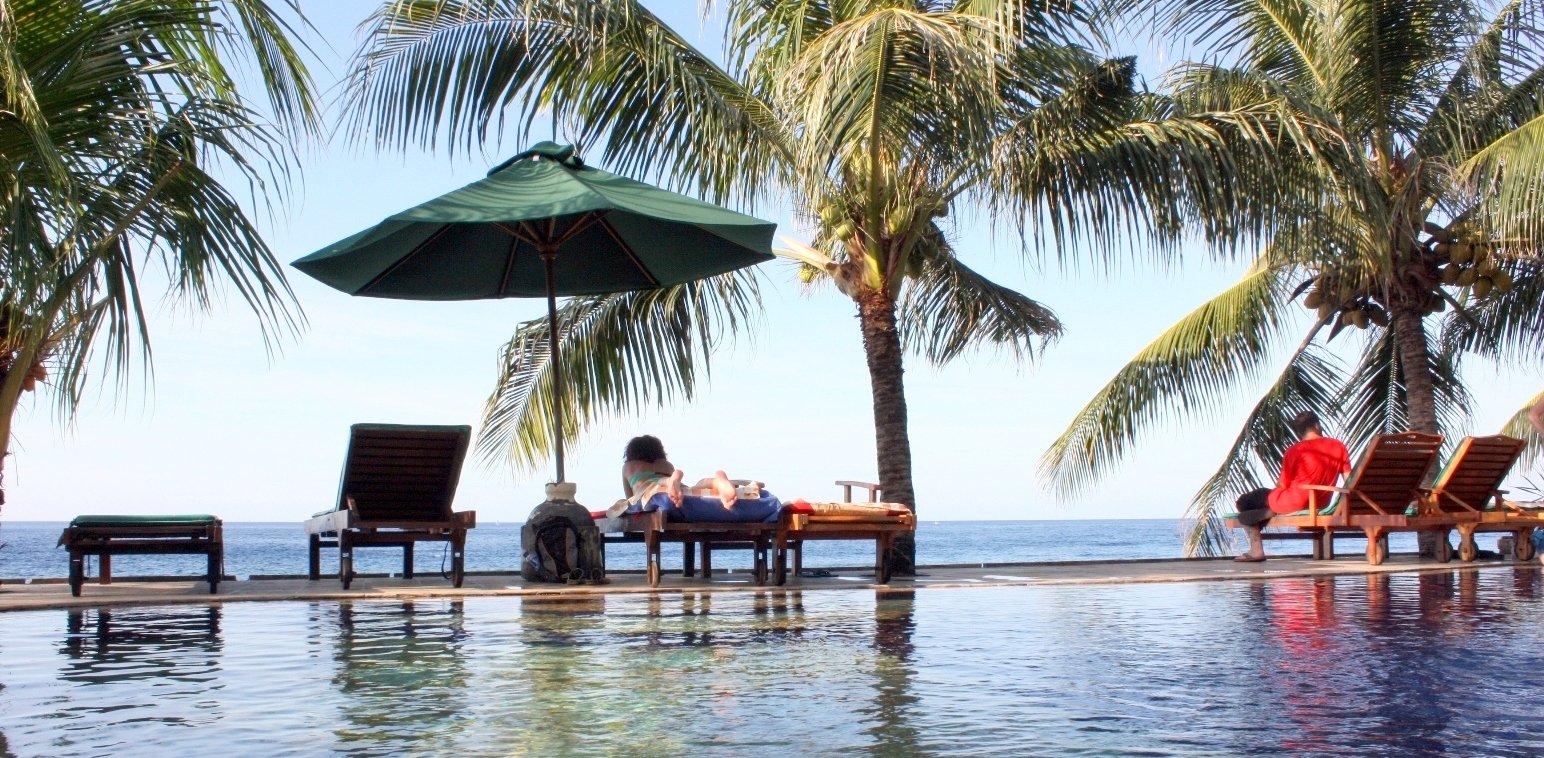 Selamat datang di Bali, welcome to Bali! The island of the 1000 gods. A true paradise in the largest archipelago in the world. The Hindu island has a friendly population and is rich in natural treasures. Colorful ceremonies are held daily. You will find lively coastal towns but also little-visited authentic villages with their many temples. There is plenty to do and experience in Bali: cycling, hiking, cooking class or pampering yourself in one of the many spas. When you arrive at Ngurah Rai airport, if you have an international flight, you must first go through the immigration and customs services. Outside your driver will be waiting for you. He will take you to your hotel. Overnight in Sanur. Sanur is a former fishing village on the southeast coast of Bali. This town is less crowded than Kuta, Legian and Seminyak. The lively Sanur is a pleasant destination. It has beautiful sandy beaches and many shops, restaurants and terraces. Most beachfront hotels are located on a long footpath along the sea.
Day 3 Sanur - free day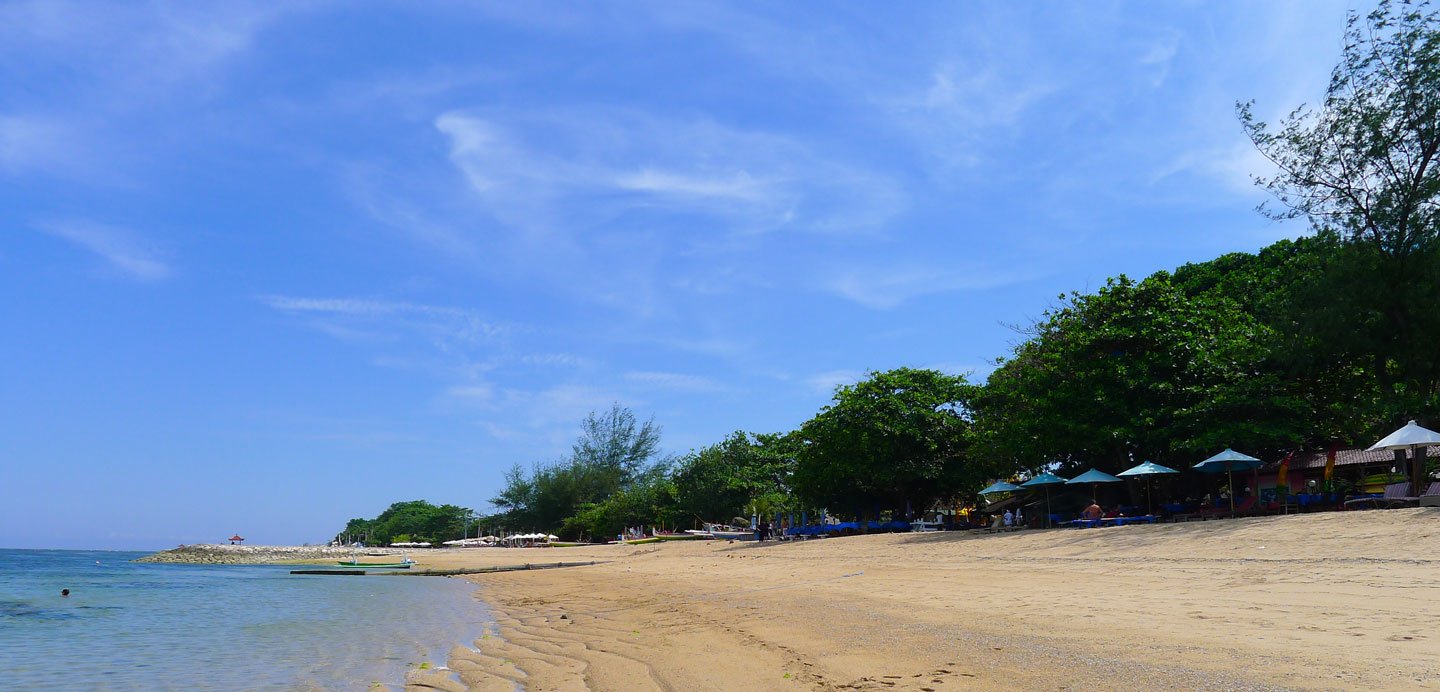 There's nothing on the program today. You can lounge around the swimming-pool or on the beach. Sanur has got a very nice street with lots of little shops and restaurants. In some restaurants performances are given during your dinner. You find the most delicious small fish restaurants along the beach. Overnight in Sanur.
Day 4 Transfer and excursions underway to Sidemen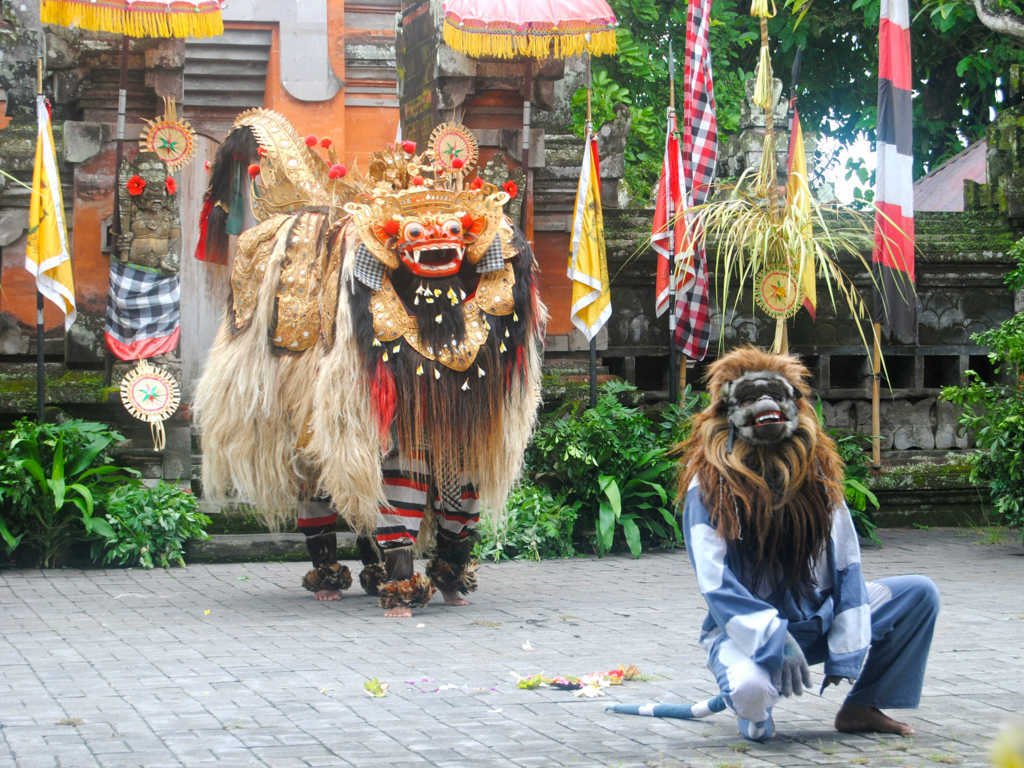 After you have checked out after breakfast, your driver and guide will be ready for a day of special trips en route to your new accommodation. It starts with a Barong dance performance. The dance is based on the never-ending struggle between Good and Evil. The dance is performed by the lion dragon Barong (the Good) and Rangda the witch (the Evil). Mudras (hand gestures) are used. Rangda (Evil) usually withdraws accompanied by gamelan music. In Bali, every dance has a social and religious background. The Barong dance, a drama, is a classic example of this. The masks and costumes are full of symbolism. More to the east is the ancient city of Klungkung, where you visit the ancient palace. The Pura Goa Lawah is a sacred cave full of bats on the southeast coast of Bali near Klungkung. Because thousands of bats live in this temple, it is also called "the Bat Temple". In Tenganan you will get to know traditional Bali. The double ikat is manufactured in the traditional way. Finally, your guide will take you to the water palaces of Tirtagangga, before being transferred to the hotel. Overnight stay in Sidemen.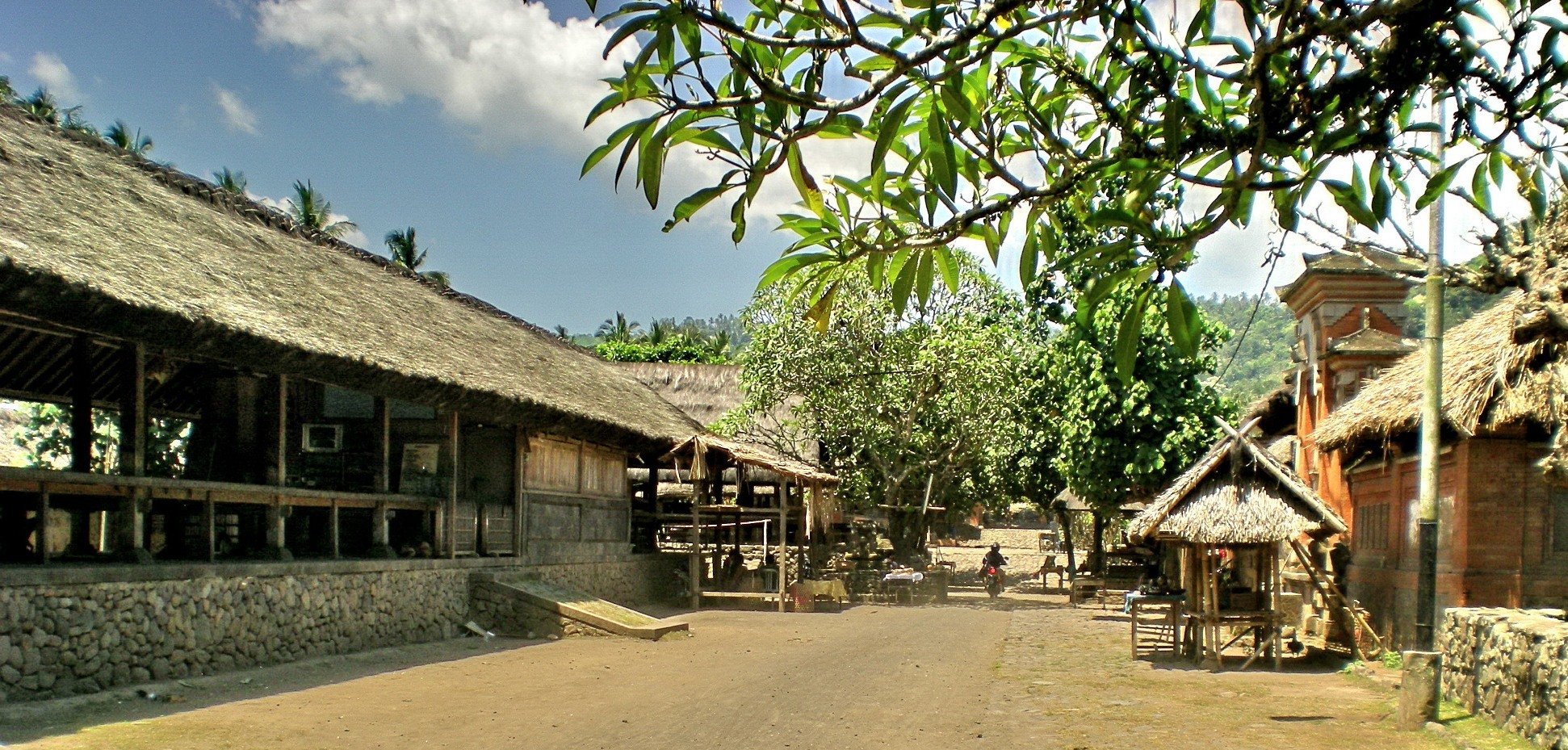 Day 5 Day excursion Mountain Bike tour

This mountain bike tour takes you from Pengotan, on the southern flank of the Gunung Batur volcano, on roads you would otherwise never visit. You will pass rice fields, villages, temples and bamboo forests. Under the guidance of experienced guides, you will arrive at the village of Apuan after 26 kilometers of downhill cycling. The tour includes hotel transfers, lunch and good bicycles. Children from 10 years old. Departure from hotel between 7:30 AM and 8:30 AM for Kuta and Sanur area and around 9:00 AM for Ubud and area.
Day 6 Sidemen - free day

You can fill in this day yourself. The most likely thing to do is enjoying the peace and quiet of the surroundings. From your hotel there are different walking trails, eventually accompanied by a guide of the hotel. Another option is an adventurous rafting in the area. Overnight in Sidemen.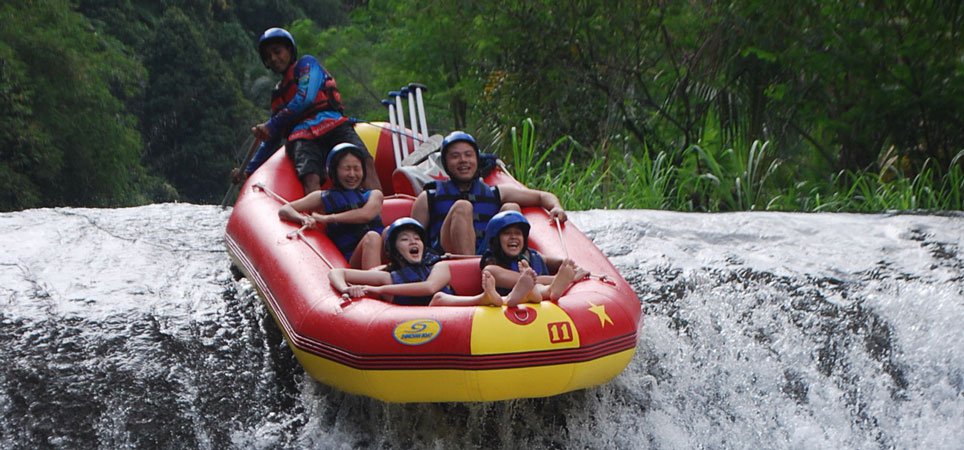 Day 7 Transfer and excursions on the way from Sidemen to Ubud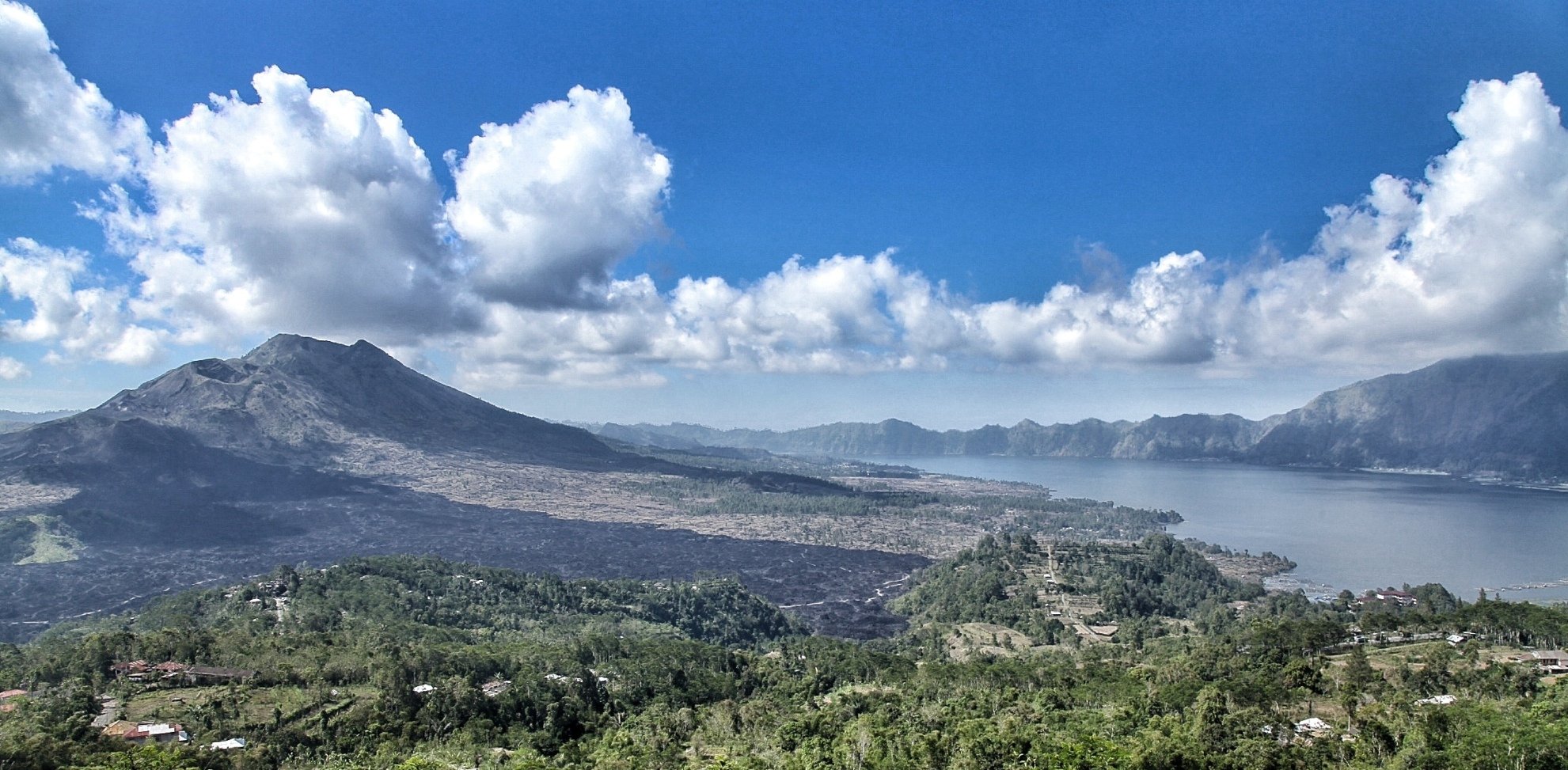 Today you will check out of your hotel and make cultural excursions en route to your hotel in Ubud. You will start the morning with a visit to the mother temple of Bali, Puri Besakih, a temple complex in the village of Besakih, at almost 1000m height on the slopes of the volcano Gunung Agung in east Bali. It is the most important and largest temple of the Hindu religion in Bali. The impressive complex consists of 23 separate but connected temples, spread over several terraces with several Merus and pavilions over a length of one km. The exact origins of the temple are unclear, but its importance as a holy place almost certainly dates back to prehistoric times. The stone base of Pura Penataran Agung and several other temples resemble megalithic step pyramids, which are at least 2000 years old. It was certainly used as a holy Hindu place of worship from 1284 when the first Javanese conquerors settled in Bali (Source: wikipedia). At Kintamani you can enjoy a beautiful panorama over the lake and the (active) volcano Gunung Batur. Your driver will then follow the road to Ubud. Overnight in Ubud.
Day 8 Ubud - free day
Ubud is known as the artist center of Bali. It is the cultural heart of Bali and especially famous for its painting. Many religious ceremonies, dance performances and feasts for the gods are held in the numerous temples. Before World War II, Walter Spies started painting here, inspired by Balinese art. The Neka Art museum Ubud shows work by Spies and the Dutch painter Rudolf Bonnet, among others. In addition to countless trendy shops and restaurants, Ubud is home to the Monkey Forest, where cheeky monkeys try to take everything that is edible. In the surroundings of Ubud you can also make beautiful walking and cycling trips, the Campuhan Ridge is the most famous walk. The way to enjoy the beauty of nature and to get acquainted with the daily life of the Balinese on the way back. Overnight in Ubud area.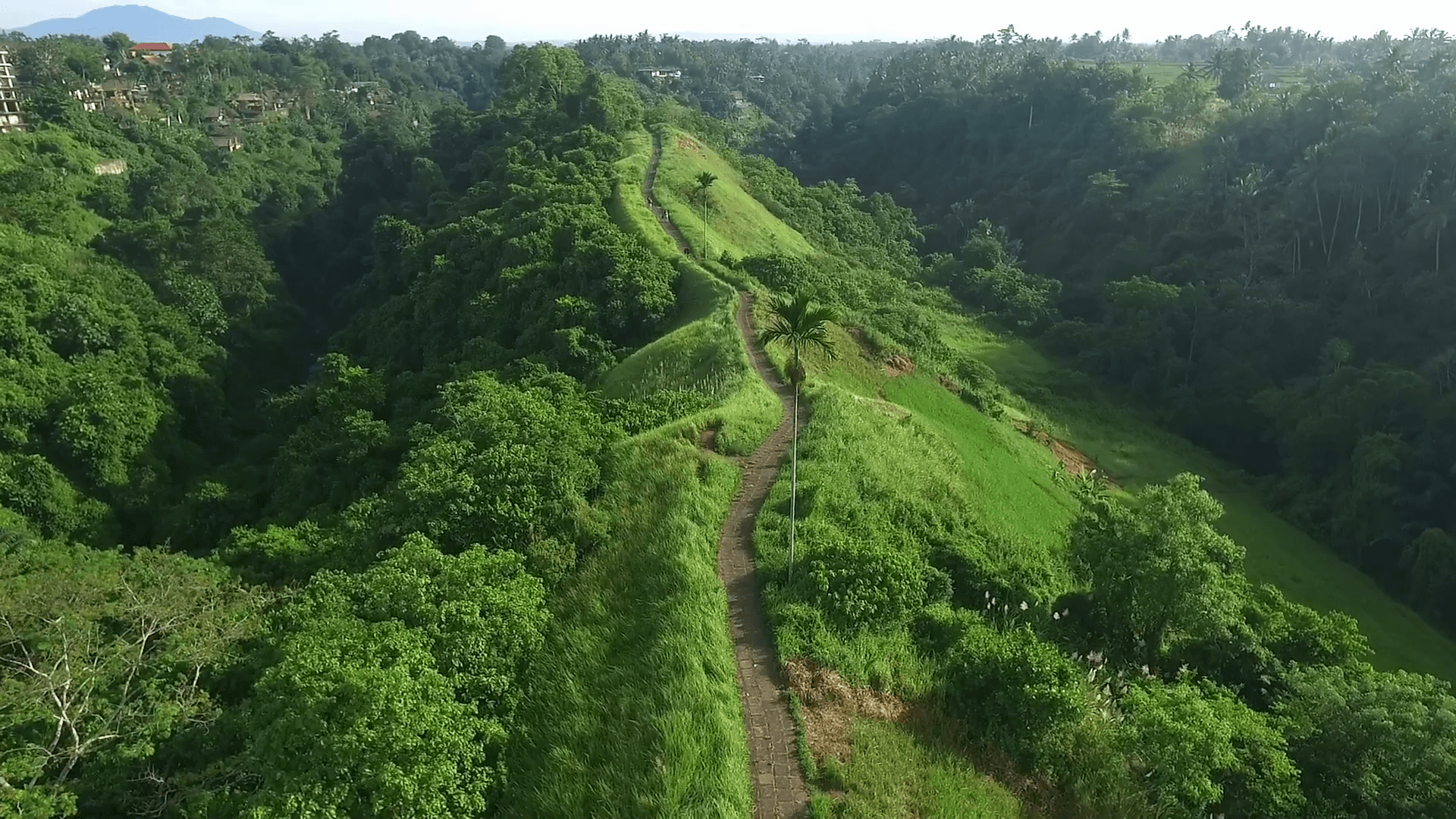 Day 9 Diner bij lokale familie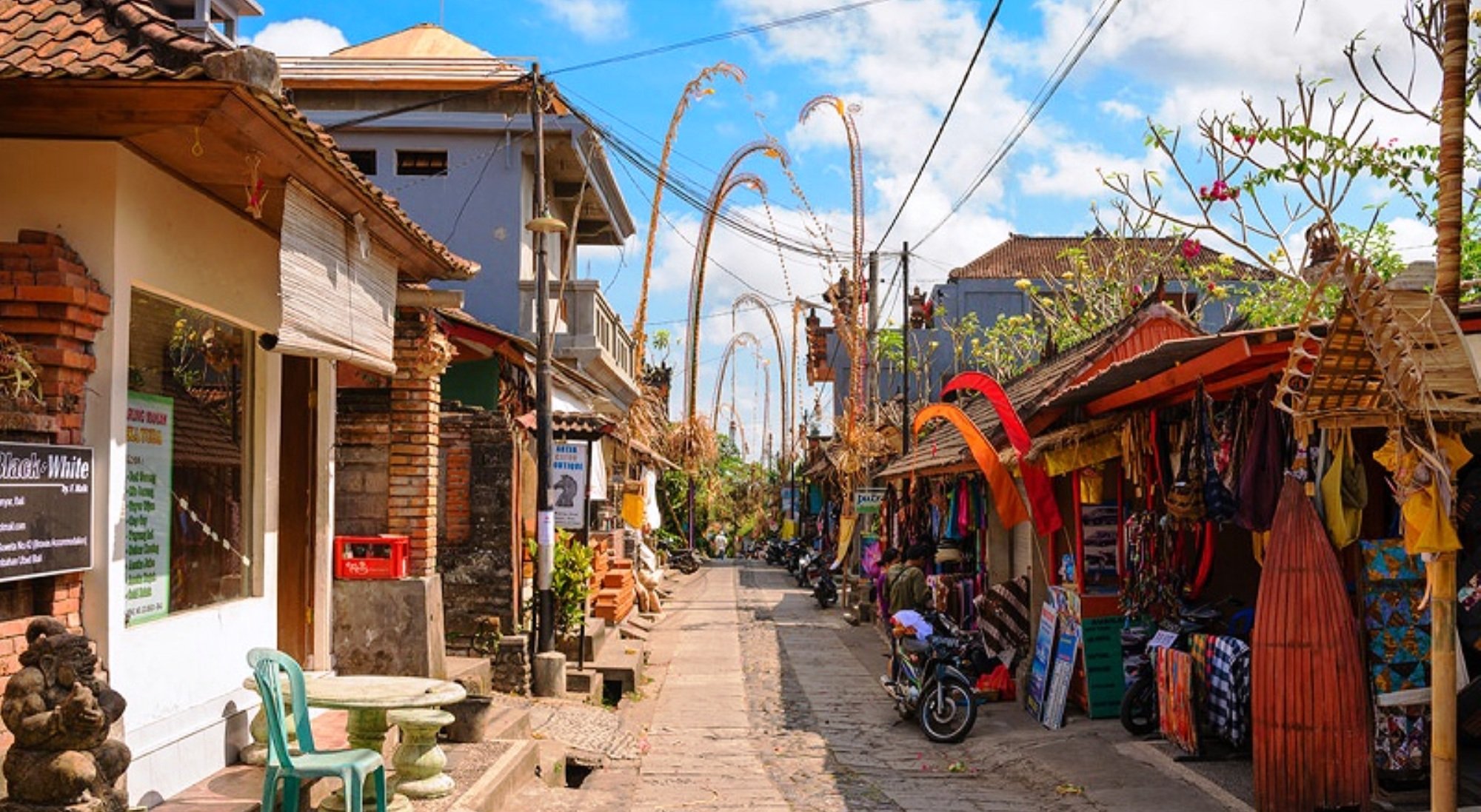 Ubud is a nice place to go shopping and visit the numerous ateliers. The morning market (until 9 o'clock) is a real feast for the eyes with all those vegetables and fruit stalls and you step right into the middle of daily life in Ubud. You can also go for a walk through the rice fields. The Campuhan ridge walk is known everywhere and goes partially over a ridgeline with stunning views. Or you can book a Green Bike tour, a two hour ride on E-Bikes not far from Ubud. Rafting on the Ayu river is possible too. And of course you can also enjoy a Balinese massage in your hotel... Overnight in Ubud area. At the end of the afternoon you will make your own way to the temple Pura Desa Lan Pura Puseh in the village of Petulu, north of Ubud. Your host or hostess will be waiting for you here and you will go together to the family home. After the acquaintance you will enjoy a meal with the family and of course there will be every opportunity to communicate with each other. A super fun and interesting meeting for you and possibly your children and for your host family! Afterwards, you will arrange your own transport back to your hotel. Tip: Do not tip, but bring oleh-oleh (gifts)! That can be something typically Dutch like a calendar with Dutch scenes or something delicious like stroopwafels. It can also certainly be a local delicacy.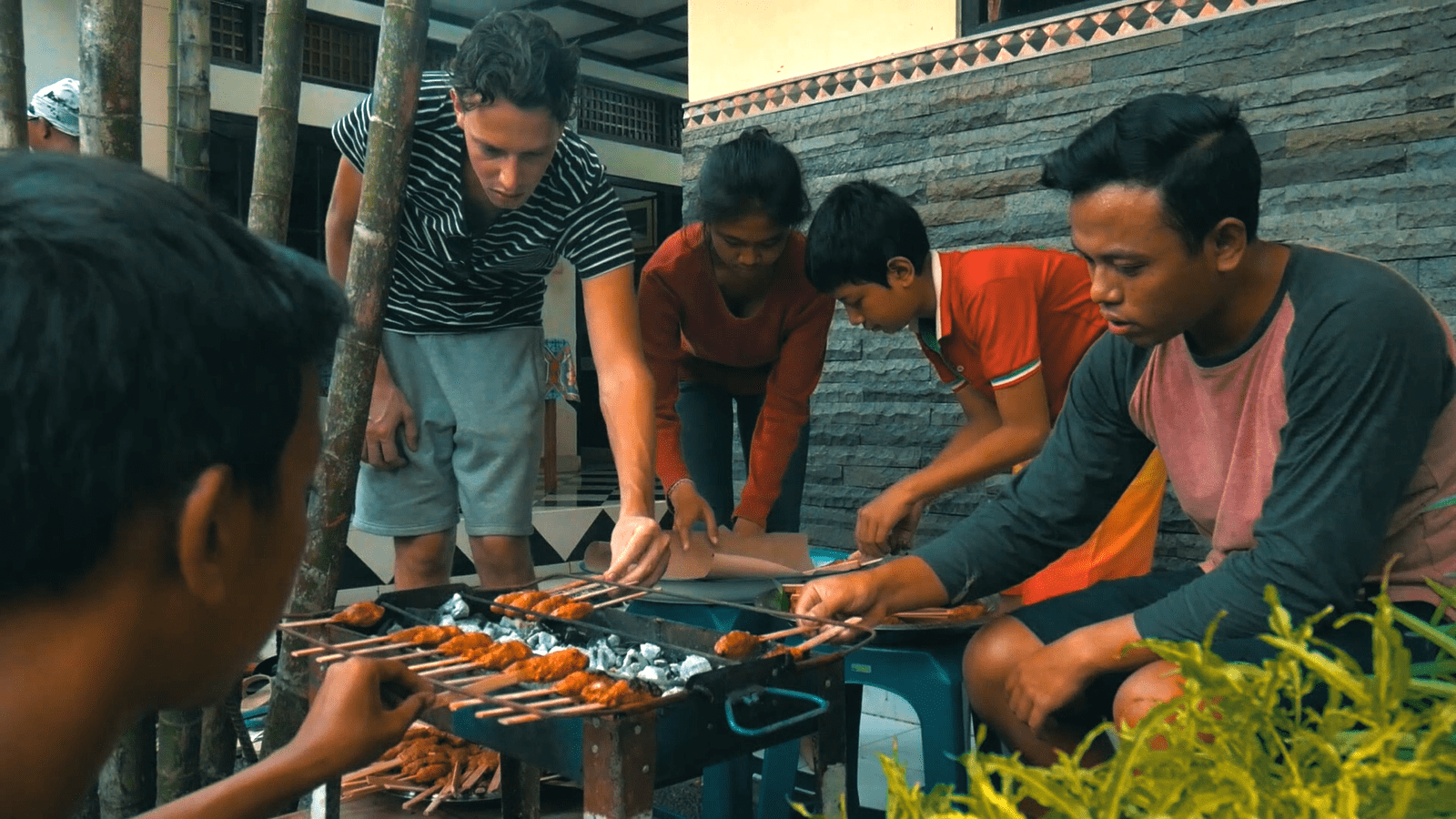 from Ubud to south Bali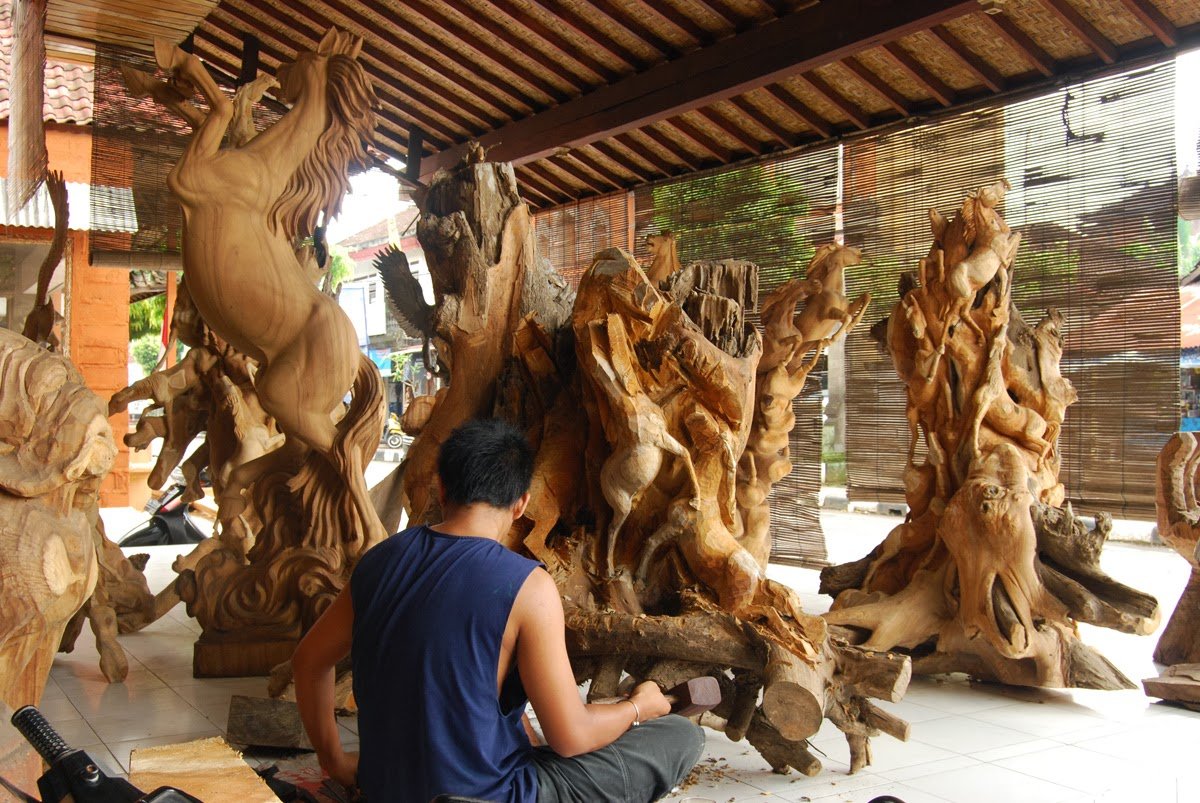 Departure from your hotel after breakfast. You have access to a car with driver throughout the day. The driver is from Bali, but note: he is not a guide. For an additional fee you can also book an English speaking guide. Entrance fees to the sights to be visited are exclusive. Along the way you will visit the towns of Celuk & Mas. In Celuk you will find numerous workshops where the jewelry is made of silver. The village of Mas is known for its excellent carvings. Here you can see in the workshops how beautiful sculptures and other works of art are carved by the Balinese. You can also visit the 11th century elephant cave Goah Gaja today. You will find, among other things, a statue of Ganesha with four arms (the Hindu god with the elephant head). Goa Gaja is a beautifully crafted cave with a medley of Hindu and Buddhist elements. Your driver will take you to your hotel in the late afternoon. Overnight in Sanur.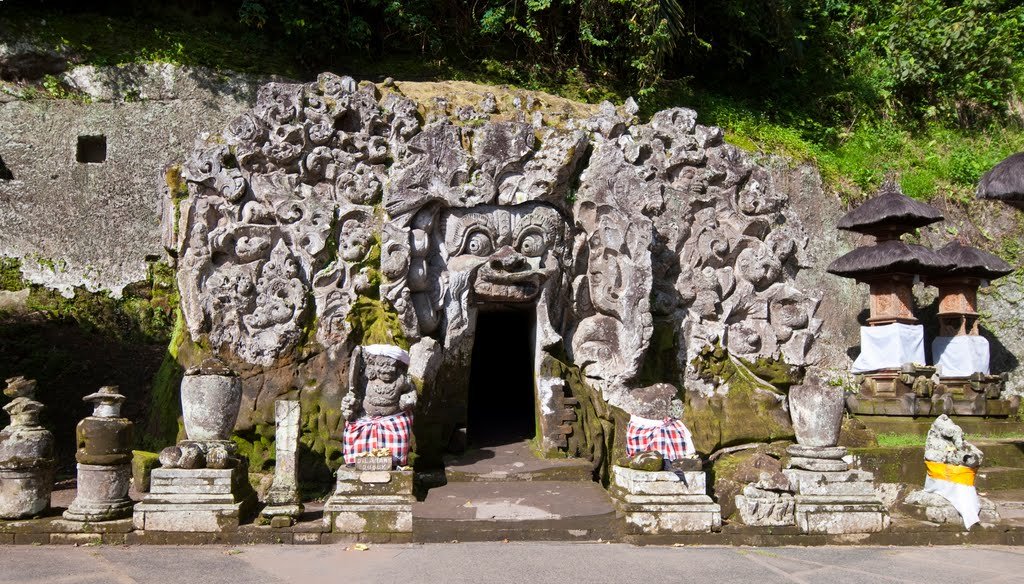 Day 11 Sanur - free day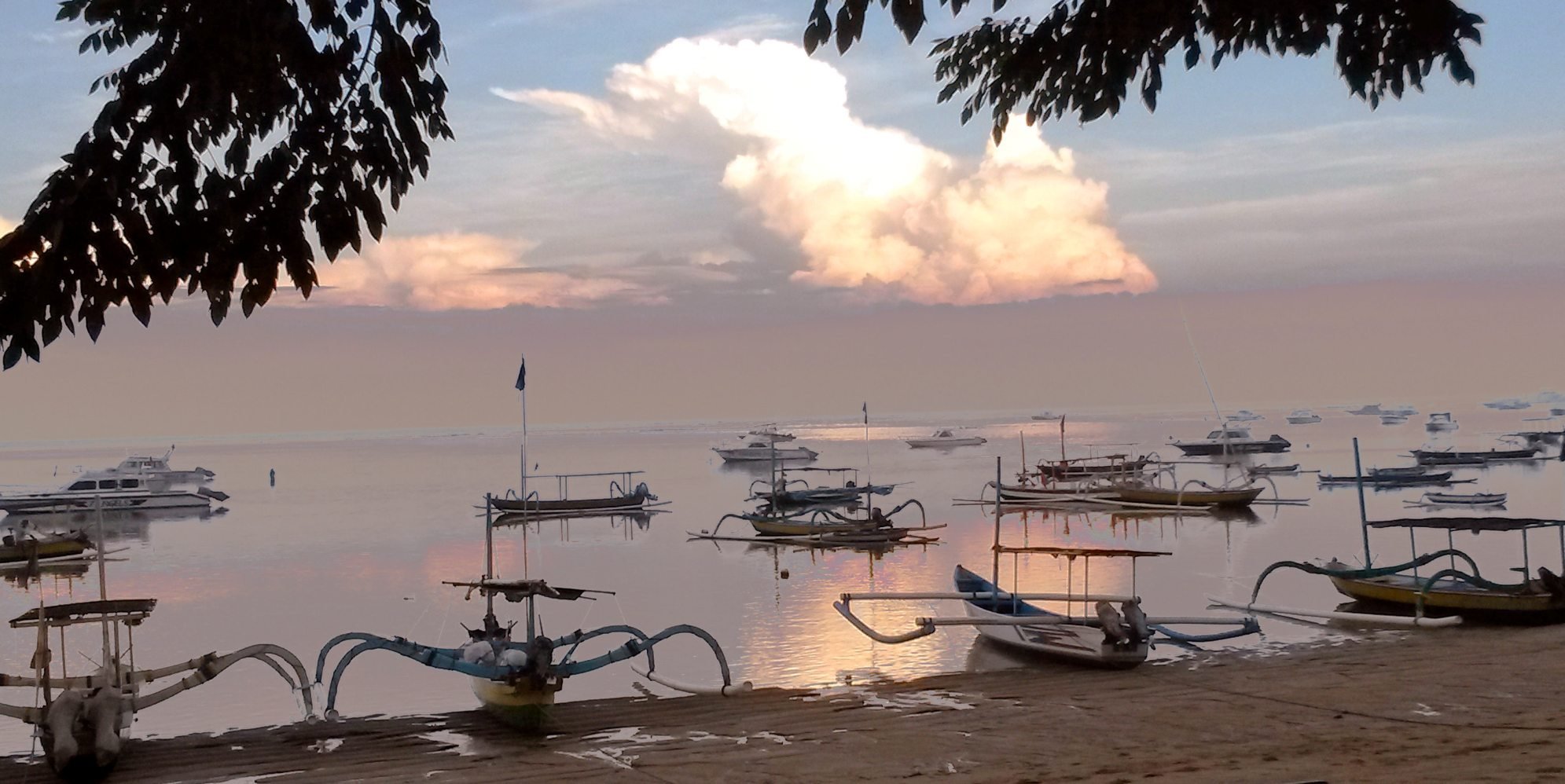 Like yesterday there's nothing on the programme today. You can relax at the hotel or use the following link for an excursion
Bali excursies
Maybe a full day snorkeling trip to Nusa Penida?
Day 12 Excursion Uluwatu temple, Kecak dance and fish dinner in Jimbaran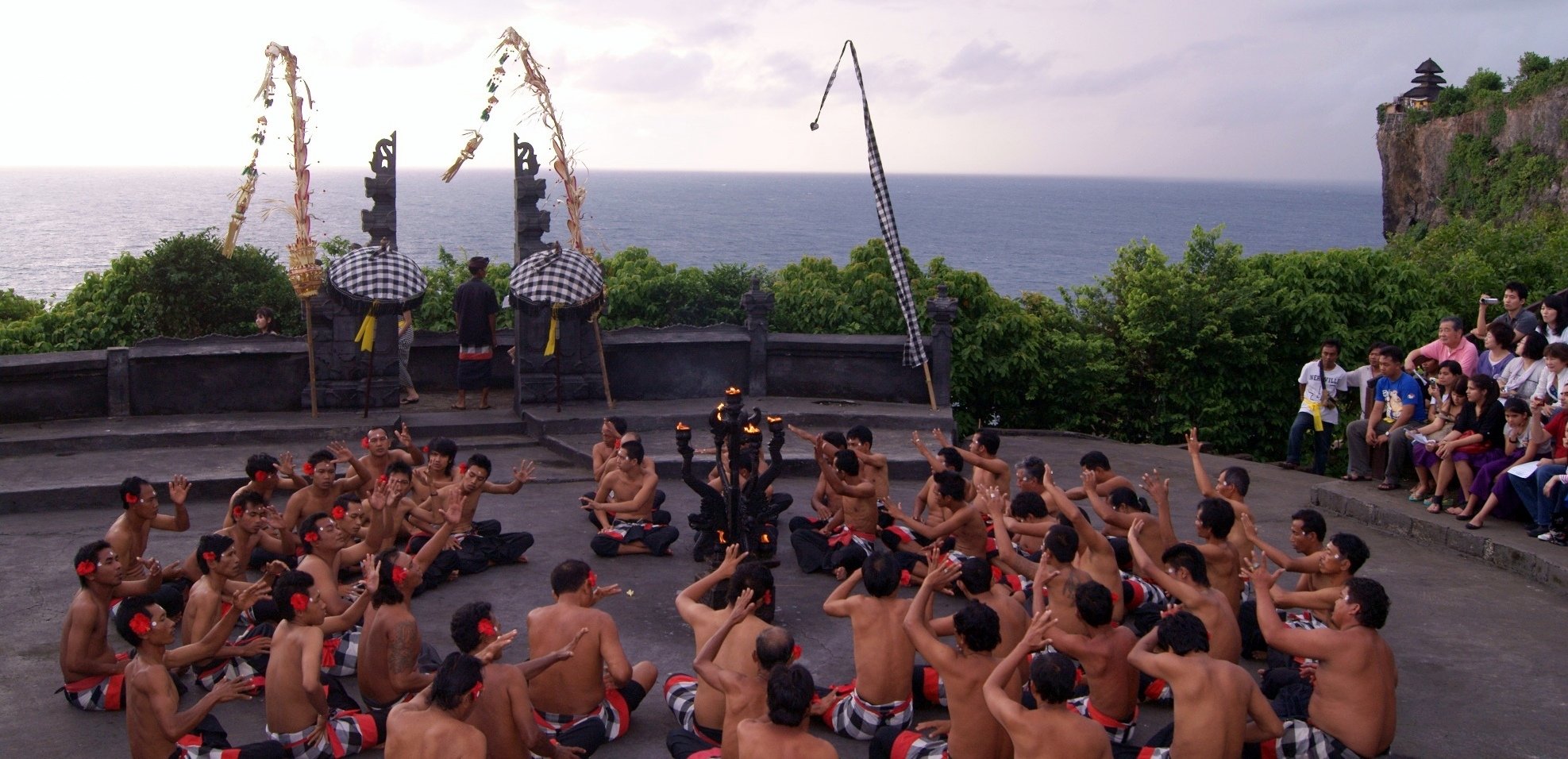 The Uluwatu temple is located on the high rocks on the west coast of the Nusa Dua peninsula. Here the monkey dance 'Kecak' is performed by bare-chested men with a black and white checkered cloth around their waist. Sitting in a circle, "Tjak-tjak" is the sound that makes this trance dance so characteristic. Jimbaran beach has become very popular in recent years for its seafood restaurants. After the Kecak dance you can enjoy a delicious dinner on the beach in a romantic atmosphere. Departure from hotel at 4:00 PM.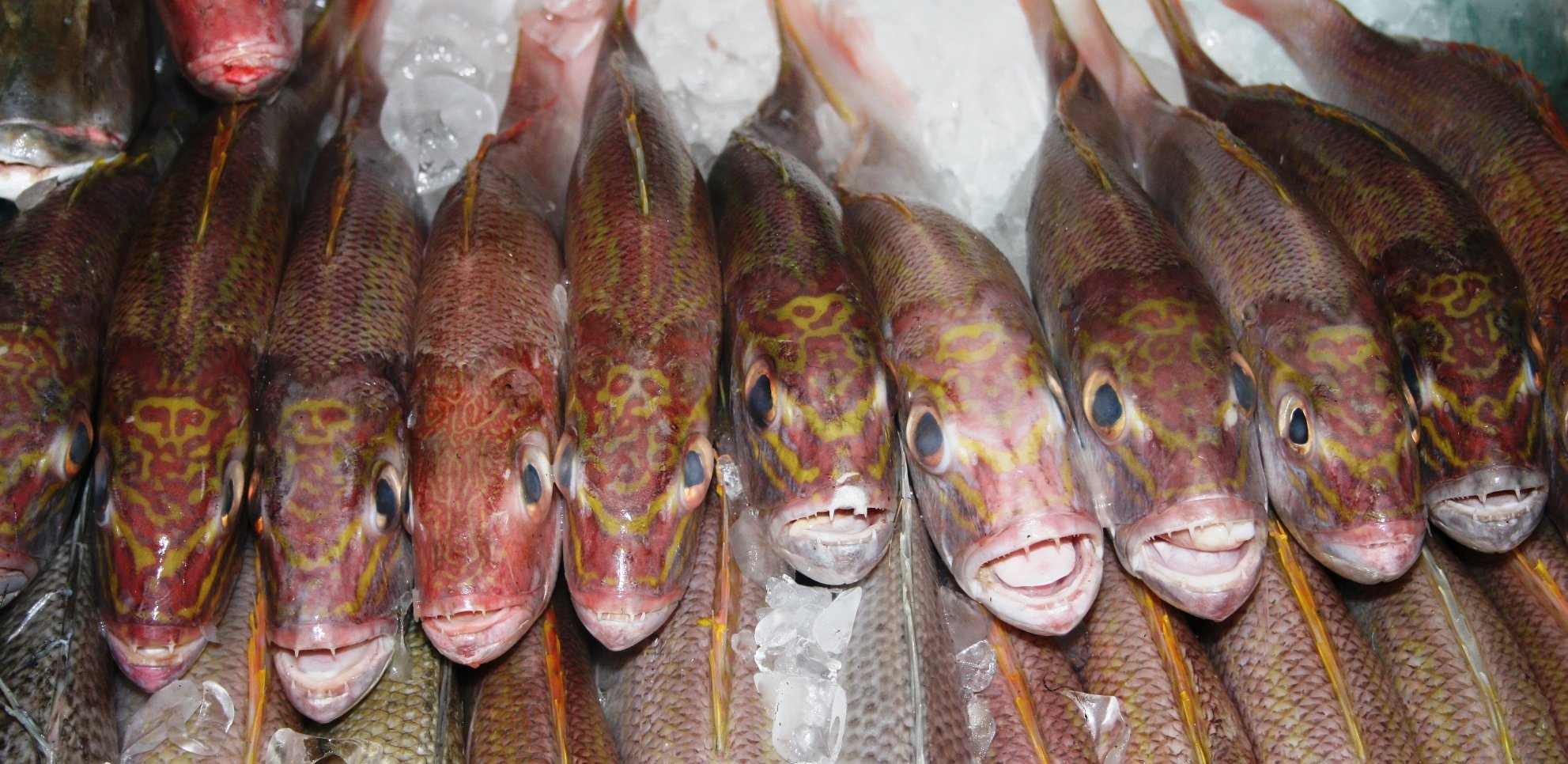 Day 13 Pulang kampung, going back home
Well in advance, about 3 hours before the departure of your flight, your driver picks you up for your transfer to the airport.
flight Denpasar-Amsterdam via Jakarta
Flight with Garuda Indonesia with transfer in Jakarta. Departure Denpasar early evening, arrival Amsterdam in the early morning.
Day 14 Arrival Amsterdam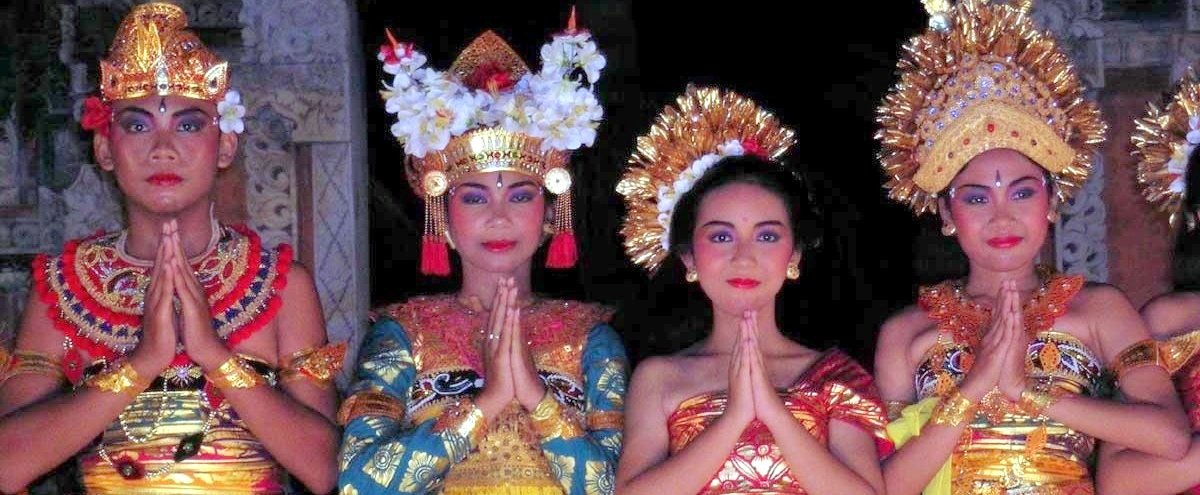 In the morning arrival at Schiphol. The end of a beautiful trip...
Denpasar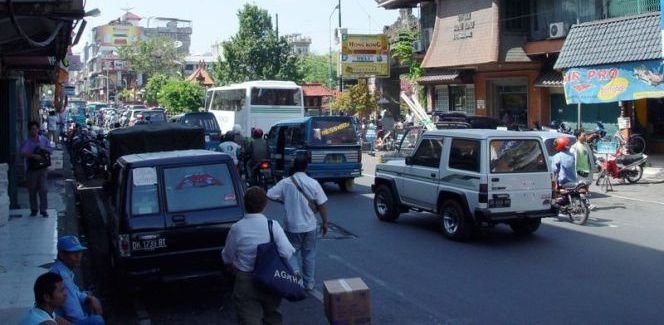 Denpasar
Denpasar is the busy capital of Bali.
Besides some museums and the market there aren't many tourist attractions in the capital, though you can do some great shopping for cheap prices.

Sanur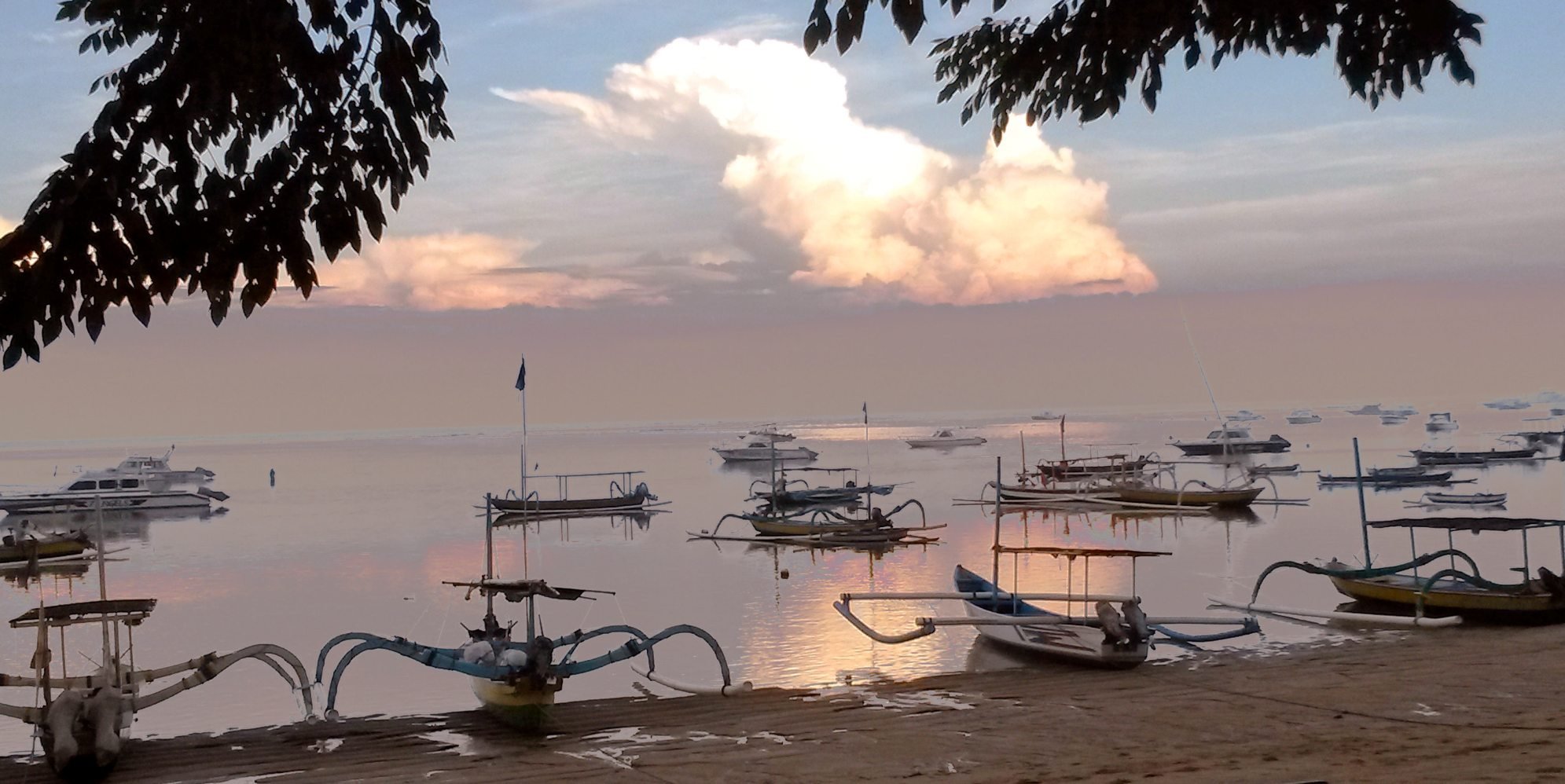 Sanur
Sanur is located directly on the Indian Ocean.
The beach of Sanur beach is protected by a reef at some 100 meters off shore, which means that the waves are much gentler than in Kuta.
Sanur is a quiet old fishing village with lots of hotels, restaurants and shops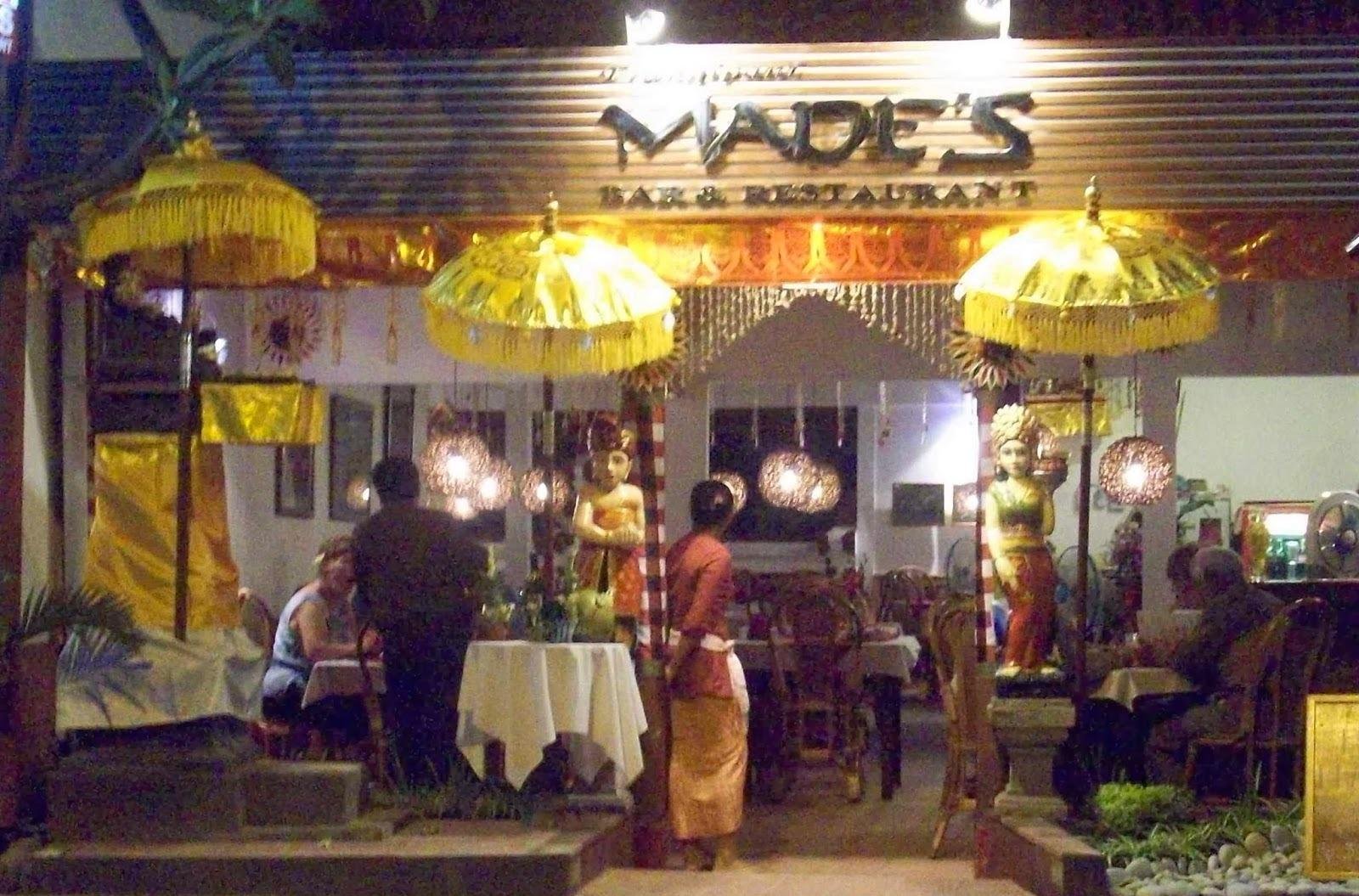 Favourite restaurant
My own experience: Mades Restaurant, in the centre of Sanur. Delicious Balinese food and Indonesian dishes!
Mades Restaurant - Sanur
Sidemen

Sidemen
The village of Sidemen is located on the flanks of the sacred mountain Gunung Agung. It is a beautiful and quiet area, from which you can take beautiful walks. All hotels are located in the rice fields and have magnificent views.
Near Sidemen you can make trips to the Balinese mother temple Puri Besakih, one of the coffee plantations in the area or go rafting on the Ayung or Telagawaja river.
Ubud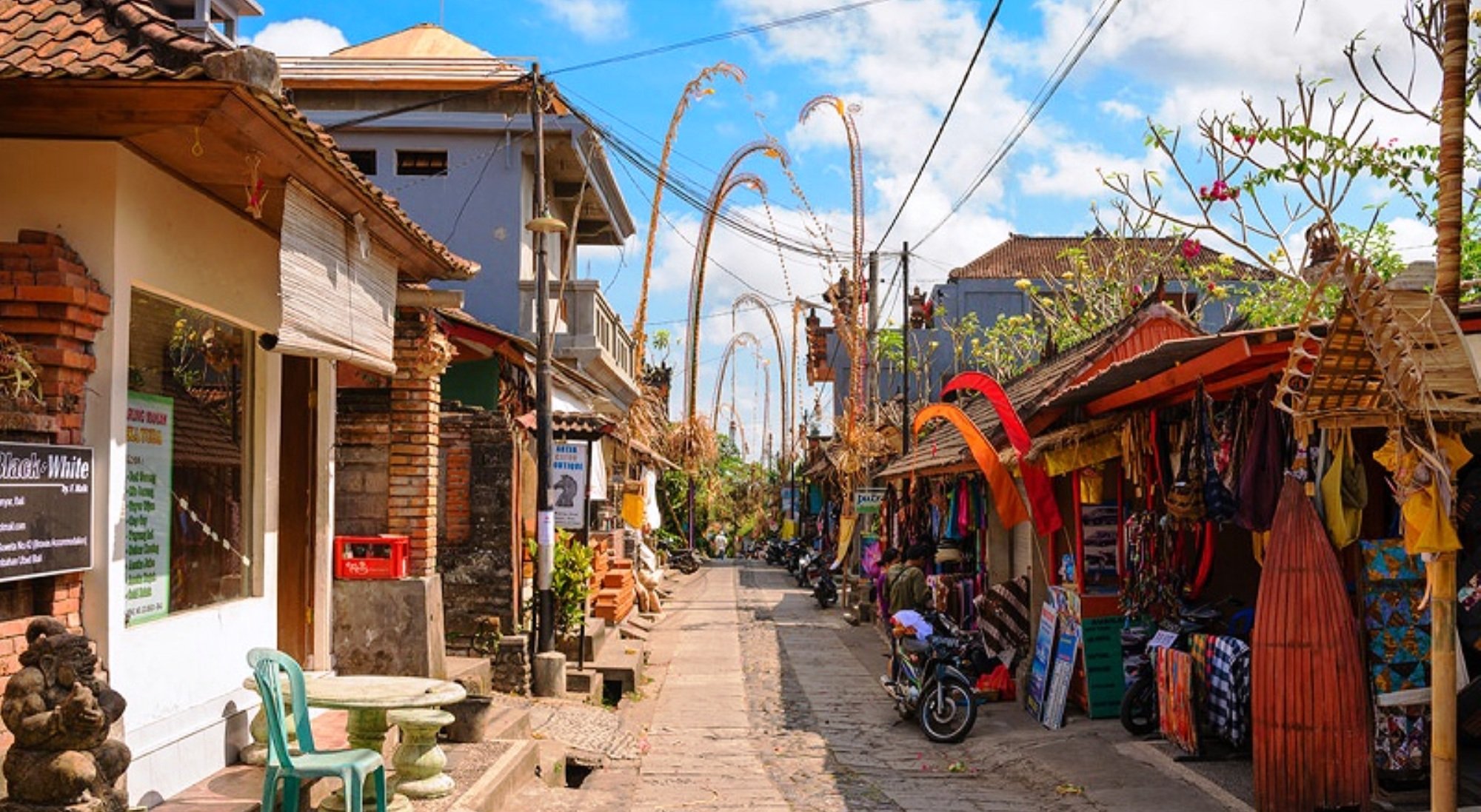 Ubud
Ubud is called the artist village in central Bali. In and around the busy center are numerous sewing and art studios and several museums and theaters. Dances are performed daily, including in the palace. A visit to the art-market opposite the palace is also definitely worth it.

You can choose a hotel or resort in the busy center, somewhere quiet in the middle of the rice fields or on the border of the river.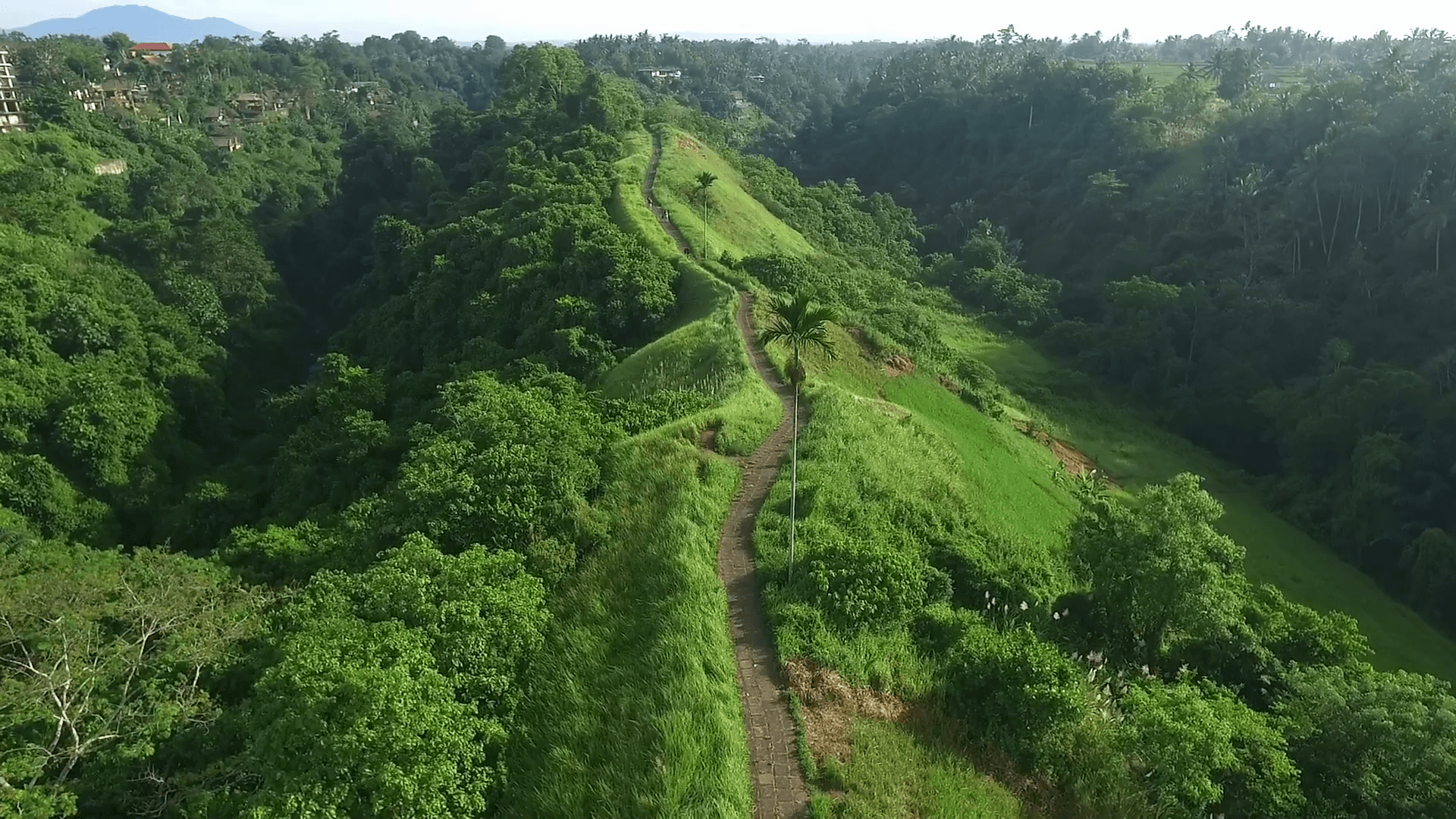 Things to see and do
Too much to mention all...
Ubud Palace and Puri Saren Agung Temple: Here you can marvel at traditional Balinese architecture. Daily also the scene of Balinese dances
The Monkey Forest Monkey Forest: A must see for many, personally a torment for me to watch monkeys that have become more than brutal.
Agung Rai Museum of Art houses artworks by, among others, Walter Spies, Rudolf Bonnet and many other artists. The museum's goal is to keep Balinese art alive.
Museum Puri Lukisan specializes in modern Balinese paintings, sculptures and carvings
The Blanco Renaissance Museum is mainly focused on works by the Spanish painter Don Antonio Blanco
The Campuhan Ridge Walk is a must do: Take an early morning hike for this 2 hour hike across the ridge to the village of Bangkian Sidem
And there is much more to see in the Ubud area!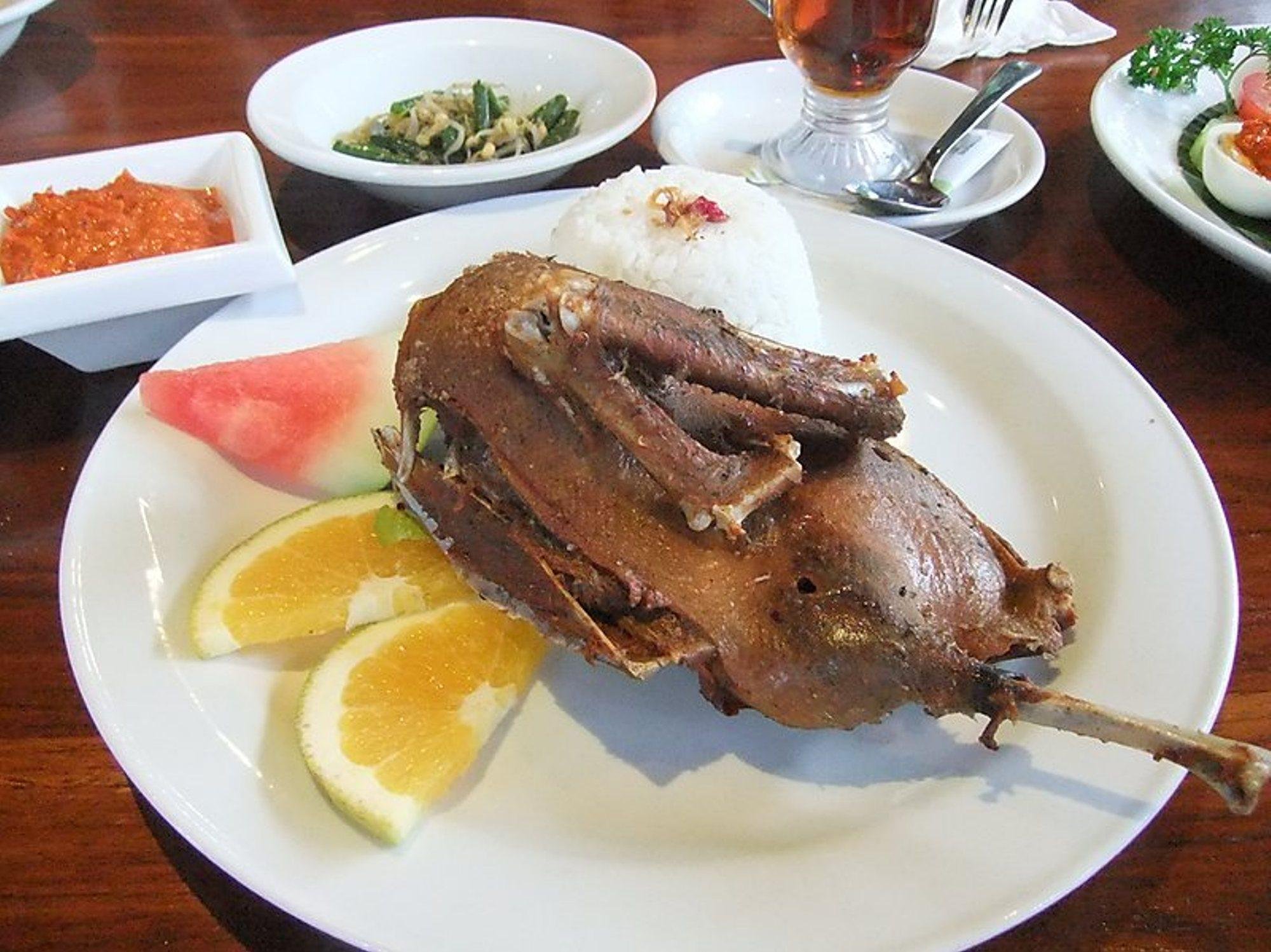 Favourite restaurant
The specialty of Ubud is crispy fried duck, Bebek Bengil. There are several restaurants where "Dirty Duck" is on the menu. Our favorite is
restaurant Bebek Bengil
at the Jalan Hanoman in the center.
Another great restaurant in the center is
Cafe Lotus
, with a very extensive menu and a beautiful pond at the Jalan Raya Ubud, close to the Royal Palace .
Many trendy and cozy restaurants can also be found in the quieter Pertiwi district.