Round trip 16 days Advanturous Papua - Baliem valley and diving Raja Ampat
This adventurous round trip will bring you to the traditional Baliem valley and the incredible underwater world of Raja Ampat.

The Baliem valley is like stepping in a time machine, bringing you hundreds of years back in time. You will visit the traditional villages of the Dani and Yali tribes and you can make beautiful trekkings through the valley.

Leaving the Baliem, you will fly and sail to Raja Ampat for a week incredible diving. You will stay in a local guesthouse on the Arborek island. Raja Ampat is known as one of the top-3 world diving spots.
Target prices
€ 4,465 p.p. in low season including 4 dives a day in Raja Ampat
€ 3,835 p.p. in low season excluding diving
Supplement high season (July & August, 15-25 December): approx. € 300
Included:
•Overnight stays with breakfast, lunch and dinner
. domestic flights Jayapura-Wamena and vice versa
•English speaking guide in Baliem valley
-If you opted for diving arrangement: 4 dives per day

Not included:
•transfers from / to resort in Raja Ampat (€ 180 p.p.)
•Entrance fee Raja Ampat (approx € 70 p.p.)
. optional excursions
. tips and personal expenses
. travel and cancellation insurance.
. booking costs and contribution Calamity fund (€ 30 per booking)
. SGR contribution € 5 per person
. CO2 compensation € 22 per person

Day 1 flight Amsterdam-Jayapura

Garuda Indonesia flies non-stop from Amsterdam to Jakarta with her new Boeing 777-300 ER. Experience the hospitality of the Indonesian culture on board of Garuda Indonesia, the national flight company of Indonesia. This direct flight takes you in 13 and a half hour from Amsterdam to Jakarta. Departure from Amsterdam around midday, arrival Jakarta early in the morning. Your connecting flight to Jayapura leaves about 16 hours later and takes ca 5,5 hours. In between your two flights you will use the FM7 resort, a 30 minutes-drive from the airport. Your connecting flight leaves halfway through the evening and arrives around sunrise. A more comfortable alternative is the code-share KLM flight, with departure from Amsterdam around 20:50 and arrival in Jakarta in the late afternoon. Your connecting flight to Jayapura leaves about five and a half hours later. Max. weight: 30 kg.
Day 2 Day stay in FM7 resort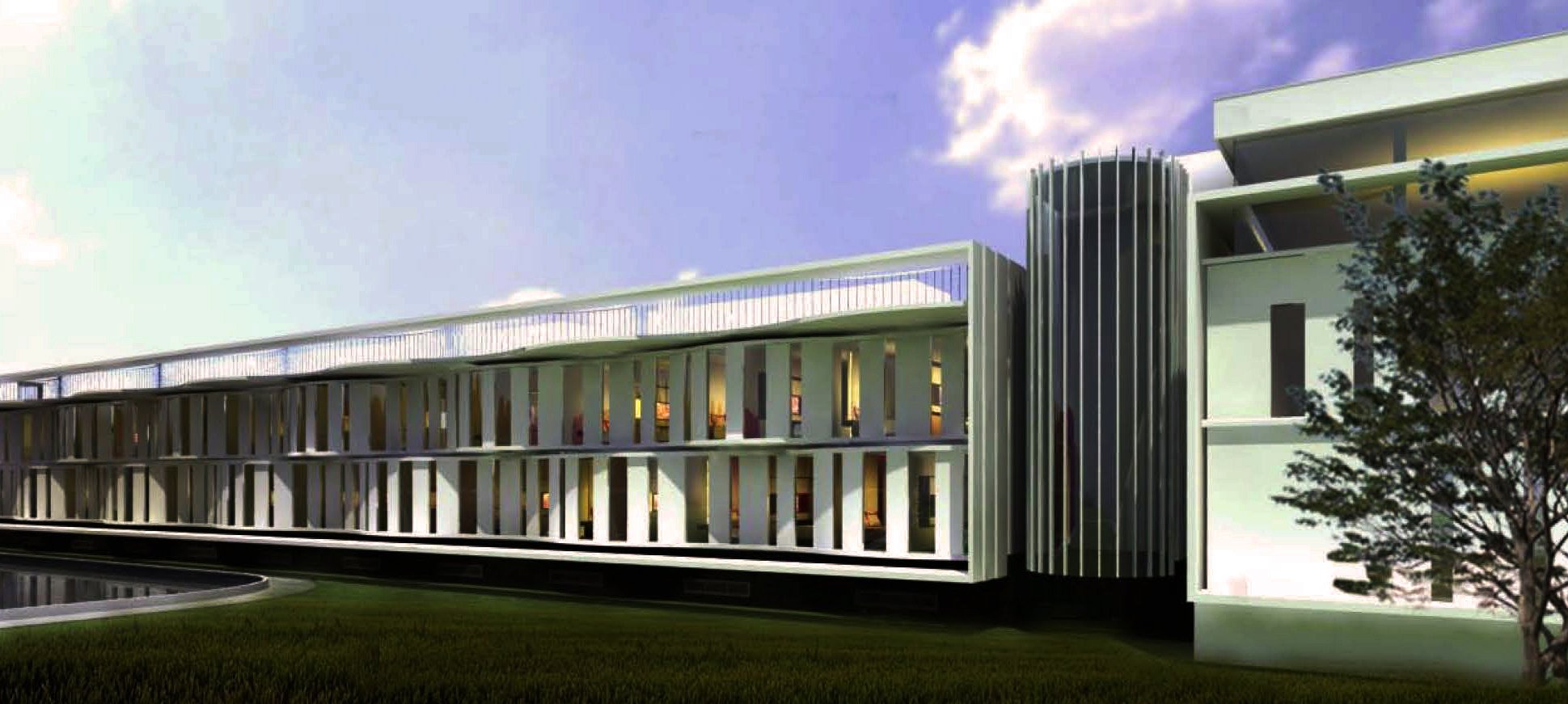 Your flight arrives in the morning in Jakarta and your connecting flight only leaves later in the evening. We booked a room for day-use in the FM7-resort, a 30 minute drive from the airport. At the exit of the airport, outside, your driver is waiting for you and drives you to the hotel.
Bandara International hotel day-use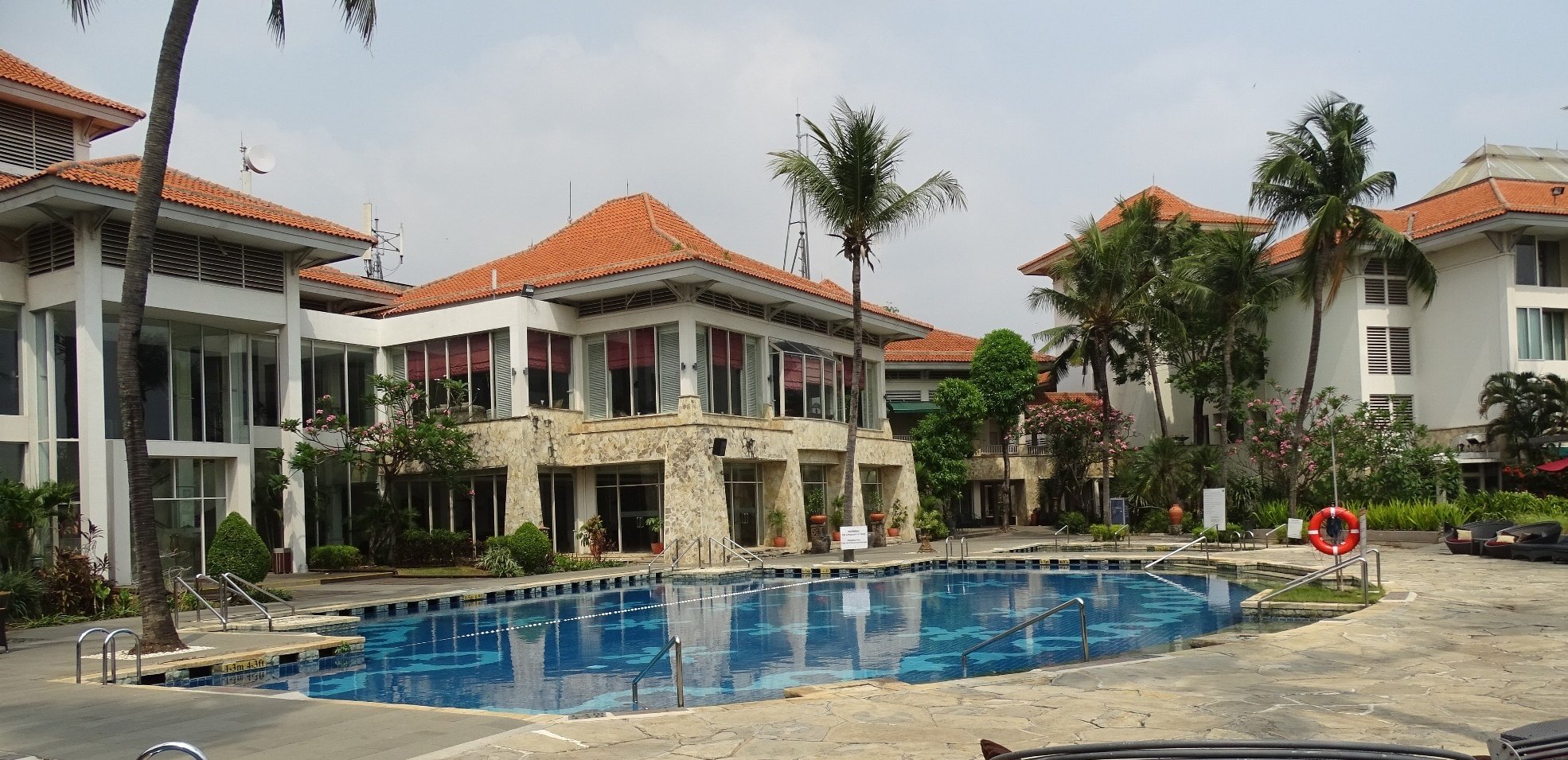 Your flight arrives in the morning in Jakarta and your connecting flight only leaves later in the evening. We booked a room for day-use in the Bandara International hotel, a 10 minute drive from the airport. At the exit of the airport, outside, your driver is waiting for you and drives you to the hotel.
Day 3 Arrival Jayapura, airport service for transit to Wamena: The time machine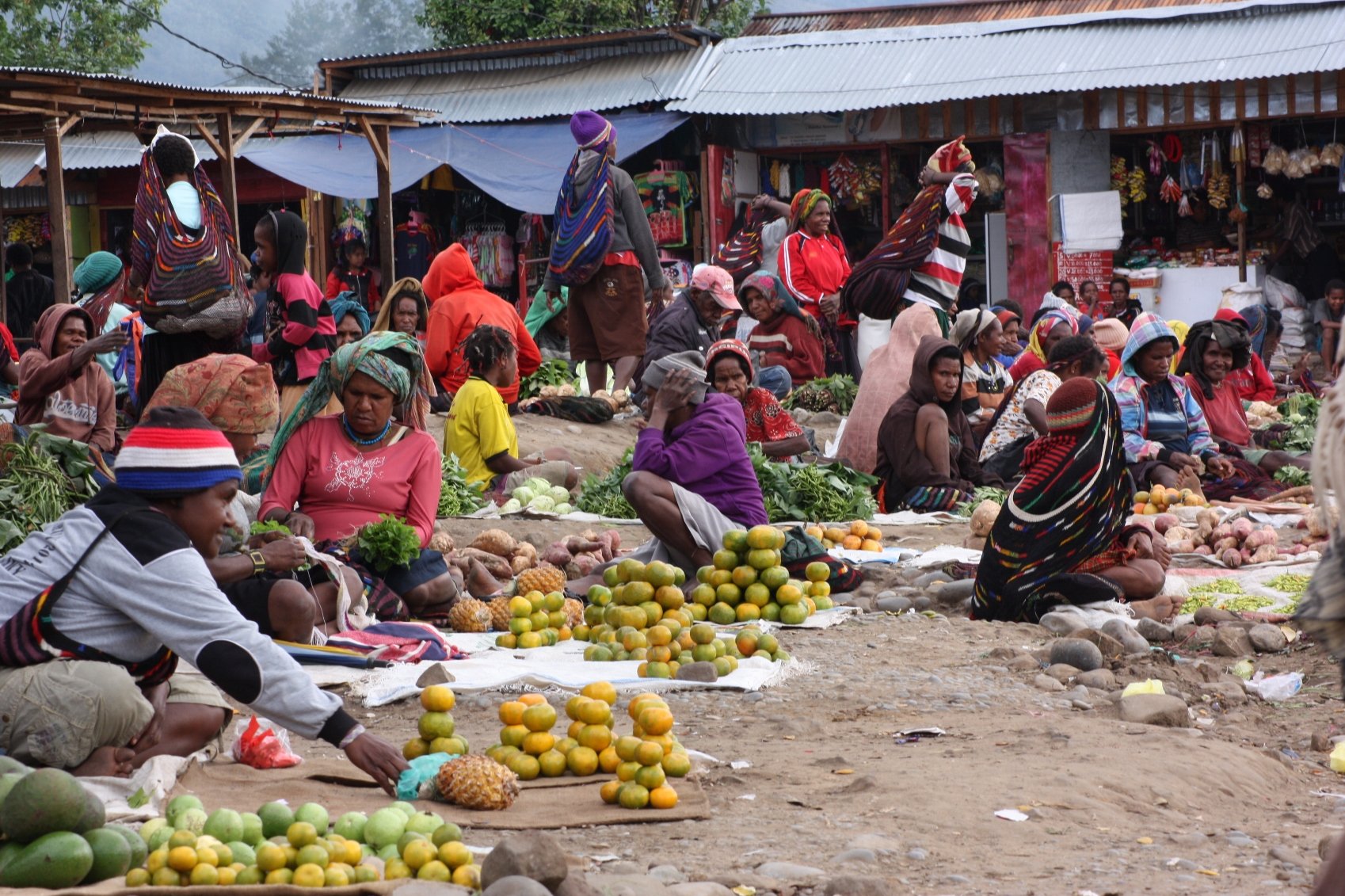 From Jayapura airport you fly with Trigana airlines to Wamena, a flight of almost an hour. When you arrive in Wamena we pick you up at the airport, then visit some villages around Wamena and check you in for 4 nights at the Pilamo hotel in the centre of Wamena.
flight Jayapura-Wamena-Jayapura
Flight with Trigana Air, Wings or NAM Air Daily departures from Jayapura: 06:45, 08:50, 09:05, 11:10 en 13:30 from Wamena: 07:50, 09:55, 12:15, en 14:35
Day 4 Nature around Sogokomo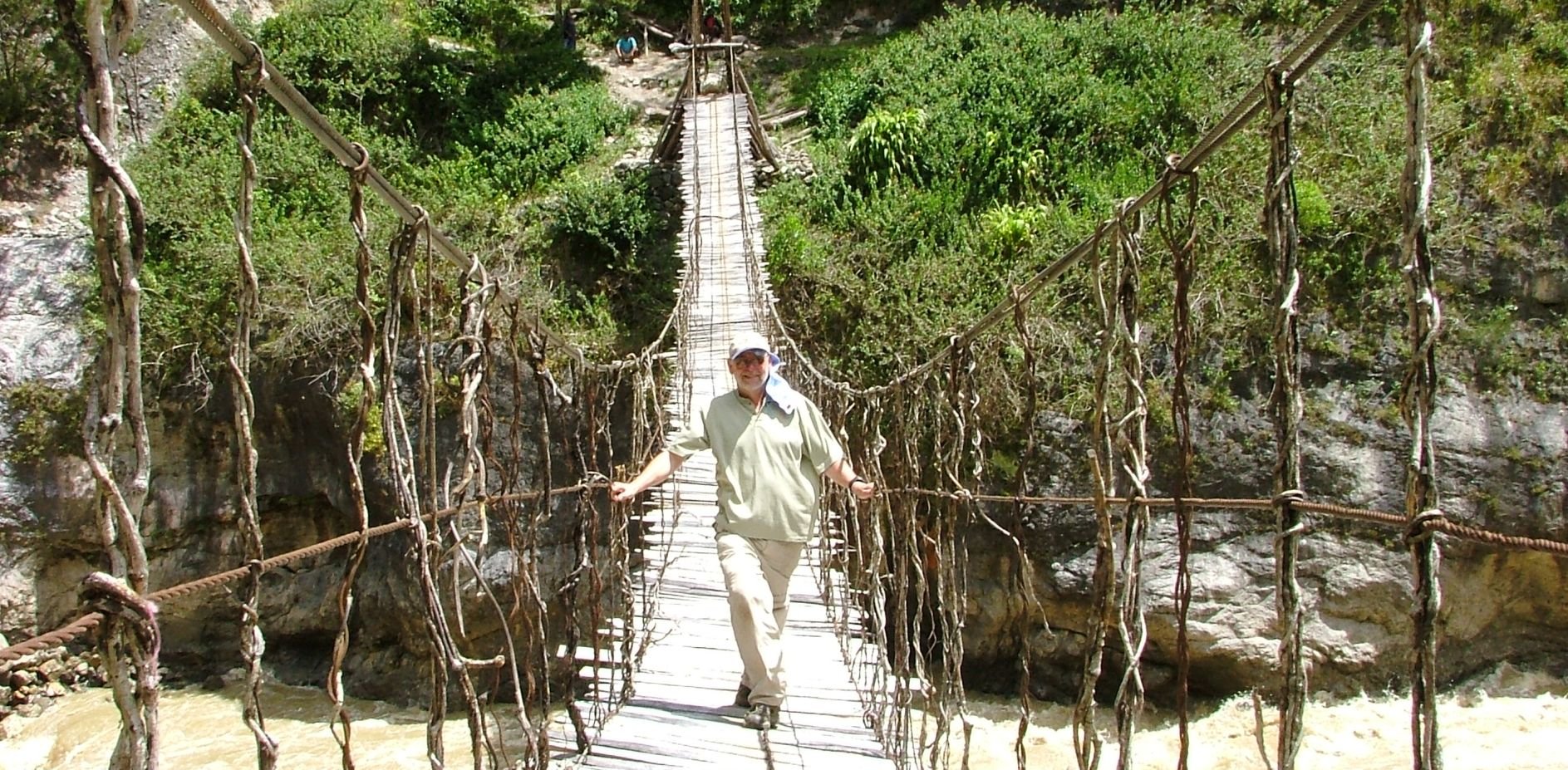 After breakfast a little more than a half an hour drive to Sogokmo for a day hiking in the wonderful surroundings of the Baliem river. Via a hanging bridge we walk along traditional Dani villages and across sweet potato fields. After our picnic lunch we return to Sogokmo, where the car is waiting to drive us back to the hotel in Wamena.
Day 5 Traditional villages and salt mining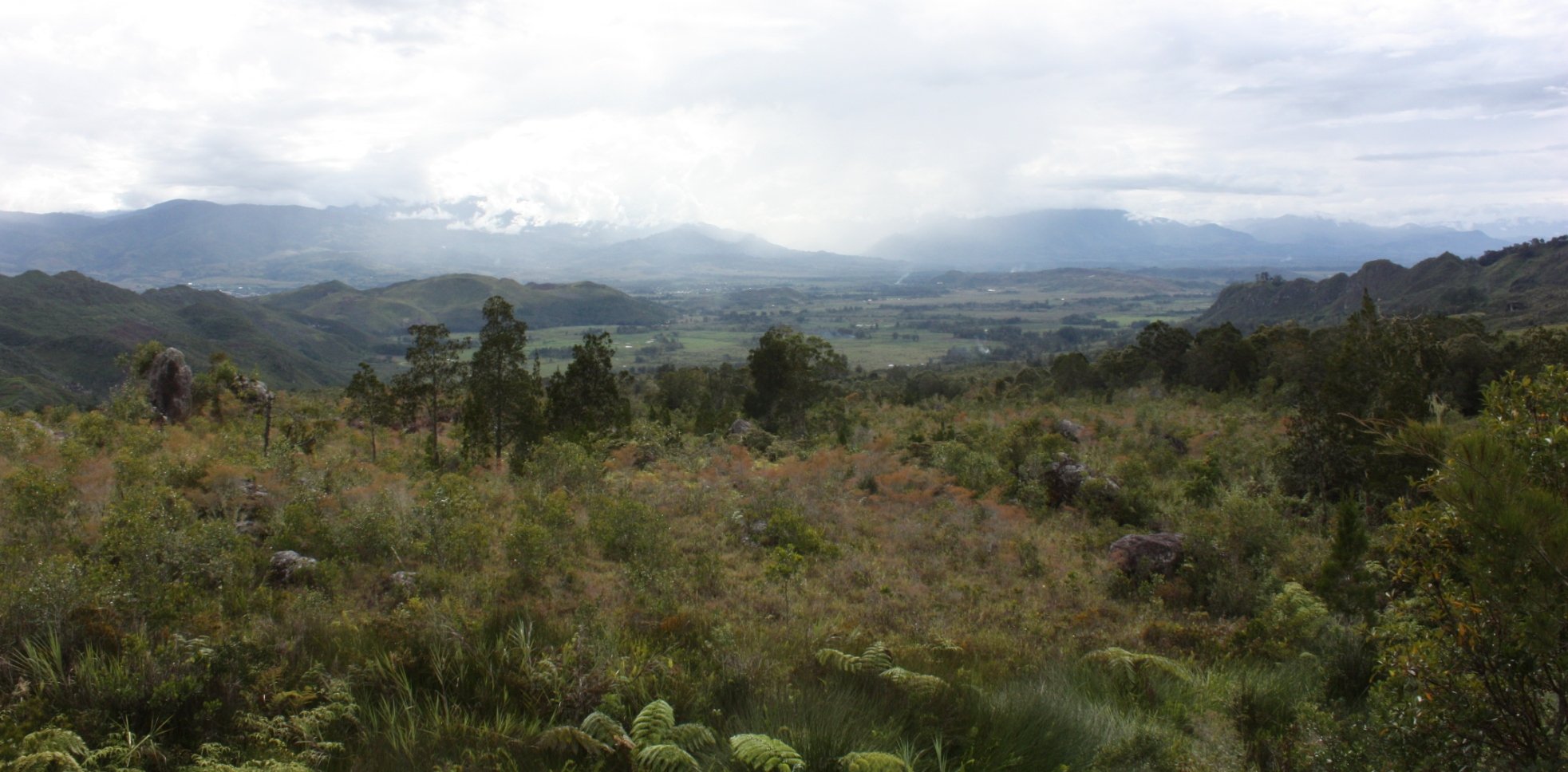 After a one-hour drive we reach Jiwika in the central part of the Baliem valley. Here starts our climb of about one hour uphill through the mountain rainforest. We arrive in a traditional Dani village with a salt mine. Ladies in traditional clothes accompany us and show us the original way of salt mining. After our lunch in the village we walk to Kurulu where we'll see a very old mummy of de famous Dugum clan. Everywhere the friendly people from Kurulu will show you their jewelry, art, weapons and other curiosities.
Day 6 Jiwika Pig feast and dance

All day long we will visit a traditional pig festival in Jiwika. THE opportunity to attend this special ceremony where they prepare a pig on hot stones. The Dani still celebrate these pig festivals, notably for weddings. During our tour this traditional ceremony will be held especially for you, which means a nice little earner for them and allows you, with your guide, to meet and speak with the Dani people.
Day 7 Back to Jayapura and Lake Sentani
Immediately after breakfast we leave the hotel and take the first flight from Wamena, back to Jayapura. You'll stay there one night in the Swissbell hotel or the simpler, but very cosy beachfront Tablanusa resort in Depapre. The rest of the day you can do a sightseeing tour with a visit to the Mc Arthur war monument and lake Sentani. If you stay in Jayapura you can also go to the museum and the Hamadi market.
Day 8 Van Jayapura naar Raja Ampat
Na het ontbijt brengt uw chauffeur u naar het vliegveld voor uw vlucht naar Sorong. U wordt hier van het vliegveld afgehaald en naar de haven gebracht. Rond 12:00 vertrekt de speedboot naar het resort waar u uw eerste duik kunt nemen in de wateren van Raja Ampat.
Day 9 to 14 (included) Diving at Raja Ampat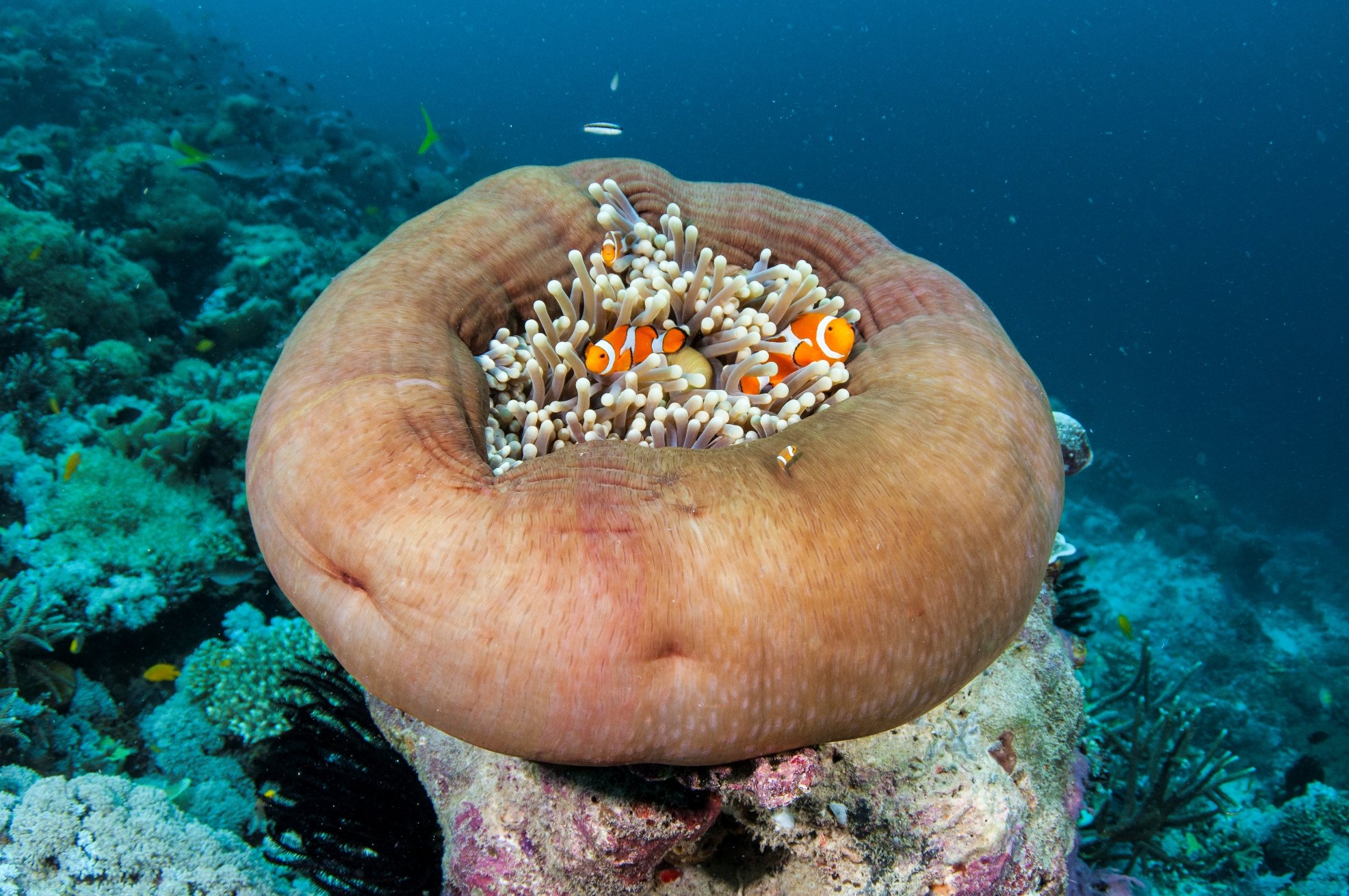 These days you can dive and snorkel at will in the most beautiful area of Indonesia. Between November and March a diving- or a snorkelling trip at Manta Sandy is a must! But don't forget to admire the seahorses, wobbegong sharks, barracudas and other wonderful fish above the marvellous healthy coral as well. Besides diving and snorkelling you can book excursions to the birds of paradise or a traditional village on the spot. Or just chill out on the beach…
Day 15 Back to Sorong
One of the most beautiful experiences comes abruptly to an end when at 6 AM the speedboat sails back to civilization. You've plenty of time to catch your flight. Your driver is waiting for you at the harbour to take you to the airport.
flight Sorong-Amsterdam via Jakarta
Flight with Garuda Indonesia Sorong-Amsterdam with transfers in Makassar and Jakarta. Departure from Sorong in the late afternoon with transfer of a good 2,5 hour in Makassar, arrival in the evening in Jakarta. The connecting flight leaves in the evening from Jakarta. Arrival Amsterdam in the morning.
Day 16 Arrival Amsterdam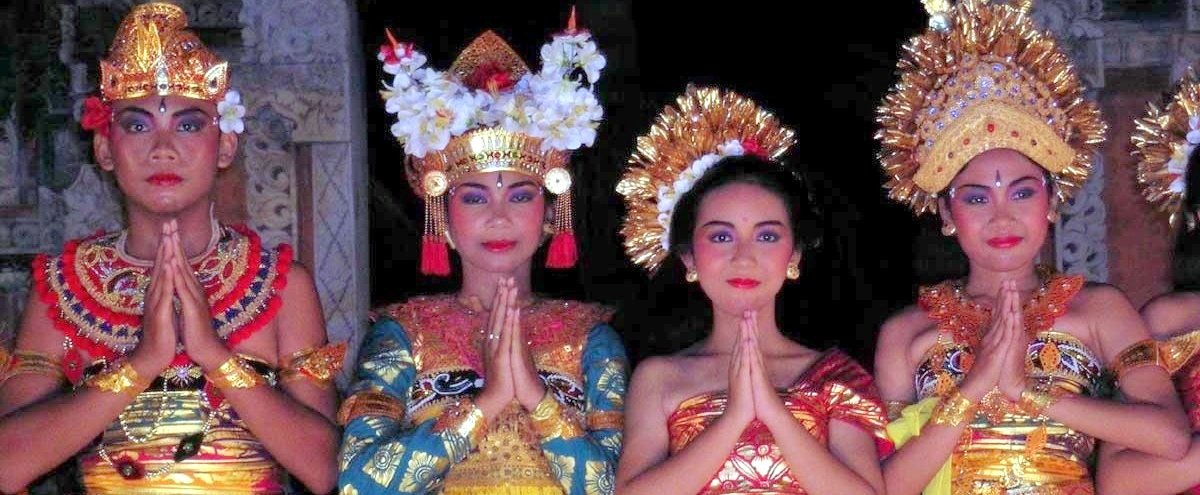 In the morning arrival at Schiphol. The end of a beautiful trip...
Jayapura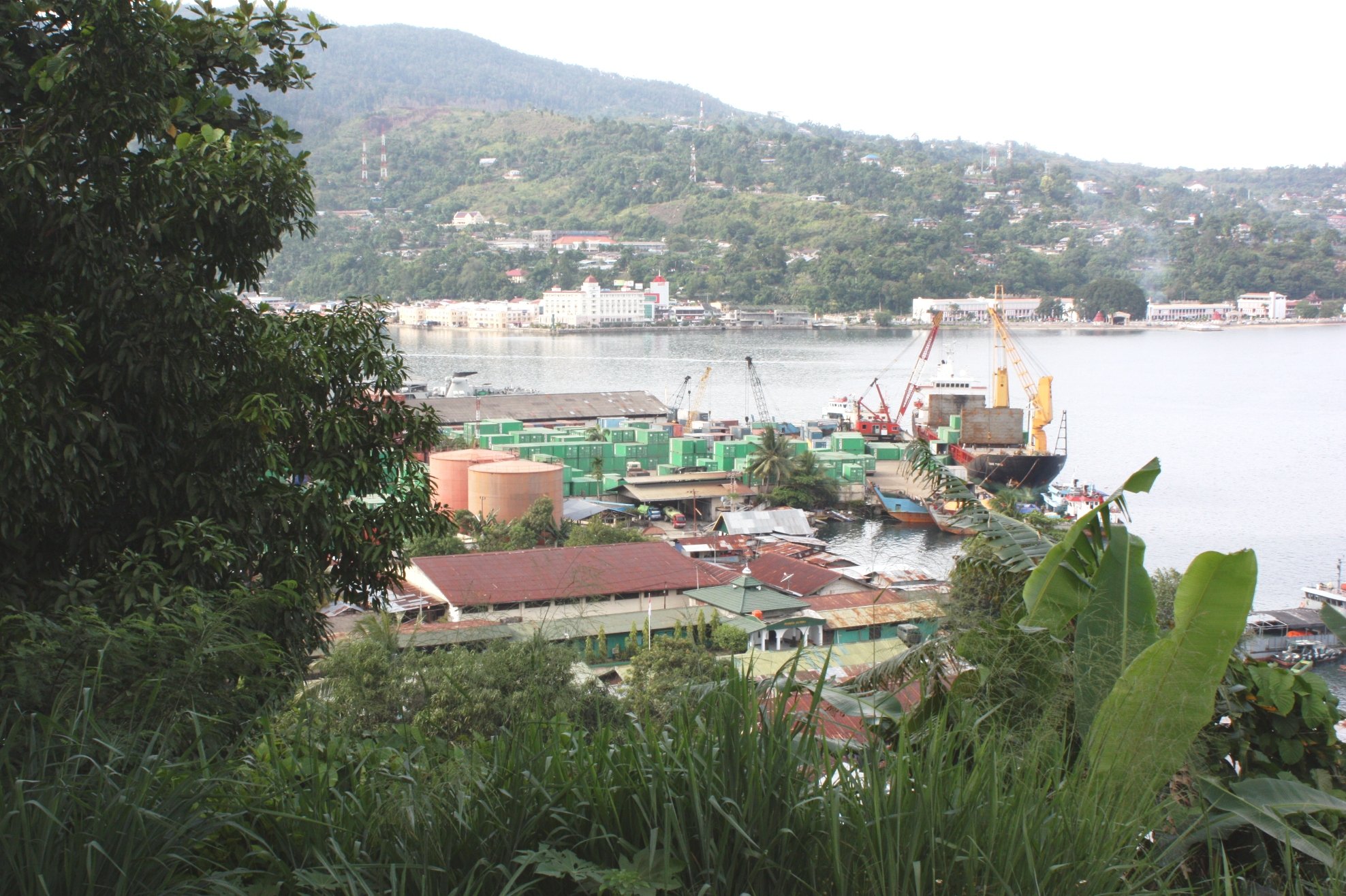 Jayapura
Jayapura is the capital of the Papua province. Because of its location between mountains, the city is divided into different "pieces". You have the city itself with the old Kloofkamp district, and further in the area the "districts" Hamadi, Enterop, Kota Raja, Abepura, Dok2 to Dok9, APO (American Post Office).

Jayapura Airport is 25 kilometers away at Sentani Er. There are several flights a day, including to Jakarta, Makassar and Denpasar and to many small destinations in Papua, including the Baliem Valley.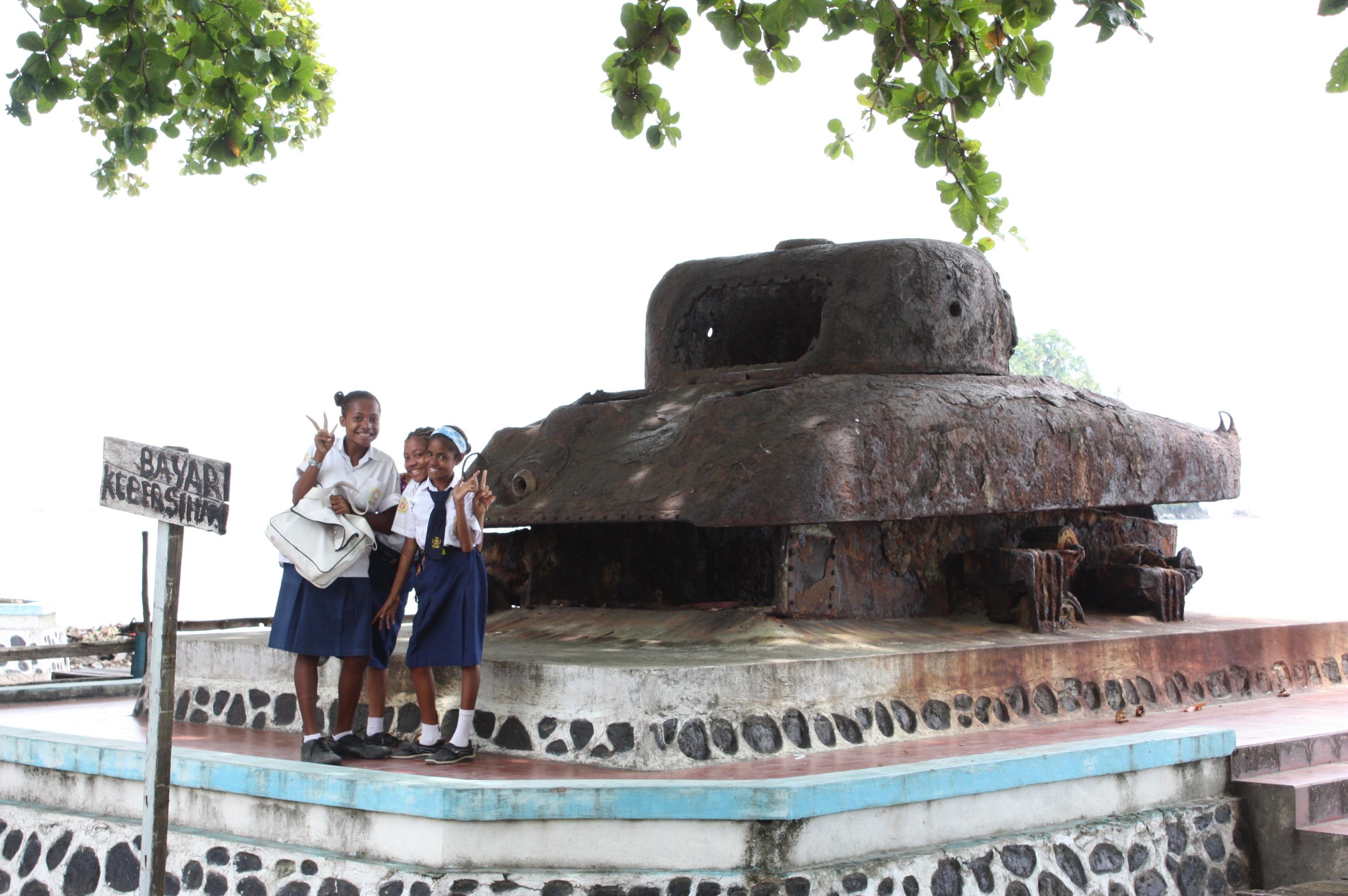 History
The city was founded as Hollandia after having determined the border between England and the Netherlands,that runs midway across the island New Guinea. The Dutch founded Merauke close to the border in the south and, as said, Hollandia in the north.This to restrain possible expansionism of the English.

Later, after that Dutch Nieuw Guinea was incorporated into Indonesia, the city was shortly named Soekarnopoera, and then renamed Jayapura.

During the Second World War the city was the headquarter of The American Army and several things remind of this. The district APO for example, which stands for American Post Office. Here was once the post office of the American army. The beach north of the city is called Base G. And on the hills you can still find aircraft wrecks.
(Source: Wikitravel)

Things to see
On the way to Jayapura airport is Museum Negeri. In the museum you can learn a lot about the different tribes in Papua. There are beautiful objects on display.

Gedung Loka Budaya Museum is located on the grounds of Cendrawasih University in Abepura, a kind of suburb of Jayapura. The museum has a wonderful exhibition of objects from Irian Jaya. A large part comes from the Asmat area.

There are a few beautiful beaches close to Jayapura. Hamadi Beach, where Allied forces landed in WWII, is about 15 minutes from Jayapura by bemo. The beach is located near a busy inhabited area and is very busy. The Base G beach, which owes its name to Mac Arthur who had his headquarters here, is a nicer beach. This beach is also not far from Jayapura and can also be reached by bemo.

Lake Sentani is 40 kilometers from Jayapura, see Sentani.


Jakarta

Jakarta
Jakarta, The Big Durian, you either love it or you walk away from it. It is the hometown of my mother, then called Batavia. In 1993 I was still in her birth house, a privilege that few Indos can still experience, as Jakarta has grown into a metropolis with about 17 million inhabitants. A lot of low-rise buildings have had to make way for skyscrapers that define the skyline of Jakarta.

Only the old city, Kota Lama, still shows many traces from the Dutch period. Be sure to visit Fatahillah Square with the National Museum and drink a cup of coffee in the nostalgic Café Batavia. Glodok, Jakarta's China town is within walking distance of Kota Lama. The old VOC warehouses and the fish market Pasar Ikan are also worth a visit.

I find it difficult to name a favorite restaurant. What I write today will be obsolete tomorrow. I would say check the internet and selamat makan, enjoy your meal!


Wamena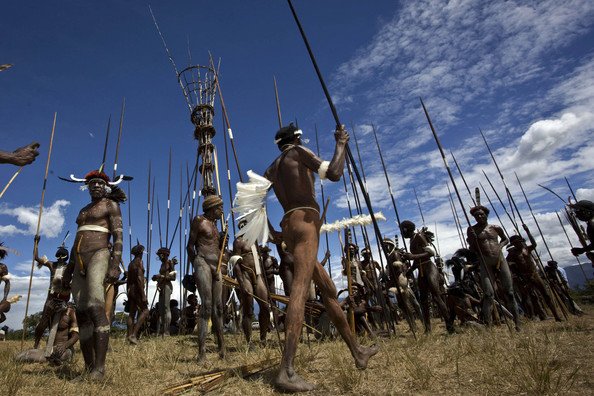 Wamena
The Baliem Valley is located on a plateau in the province of Papua. The valley is located at an altitude of about 1,600 meters, making it a lot cooler than at sea level. Wamena is the capital of the Baliem.

The town has just under 15,000 inhabitants and is often the base for excursions and treks through the Baliem Valley. The airport has several daily flights to Jayapura and daily to Timika and Dekai (towards Korowai). Be sure to visit the Pasar Jibama market here.

The valley itself measures approximately 20 x 80 kilometers and is the habitat of the Dani tribe. The Lani and Yali live at a somewhat greater distance from Wamena. The basic food in the valley is the sweet potato. Rice doesn't grow here. Furthermore, vegetables are grown and pigs are kept (and cherished!).

A trip to the Baliem Valley is like a trip with the time machine. The population lives very primitively in small bead villages with at most ten mud huts with thatched roofs and a large communal kitchen. The pigs also often have one of the huts. The men usually only walk with a koteka (penis sheath) and the women only wear grass skirts.

It is wonderful to walk in the Baliem Valley. Enthusiasts can take a multi-day trekking, but the day trips from Wamena also invite you to explore the valley. At the village of Sogokmo you cross the river via a suspension bridge and walk through the sweet potato fields past several traditional villages. At the village of Jiwika you can climb to a traditional salt mine and at Kurulu you come face to face with the famous ancient mummy of the Dugum clan. You can also view such a mummy at Alkima, but it has now become a touristic event.

It is also special to spend part of the day at the Pig Festival. Normally the party is held during a wedding, but the residents are proud of their traditions and are happy to show it to tourists. A pig is slaughtered with a bow and arrow and stewed on hot stones. As a guest you will be offered a piece of meat with vegetables. Tasty is different, but just to be polite you grab a bite and then enjoy the lunch that your guide has brought.

The Baliem Festival takes place annually in the month of August. The three Dani, Lani and Yali tribes wage war for three days, but now with different rules of the game than before.


Baliem valley - Tribes
The original population are the Dani people, a well-known tribe in Papua. The Dani are known for their war-minded attitude. When the valley was discovered, people noticed that everywhere high, slim towers had been built. These were lookouts to warn the villagers that hostile clans were approaching. These lookouts were little by little put down when the area got under Dutch administration and war-making was forbidden. The Dani of the Baliem valley are related to the tribes from the mountains west of the valley, that are called western Dani or Lani. Their area is more densely populated than the area of the Dani. A third tribe are the Yali, who live in sparsely populated areas high on the mountain flanks of the Jayawijayain mountain chain.

Under Indonesian administration in the 70's the situation became tense with the Dani, who were considered as underdeveloped people. In the early seventies the Indonesian government tried with 'Operation Koteka' to motivate the Dani to change their Koteka for clothes and to house them in modern square houses. Many Indonesian soldiers, who had to carry out the policy, regarded the Dani as 'savages' (little more than animals, an attitude that's still alive among many Indonesians) and treated them very badly. Opposing Dani were sometimes even killed. In 1977 the Dani rebelled led by the Organisasi Papua Merdeka, the Dani fought with bow and arrow against Indonesian soldiers with rockets, attack planes and helicopters with which they bombed the Dani villages. It is estimated that 500 Dani died during the fighting, that was concentrated around the villages Pyramid and Bokondini in the north of the valley. 'Operation Koteka' was a complete failure.

In the nineties a new fight broke out for independence, which also was put down violently by the Indonesian government, that in 1997 even tried to put up the tribes against each other and thus stay out of range itself. Until the middle of the 20th century the valley was closed territory. A lot of Indonesian government officials still consider the valley as 'the end of the world'.
(Source: Wikipedia)

Raja Ampat

Raja Ampat
Raja Ampat is an archipelago in West Papua (former Irian Jaya) and consists of 610, mostly uninhabited islands. The four largest islands are Waigeo in the north, Salawati (southwest of Sorong), Batanta (north of Salawati) and Misool in the southwest. The name Raja Ampat is also based on these four islands and literally translated means "the four kings".

Raja Ampat is a relatively unknown area in Indonesia, but this destination is well known among divers. This is due to the wide range of various fish species and fantastic coral reefs, varying from hard to soft coral. But the islands themselves are also impressive. The Raja Ampat Islands have quiet lagoons with crystal white sand and water that varies from bright green to bright blue.

Diving is especially popular in the Dampier Strait. Here you will find numerous dive spots with an incredible amount of coral and fish. Cape Kri, Blue Magic and Manta Point are real eye-catchers.
Misool is also loved for its wide variety of fish and coral.

Raja Ampat is open all year round, but from mid-July to mid-September you are more likely to experience rain and high waves. Misool is closed between mid-June and mid-September.
Raja Ampat has dozens of dive resorts and homestays. The homestays often use local diving schools, such as the Arborek dive shop. The more luxurious diving resorts offer not only more comfort, but also more safety. Sorido Bay resort, Raja Ampat Biodiversity and Papua Explorers are our favorites in the Dampier Strait, Papua Paradise Eco resort off Batanta Island. The Scuba Republic is an excellent middle class resort.

A fast public ferry runs twice a day between Sorong and Waisai on Waigeo Island. Waigeo also has an airport with a daily flight to Sorong.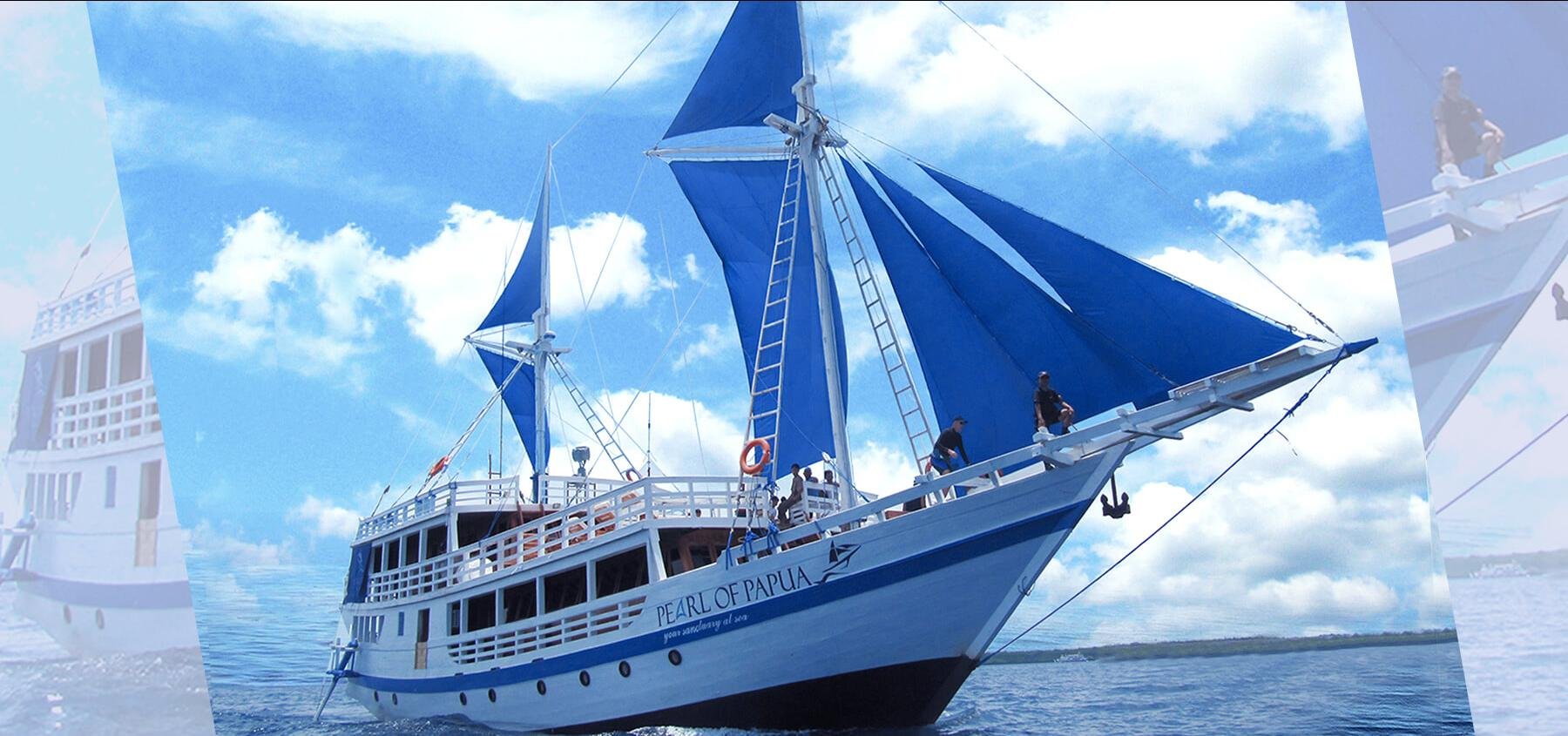 Liveaboards
Liveaboards usually offer weeklong dive cruises in northern Raja Ampat (Dampier Strait and the northern Wajag karst islands. Longer, often 10-day trips also cover the southern part around Misool. Most liveaboards operate Raja Ampat cruises between September and March April, then dock and sail in the waters around Komodo for the summer season.


Video Raja Ampat snorkel cruise
Dive spots north Raja Ampat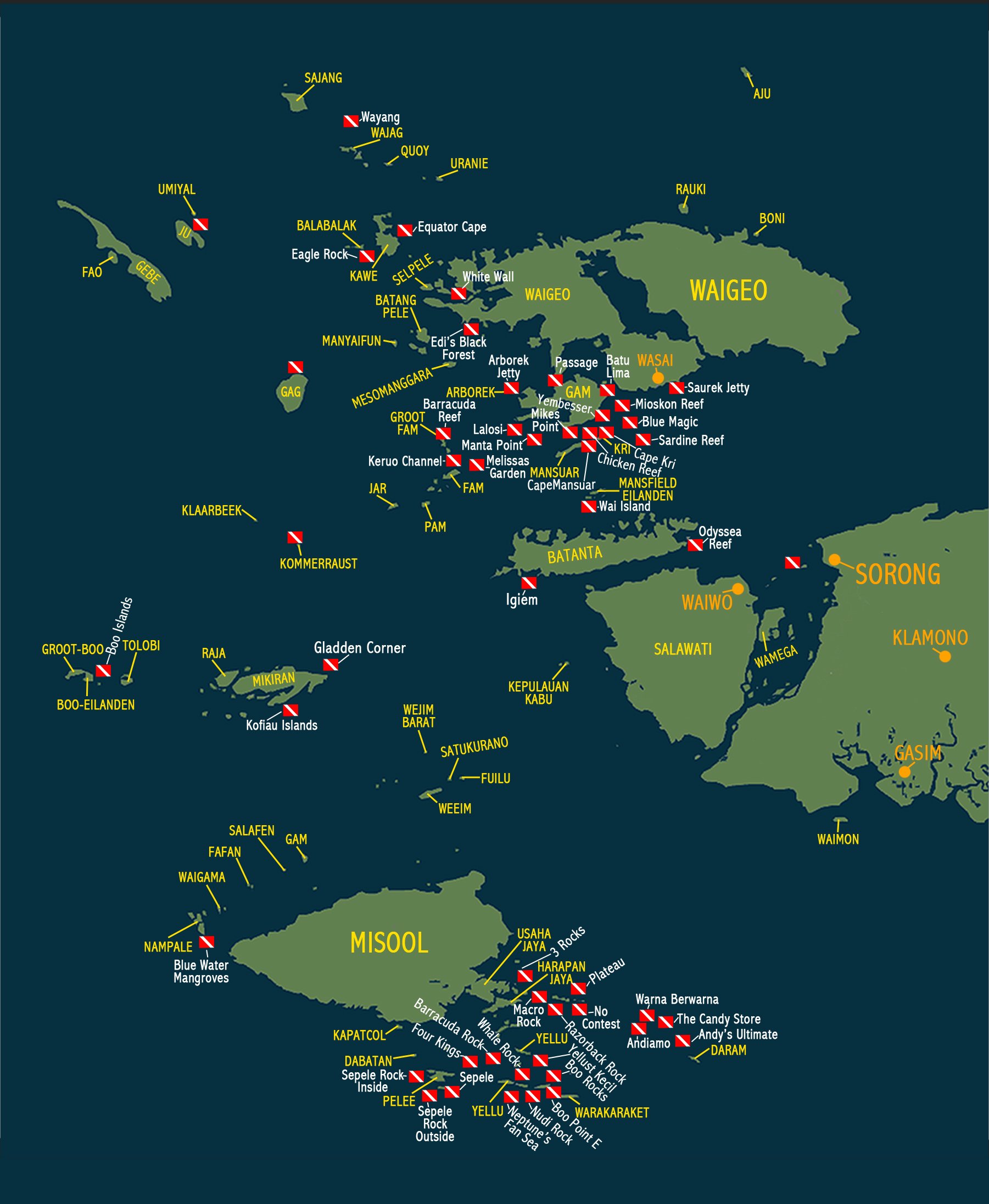 Divie spots North Raja Ampat
These days you can dive and snorkel at will in the most beautiful area of Indonesia.
Between November and March a diving- or a snorkelling trip at Manta Sandy is a must! But don't forget to admire the seahorses, wobbegong sharks, barracudas and other wonderful fish above the marvellous healthy coral as well.
Besides diving and snorkelling you can book excursions to the birds of paradise or a traditional village on the spot. Or just chill out on the beach…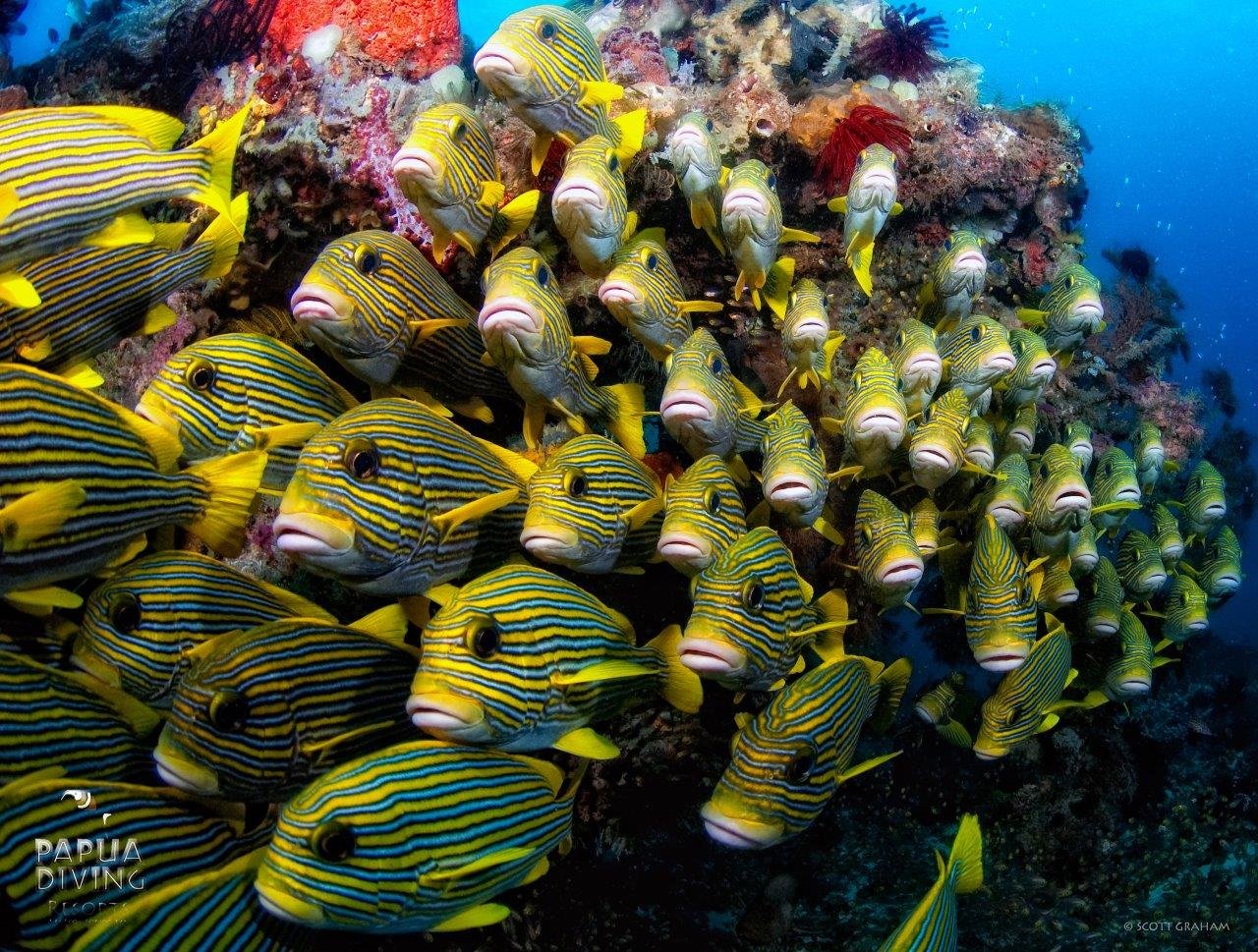 Cape Kri
One of the favorite dives, Cape Kri is Sordio Bay's house reef and less than 3 minute by boat from Kri Eco Resort. This is the dive site that put Raja Ampat on the map when Dr Gerry Allen smashed his record for total number of fish species on a single tank dive: 374 different species!

The world-record holding Cape Kri, with a record count of 374 different species in one dive counted by Dr. G. Allen, is just a 1 minute boat ride from our jetty. At the Northeast point of Kri island the currents sweep into a channel between Kri and the small island of Koh. At this point beneath waters churning in the current, huge schools of Big-eye trevallies, Barracudas and Snappers can be seen hanging over the drop-off. At the base of the reef at 38 meters an ancient snagged anchor rests next to a bommie with a dense school of Banded sweetlips. A large shallow coral garden crowns the reef top with blacktip reef sharks patrolling amongst the overlapping maze of hard corals with feeding hawksbill turtles. Car-sized Queensland groupers down to the diminutive ever-present pygmy seahorse can be seen on this phenomenal and always-surprising dive site! Dawn and dusk are feeding time so divers can experience this site at its awe-inspiring best.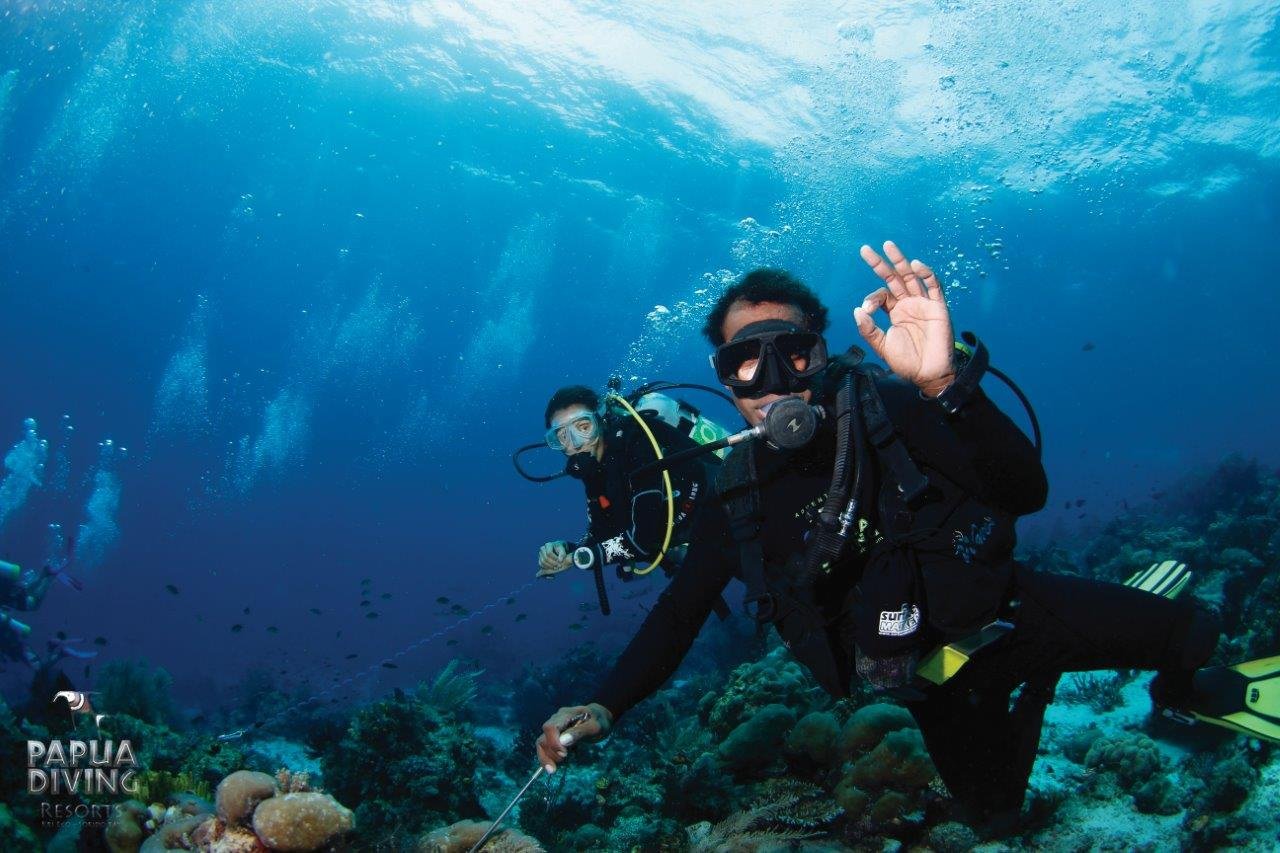 Blue magic
Only 15 minutes from Kri Island, this small pinnacle has almost everything



From Wobbegong sharks to tiny 2cm Denise Pygmy seahorses. The reef top is covered in hard coral with some big coral heads and some tabling Acropora corals well over 3 metres across. There is a resident school of Big eye Trevallies and many large Barracuda. Green Turtles can be found here as well as Black Tips, White Tips and the occasional Grey Reef Sharks. If you are very lucky even a Giant Manta Ray. The magnificent dive ends with a blue water safety stop drifting over and away from the reef.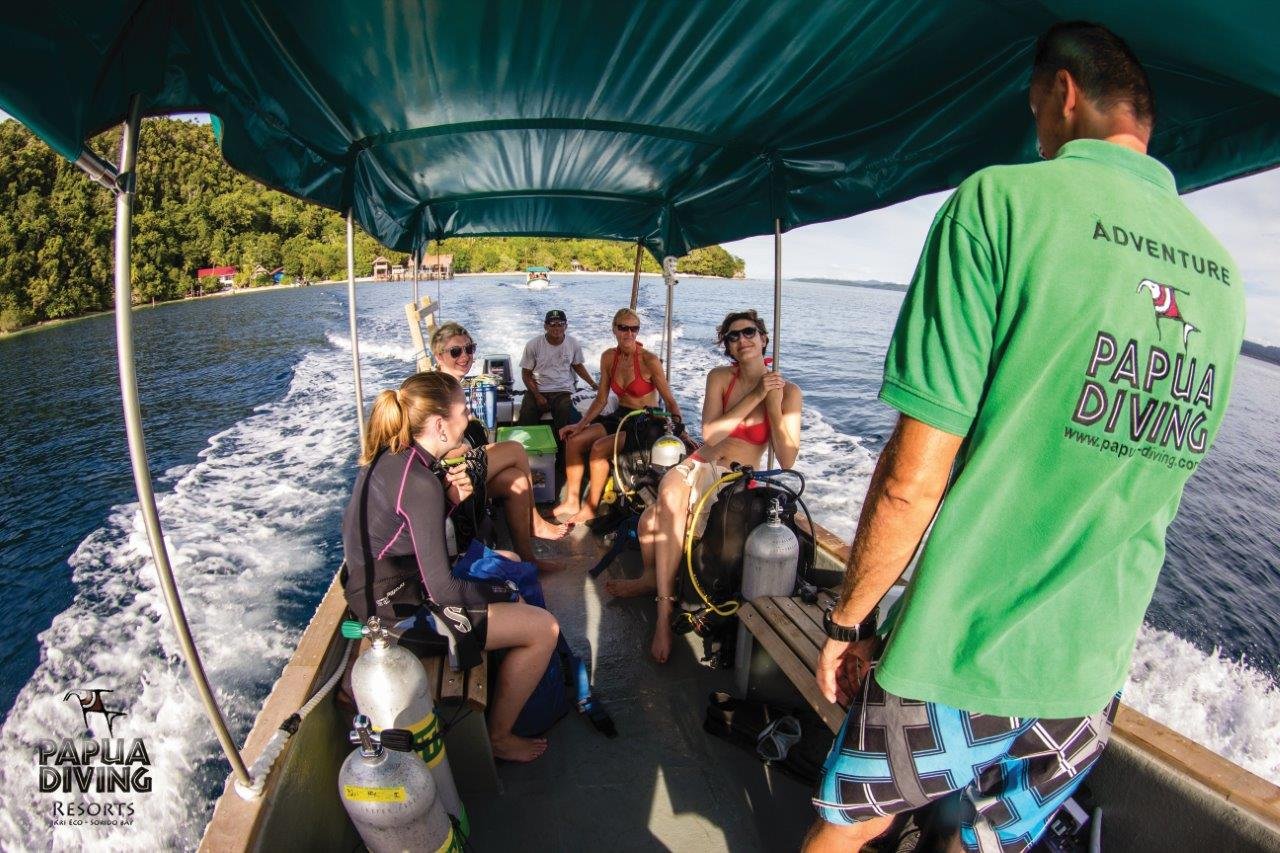 Sardines
Only 10 mins from Kri Island, this submerged reef with a reef top at 5 metres, contains a very high biomass, one of the highest in Raja Ampat.



Sardines reef is quite simply one of the best reef dives in the world, where divers witness the phenomenal diversity of Raja Ampat at full force. Where the current strikes this offshore reef and splits, a dazzling array of fish congregate, audibly swarming fusiliers spin above, pursued by huge giant trevallies, packs of Bluefin jacks and huge Spanish mackerels. Batfish gather in the hundreds, while multitudes of schooling bannerfish feed in the current. Grey reef sharks, blacktips and whitetips can also be seen along with the wobbegong waiting in ambush on the sea floor. Coral bommies dot the slope covered with many colourful species of dendronephya soft corals and up to three separate species of Pygmy seahorses can be found amongst them. On the current-swept reef top a resident school of thirty massive bumphead parrotfish crunch on the coral, keeping the divers company on a safety stop who hang from their reef-hooks like kites in the wind. Upon surfacing, many divers comment that this is the best dive they have ever done!! Photographers love this dive site and have to return to change from wide angle to macro!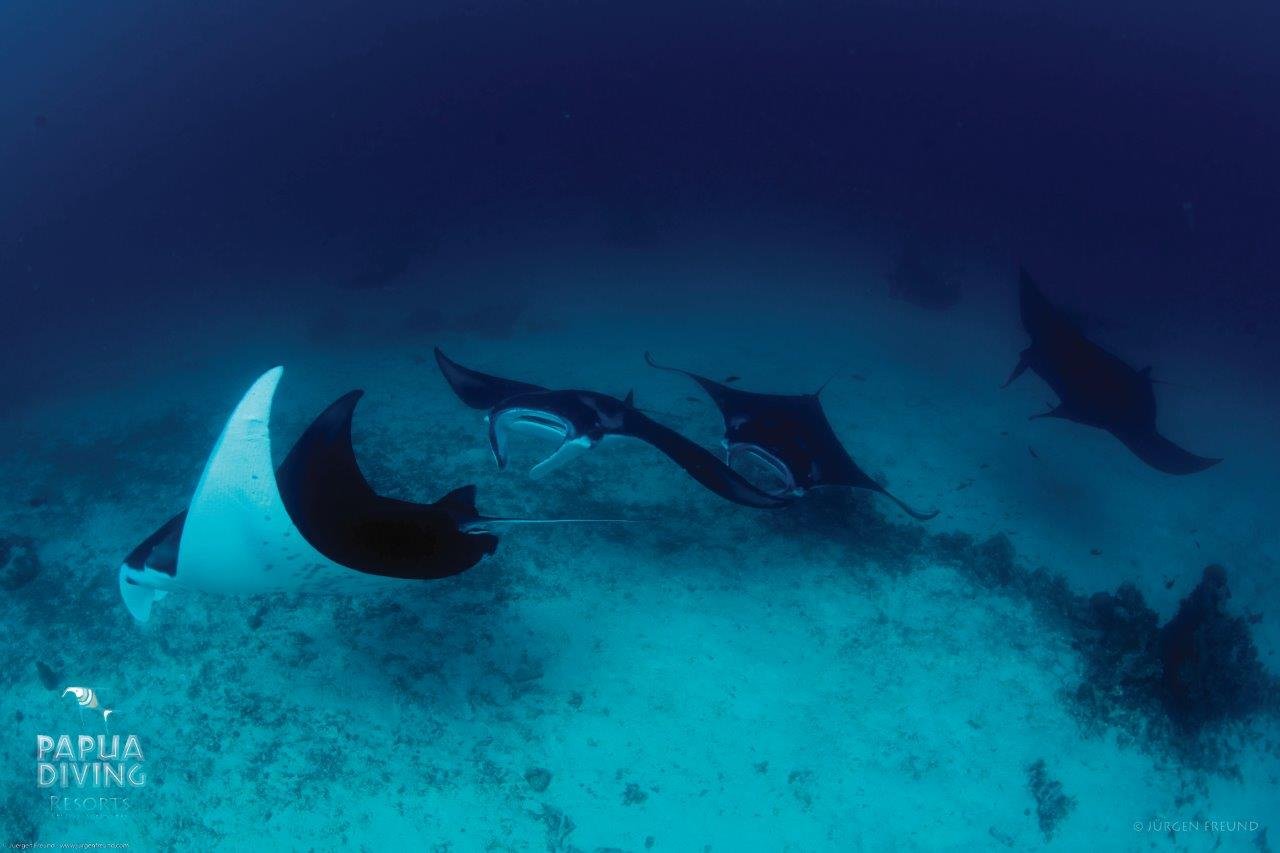 Manta Sandy
Only 25 mins from Kri Island, this sandy slope is famous for its Manta Rays. It is a cleaning station where they come in to get cleaned.

If the many reefs are not enough this area also boasts some of the best manta diving in the world! There are two main manta sites just half an hour away. One, Manta Sandy, is a cleaning station where up to 10 mantas can be seen vying for a position above the two rocks where wrasses clean these giants. We get enormous 4 meter wide black mantas, looking like a negative photographic image, their gills are highlighted in white, along with the other more common white-bellied variety. Another site nearby, Manta Slope, mantas circle above in the sun while divers hook onto the reef while the current arcs overhead and down the steep slope below. Divers can be caught unaware while giant demonic-looking black mantas cruise by behind them. This trip is out of our 10km range, but is offered once a week without any fuel surcharges!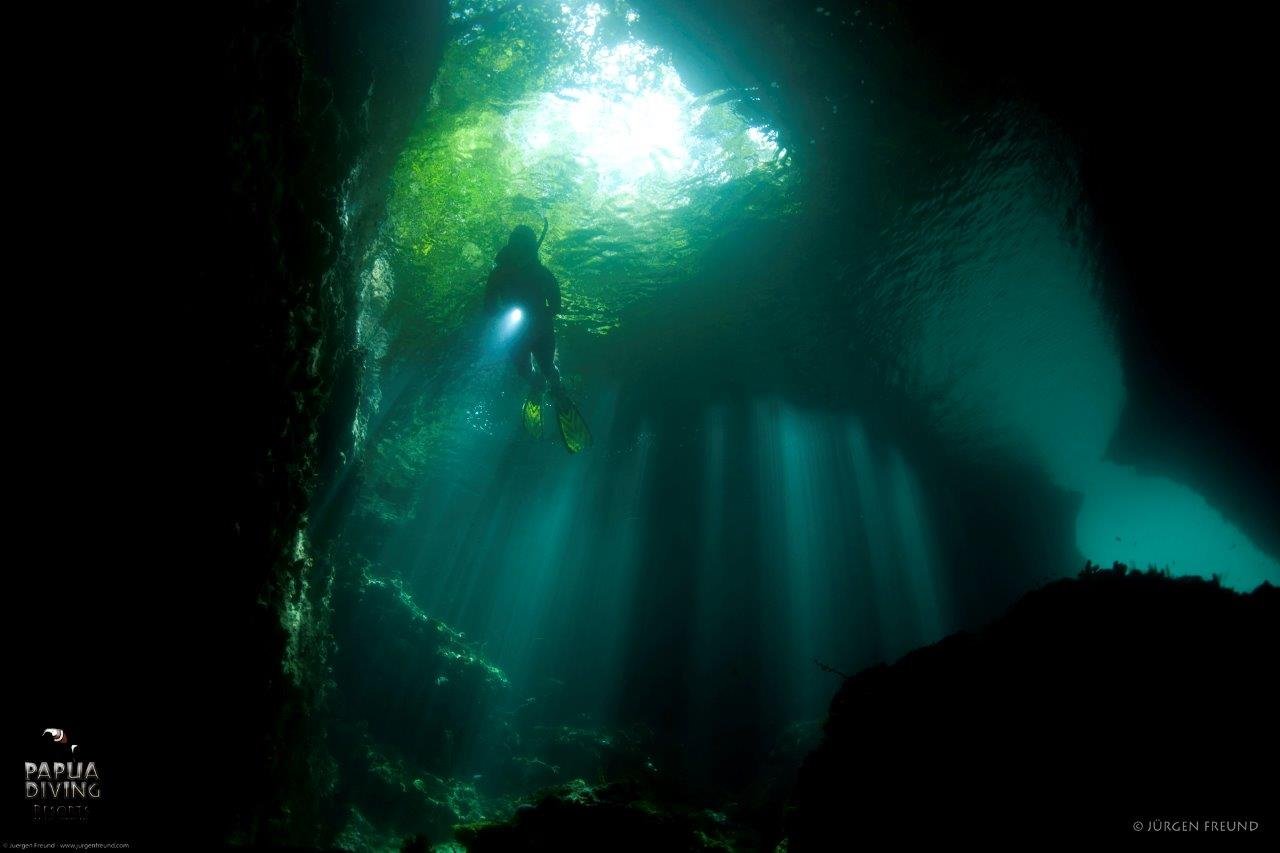 The Passage
As seen in many articles, including recently by David Doubilet in the Sept 2007 National Geographic, the passage is a completely unique dive site. The narrow canyon 40 minutes away between Gam and Waigeo can be described as river flowing between the two Islands, but also a marine environment, a haven of peculiar and unique microhabitats.

This is a place where experienced divers and photographers enjoy the utterly different experience of diving in this truly one-of-a-kind location. Above water the sheer limestone cliffs make this a place where the sightseeing above water is also excessively beautiful. Guests combine this trip visiting the labyrinthine Hidden Bay, a maze of towering islets, and Kabui Bay where literally hundreds of mushroom islands create staggering scenery. This trip is out of our 10km range, but is offered once a week without any fuel surcharges!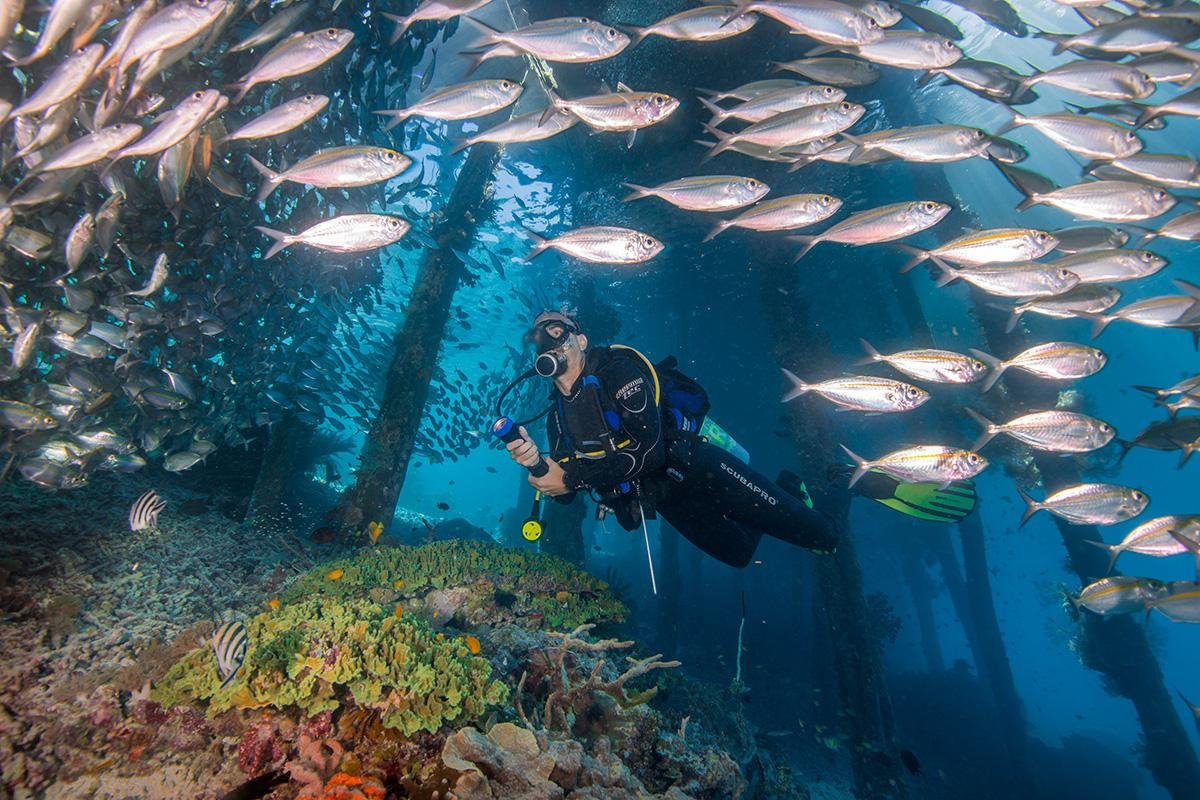 Arborek Jetty
Directly below the jetty of the mini-island of Arborek you will find large schools of Sweetlips, Barracudas and hunting Mackerel. The soft coral also hides Pipefish, Snappers, Batfish, Bumphead cattlefish and if you are at the right time and place you can also spot the Wobbegong.
Sorong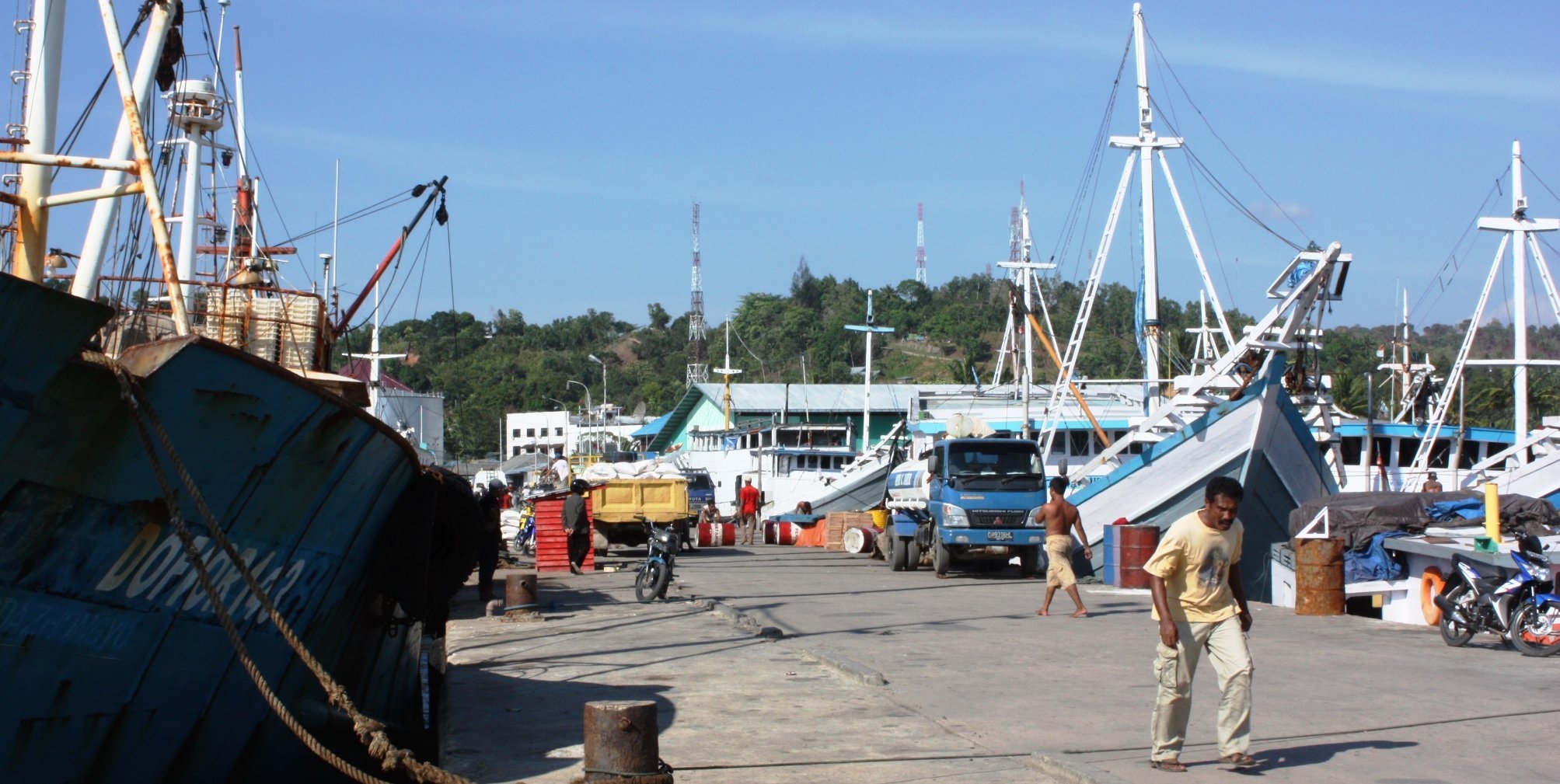 Sorong
Sorong is the westernmost city on the island of New Guinea. The city is located on the Sele Strait of the Pacific Ocean on the Vogelkop Peninsula. It is the base for trips to the Raja Ampat Islands.

Two hours' drive south of Sorong is the rainforest in the Klasow valley with all kinds of strange birds. You will find different types of Paradise birds and the endemic Cassoway, a peacock or smaller ostrich species.

Sorong is the logistical center of the oil and gas industry around West Papua, which manifests itself in growing wealth and economic prosperity. The city has over 50,000 inhabitants, making it one of the larger cities of Papua. Most of the inhabitants are transmigrants from Sulawesi, Java and other islands.

Directly off the coast is the island of Jefman, which until 2012 had the airport of Sorong. The new airport has daily connections with Jakarta, Makassar, Manado, Ambon and several cities in Papua, among others.
Sites to see
The city has a nice beach promenade and some historical buildings dating from the Dutch oil period. It's a city full of contrasts. The following sights are close to the city:

Cape Cassuwary: 3 km from Sorong, beach with coralreefs;
Crocodile island, 500 metre out of the beach;
The island Kafiau;
The island Matan;
The hot springs of Klaijili, 60 km from Sorong;
A protected forest area, 15 km from Sorong;
Sorong is the most important gateway for trips to the nearby Raja Ampat-islands and the coralreefs of the Coral Triangle.
(source: Wikipedia)