Round trip 16 days Adventurous Sumatra and relaxing on Pulau Weh
The favourite tour for nature and adventure lovers, also for families with teenagers!

Rainforest, jungle trekking, elephants, orangutans, (optional) wild-water rafting and culture on the island Samosir in the immense Lake Toba.

Then you fly to the bounty island Pulau Weh, where you can relax, go snorkelling and diving.

You'll travel with your own driver at your own pace. The driver knows all nice, interesting and photogenic places to stop along the way.

Included:
•Intercontinental and domestic flights
•Accommodation based on bed and breakfast
•Private car or mini-bus, fuel included, with driver, his meals and overnight stays
•Entrance fees and donations of specified excursions in the program and Dinner with Batak vocal group on Samosir (excursion package ca € 160)
•Guide during jungle trekkings and in Banda Aceh
•Fastboat from Pulau Weh to Banda Aceh
•All transfers

Not included:
•Lunch and dinner
•Costs for snorkelling and diving on Pualu Weh
•Tips and personal expenses
•More or less costs for longer or shorter stay for car and guide
•Tips and personal expenses
•Travel and annulation insurances ( mandatory)
•Booking fee and contribution Calamiteitenfonds €30 per booking
•SGR contribution € 5 per person
•CO2 compensation € 22 per person
•Experienced Dutch or English-speaking guide during the tour (ca 30 euro per day)
•Camera fee in Bohorok

Day 1 flight Amsterdam-Medan

Garuda Indonesia flies non-stop from Amsterdam to Jakarta with its new Boeing 777-300 ER. Experience the hospitality of Indonesian culture on board at Garuda Indonesia, the national airline of Indonesia. With more than 65 domestic destinations Garuda takes you to Jakarta, Bali, Lombok, Surabaya, Yogyakarta, Ambon and many remote destinations. The direct connection will take you from Amsterdam to Jakarta in just 13.5 hours. Departure from Amsterdam around midday, arrival in Jakarta early in the morning. Your connecting flight departs about 2 hours later and takes about 2.5 hours.
Day 2 Arrival Medan, transfer to hotel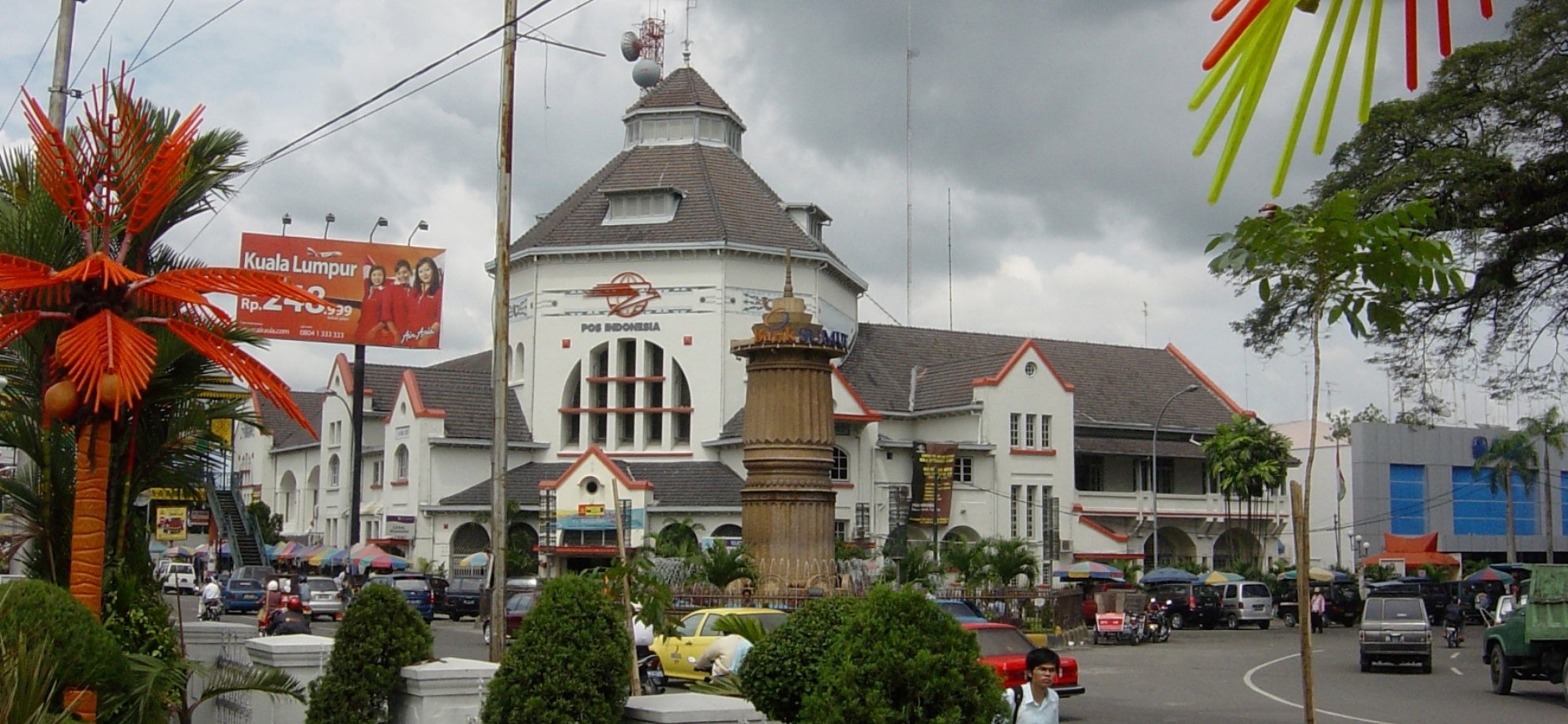 Selamat datang, welcome to Medan! Upon arrival in Medan you walk straight to the immigration booth to get your visa free stamp in your passport. It is valid for 30 days maximum, calculated from the first day you arrive in Indonesia regardless of the time of arrival or departure. In Medan your driver is waiting for you with a piece of board with your name on it. He will drive you to Hotel Deli River, a little family hotel just outside the big city Medan. The hotel is surrounded by a beautiful tropical garden and has a swimming-pool. Depending on the time of your arrival you can make a short city tour or acclimatise at your hotel.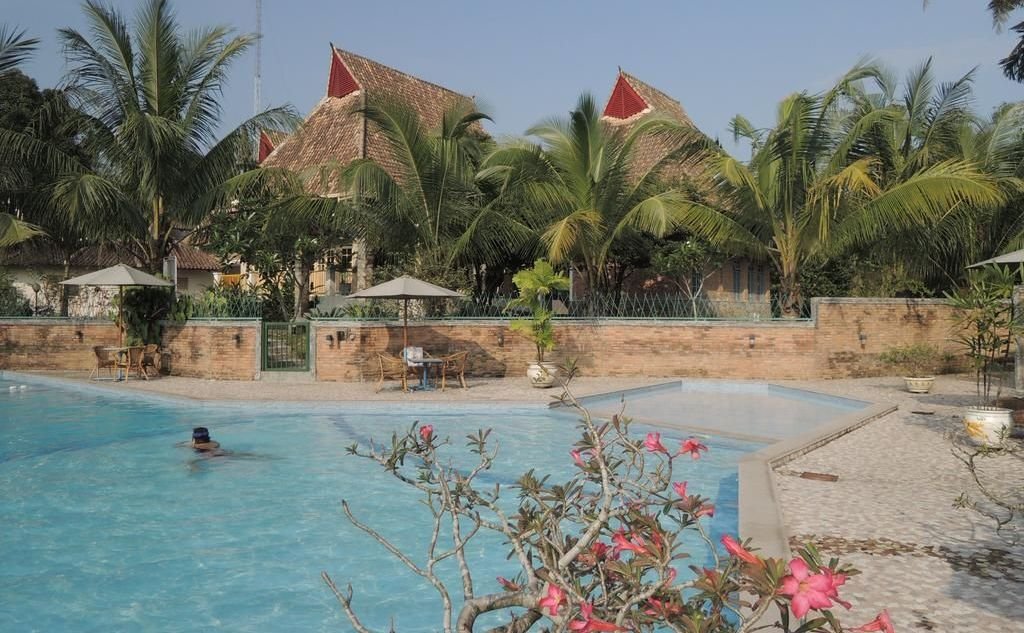 Day 3 Medan - Lake Toba

After breakfast we leave for a long ride of about 4 hour to lake Toba. On our way we drive past endless rubber, cacao and palm oil plantations. We stop for lunch in Pematang Siantar. After lunch the landscape becomes more varied and we drive slowly up into the mountains. In the afternoon arrival in Prapat on the edge of Lake Toba from where you cross the lake to the island Samosir, in the centre of Lake Toba.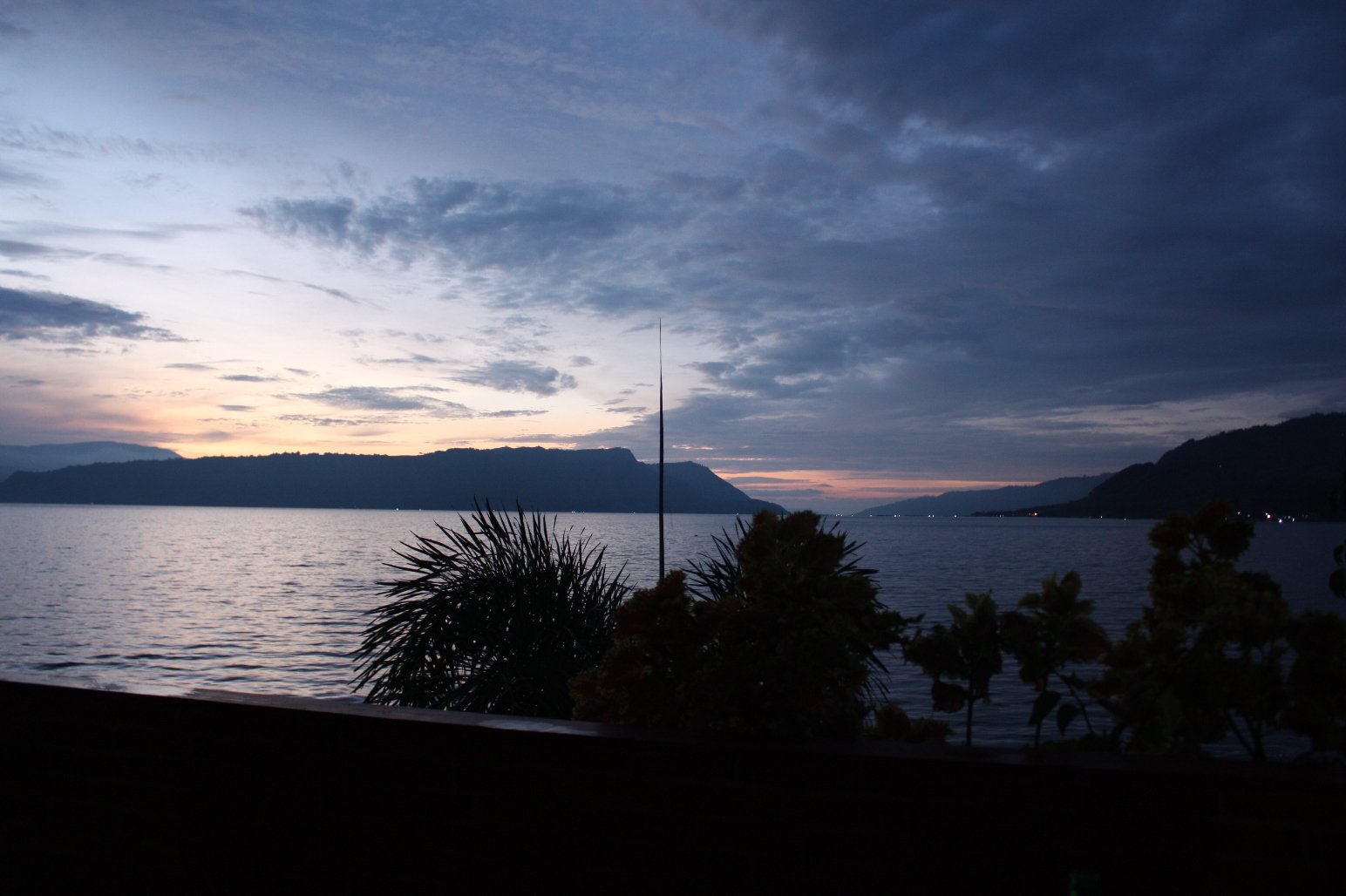 Day 4 Lake Toba - Samosir island tour and dinner at Marysca restaurant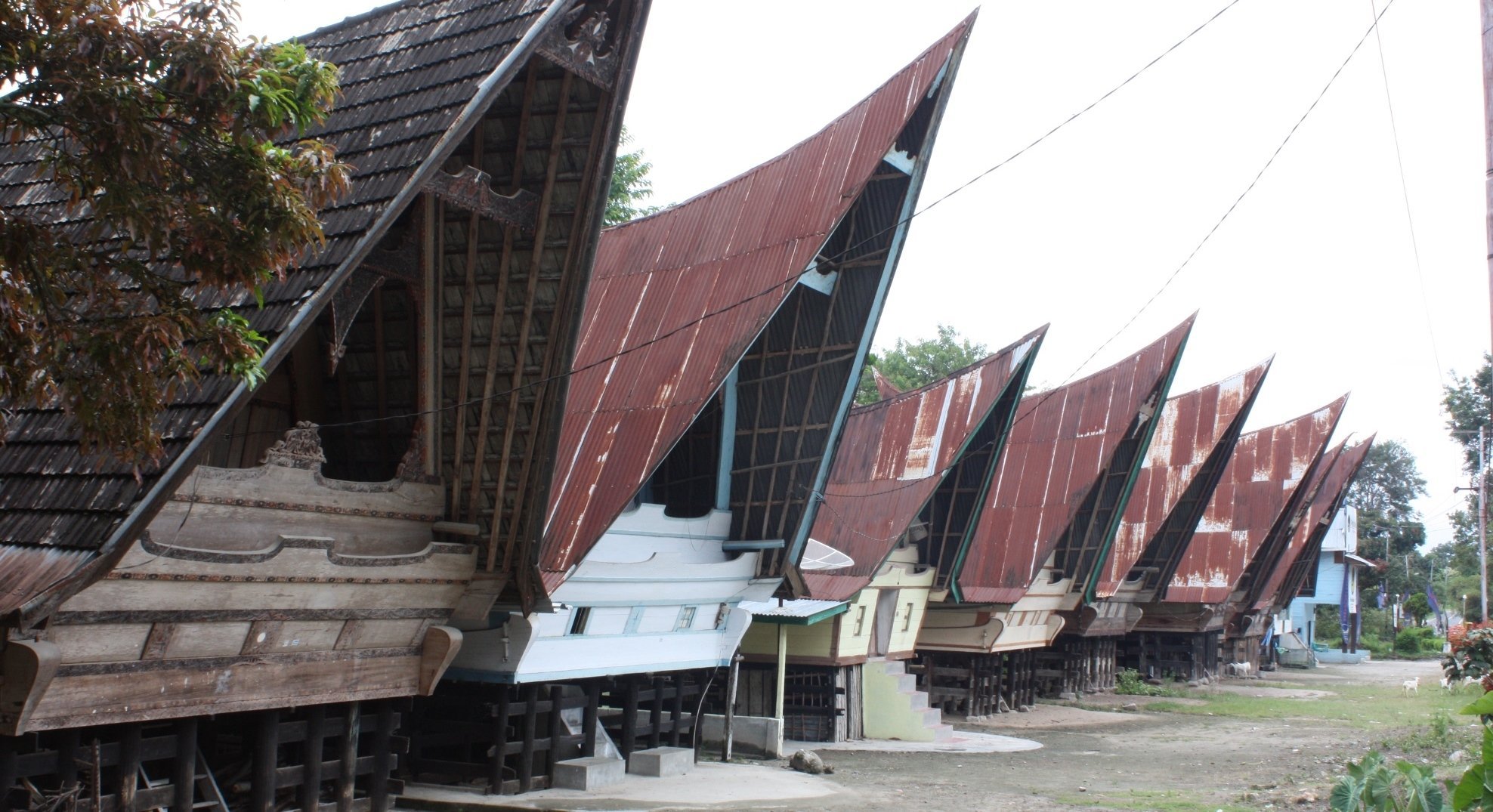 We visit several authentic Batak villages with their typical saddle back roof houses. The Batak people were among the first people that settled in Indonesia. They came by boat from Indo China. The houses are still built in the shape of a boat – saddle back roof. The population here is Christian and the Batak people are known for their beautiful voices and music. Today you can visit the characteristic Toba Batak villages Tomok, with the King's Tomb, Ambarita with its execution tables and Simanindo for traditional Toba dances. Dinner in the cosy restaurant Marysca's with Rony's vocalgroup.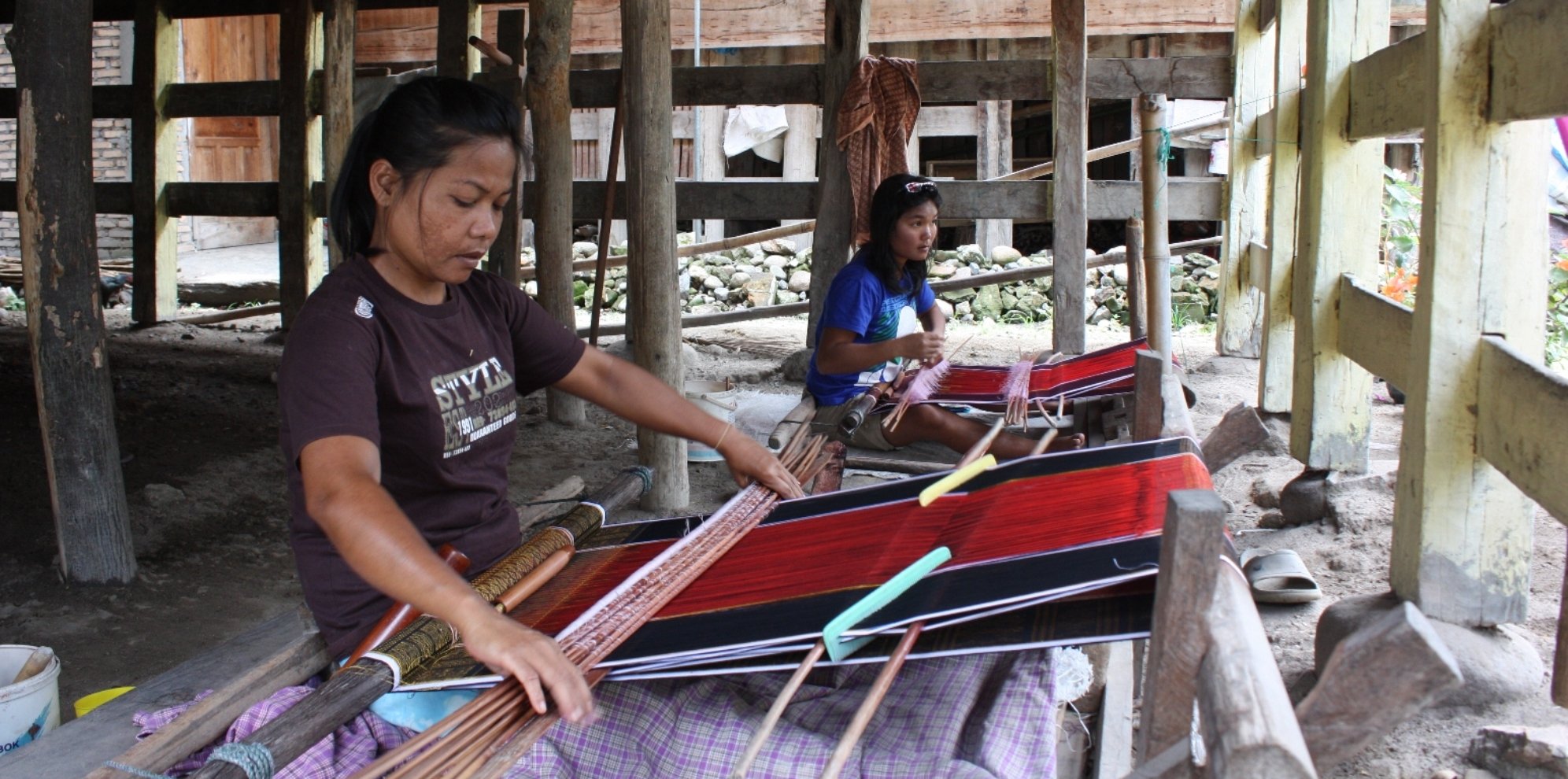 Day 5 Free program Lake Toba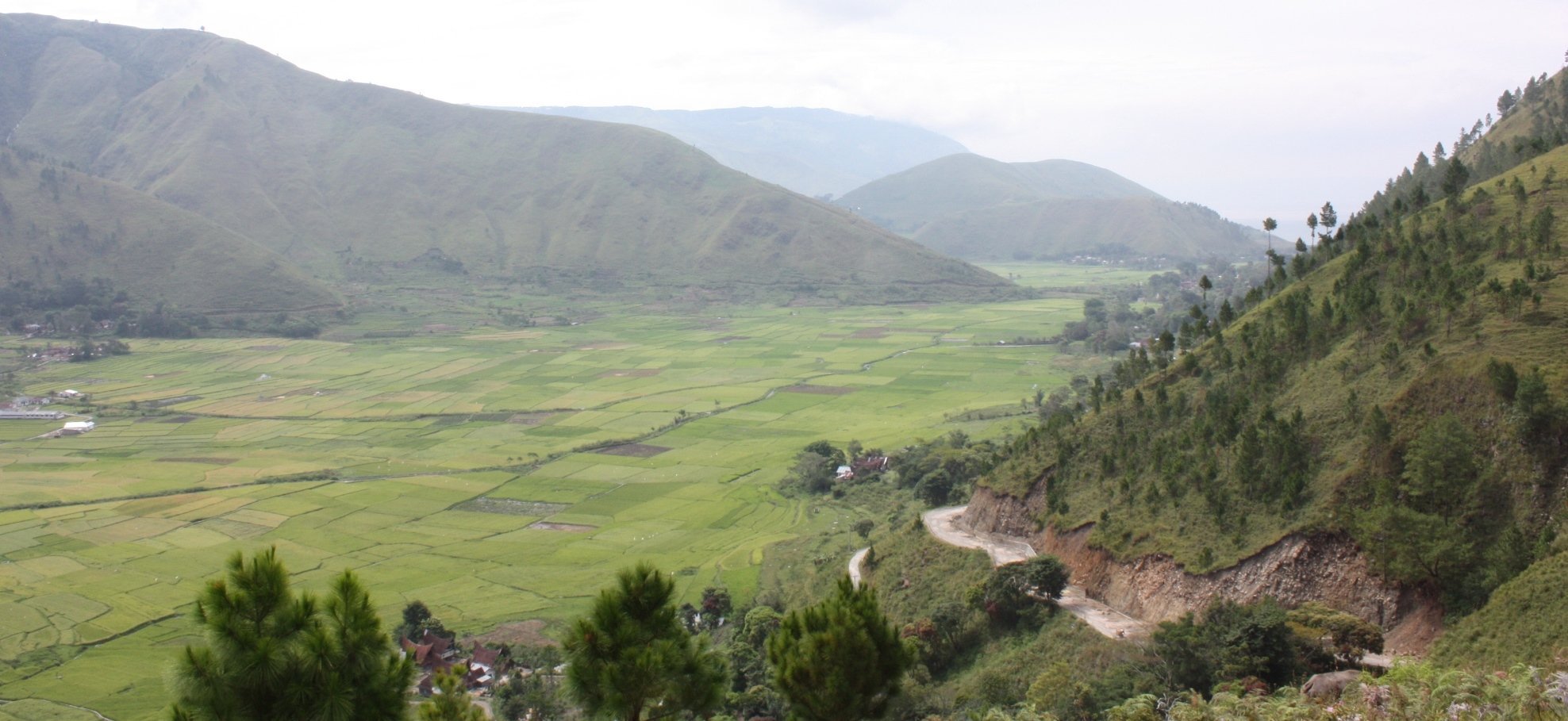 Another full day on the island of Samosir. You can (optionally) take a boat trip on the lake, cycling, hiking or just swimming at the hotel. It is special to take a day trip to Tatea Bulan with your driver and Rony. High in the mountains there is a pilgrimage site of the Batak kings and the ancestors are honored. A very devout visit, with beautiful panoramas. Along the way you will also visit the sacred sources of AEK Sipitu Dai. During our visit, the washing place was quickly emptied in order to show something of the sacred.
Day 6 From Lake Toba to Bukit Lawang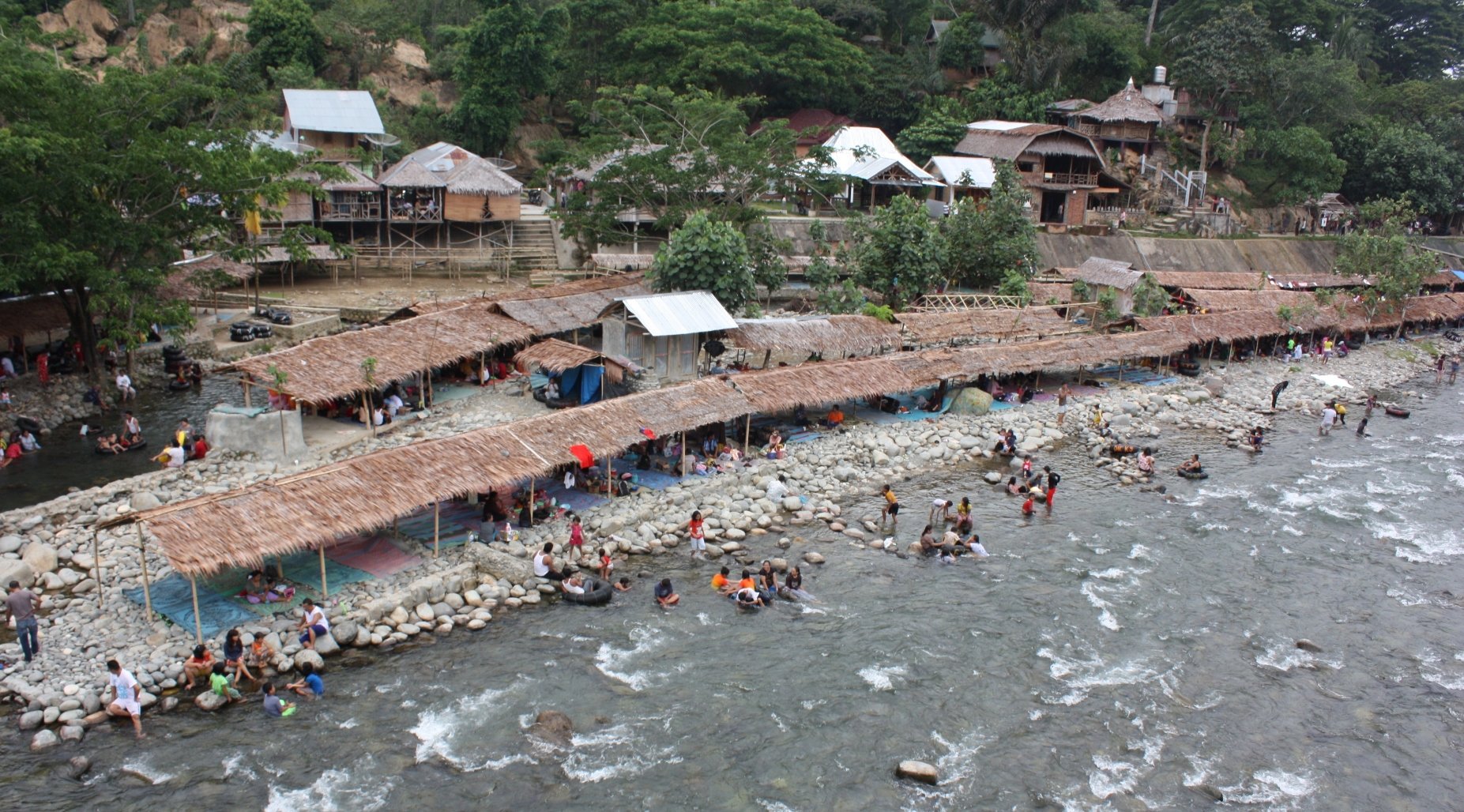 Today a long way of at least 8 hours via the plantation route to the jungle near Bukit Lawang. Arrival in Bukit Lawang in the afternoon. Bukit Lawang is situated on the beautiful Bohorok rivier. It is really an impressive natural area with an impenetrable jungle above a noisy wild water river. In this nature reserve you can see the orangutans in their natural environment. To get there you have to make a tough climb through the jungle. Overnight stay in Bukit Lawang, directly on the banks of the Bohorok river.
Day 7 Bukit Lawang

Bukit Lawang hosted an Orang Utan rehabilitation center until a few years ago. Captive orangutans were re-educated in the rehabilitation camp to regain life in the National Leuser Park. At regular intervals (and sometimes still) they were fed by the rangers on the 'Piedingtime': a corruption of feeding time, which includes not only a time, but also a specific feeding place. In the morning you will make an approximately 3 hour trekking accompanied by a local ranger. A brisk walk through the jungle to see the Orangutans, Siamang (long arm monkeys), Thomas Leave Monkeys, Long Tailed Macaque and Gibbons and other jungle animals. Good condition and shoes with a good profile are required.

Day 8 Van Bukit Lawang naar Tangkahan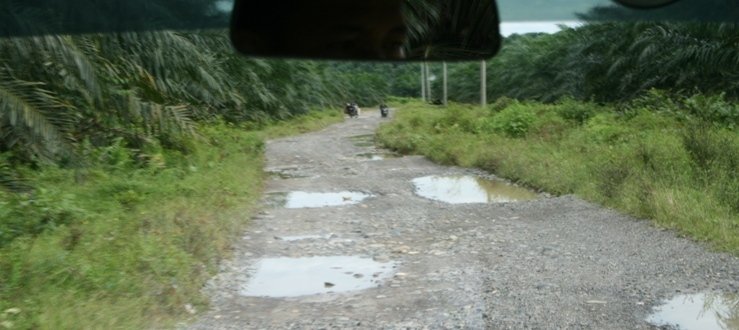 After breakfast you leave the orang utans behind and drive in about 4.5 hours to the even rougher jungle of Tangkahan. This afternoon (or the next morning) you will make a jungle trek of approximately 3 hours, accompanied by a local ranger. Close to the hotels, upstream on the Kualsa Buluh river, is the elephant sanctuary. The elephants are mainly used to patrol the jungle. In the morning and late afternoon they are washed in the river and you are welcome to help.
Day 9 From Tangkahan to Medan
In the morning we can wash the elephants in the river, see program Tangkahan. The elephants are not available on Friday. At the end of the morning we cross the river with the raft and then drive through endless palm oil plantations to the capital city Sumatra: Medan.
Day 10 Van Medan naar Pulau Weh
After breakfast we leave the jungle and drive in about 4 hours to the aiport of Medan, for your 16:10 Citilink flight to Banda Aceh. Over night in Banda Aceh.

Medan - Banda Aceh (Citilink of Wings Air)
Citilink flight Medan-Banda Aceh. Departure 16:10, arrival 17:45
Day 11 to 14 (included) Free days on Pulau Weh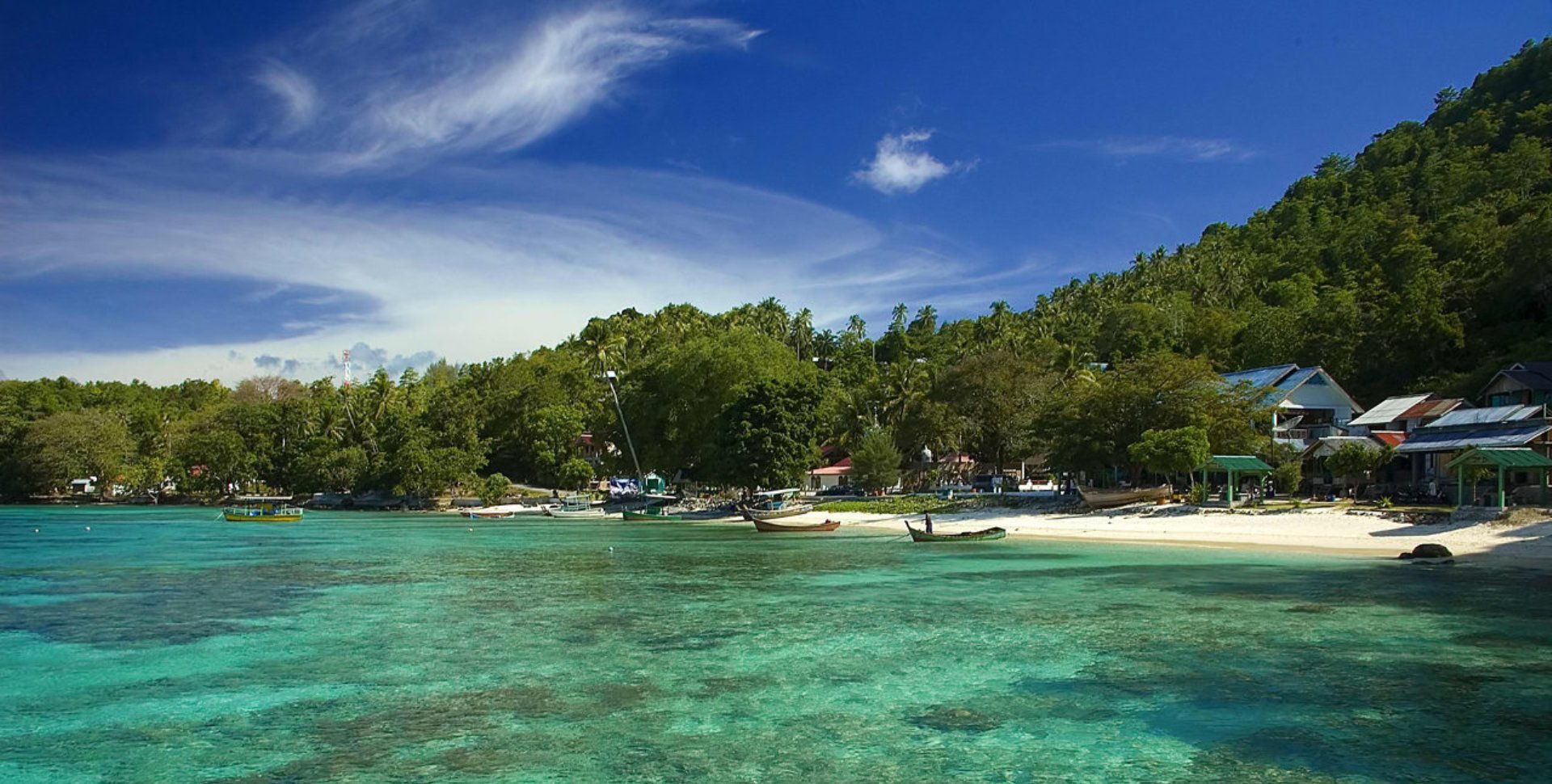 These days are all yours. You can organise your own programme. Pulau Weh has beautiful beaches and is known for its beautiful underwater world. You can get your PADI diving license on Pulau Weh in about 4 days (cost approx. € 300). You can also do a trial dive first to see if diving is really something for you. Of course, you can also go snorkelling or just relax on the beach. Pulau Weh is a quiet island, there's not much traffic. When you rent a moped you can make very nice trips.
Day 15 From Pulau Weh to Banda Aceh, pulang kampong
In the morning you will leave Pulau Weh and sail back to Banda Aceh. There is a driver waiting for you to drive you around in Banda Aceh where you will visit the Tsunami museum and make a city tour. In the afternoon you fly back to Amsterdam via Jakarta. End of a beautiful round trip through Indonesia.
Continuation of day 15 flight Banda Aceh-Amsterdam via Jakarta
Flight with Garuda Indonesia Banda Aceh - Amsterdam with transfer in Jakarta. Departure from Banda Aceh in the evening, the connecting flight leaves Jakarta after midnight. Arrival Amsterdam in the morning.
Dag 16 Arrival Amsterdam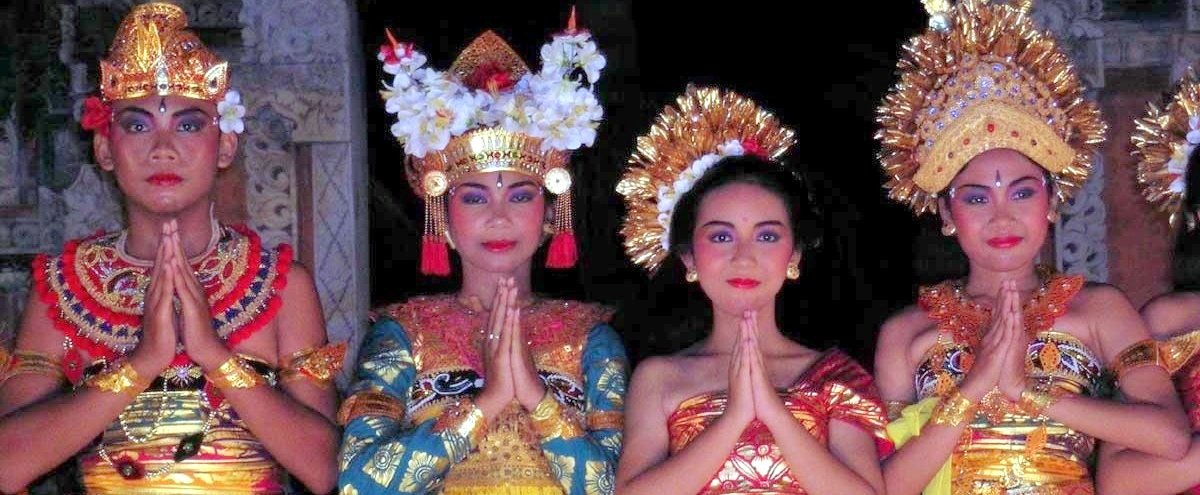 In the morning arrival at Schiphol. The end of a beautiful trip...
Medan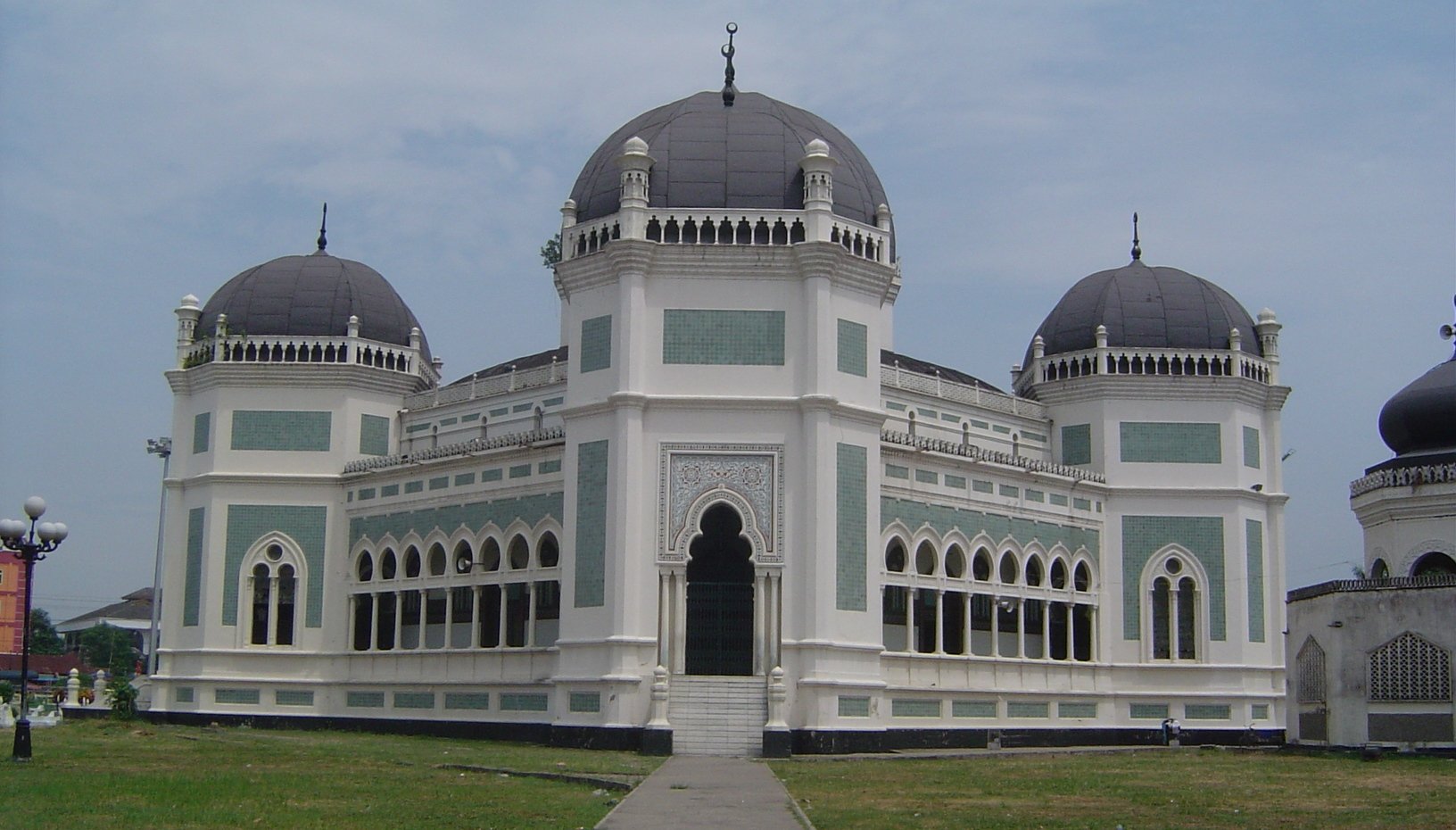 Medan
Medan is the capital of the province of North Sumatra and has more than 2.5 million inhabitants. In the Dutch East Indies period there were many plantations outside the city, especially rubber did well. The 1965 book "Rubber" by M.H. Szekely-Lulofs gives a good picture of what the world looked like at the time and how the Netherlands was firmly in control around the Deli river. Later it was mainly the Chinese who attracted trade and power. Now Medan is a modern city, where many old buildings still remind of the colonial period.

For the western tourist, Medan doesn't have much to offer: the Sultan's palace is nice to visit, as is the Chinese temple. Take a look at the great mosque Masjid Raya Al-Mashun, you will be welcomed (outside the services) and shown around.

Our favorite Deli River hotel is located just outside the city, on the Deli River. The accompanying restaurant Omlandia serves delicious Indonesian, Indian and Western dishes. The pecel (kind of gado-gado with delicious sauce) is a must!
In the center there is also a wide choice of hotels, but they still lack the atmosphere. Perhaps the former hotel de Boer, now Grand Inna, will come close.
Samosir

Samosir

Lake Toba is the largest lake in Indonesia with a length of about 100 km and a width of 30 km. It originated from a volcanic eruption, roughly 75,000 years ago. The Toba Batakkers live around the lake, a people of predominantly Christian faith, mixed with a kind of animistic ancestor worship.

Samosir is the famous peninsula in the lake. An island tour of Samosir lets you see and experience the culture of the Batakkers. A boat trip on Lake Toba, along the island, is also a lot of fun and shows almost the same sights.

It is special to take a day trip to Tatea Bulan. High in the mountains there is a pilgrimage site of the Batak kings and the ancestors are honored. A very devout visit, with beautiful panoramas. Along the way you will also visit the sacred sources of AEK Sipitu Dai. During our visit, the washing place was quickly emptied in order to show something of the sacred.

What you should not miss is a dinner with a vocal group. The Batakkers are known for their polyphonic singing, accompanied by guitar and simple local musical instruments.
The culinary specialties of the Batakkers are not always in the taste of western visitors: dog is not exactly what we are waiting for and the Ikan Mas (kind of goldfish) takes you more time to get rid of bones than it is tasty. Fortunately, Saksang remains, a Batak dish that should not be missing during a wedding. There are two variants, of which we ignore the dog and go for the Saksang Babi of pork.
Of course you are going to eat at my kake-pinjum, my borrowed brother Rony. Together with Rosinthan he runs the Marysca Restaurant. All our Sumatra travelers get a free dinner here with a warm Batak welcome. Rony, his friends and family like to take you musically through the Batak culture with the vocal goup.

Our favorite hotels are Tabo cottages (Junior suite or Villa) and Samosir Villa resort (VIP room. At weekends the resort is overcrowded by local tourists).
Bukit Lawang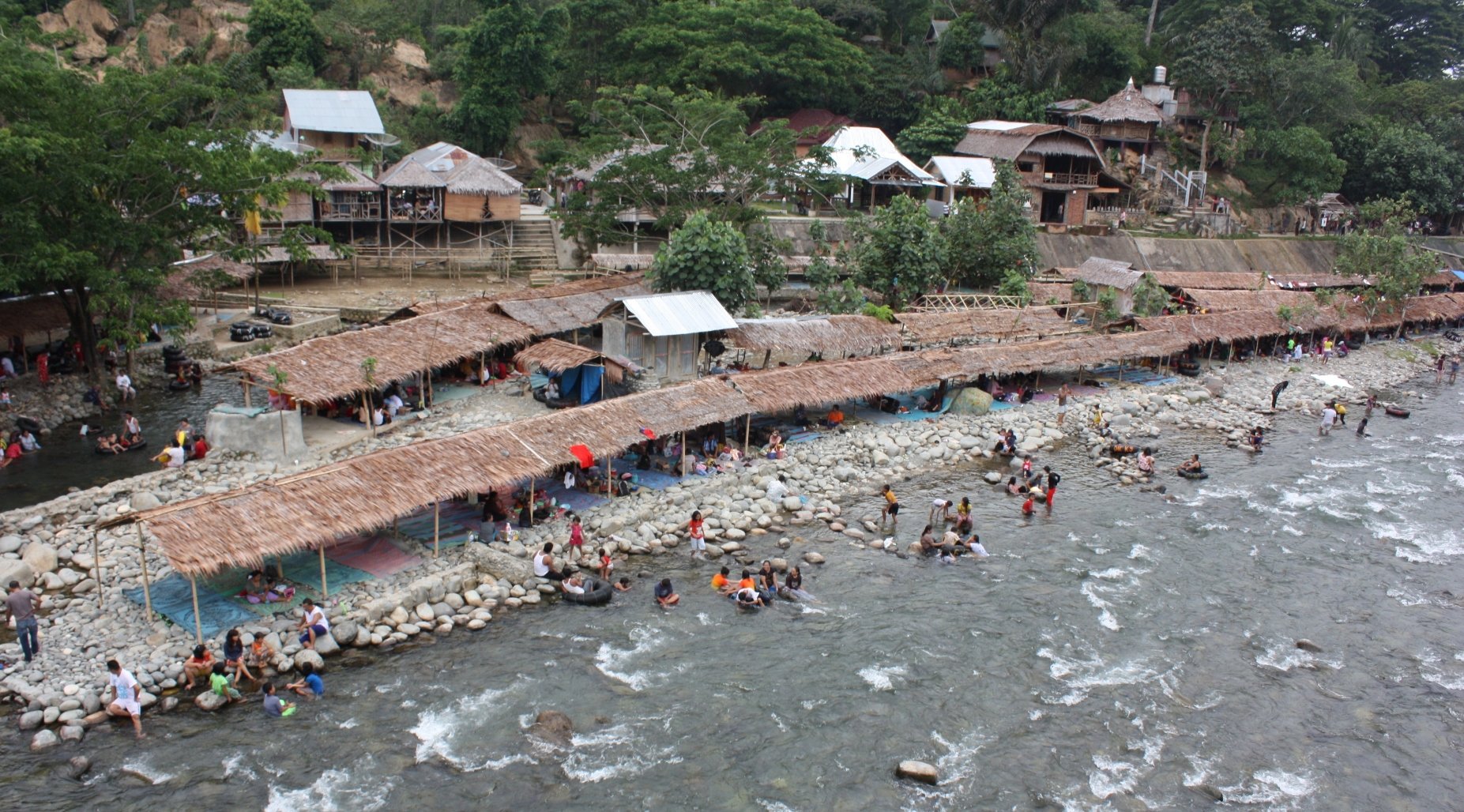 Bohorok
Bukit Lawang is the place that is often called Bohorok, the river of the same name. Bukit Lawang is located in the Gunung Leuser National park and is mainly visited to spot the orangutans. The former orangutan rehabilitation center is located directly on the river. Until a few years ago, the great apes were trained here to be able to live from nature after a life as a pet. That is now a thing of the past. No orangutans have been kept in captivity for years and the work of the rehabilitation center is about to end.

Until recently, the monkeys were fed on the "piets time", a name that you have to understand. For many Indonesians, the "F" is a difficult to pronounce consonant that is corrupted into a "P". Feeding time is already more understandable then, but for us Europeans still strange. A time to go. But it is still customary for the premises to go to the feeding time, because then you can be sure that you can see the monkeys up close.

However, the pied time is also a thing of the past. If you want to spot orangutans, make a jungle trek of 3 or 4 hours, together with a local ranger, who will bring some fruit or vegetables in his backpack to lure the famous orangutans.

Bukit Lawang is approximately 3 hours drive from Medan and 2 hours (via bumpy roads) from Tangkahan. It has some nice accommodations, of which the Eco Lodge and Sam's bungalows are our favorites. For those traveling with growing youth, the Bukit Lawang children's home, with 2 bedrooms, is a nice alternative.
Keep in mind that on weekends Bukit Lawang is overrun by local tourists and the Saturday nights are noisy!
You don't have to travel to Bukit Lawang for special food.


Tangakahan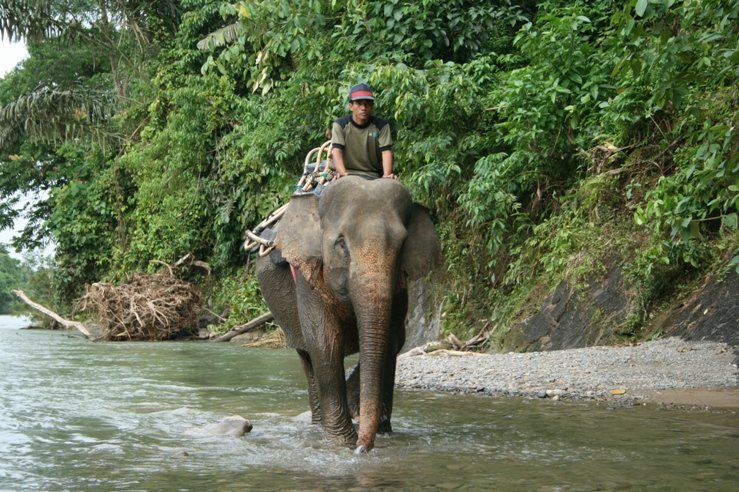 Tangakahan
From Medan to Tangkahan it is about a 2 hour drive and 2 hours bump through endless and desolate palm oil plantations. When you arrive at the river you can see that the rainforest hood has also stopped here. The forest of the Leuser National Park starts at Tangkahan. You cross the river via a suspension bridge or with the bamboo ferry. And then you are really in the jungle.

The elephant shelter is located near the hotels, upstream on the Kualsa Buluh River. The elephants are mainly used to patrol the jungle. In the morning and late afternoon they are washed in the river and tourists are welcome to help. From the center you can tube downstream to the hotels with large tires.

Must do's in Tangkahan:
At least a jungle trek. Under the guidance of a local ranger you take a brisk walk through the jungle and see, hear, smell and experience the jungle.
A walk by or along the river to the waterfall is also recommended. At the waterfall you see a lot of butterflies and you can of course also take a refreshing bath.

Tangkahan has some very basic accommodations, of which Mega Inn is our favorite. Do not expect hot running water, air conditioning or any luxury. Do expect to wake up to jungle sounds, helpful staff and reasonable and inexpensive food.
Pulau Weh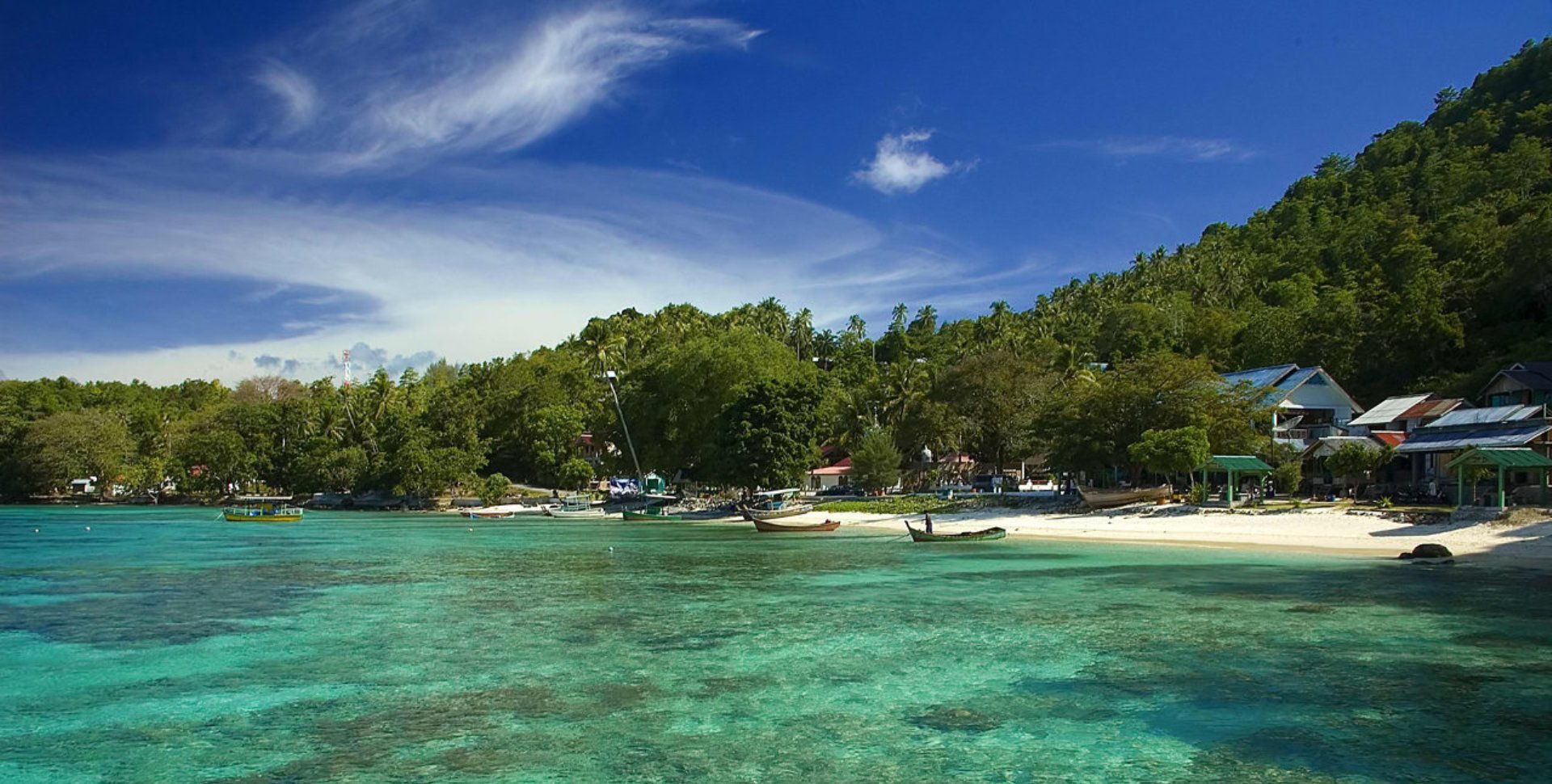 Pulau Weh
The small (155 km2) island of Pulau Weh is a wonderful place to start or end a holiday. White beaches, good dive sites and snorkeling spots, reasonably set up for western tourists and of course delicious fish dishes.

Divers can expect a varied marine life. With an average water temperature of 28 degrees and a visibility of 20 meters (sometimes in colder areas up to 40 meters), there is plenty to see. You will encounter moray eels, stingrays, sea fans, white and black tip sharks and with a bit of luck a hammerhead.
Our favorite (5 * PADI) dive center is Lumba Lumba dive center.

The best snorkeling location is on the islet of Rubiah, a 5-minute boat ride from Iboih beach. Especially on weekends it is very busy with local tourists, but that is also definitely worth seeing! Many locals go snorkeling with a life jacket and are not surprised to see how the ladies go into the water with a headscarf ...

A day of touring on a rented scooter is absolutely fun, but for a few euros more you take the motor becak: a motorbike with sidecar and a cheerful driver take you on a historic city tour of Sabang and you stop at the Insane Asylum 1924, the Rex cinema and many more buildings from the colonial era. From the town you continue on the island and you can visit small cottage factories, swim at the waterfall or relax on a white beach.

Our favorite hotel is Casa Nemo (book a room with air conditioning!), Located on the Pantai Sumur Tiga beach. Definitely order the Udang kari Aceh. A delicious spicy shrimp dish of which you will find the recipe later in the book.

Pulau Weh is the westernmost point of Indonesia. There is even a kind of monument "Kilometer Nol" built for it. The end point, over 5,600 kilometers east, is a similar monument in Merauke, Papua Province.
Pulau Weh has an airport, but no flights have been operated since 2019. To reach Pulau Weh, fly to Banda Aceh and take the slow (3 hours) or fast ferry (1.5 hours).

Banda Aceh
Banda Aceh
anda Aceh or Banda Aceh is the capital of the northernmost province of Indonesia, Aceh. The population is strictly Islamic. Tourists are advised to respect Islam here and ladies are advised to wear a headscarf outside the hotel.
The city of 200,000 inhabitants was severely hit by a tsunami in December 2004. More than 60,000 inhabitants of the city lost their lives. The tsunami museum is very impressive.
The ferries leave from Banda Aceh to Sabang, the capital of the island of Pulau Weh.