Rondreis 16 dagen duiken bij Thalassa Bunaken en Lembeh
Deze duikreis neemt je mee naar het noorden van Sulawesi. In het Bunaken national marine park ervaar je hoe het is om tropisch te duiken tussen kleurrijk koraal, schildpadden, en scholen vis overal waar je kijkt. Bunaken en haar buureilandjes vormen een perfect ecosysteem voor spektaculair duiken, snorkelen en freediving. Met meer dan 2000 soorten vis en 390 soorten koraal kent Bunaken zo'n beetje de hoogste biodiversiteit ter wereld.

De Lembeh Strait staat wereldwijd bekend als het summum van muckduiken, en met recht. De variëteit aan onderwaterleven is vooral voor macrofotografen ongekend divers. Ontdek het buitenaards leven op de zwarte zandgronden van Lembeh Strait Je vindt er onder andere Banggai kardinaalvis, pegasus, zeer veel hengelaarsvissen, zeepaardjes, veel inktvissoorten en naaktslakjes.
Inclusief:
•Intercontinentale en binnenlandse vluchten met Garuda Indonesia, incl. 30 kg ruimbagage en 23 kg sportbagage (mits vooraf aangemeld)
•Alle transfers
•Ontbijt, lunch en diner
•Koffie, thee en water
•2 of 3 duiken per dag (totaal 24 of 26 duiken, al naar gelang gewenst duikappet)


Exclusief:
•Overige drankjes
•Excursies
•Bunaken National marine park entrance fee (ca € 10 per persoon voor gehele verblijf)
•Fooien en uitgaven van persoonlijke aard
•Reis- en annuleringsverzekeringen
•Boekingskosten en bijdrage Calamiteitenfonds €30 per boeking

Day 1 vlucht Amsterdam-Jakarta-Manado (Garuda)

Garuda Indonesia vliegt non-stop van Amsterdam naar Jakarta met haar nieuwe Boeing 777-300 ER. Beleef de gastvrijheid van de Indonesische cultuur aan boord bij Garuda Indonesia, de nationale luchtvaartmaatschappij van Indonesië. De directe verbinding brengt u in slechts 13,5 uur van Amsterdam naar Jakarta. Vertrek Amsterdam rond het middaguur, aankomst Jakarta vroeg in de ochtend. Uw aansluitende vlucht vertrekt ongeveer 4 uur later en duurt ca 3,5 uur. Max. gewicht: 30 kg.
Dag 2 Aankomst op Manado en transfer naar Thalassa Manado

Bij aankomst op het vliegveld staat bij de uitgang uw chauffeur met een naambordje op u te wachten. Hij brengt u naar uw hotel.
Dag 3 t/m 9 Duiken bij Bunaken national marine park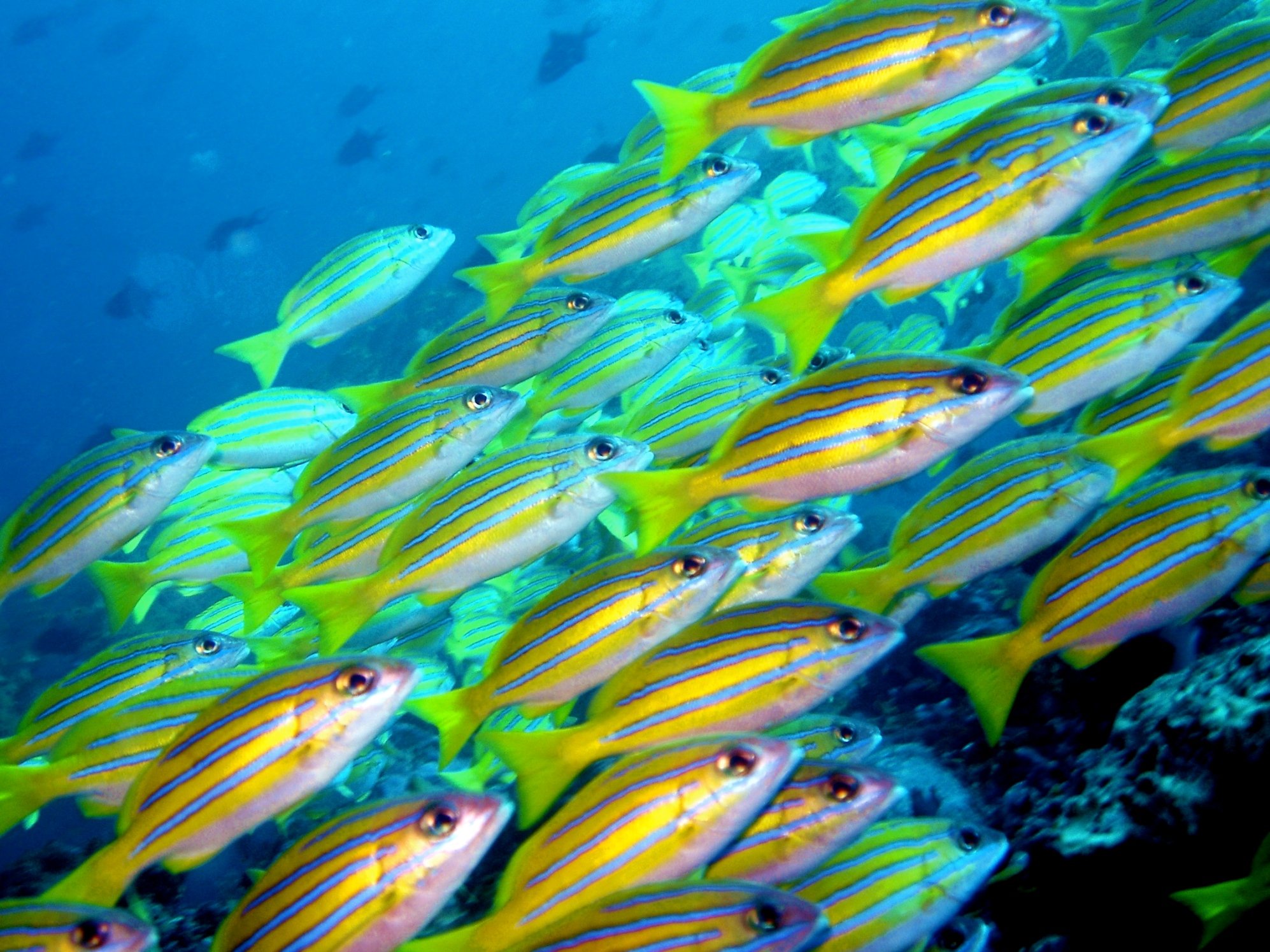 Deze dagen kunt u naar hartelust duiken in de wateren van het Bunaken national marine park
Dag 9 Transfer naar Lembeh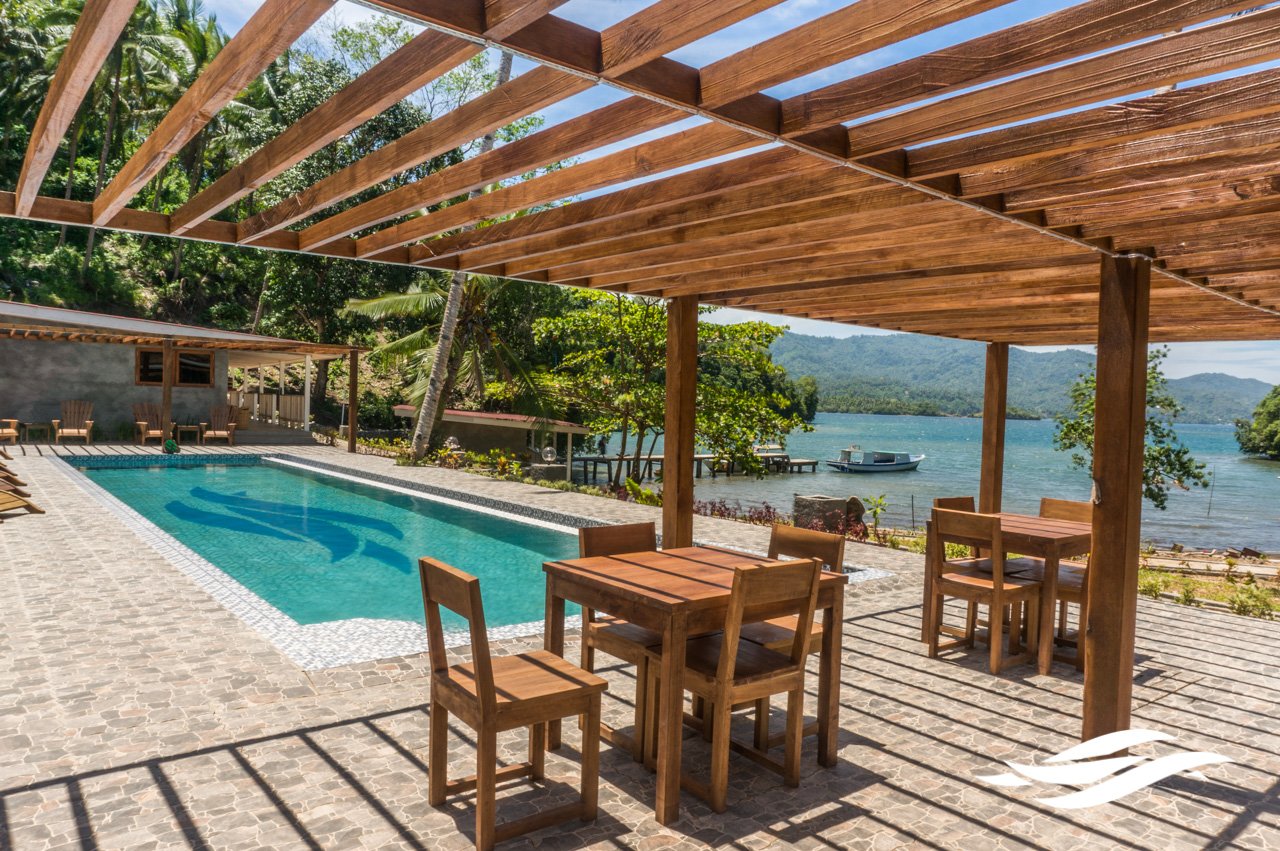 Na uw duiksessies staat uw chauffeur gereed om u in ongeveer twee uur naar Lembeh Strait te brengen. Daar wacht een bootje om u naar het resort op het eiland te varen.
Dag 10 t/m 14 Duiken bij Lembeh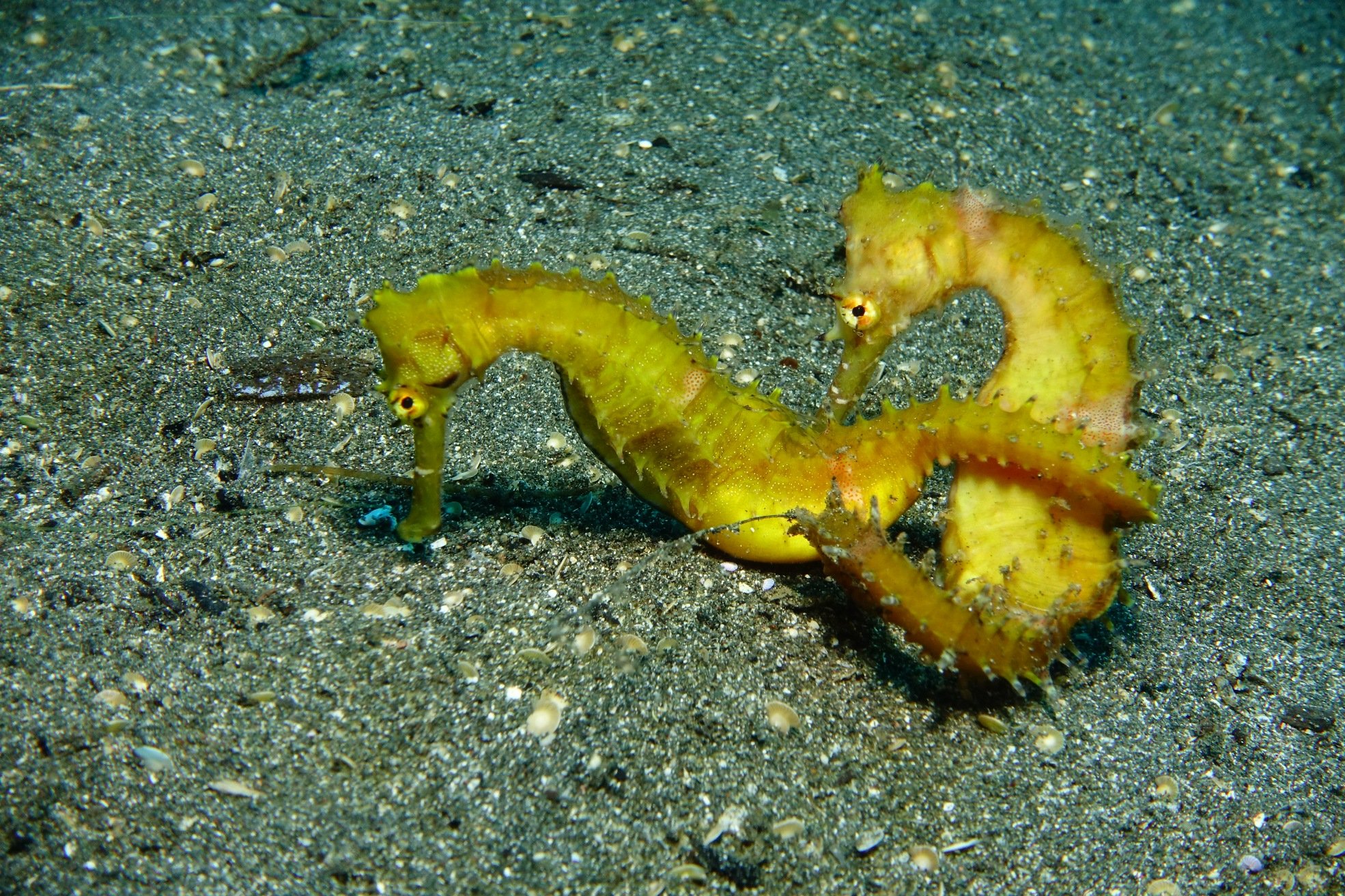 Deze dagen kunt u naar hartelust duiken in de straat van Lembeh.
Dag 15 Pulang kampong, terug naar huis
Your driver picks you up at your hotel and drives you to the airport.
flight Manado-Amsterdam via Jakarta
Vlucht met Garuda Indonesia met transfer in Jakarta. Vertrek 16:30, aankomst vroeg in de ochtend volgende dag.


Dag 16 Arrival Amsterdam
In the morning arrival at Schiphol. The end of a beautiful trip...
Thalassa dive resort - Manado
Our green resort brings you surprisingly close to nature. The natural environment embraces you. In our garden filled with fruit trees, palms and fragrant flowers you will find 19 rooms, divided into 4 different categories: - Bungalows: The 7 spacious, detached bungalows are each equipped with a private terrace and a king-size and a single bed. Thalassa Dive Resort offers the guests of the bungalows an extra service. Such as the "breakfast in bed" service, a fruit basket on arrival, a well-stocked minibar for a nice cold beer or a glass of wine, a kettle to make coffee and tea in the room. Of course the bathroom is equipped with a good shower with towels and shampoo. - cottages: The 4 wooden cottages built in the local style have 2 single beds or a double bed. No breakfast service here, but a minibar and in the bathroom the same facilities as in the bungalows - Hill top rooms: Our mountain top rooms are located at the highest point of the resort. That makes for a great view of Manado and the bay. This is a perfect place for a diving club or group that would like to stay together. In the private garden you can plan your own BBQ, right in front of the rooms! These nine rooms are perfect for those who prefer spending their money on diving. The rooms are equipped with single and double beds. The rooms, of course, have a private bathroom with a good shower, towels and soap, but no other facilities. The fantastic view over the bay of Manado is worth climbing the 52 steps. All rooms have air conditioning, private bathrooms with hot water and overlook the ocean from the private terrace. meer info more info Informations supplémentaires









Thalassa dive resort - Lembeh
The new (2017) Thalassa dive resort is located in a cove of Lembeh island and lies directly on Lembeh strait. The resort has 12 comfortable sea-view bungalows and three deluxe single rooms. Thalassa has a 5 * PADI dive centre, swimming pool, lounge and a restaurant. The resort also offers excursions to the Minahassa highlands and Tangkoko rainforest. All rooms are equipped with private bathroom with hot running water, fan, minibar, coffee and tea making facilities and a veranda with sea view. meer info more info Informations supplémentaires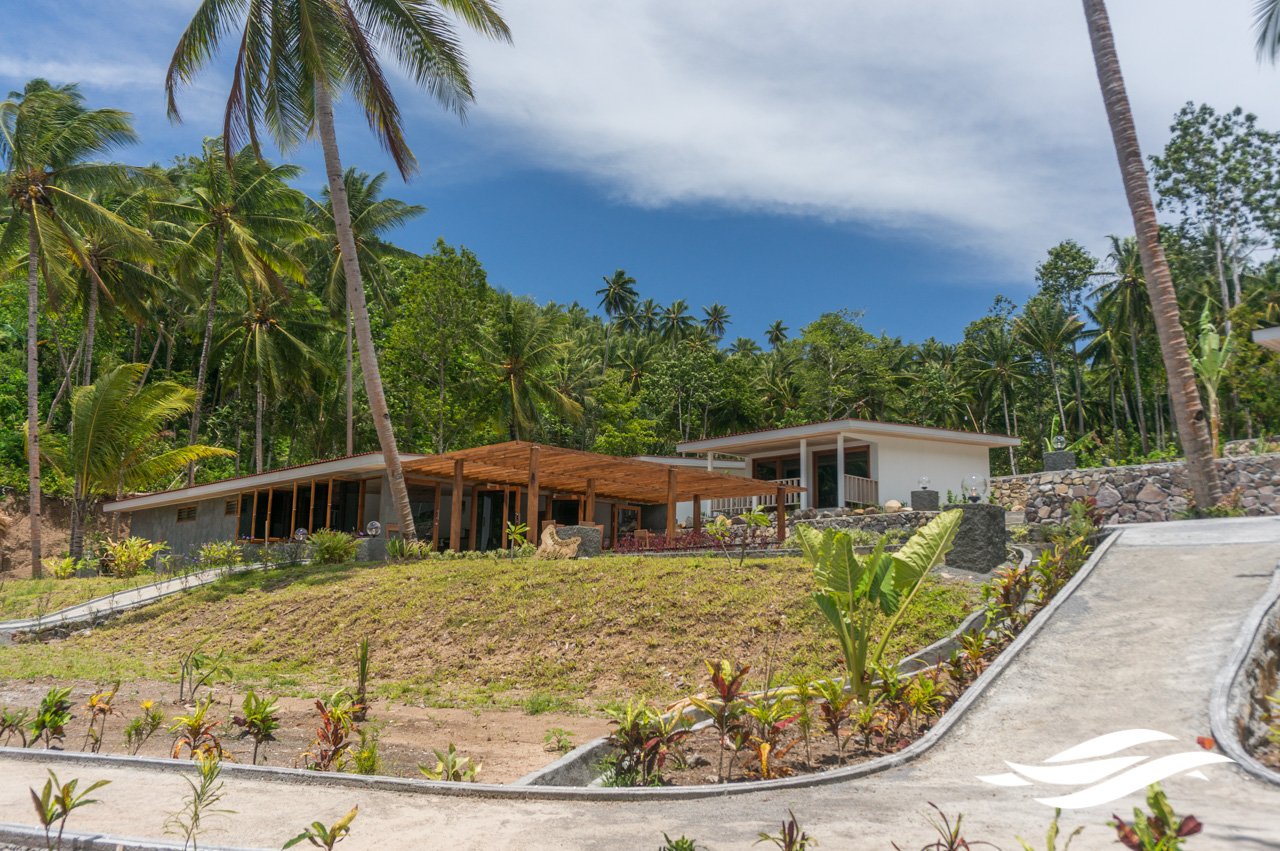 Manado

Manado
Manado is the capital of North Sulawesi and counts over a half million inhabitants. It's the perfect base for trips to the Minahassa mountains, Tangkoko jungle, but mainly known for Bunaken national marine park.
Lembeh strait and the island Bangka can also easily be reached from Manado.
The city itself hasn't got much to offer. Animal lovers'd better not go to the market. People from Manado eat anything with 4 legs. On the market they sell dogs for consumption…

Bunaken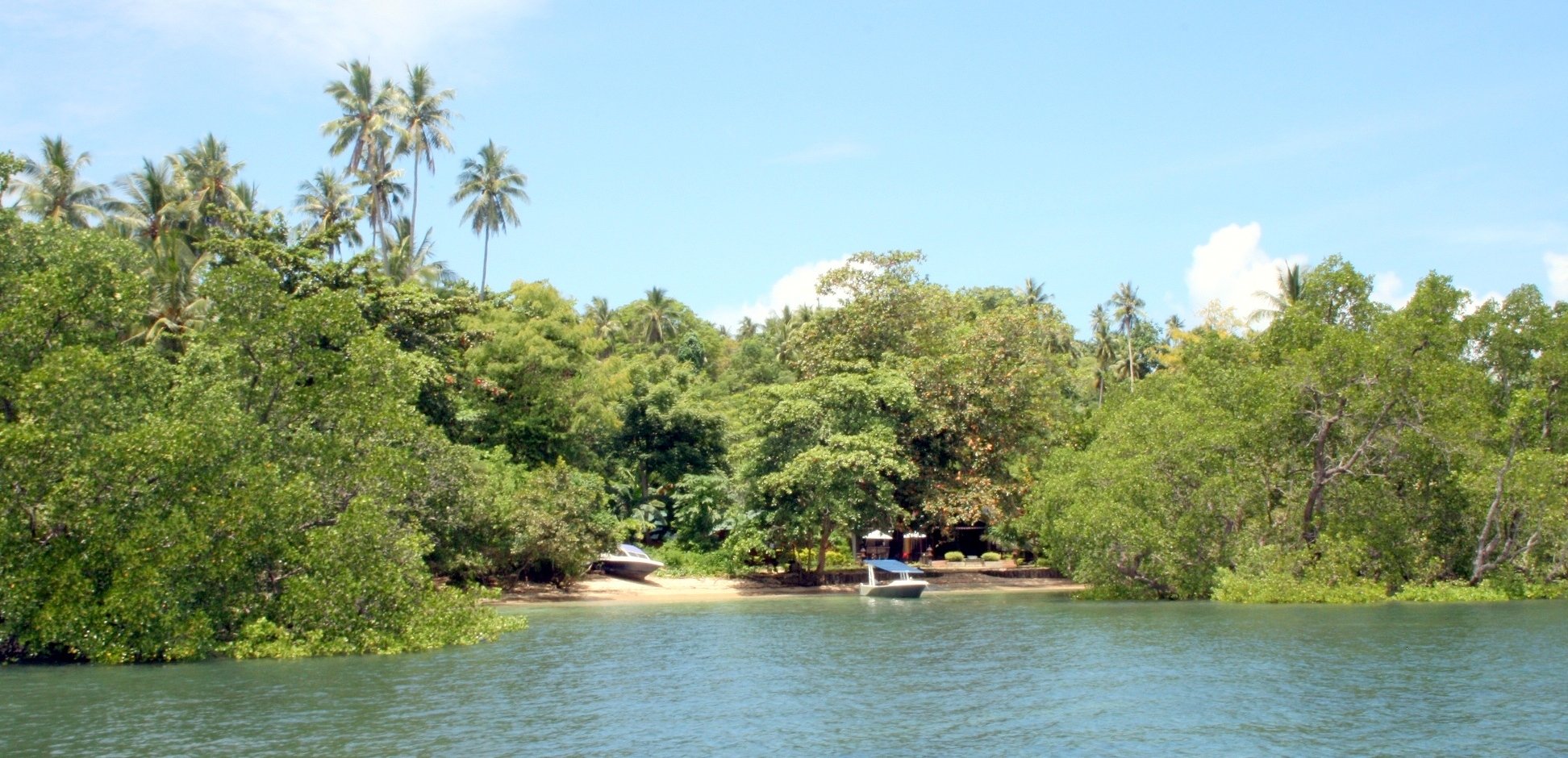 Bunaken
Bunaken is a small island in front of the coast of Manado, North Sulawesi.
The island is particularly known for its wonderful sea gardens. Almost every hotel has diving and snorkelling facilities.
On the of island Bunaken lies the village Bunaken.

Lembeh island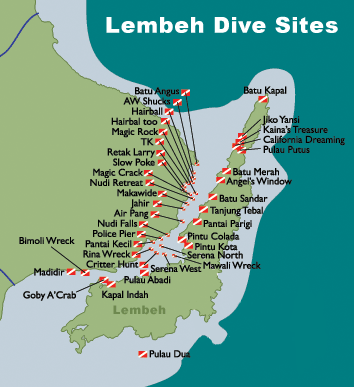 Lembeh
Lembeh is een eiland voor de noordoostkust van Sulawesi in de buurt van de stad Bitung. Lembeh Island is 25 km lang en 2 km breed. Lembeh Island wordt gescheiden van het vasteland van Sulawesi door een smalle strook water die bekend staat als de Lembeh Straat, hét summum voor muck divers.