Tour module round trip 7 days Raja Ampat homestay adventure
A unique opportunity to discover Raja Ampat! Besides the wonderful nature and underwater world you also get to know daily life on one of the islands. You stay in a very simple guesthouse and, together with your host or hostess, you put your program together. Your dream week consists of diving, snorkelling and special excursions.
Customs at Raja Ampat
This week you stay among the population of Raja Ampat. That's why it is good to know that the local people don't wear their heart on their sleeve. They won't easily interfere with you, but they do resent you for walking through the village in swimwear. T-shirt and shorts, skirt or dress are alright. Of course nobody will be bothered if you're wearing a swimsuit on the beach. If you visit a church, just put on a pair of trousers.


Sunday is for most people a day of rest. On Sundays you won't make any excursion, but relax on the beach.

The worst thing that can happen to Indonesians, so also to the Papuas, is losing face. A quarrel could quickly lead to that loss of face. If there is a disagreement, or a problem with your room for example, then the best way is to solve the problem with a smile. Raising your voice or getting angry certainly won't help you.

The inhabitants of Raja Ampat very much welcome you to this extraordinary archipelago and are happy to help you enjoy your stay here.

Diving
Diving from a homestay entails greater risks than from (certified) dive resorts or centres. We recommend diving from the homestays only for experienced divers who bring their own diving equipment!

Diving can be arranged on site. In general you pay between €45 and €55 per dive. If you want to make a long dive trip, surcharges apply.
Target prices
€ 650 p.p. based on 2 or more participants
Included:
•Breakfast, lunch and dinner
•Snacks, water, coffee, tea
•Transport from and to Sorong to the resort
•1 overnight stay (at the beginning or at the end) in Sorong

Not included:
•Intercontinental and domestic flights
•Entrance fee for National park Raja Ampat
•(alcoholic) drinks
•Excursions
•Dives or snorkeling
•Tips and personal expenses
•Possible additional cost for hotel instead of guesthouse in Sorong
•Travel and cancellation insurance
•Booking fee and contribution Calamiteitenfonds €30 per booking
•SGR contribution € 5 per person

Arrival Sorong,on the ferry to Waigeo and the guesthouse

When you leave the small airport of Sorong your guide is waiting for you. He'll help you with the necessary local formalities and takes you to the harbour. A porter helps you aboard. You sail with the fast ferry at around 14:00 in about 2 hours to Waisai on the island Waigeo. You will be greeted there and sail with a seaworthy pirogue to the island Pulau Gam where you will be taken to the guesthouse you've chosen. If you are too late for the ferry, the guide takes you to your hotel in Sorong and you will make your boat trip to Pulau Gam the following day.
Culture in Raja Ampat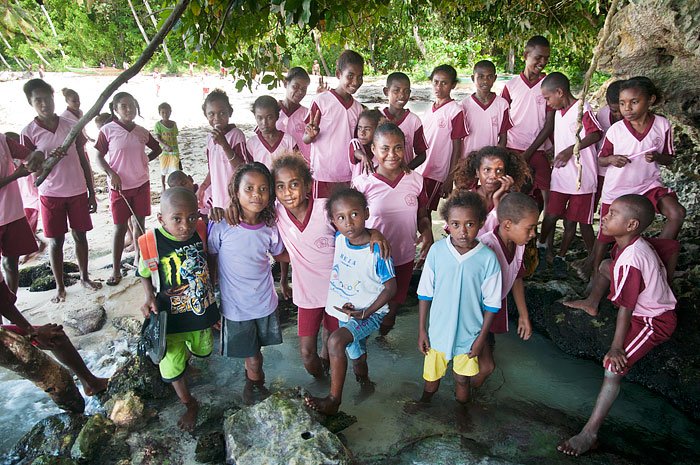 If you're talking about Papua, you're also talking about culture. Let a guide accompany you to experience local life in the kampong. Sundays excepted you might as well be able to visit a school. Anyway, you stay at a local family's home, so you can ask them everything about life on Raja Ampat. Remember that Sunday is the day of the Lord and you can't demand too much your host and hostess, but an absolute 'must' is going to the church service.
Birds of Paradise in Raja Ampat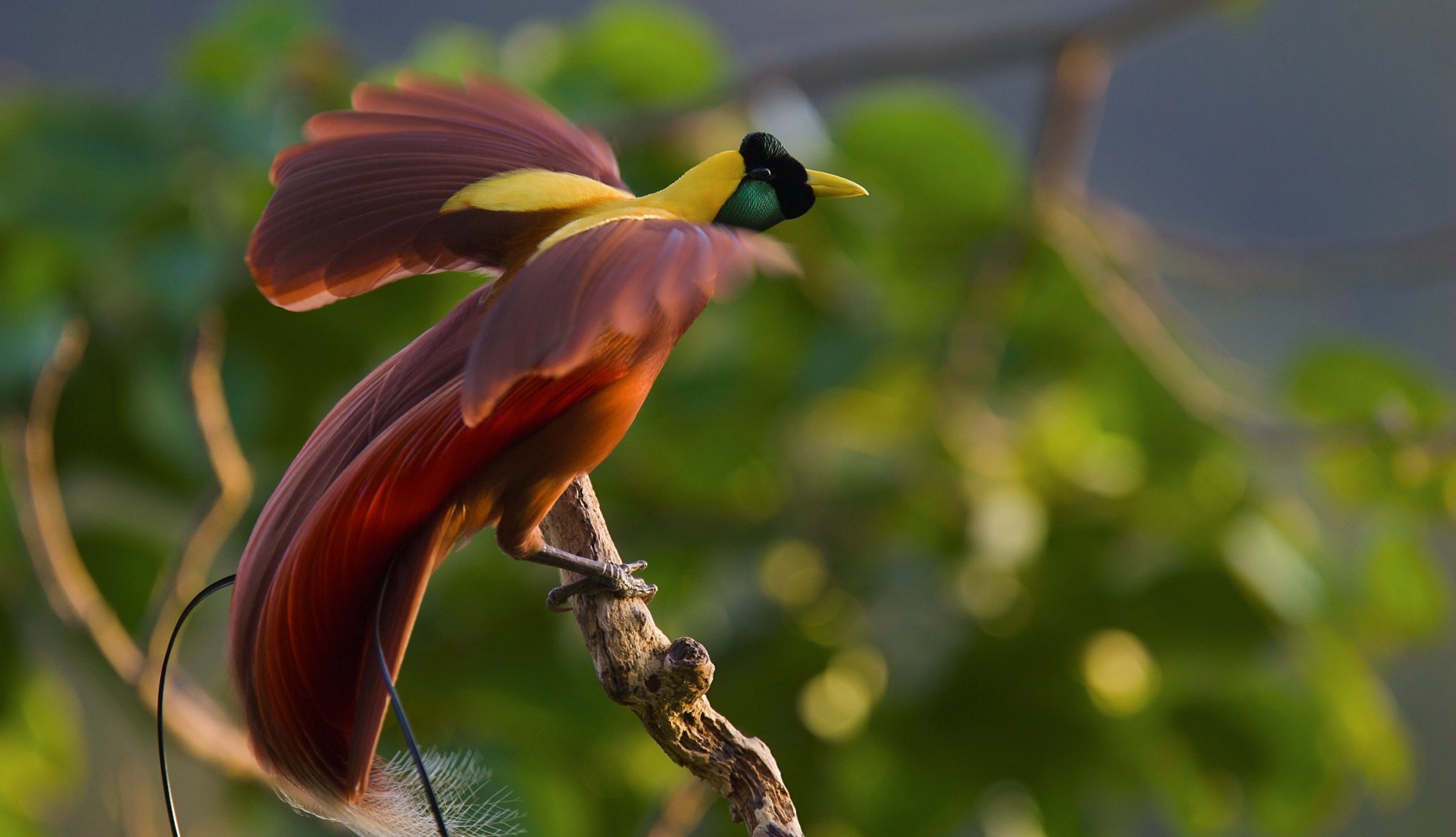 If you're talking about Papua, then you're also talking about the birds of Paradise. These beautiful birds generally turn up around sunrise and sunset. The male birds show themselves at their very best to the ladies. Sometimes high up in the trees but sometimes also close to the ground. You will find the birds of paradise on the islands Waigeo, Urai, Gam, Mansuar, Arborek, Kri, Painemu and Friwen.
Snorkelling in Raja Ampat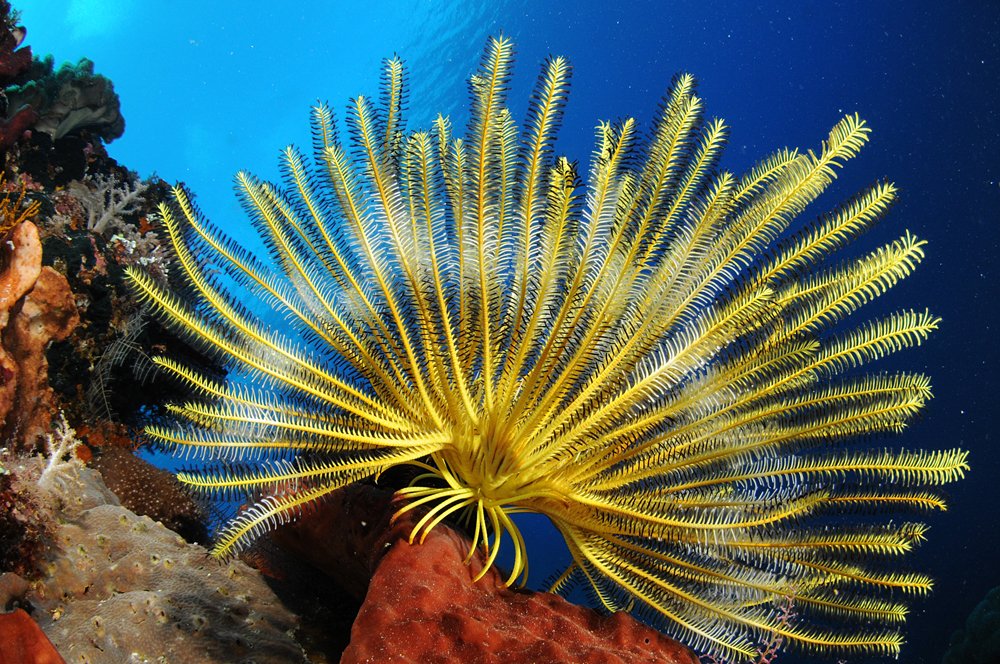 If you're talking about Papua, then you're also talking about snorkelling. From almost any guesthouse it only takes a few steps to walk from the beach into an aquarium... During the length of your stay you can use a pirogue, a local wooden motorised little boat, with which you also can sail to the best snorkelling spots. Raja Ampat is known for the most beautiful coral reefs. Lunchbox on board and you will have a great day!
Diving in Raja Ampat

If you're talking about Papua, then you're especially talking about diving. There are numerous unique dive spots that are breathtaking. Wobbegong sharks and Manta rays are just some of the highlights. There's simply too many to mention, you can go diving 5 full days and even then you won't have seen 25% yet! Diving can be arranged locally. Generally you pay between € 30 and € 40 per dive. You can hire a complete diving-equipment for around € 30 per day. If you want to make a dive trip further afield you can rent a boat for circa € 30 for the whole day. If you wish we make an all-in package with 2 or 3 dives per day.
Day 6 Back to Sorong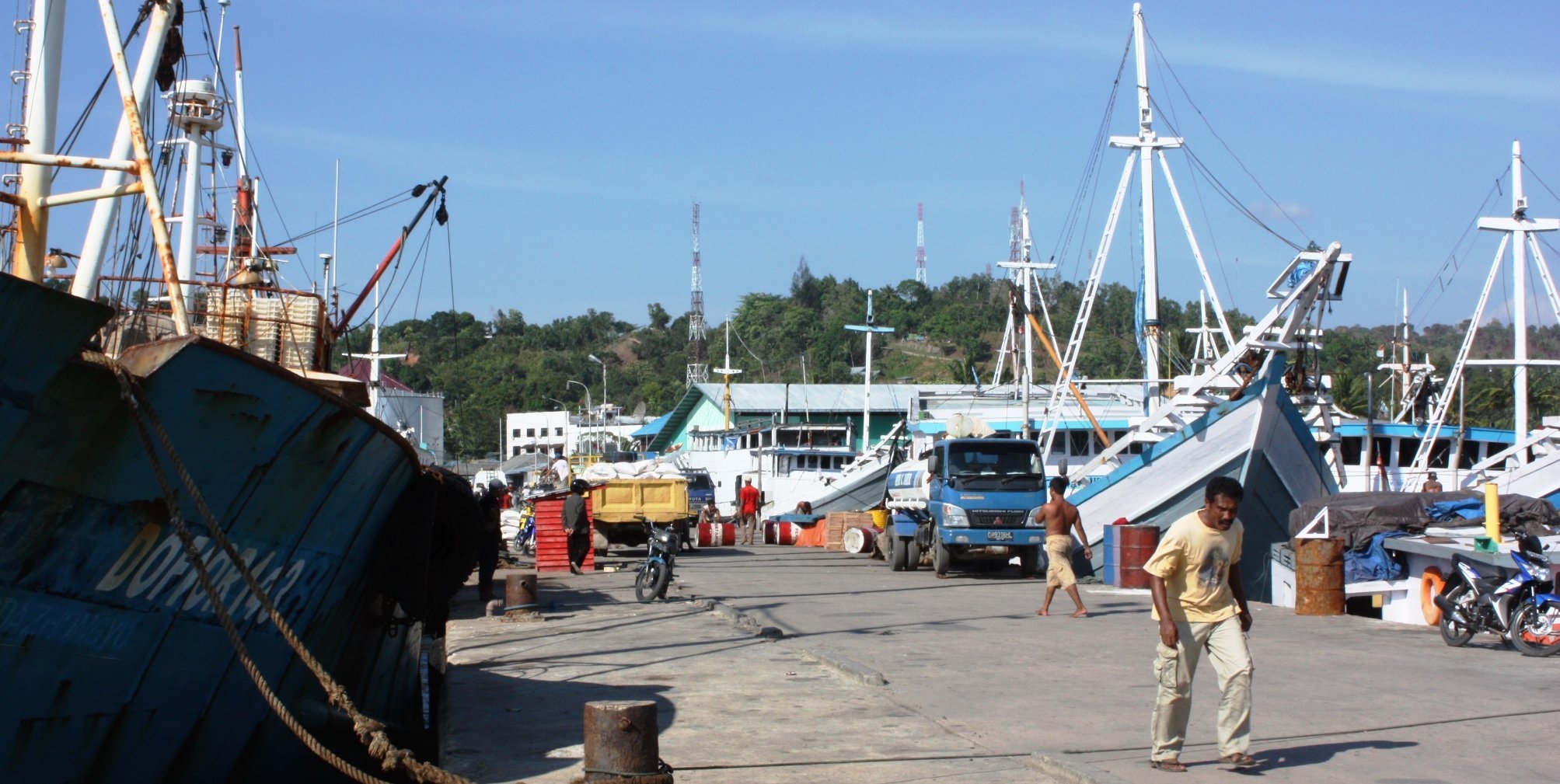 After an early breakfast, sail back to Waisai at Waigeo Island. Around 09:00 you board the ferry and sail back to Sorong. The expected arrival time is around 11:00. Our driver is ready at the port and will take you to the airport or hotel. Lunch this day is at your own expense.
Day 7 Departure from Sorong
After breakfast, about one hour and a half before your flight, your driver picks you up and drives you to the airport. If you want to, he'll help you to check-in. You say goodbye to Sorong.
Raja Ampat

Raja Ampat
Raja Ampat is an archipelago in West Papua (former Irian Jaya) and consists of 610, mostly uninhabited islands. The four largest islands are Waigeo in the north, Salawati (southwest of Sorong), Batanta (north of Salawati) and Misool in the southwest. The name Raja Ampat is also based on these four islands and literally translated means "the four kings".

Raja Ampat is a relatively unknown area in Indonesia, but this destination is well known among divers. This is due to the wide range of various fish species and fantastic coral reefs, varying from hard to soft coral. But the islands themselves are also impressive. The Raja Ampat Islands have quiet lagoons with crystal white sand and water that varies from bright green to bright blue.

Diving is especially popular in the Dampier Strait. Here you will find numerous dive spots with an incredible amount of coral and fish. Cape Kri, Blue Magic and Manta Point are real eye-catchers.
Misool is also loved for its wide variety of fish and coral.

Raja Ampat is open all year round, but from mid-July to mid-September you are more likely to experience rain and high waves. Misool is closed between mid-June and mid-September.
Raja Ampat has dozens of dive resorts and homestays. The homestays often use local diving schools, such as the Arborek dive shop. The more luxurious diving resorts offer not only more comfort, but also more safety. Sorido Bay resort, Raja Ampat Biodiversity and Papua Explorers are our favorites in the Dampier Strait, Papua Paradise Eco resort off Batanta Island. The Scuba Republic is an excellent middle class resort.

A fast public ferry runs twice a day between Sorong and Waisai on Waigeo Island. Waigeo also has an airport with a daily flight to Sorong.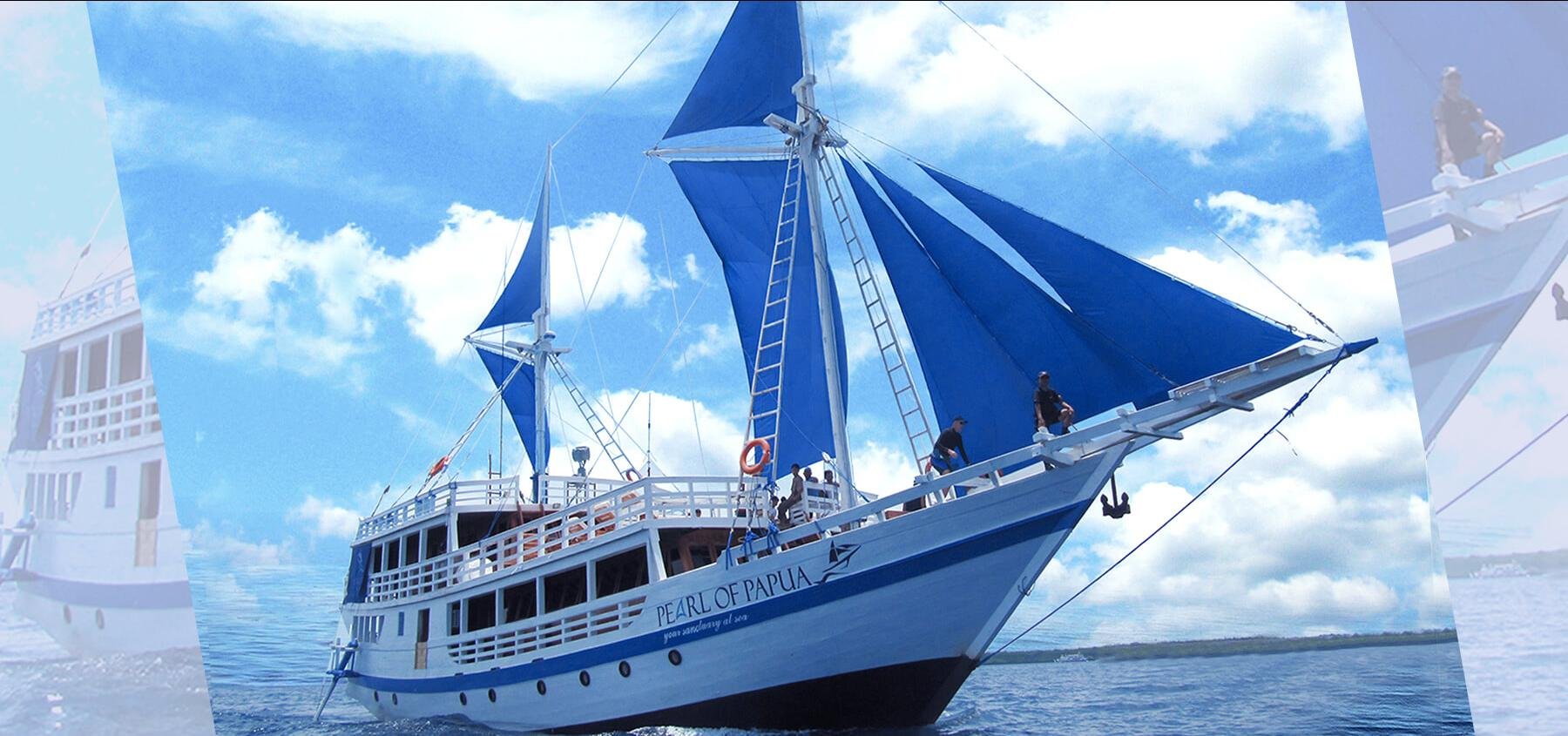 Liveaboards
Liveaboards usually offer weeklong dive cruises in northern Raja Ampat (Dampier Strait and the northern Wajag karst islands. Longer, often 10-day trips also cover the southern part around Misool. Most liveaboards operate Raja Ampat cruises between September and March April, then dock and sail in the waters around Komodo for the summer season.


Video Raja Ampat snorkel cruise
Sorong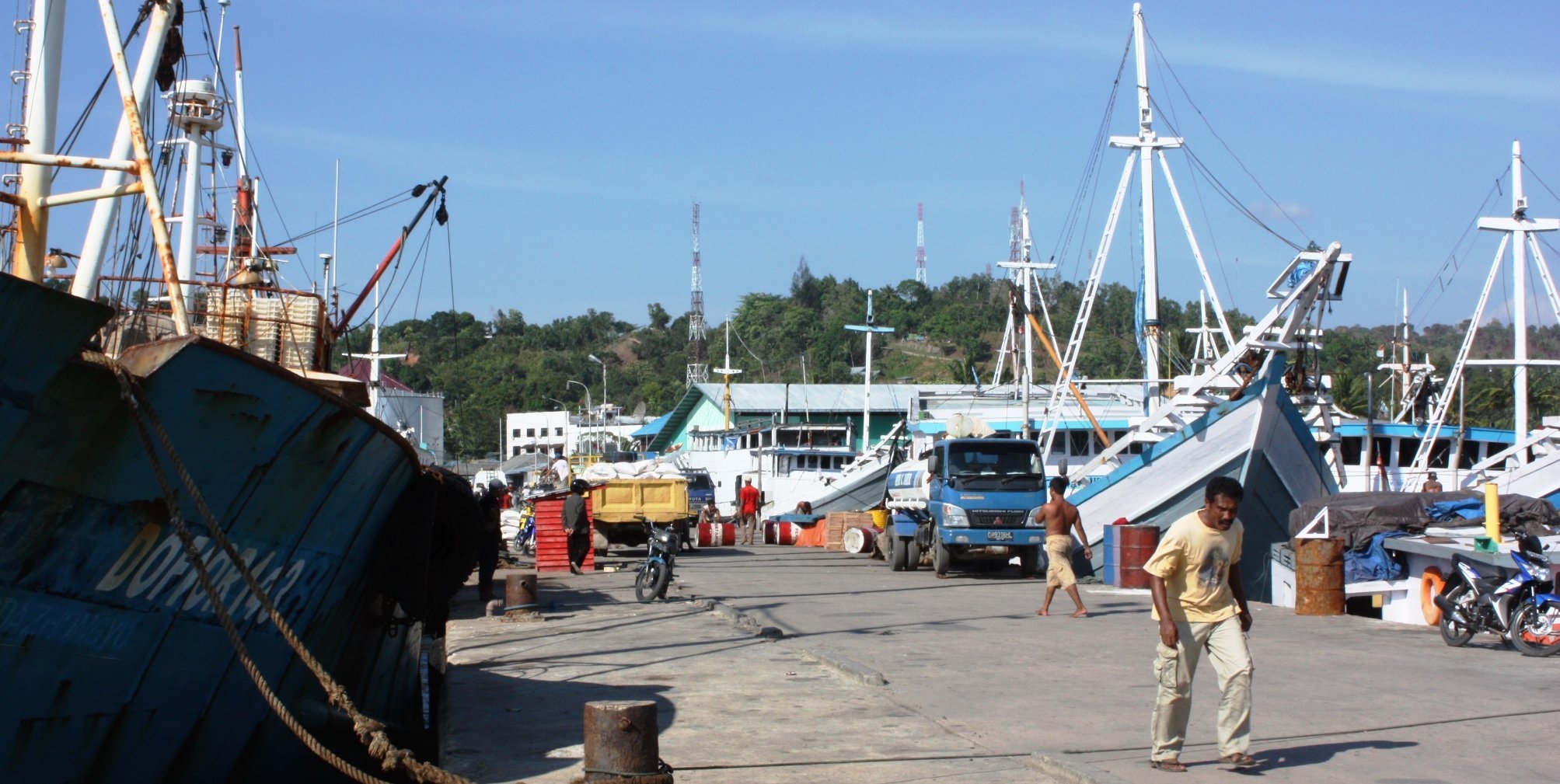 Sorong
Sorong is the westernmost city on the island of New Guinea. The city is located on the Sele Strait of the Pacific Ocean on the Vogelkop Peninsula. It is the base for trips to the Raja Ampat Islands.

Two hours' drive south of Sorong is the rainforest in the Klasow valley with all kinds of strange birds. You will find different types of Paradise birds and the endemic Cassoway, a peacock or smaller ostrich species.

Sorong is the logistical center of the oil and gas industry around West Papua, which manifests itself in growing wealth and economic prosperity. The city has over 50,000 inhabitants, making it one of the larger cities of Papua. Most of the inhabitants are transmigrants from Sulawesi, Java and other islands.

Directly off the coast is the island of Jefman, which until 2012 had the airport of Sorong. The new airport has daily connections with Jakarta, Makassar, Manado, Ambon and several cities in Papua, among others.
Sites to see
The city has a nice beach promenade and some historical buildings dating from the Dutch oil period. It's a city full of contrasts. The following sights are close to the city:

Cape Cassuwary: 3 km from Sorong, beach with coralreefs;
Crocodile island, 500 metre out of the beach;
The island Kafiau;
The island Matan;
The hot springs of Klaijili, 60 km from Sorong;
A protected forest area, 15 km from Sorong;
Sorong is the most important gateway for trips to the nearby Raja Ampat-islands and the coralreefs of the Coral Triangle.
(source: Wikipedia)