Lady Denok Dive cruise 6-11 days liveaboard Raja Ampat -
Lady Denok Dive cruise 6-10 days liveaboard Raja Ampa
From this beautiful liveaboard you sail and dive in the waters of the National park Raja Ampat.

Raja Ampat is the ultimate area for divers. With hundreds of known dive sites and even more unknown dive sites, this archipelago offers more than you can see in a week. You will discover it all on board Lady Denok. Be pampered by the crew and be amazed by the beautiful sea gardens.

The cruises differ from 6 to 10 days in length and the area where you are sailing. On the departure dates you will see start and end dates, as well as the sailing area. South is the area around the island of Misool, central is the area around the street of Dampier and north is all the way to the Wayag islands.

Departure and arrival point is Sorong in west Papua.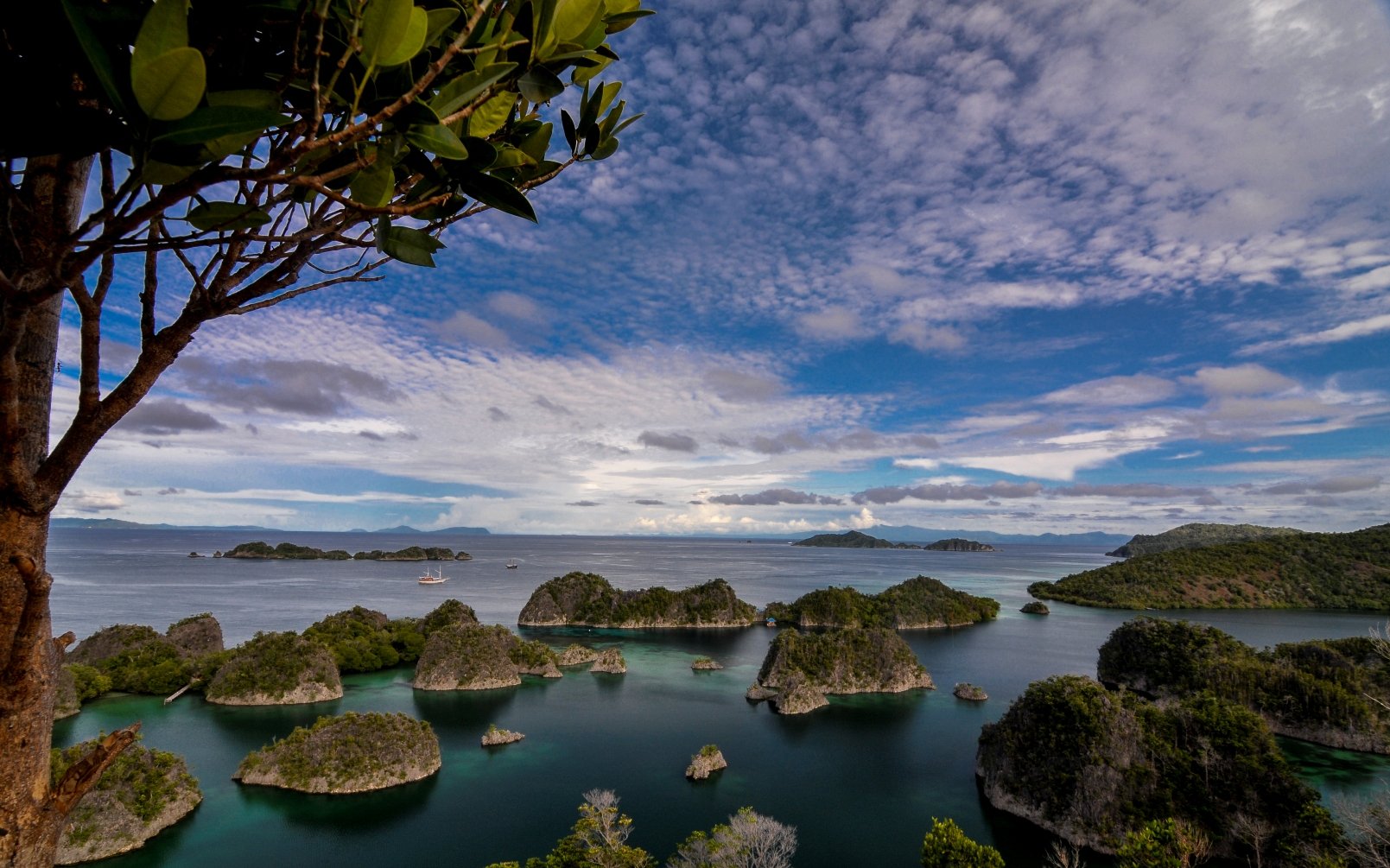 Departure dates
2020
Starts Ends Nights Destination
23-nov-20 3-dec-20 10 R4 South & Triton Bay
7-dec-20 12-dec-20 5 R4 Central
16-dec-20 26-dec-20 10 R4 South - North
28-dec-20 4-jan-21 7 R4 South-Central

2021
6-jan-21 16-jan-21 10 Raja Ampat
18-jan-21 28-jan-21 10 R4 North
31-jan-21 10-feb-21 10 R4 North
13-feb-21 20-feb-21 7 R4 North
23-feb-21 03 Mar 21 8 R4 South
06 Mar 21 14 Mar 21 8 R4 South - Ambon
26-nov-21 5-dec-21 9 R4 South-Central
9-dec-21 18-dec-21 9 R4 South-Central
22-dec-21 27-dec-21 5 R4 Central
30-dec-21 8-jan-22 9 R4 South-Central


Video Lady Denok in Raja Ampat
Included and excluded
Aanbetaling 30%

Annuleringskosten:
tot 90 dagen voor vertrek: € 150
90 tot 60 dagen voor vertrek: 30%
Binnen 60 dagen voor vertrek: 100%

Inclusief:
Ontbijt, lunch en diner. Luxe hut met airconditioning, eigen douche en toilet. Frisdrank, water, thee/koffie. Handdoeken, duiken volgens programma, excursies op land, Europese cruise leider, transfer van of naar het schip.

Exclusief:
vluchten, alcoholische dranken, frisdrank, fooien (ca. € 10,- p.p.p.d.), Complete duik uitrusting (€ 35 per dag), Havengeld & National Park entreekosten (€ 115,- p.p. contant te betalen als u aan boord gaat).
Prijsoverzicht
Price overview
Lady Denok Dive cruise 6-11 days liveaboard Raja Ampat
double or twin room, both diver

Programme
Itinerary south Raja Ampat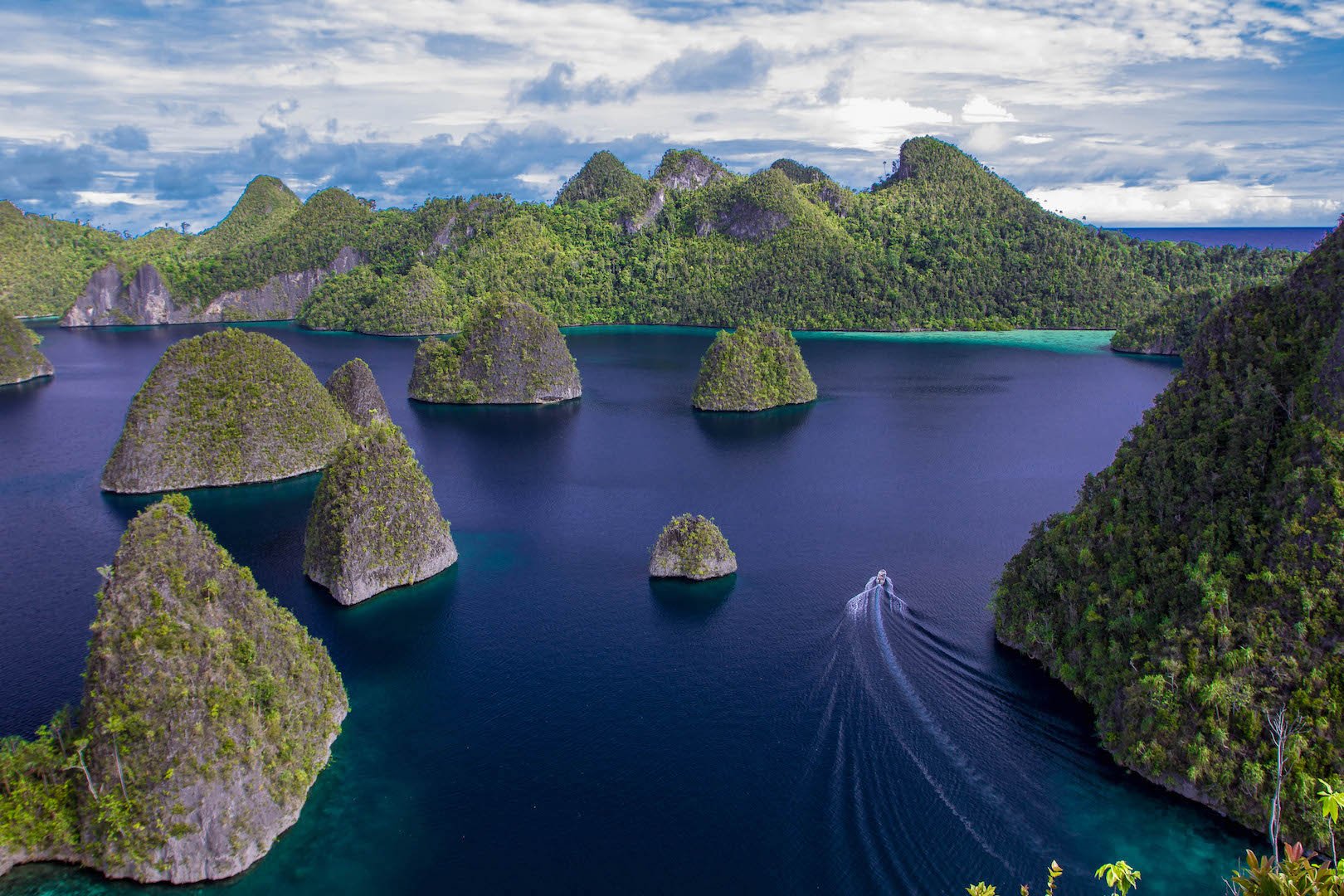 We will go on your new home for the next days and check you in, into your cabin on Lady Denok Phinisi.
During a welcome drink we sail to our main destination 'Misool Island' where we will sail and dive around the small islands of Dara, Warakaraket, Wayil and Wagmab.

You will dive steep walls, caves, drop offs and see the most beautiful soft and hard corals, sponges and hundreds of different fish. From different kind of sharks, and manta rays to small macro stuff. Misool offers all of them.

Your stay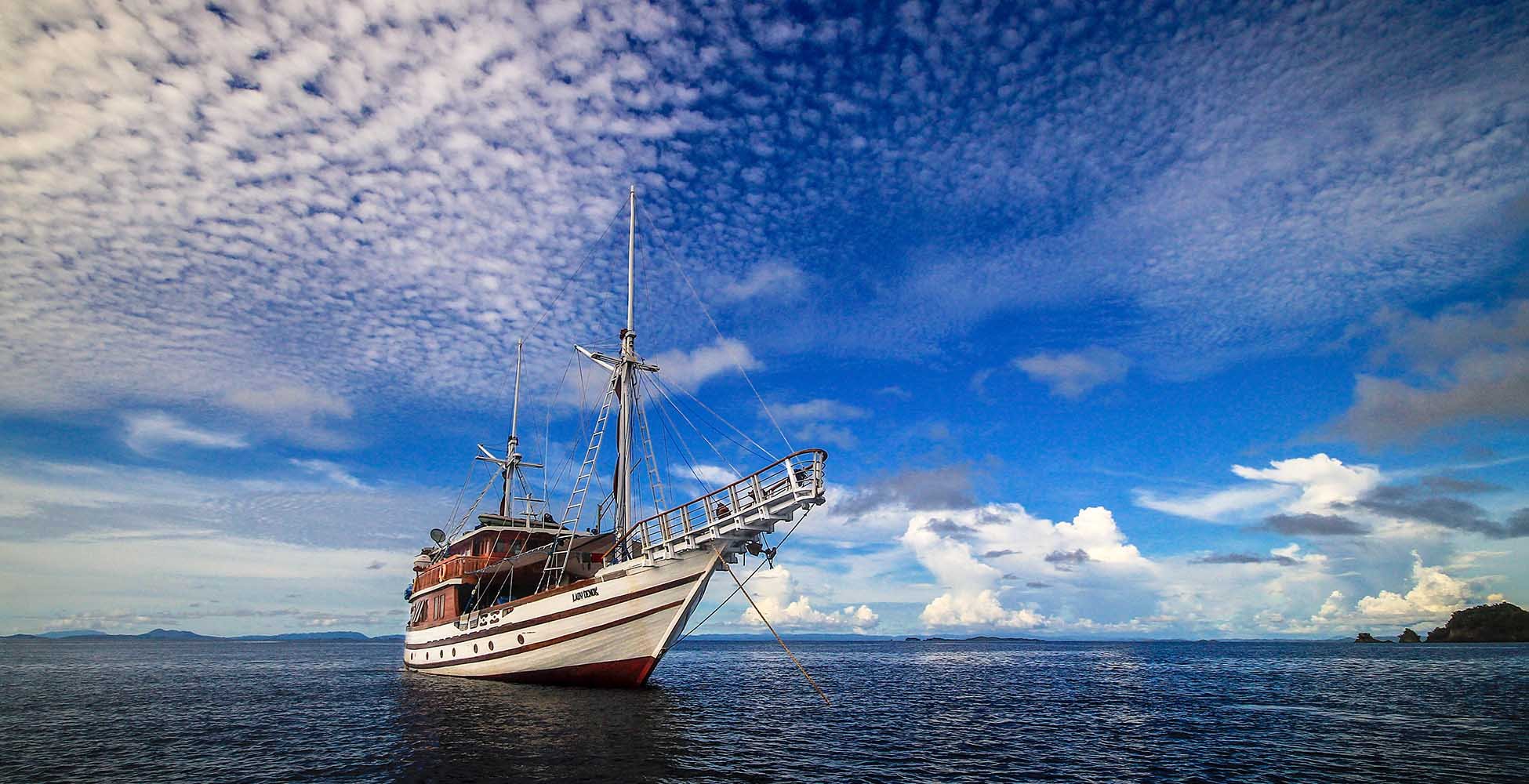 Papua
Papua, former Irian Jaya and Dutch Nieuw Guinea, has been discovered by only few tourists. Culture and nature are still unspoiled here. In Central P...
Raja Ampat
Raja Ampat is an archipelago in West Papua (former Irian Jaya) and consists of 610, mostly uninhabited islands. The four largest islands are Waigeo in...
Sorong
Sorong is the westernmost city on the island of New Guinea. The city is located on the Sele Strait of the Pacific Ocean on the Vogelkop Peninsula. It ...
Divie spots North Raja Ampat
These days you can dive and snorkel at will in the most beautiful area of Indonesia. Between November and March a diving- or a snorkelling trip at M...
Misool duikstekken
Misool
Misool is de verzamelnaam voor het eiland Misool en een archipel van kleine eilandjes in de buurt, in het zuiden van het duikersparadijs Raja Ampat. H...
Triton Bay dive spots
Triton Bay has over 30 dive sites already identified here and many more yet to explore. Dive sites range from pinnacles to shallow soft coral gardens,...
Triton Bay
Triton Bay is approximately a 2-hour boat ride from Kaimana. The Triton bay has an underwater world that is comparable to that of Raja Ampat. Without ...